7 Creative and Healthy Halloween Food Ideas
Are you looking for Healthy Halloween Snacks For Kids? If so, you're in for a real treat with these 7 creative Halloween snacks!
Hello! Sunshine Parties here and today we're sharing these 7 Creative and Healthy Halloween Food Ideas! The kids will absolutely love these healthy Halloween snacks! They are also perfect for you to incorporate into your Halloween party!

Healthy Halloween Snacks
What makes Halloween so much fun? Yeah, the costumes. Yeah, the spooky scares. But mainly? The mouth-watering food! Food makes a celebration, so we've put together some budget-busting, super-effective, tried-and-tested healthy Halloween snacks for you!
A little less Sugar, Sugar … A little sugar never hurt anybody, but when it comes to Trick or Treating, sugar consumption can go overboard. Sugar-rushing kids are followed by sugar-crashing kids which means Mom might turn into a real witch, not just dress like one! Here are some tasty Halloween snacks that are a little lower on the sugar scale, but still look, and taste, amazing!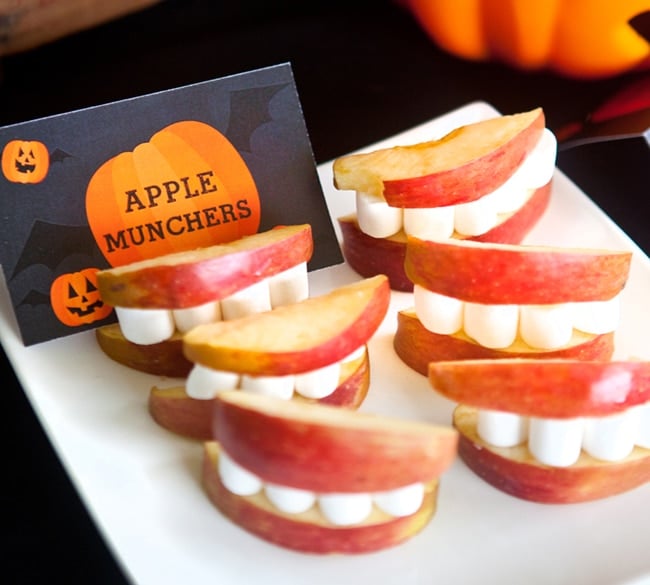 Healthy Halloween Snacks – Apple Munchers
These munchers are so simple! Core an apple, cut into slices, and place mini marshmallows in between two slices. For display, you can download the food label tent card here, and edit with your food names! To keep apples from going brown when on display, a squeeze of lemon juice will keep them looking fresher for longer!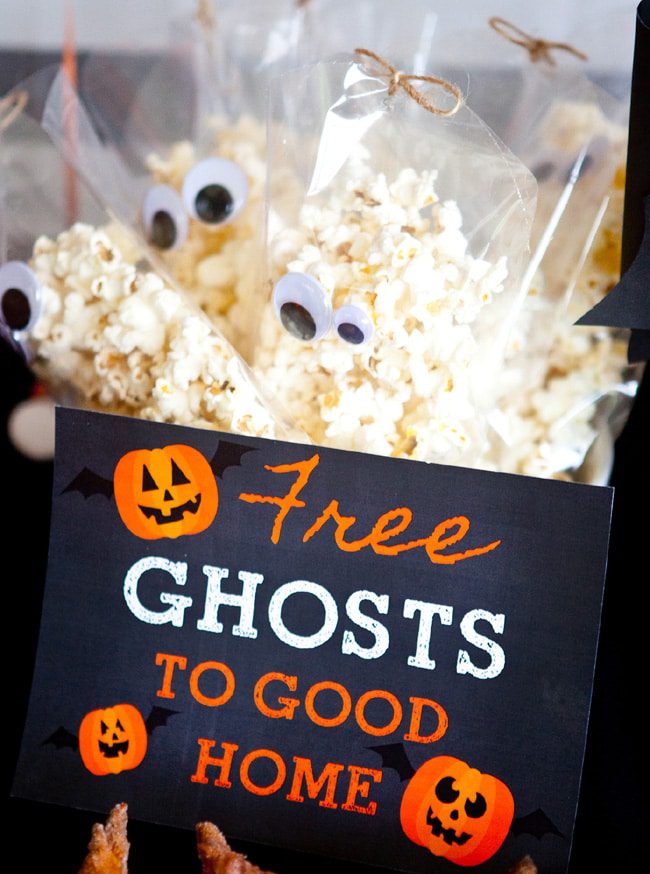 Healthy Halloween Snacks – 'Free Ghosts to Good Home' Popcorn
Turn a humble bag of popcorn into a little ghost that just needs a good home! Grab some clear plastic bags, some 'googly' eyes and glue the eyes strategically onto the bags. 'Pop' your delicious corn in the bag and secure at the top with a little string or twine. Done! Now you have some healthy Halloween snacks for the kids!
Grab your 'Free Ghosts to Good Homes' labels here for that special touch (comes along with previous 'Apple Munchers' design so you only buy once for $5 and get both designs!)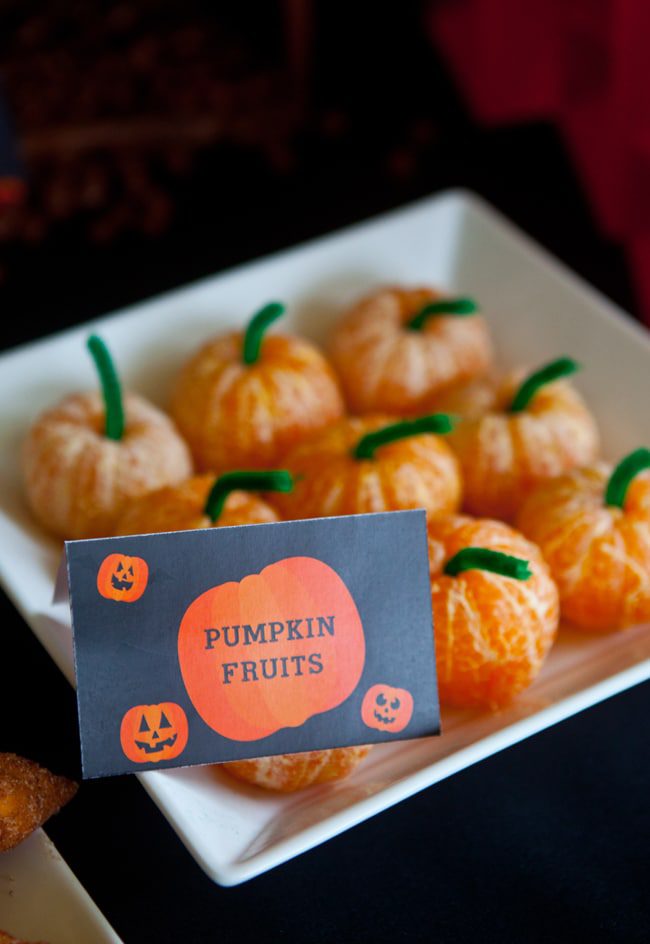 Healthy Halloween Snacks – Pumpkin Fruits
With these healthy Halloween snacks you can sneak some more fruit into the festivities! Peeled tangerines look suspiciously like the little cousins of pumpkins, especially when you adorn them with a small, green stalk! Use a green pipe cleaner!
This food label is the same as the 'Apple Munchers' one, so you purchase, download and edit with all the different food labels you could want. For a great 4 minute video on exactly how to download, edit and print your Halloween party décor and labels, click here.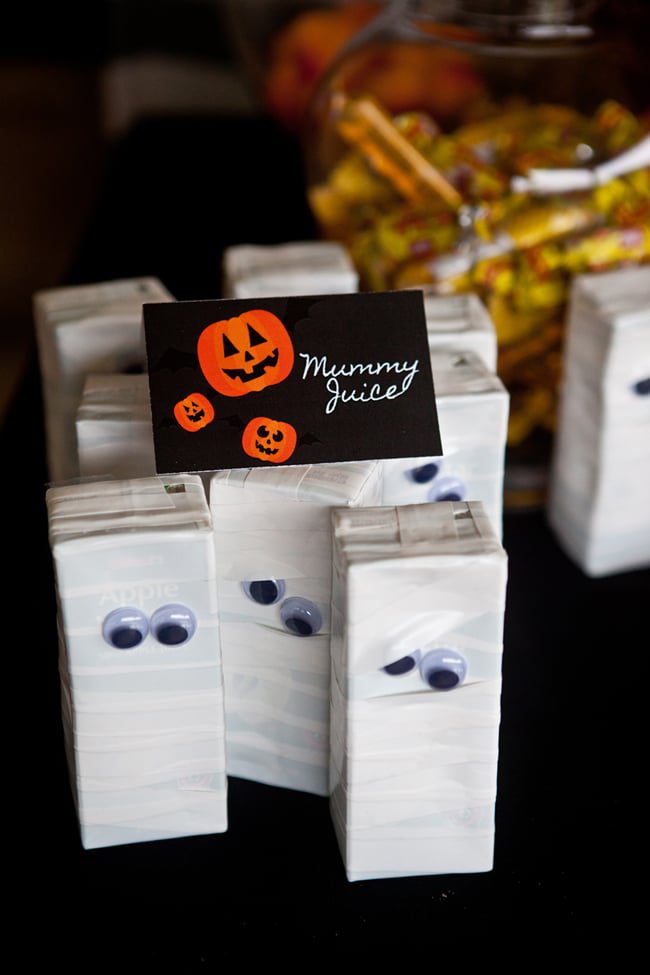 Halloween Snacks – Mummy Juice
For this Halloween snack, we used electrical tape and some more googly eyes to transform these unassuming juice boxes into Halloween Mummy Juice. Are you starting to see a pattern here? Grab your food labels here – you can see how versatile they are!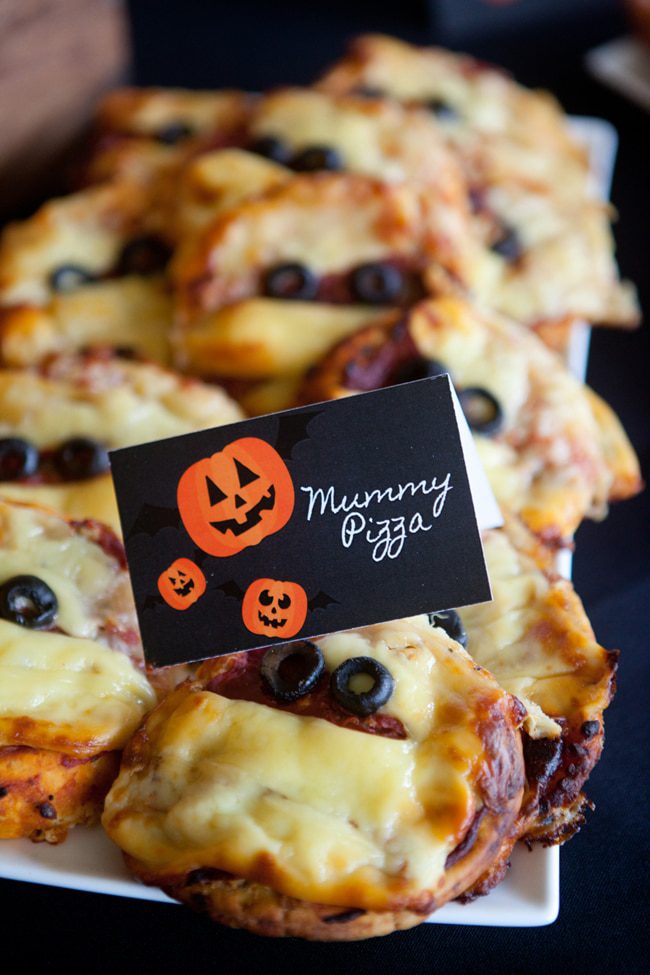 Halloween Snacks – Mummy Pizza
Stay Mum about the sweets and present these Mini Mummy Pizzas instead! You can make your own, or just grab store mini pizzas, and cut some extra cheese strips and slice black, pitted olives. Use the olives for eyes, and the cheese strips for a bit of 'Mummification' and these are instant Halloween hits! What a cute and clever Halloween snack for the kiddos!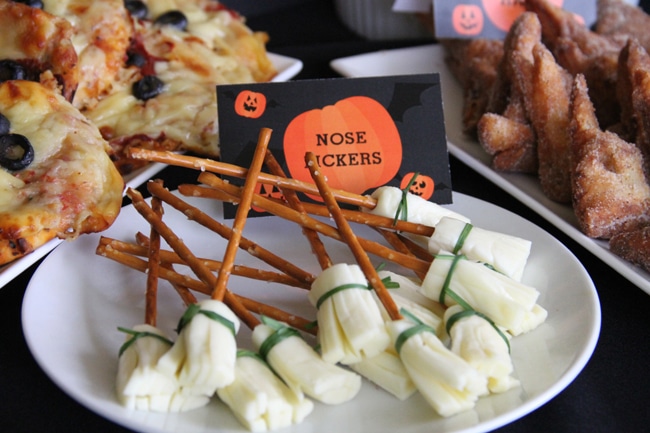 Halloween Snacks – Nose Pickers
Despite the name, these Halloween snacks are really cute! You'll need some mozzarella cheese, pretzel sticks and some fresh chives. Cut the mozzarella into blocks, and then cut ¾ of the way down in small squares to make the broom 'bristles'. Tie a chive strand around ¾ of the way down, and put a pretzel stick in the middle of the 'solid' side and you have the cutest little broomsticks (er…sorry…nose pickers) ever! Don't forget your labels here.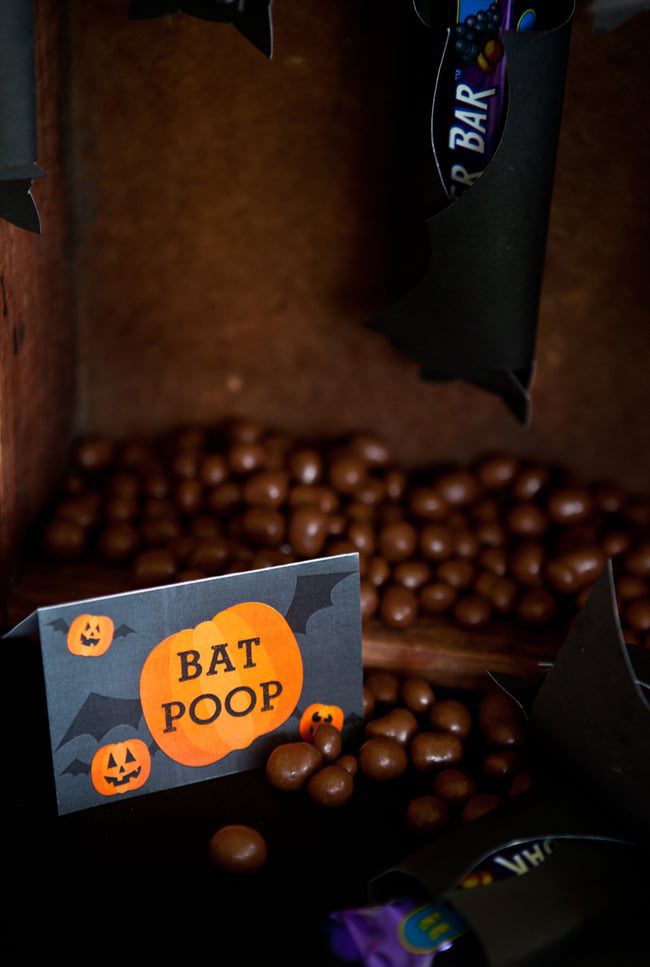 Halloween Snacks – Bat Candy and Bat Poop
And, seeing as, so far, we have chosen a less sugar-laden path to Halloween fun, we feel we can afford to go a LITTLE bit batty!
Create delight with some chocolate balls, and label them 'Bat Poop' with your (already purchased, food labels). Then, buy some small candy bars, and this awesome bat template, print out, cut out and wrap your candy batty! Looks great if you 'hang' them on something, like we have here with this wooden box!
Well, those are SOME of our ideas for creative Halloween snacks! Hope you got some inspiration from them. Bet you have some fab ideas of your own too!
Don't forget to browse our site for LOADS more amazing Halloween décor ideas including editable invitations, banners, cake toppers, backdrops – everything you need to decorate your Halloween in a flash!
To your Halloween Health!
Love, Lou
Which of these 7 Creative and Healthy Halloween Food Ideas are your favorite? Let us know in the comments below! For more party ideas, follow us on Instagram @prettymyparty and Pinterest and join us in our private Facebook group.
SaveSave
SaveSave
SaveSave
SaveSave
SaveSave
SaveSave