Frozen 2 Birthday Party Celebration
What little girl wouldn't adore this Frozen 2 Birthday Party Celebration with Olaf?!
How adorable is this Frozen 2 Birthday Party Celebration from Trendy Events?! Everything is so whimsical and beautiful with a fun pink, blue and purple color palette. We also loved how all of the whites were added into the birthday party to make it truly feel like a Frozen dreamscape. And what kind of Frozen 2 Birthday Party would it be without snowflakes added in all over the event?!
The dessert table was intricately designed with the most adorable Frozen 2 birthday cake we've ever seen! Olaf was front and center as the cake topper and we love all of the fun snowflakes that were used to decorate the multi-tiered birthday cake. Gorgeous snowflake cake pops and cookies were also created, in addition to the cupcakes and individual cakes that were available. It all looks so delicious!
And how about that incredible Elsa and Anna printable backdrop that was used to highlight the dessert table? Wow! Frozen themed snow-covered tree printables were also created as part of the backdrop, with fun white balloon installations making the event feel lighthearted and sweet. It was the perfect Frozen 2 Birthday Party decor to make the entire event feel like a dream.
All of the sweet Frozen 2 table decor was perfectly designed on the guest tables with fun sparkly white tablecloths. We love the sparkly crystal trees that were used as centerpieces on the guest tables, as well. They are so beautiful! Each place setting had its own individual dessert placed on the light pink plates, which looked beautiful when set on the white tablecloths.
We also really loved the fun cookie decorating party favor boxes that all of the guests got to take home with them. And of course, they were snowflake cookies! What a unique idea with gorgeous packaging with a special thank-you from the birthday girl for attending. This is one incredible event, with the birthday girl even dressing up as Elsa! We'd want to dress up, too, if we were lucky enough to attend this Frozen 2 Birthday Party Celebration. We love it!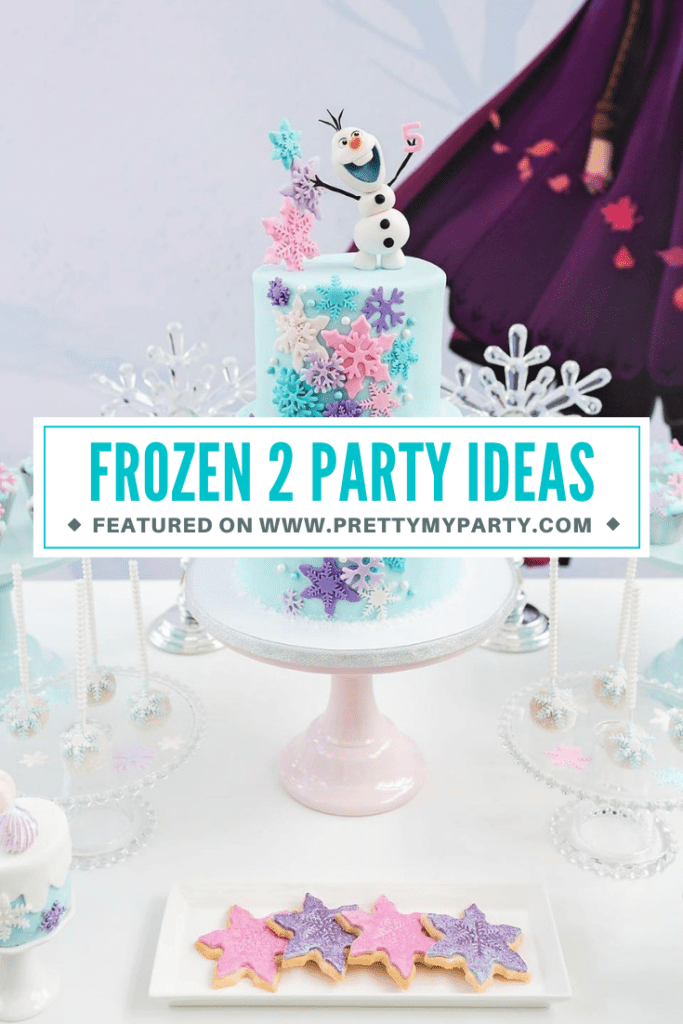 Frozen 2 Birthday Party Ideas
Elsa, Anna and Olaf were front and center at this birthday celebration, with all of the Frozen 2 characters showing up around the event
Many snowflake supplies and decorations were found at the birthday party, with snowflake themes in the desserts and crystal decor items
An incredible Frozen 2 birthday cake made everyone ooh and aah with Olaf serving as the cake topper
The Frozen dessert table also included snowflake-themed desserts like cupcakes, cookies and cake pops
A gorgeous snowflake banner was used on the front of the dessert table to match the other Frozen 2 decor around the birthday party
An amazing Frozen 2 birthday theme printable was created for the backdrop, which included Anna and Elsa and a winterscape theme
Gorgeous white balloon installations were made for the Disney Frozen 2 party, which made it feel like snow drifts flowing around the celebration
Frozen 2 themed food was available for all of the party guests with an amazing menu for the little ones to enjoy
Frozen 2 birthday party supplies and decorations were found on the guest tables with sweet Anna and Elsa plates, along with sparkly white tableclothes
Beautiful crystal tree and snowflake centerpieces were used on the guest tables, along with decor items on the dessert table
Frozen 2 birthday party favors were available for the guests, which were cookie decorating kits in a fun Frozen themed party favor box
Fun games and activities were set up for all of the young guests to enjoy with each other
The birthday girl wore a fun Anna outfit that she had a blast twirling in all day long
This amazing Frozen 2 Birthday Party had all of the details that one would expect to find at an event like this. We love the lighter color scheme for this little girl's birthday celebration, with the soft pastel versions of blue, pink and purple, along with clear crystal decor and white sparkly supplies found around the event.
There are so many wonderful parts of this birthday celebration, but our favorite detail is the entire dessert table. From the exquisite Anna and Elsa background, to the amazing birthday cake featuring Olaf, it was perfection! All of the perfectly themed dessert items added to the ethereal feel of the birthday party, with fun cookie decorating kits available for all of the guests to take home. We just love everything about this Frozen birthday party!
What are your favorite details from this Frozen 2 Birthday Party Celebration? Let us know in the comments below!
For more birthday party ideas, follow us on Instagram @prettymyparty and Pinterest and join us in our private Facebook group.
See more birthday party ideas here:
Party Vendors
Party Styling: Trendy Events
Photography: Nicole Pierce Photography