15 Incredible DIY Halloween Decorations
IF YOU'RE THROWING AN EPIC HALLOWEEN PARTY THIS YEAR, THEN YOU HAVE TO MAKE SURE THAT YOUR PLACE IS THE SPOOKIEST, CREEPIEST, MOST SPECTACULAR HOUSE IN TOWN! LOOKING FOR THE BEST DIY HALLOWEEN DECORATIONS? THESE IDEAS ARE SPOOK-TACULARLY PERFECT FOR YOU!
Do you have that one neighbor who never fails to go all out when it comes to decorating their home for Halloween? They've got the best Halloween decorations and their home always looks like a professional haunted house, complete with spooky music, eerie lights, cobwebs – the whole shebang?! You think to yourself, "Wow, that must have cost them a pretty penny."
Well, I'm here to tell you that it doesn't have to cost a small fortune to have the most creep-tastic house on the block! If you want to have a creepy Halloween home that's the talk of the town, sometimes all you need to do is roll up your sleeves and do a little DIY! Yep, that's right! With some simple materials and a little elbow grease, you can make awesome Halloween decorations that will make your house stand out!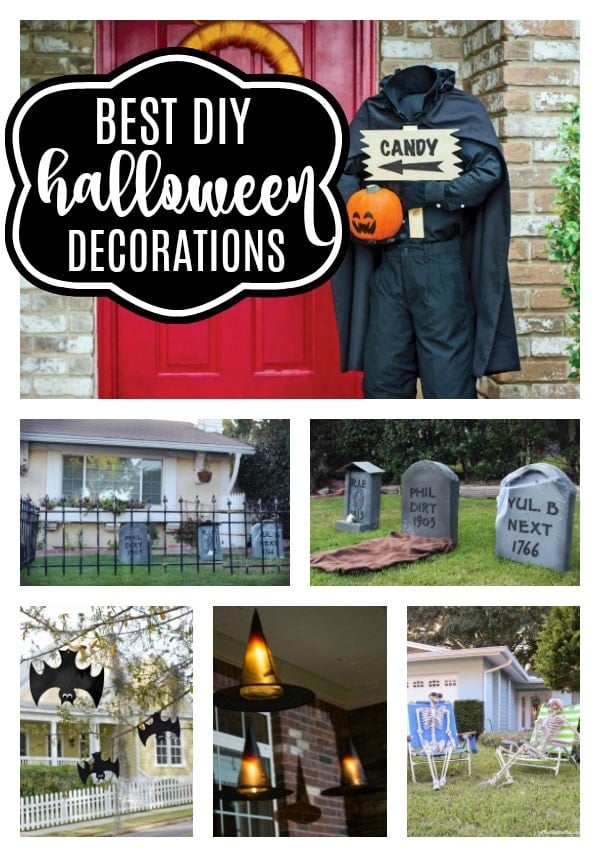 You can easily make hanging bats, trash bag spider webs, spooky glowing eyes, floating witch hats, mason jar spider lights, a skull wreath for your front door, and more! The possibilities are endless and you definitely don't have to spend a ton of money to have the best-decorated house for Halloween. The best thing about DIY Halloween Decorations is that your house will be so unique because you made everything yourself!
Eager to see these amazingly cheap and easy DIY Halloween decorations? Here are 15 Incredible DIY Halloween Decorations that you can easily accomplish for the most boo-tiful Halloween home this holiday!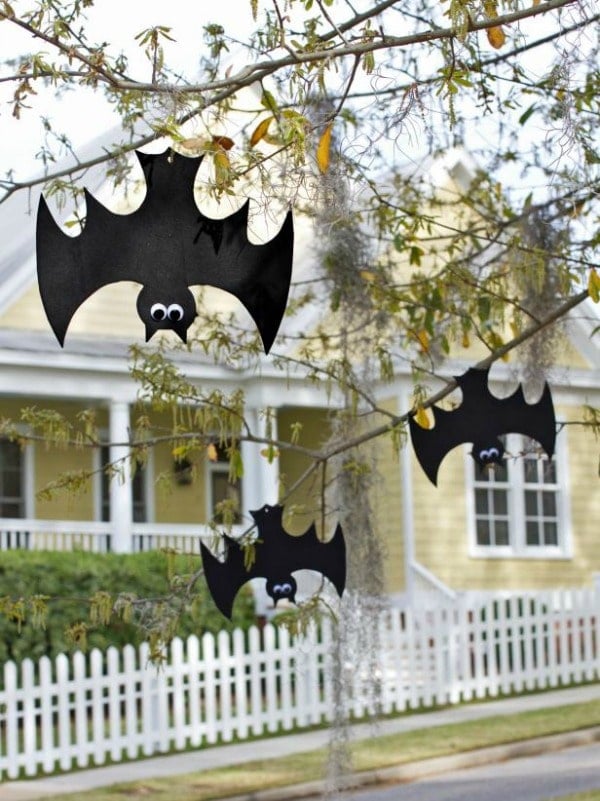 Handmade Halloween Decoration Idea #1: Want to make your yard spookier? Make these DIY Hanging Bat Decorations and hang them all over your trees and bushes! These bats are just made from black craft foam and a couple of googly eyes, so they're super easy to do. You can even print out a bat template to make everything so much easier!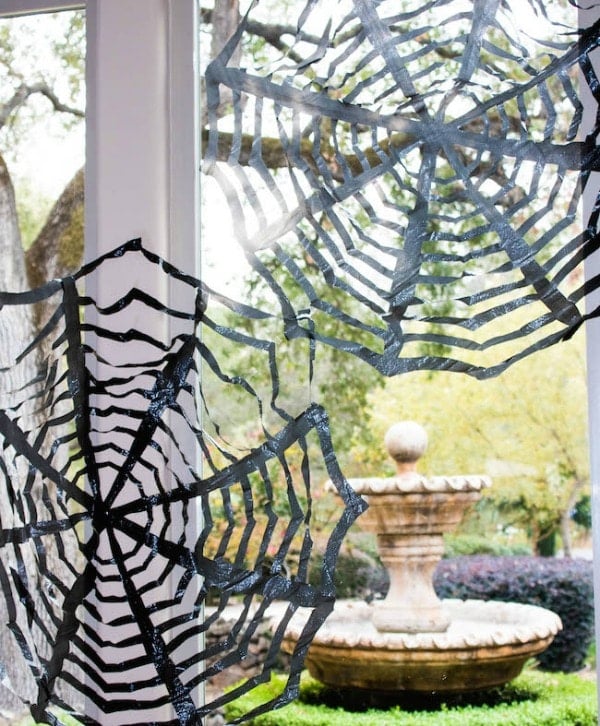 Handmade Halloween Decoration Idea #2: These DIY Trash Bag Spider Webs are so creative! The best part is, you already probably have these black trash bags lying around the house, so this Halloween DIY project is perfect if you're in a rush! If cheap, fun, and easy homemade Halloween decorations are what you're looking for, these trash bag spider webs should top your DIY list!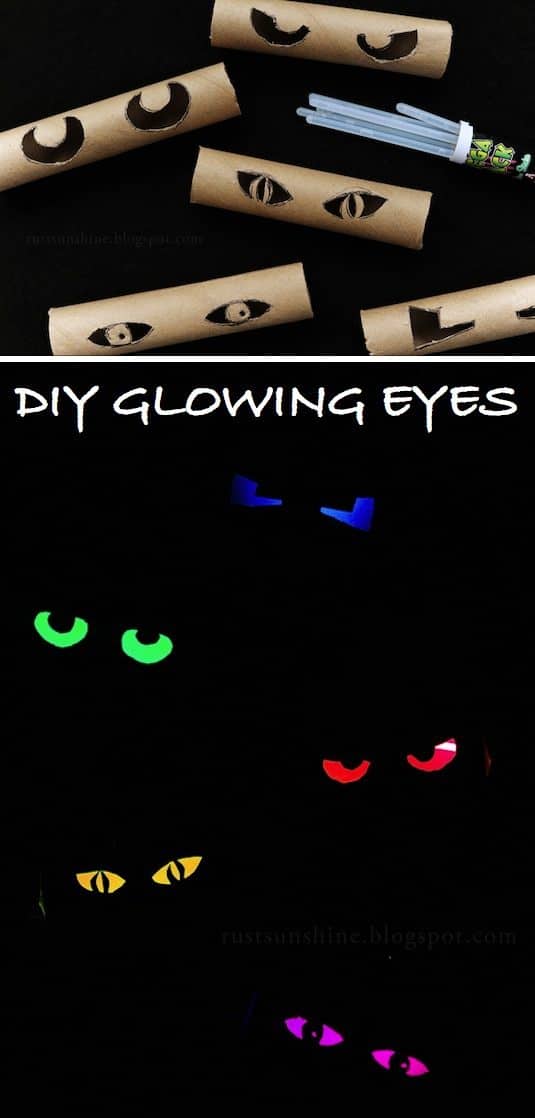 Handmade Halloween Decoration Idea #3: How fun do these Glowing Eyes look?! What's the secret to that spooky glow? Glow sticks! This project is super easy to do and just involves some toilet paper cores or a cut-up wrapping paper tube, a couple of different colored glow sticks, and some duct tape. And of course, a whole lot of creativity!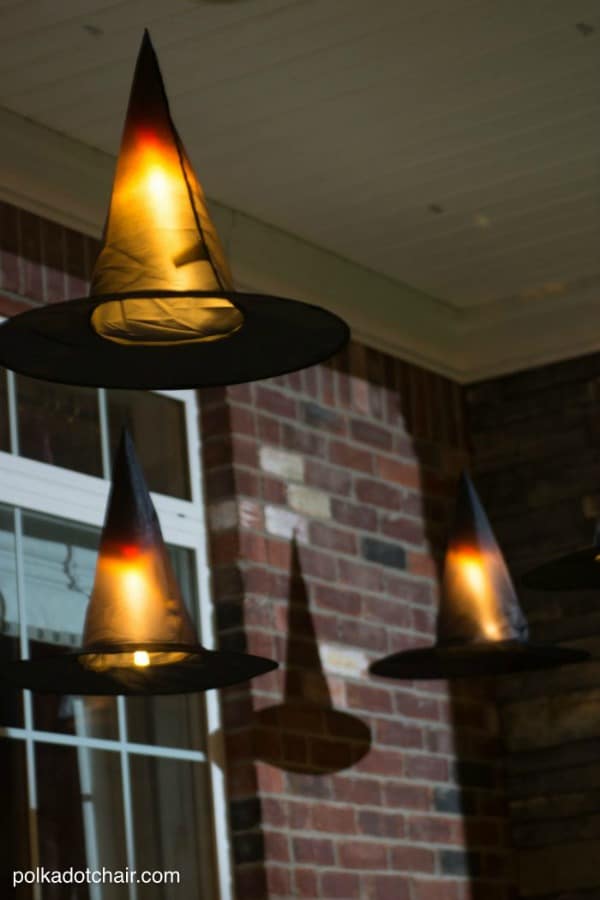 Handmade Halloween Decoration Idea #4: These DIY Floating Witch Hat Luminaries look amazing! Make everybody's All Hallow's Eve feel eerie and whimsical by recreating these fun and simple decorations.You can find affordable black witch hats easily and you can use LED sticks or battery-operated tea lights to light them up.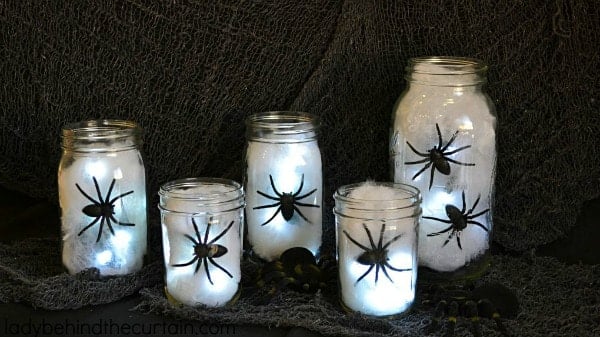 Handmade Halloween Decoration Idea #5: If you're looking for a cool centerpiece for your Halloween party, try making these Halloween Spider Light Centerpieces! You will only need four items for this decor and they're pretty easy to source too! You'll definitely have loads of fun these easy Halloween decorations.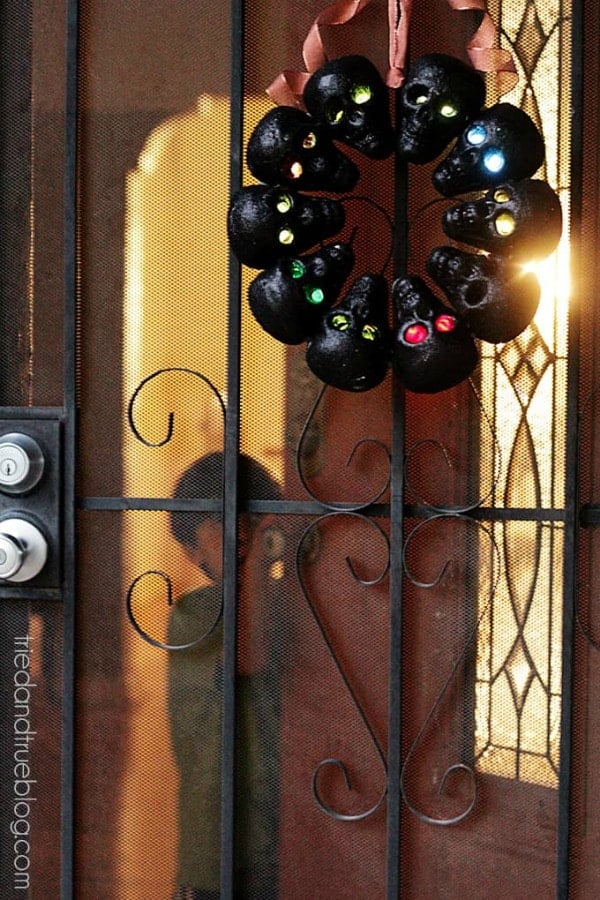 Handmade Halloween Decoration Idea #6: How creepy! If you're into cute and whimsical, and you're looking to really amp the scare factor, then you've got to have this DIY Skull Wreath up your front door. Find the creepiest looking skulls and don't forget to make those eyes glow!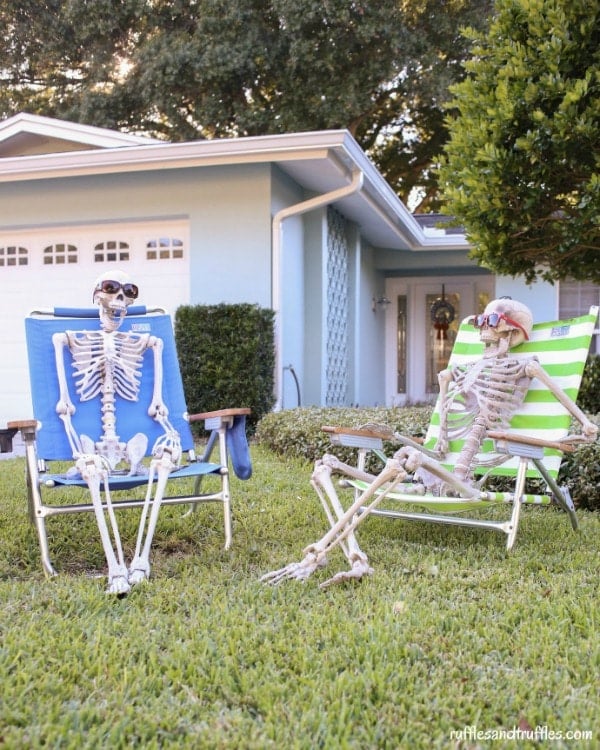 Handmade Halloween Decoration Idea #7: How about something a little more 'humer-ous'? These DIY Skeleton Lawn Decorations chilling out on your lawn will definitely bring in some chuckles from your Halloween party guests and even random people who pass by your house! This is definitely a must-do for people who love to inject fun in everything!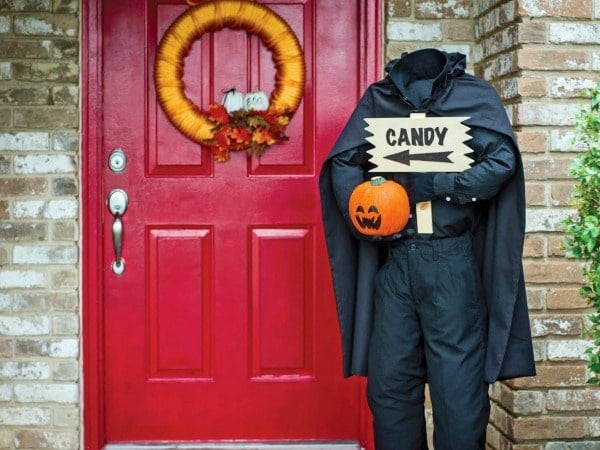 Handmade Halloween Decoration Idea #8: Want a more challenging project? You can test your creativity and resourcefulness by making this Headless Horseman Halloween Porch Decoration. You'll definitely spook some treat or treaters with this awesome decoration!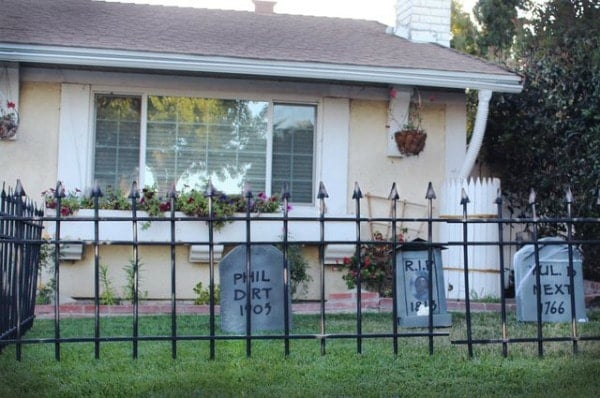 Handmade Halloween Decoration Idea #9: If you really want the grand effect, you have to to make this DIY Halloween Cemetery Fence for yourself. Since real fences can be quite expensive, this fence is made from simple PVC pipes. This is a great project for you and the other adults in your family!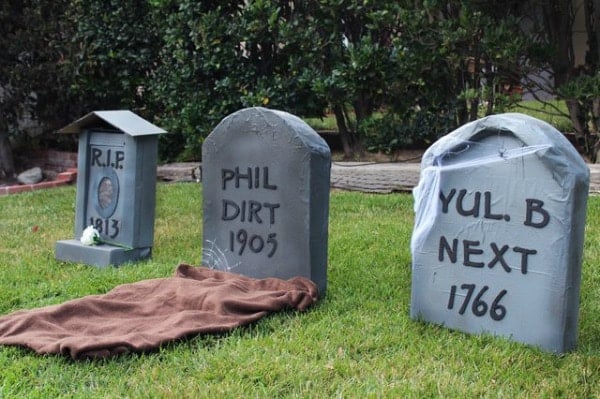 Handmade Halloween Decoration Idea #10: Your DIY cemetery won't be complete without these funny DIY Cardboard Tombstones! This is another very simple project that anyone can make. Plus, those name puns really make it even better, so you'll have loads of fun trying to come up with unique names!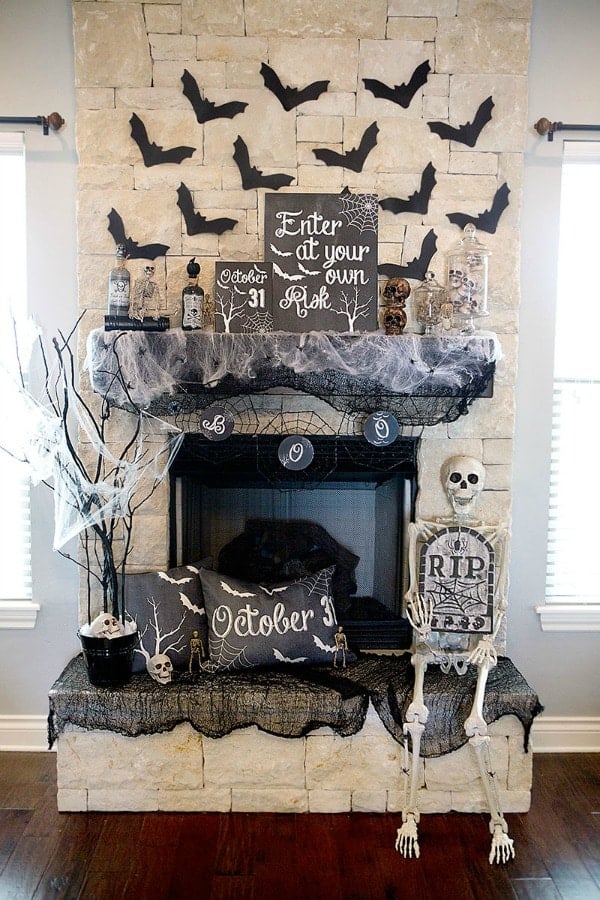 Handmade Halloween Decoration Idea #11: Wow! This fireplace decoration really pulls out all the stops! If you want truly amazing Halloween Fireplace Decorations for your upcoming Halloween bash, then you need to check out this awesome DIY fireplace decoration. From bats to skeletons, cobwebs to creepy skulls, this fireplace has got all the elements of a spooky Halloween setup!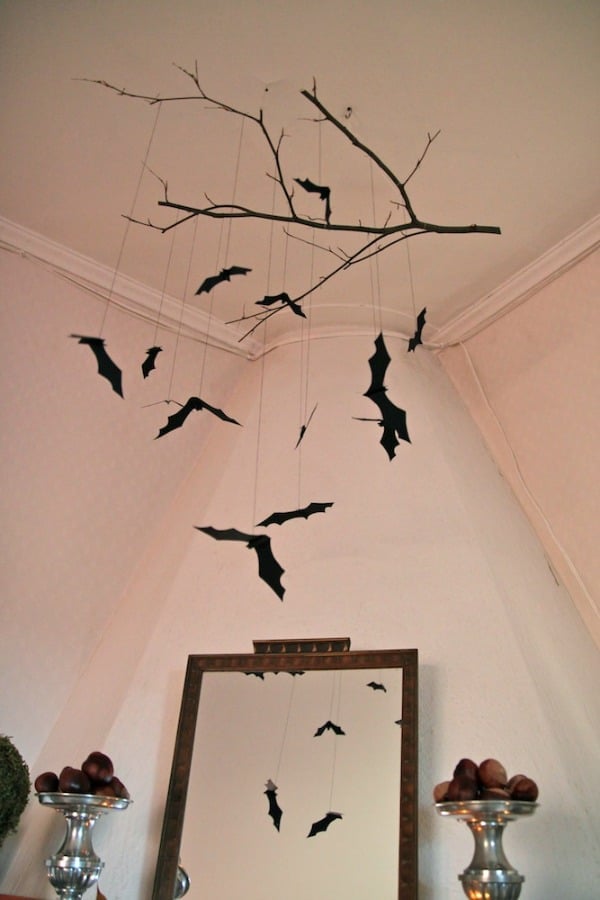 Handmade Halloween Decoration Idea #12: This DIY Bat Mobile is another great example of an easy project to do for your party or front porch. You can find lots of bat templates to print out so these cutouts will be super easy to make.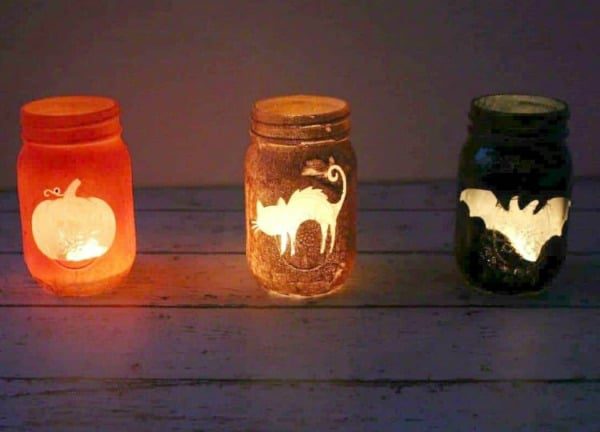 Handmade Halloween Decoration Idea #13: Light up your porch with these DIY Halloween Mason Jar Luminaries and you'll surely have all the trick or treaters flocking to your house. You can use an assortment of Halloween-themed designs to make it more interesting.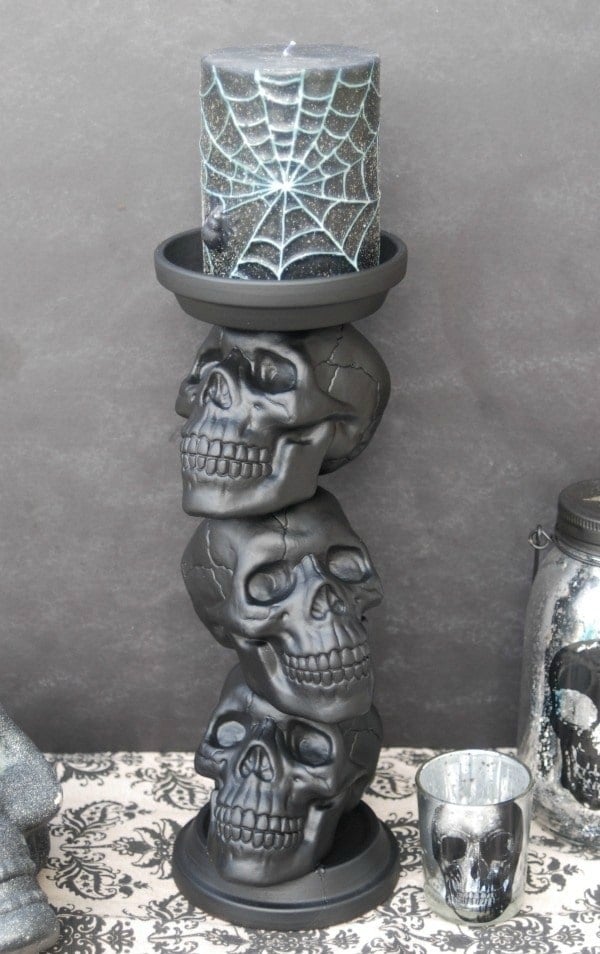 Handmade Halloween Decoration Idea #14: This DIY Skull Candle Holder looks amazing! It looks a lot like those expensive candle holders you'll find in the mall, but they are a lot less pricey. To recreate this, you just need some plastic skulls, some terra cotta saucers, and some black spray paint.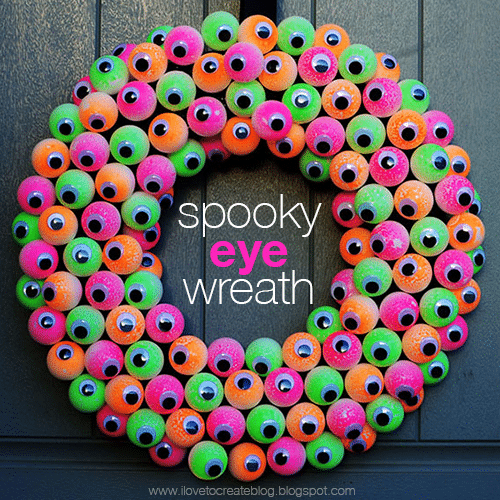 Handmade Halloween Decoration Idea #15: This DIY Spooky Eyeball Halloween Wreath is definitely eye-catching (pun intended)! This awesome wreath is made by spray painting some ping pong balls and adding some googly eyes. It already looks great like these, but if you want something scarier, you can find stick to white ping pong balls and make them look bloodshot!
What are your favorite Homemade Halloween Decoration Ideas above? Which ones will you DIY this Halloween? Let us know in the comments below!
For more Halloween party ideas, follow us on Instagram @prettymyparty and Pinterest and join us in our private Facebook group.