DIY Diaper Cake Using Diaper Genie Refills
If you're looking to make an easy diaper cake for a baby shower gift? Look no further!
Diaper cakes make a fun baby shower gift idea plus they double as the perfect table centerpiece or decoration for a baby shower. Learn how to make this easy diaper cake using Diaper Genie Refills. It's so easy to make and any mom-to-be would love a diaper cake as a gift for her bundle of joy!
Unique Diaper Cake Ideas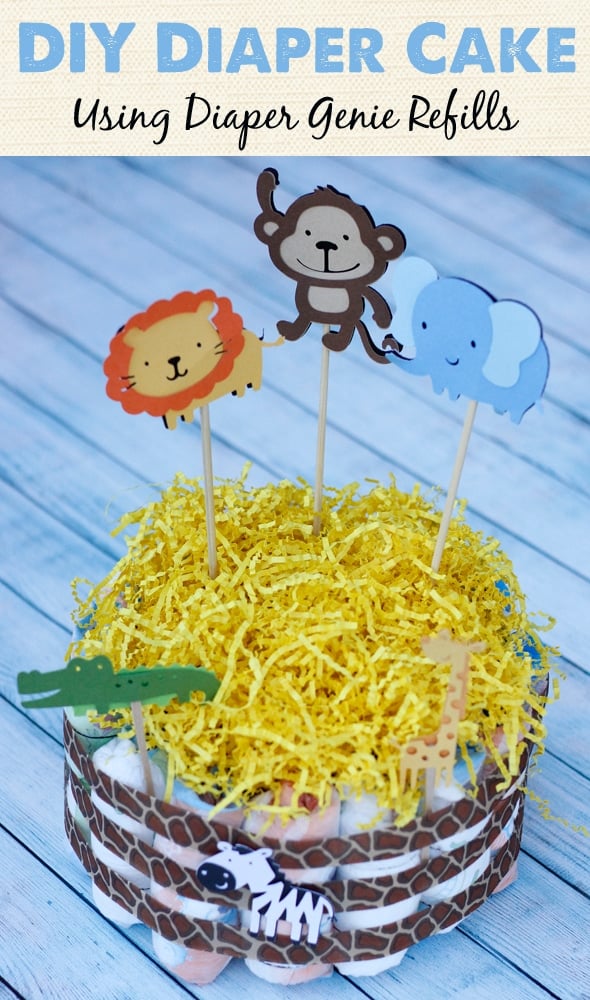 Are you searching for the perfect baby shower gift that can double as an awesome baby shower decor piece?!
You're probably asking yourself what does a new mom really need?
The Diaper Genie is probably on every mom-to-be's baby registry.
If you plan on purchasing a Diaper Genie as a gift or if you know the mom-to-be already has a diaper genie or is being gifted with one, then we have a great DIY baby shower gift idea for you!
Learn how to make a DIY Diaper Cake using Diaper Genie Refills!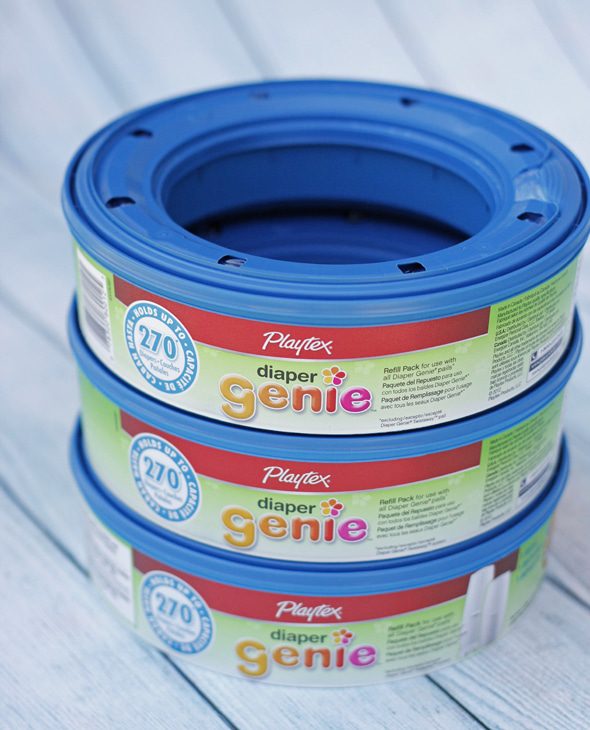 Being a mom myself, I know how great it was to get a Diaper Genie and refills at my baby shower. We all know that new babies require lots of diaper changes.
It's so convenient to have the Diaper Genie and refills in the baby's nursery. I love how the Diaper Genie is so convenient and it locks in those nasty odors.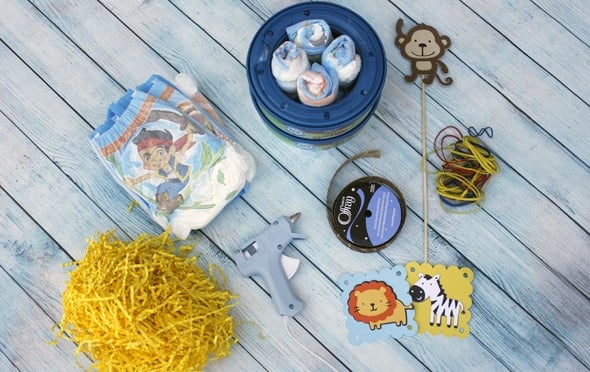 Supplies you will need to make the diaper cake:
Diaper Genie Refills (Number will depend on how tall you want your diaper cake to be. I used 2 for this small project)
Diapers
Small and Large Rubber Bands
Hot Glue Gun
Scissors
Ribbon (2-inch wide ribbon works best)
Decorations (My theme was jungle animals)
Card stock for the jungle animals
Wood Skewers for the jungle animals
Crinkle Paper in any color you choose
Any other baby items you would like to include on your diaper cake like pacifiers, a rattle, hair bows, etc.
Safety pins if you are attaching baby items to the front of cake
Cake base (Not used here, but you can add one if you like)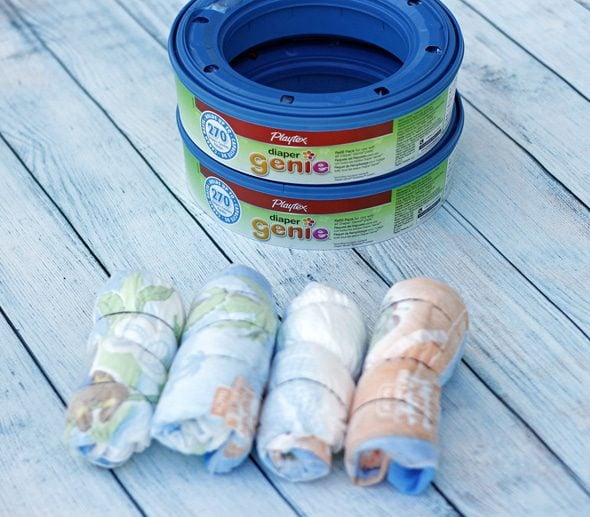 First, it's time to start rolling your diapers. To keep the diapers together, I used very tiny rubber bands. I used black, but clear rubber bands work best.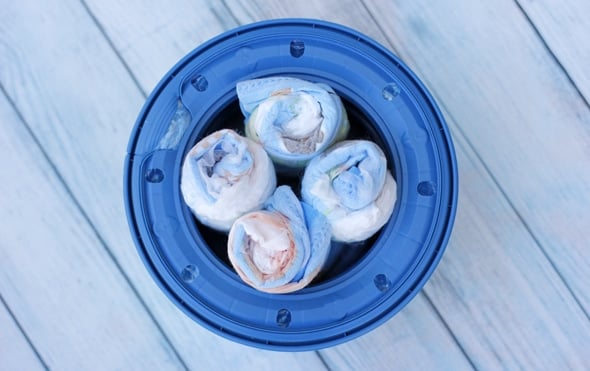 To make a sturdy base, I put one Diaper Genie refill on top of another and then added some rolled diapers to the center.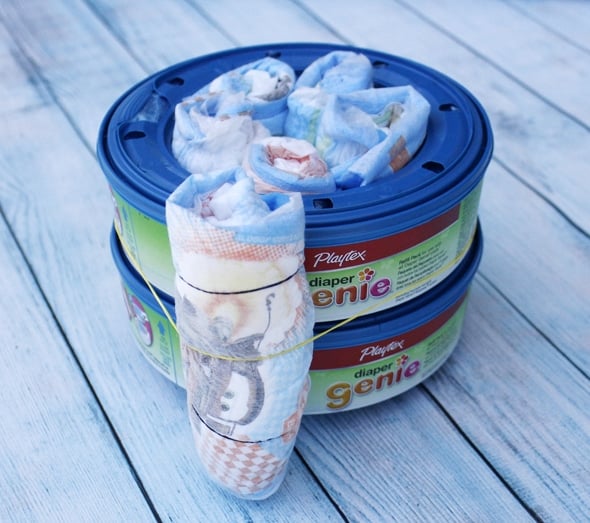 Once I filled the center, I moved to the outside of the refills. I put a large rubber band around the diaper genie refills and added diapers to the outside one by one.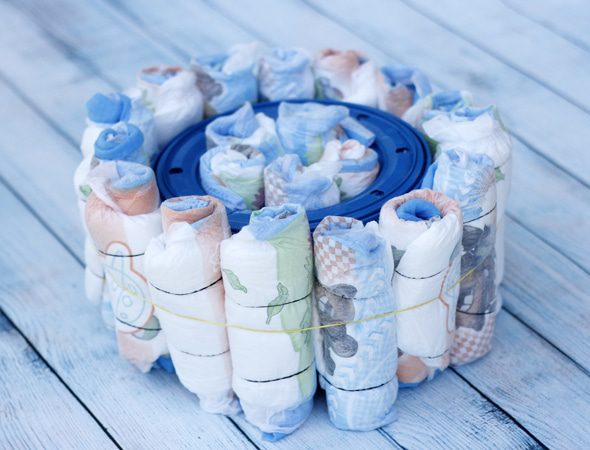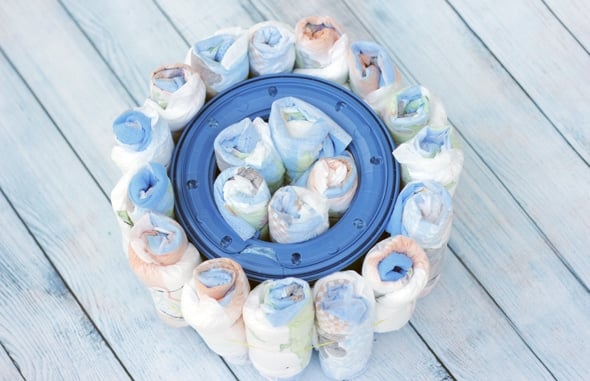 This is what it looks like after all diapers have been added. This cake is only 1 tier, which is perfect to use as table centerpieces at a baby shower. You can add 2 more layers to the diaper cake to make it a 3-tiered diaper cake if you wish.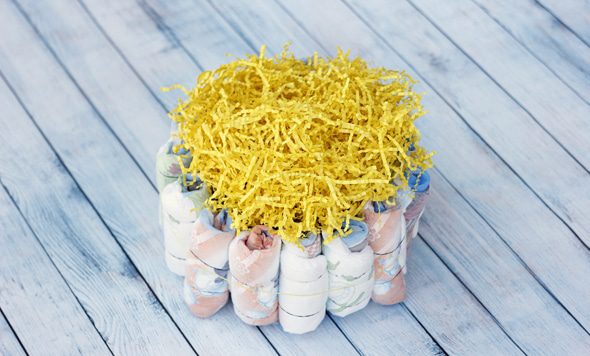 Next, I dressed it up a little by adding some yellow crinkle paper to the top of the diaper cake.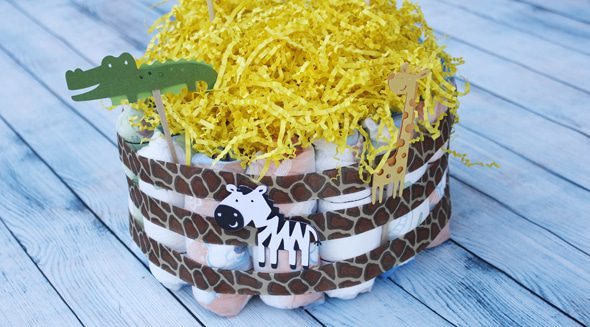 Then take your ribbon and add it to your diaper cake. I didn't have any 2-inch wide ribbon on hand, so I did 3 layers of the same ribbon to hide the rubber bands and make it look prettier.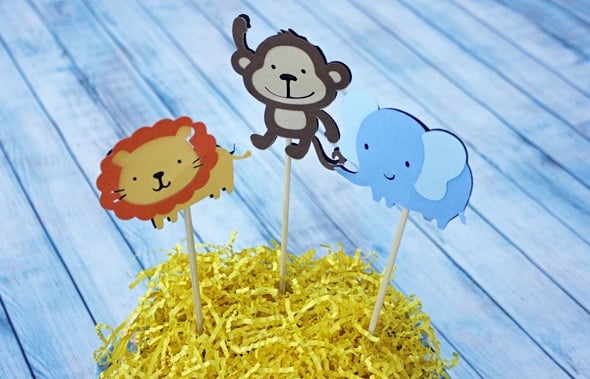 The theme of my diaper cake was jungle animals, so I attached some animals made from card stock to wood skewers and then added them as cake toppers!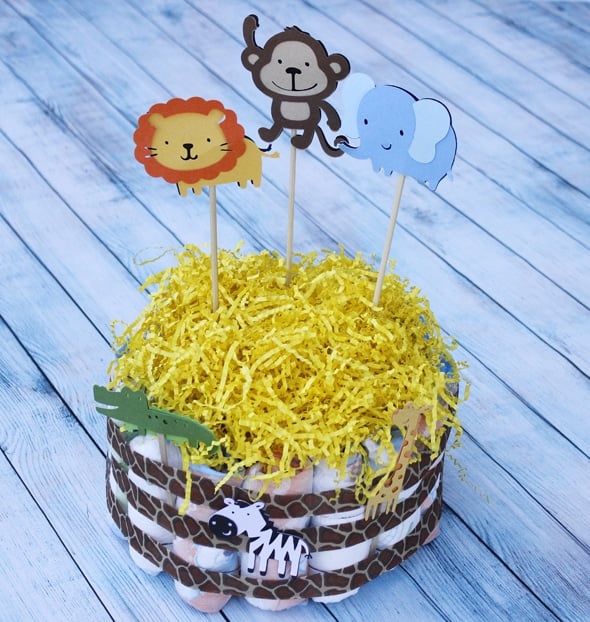 I also dressed up the front of the diaper cake with some more jungle animals.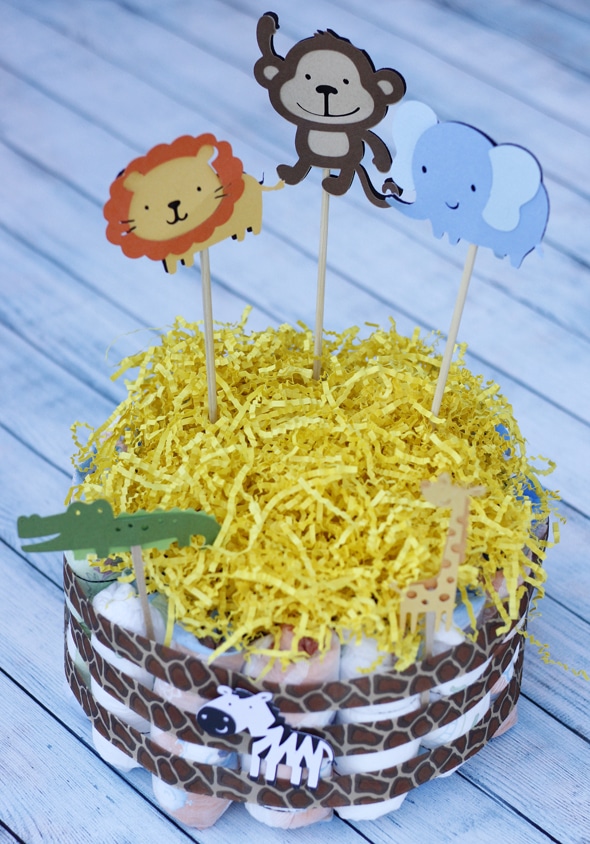 And there you have it – the perfect baby shower gift that was made from the heart!
What do you think about my diaper cake? Do you think this is something you will do for a special mom-to-be in your life? Let me know in the comments below!