Creative Pokemon Birthday Party Ideas
Does your child want a fun Pokemon birthday this year? If so, you won't want to miss these Creative Pokemon Birthday Party Ideas!
Why a Pokemon birthday? Well, with the launch of Pokemon Go, Pokemon birthdays have exploded everywhere! There are so many fun and creative ideas for this theme. Pokeballs are great for a Pokemon birthday, and you can make them with a lot of foods, from pizzas to fruits! You can also have a party centered around your child's favorite Pokemon. There are so many options for a Pokemon birthday, so you can definitely play around and get creative.
Pokemon Birthday Ideas
Many of these Pokemon-themed goodies are super easy to make. You don't have to be an excellent chef or an amazing baker to get them done. Get inspiration for your child's birthday cake, invitations, party favors, games, decorations, and more!

Shop these Pokemon Birthday Supplies and Decorations: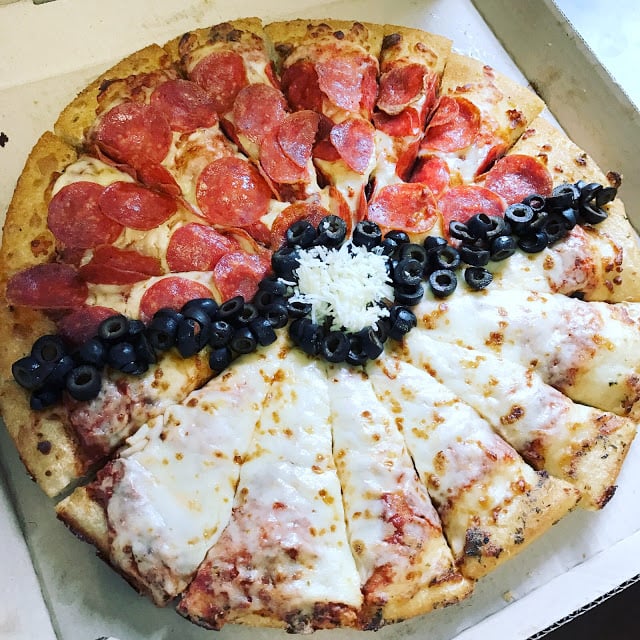 Check out this amazing and delicious Pokeball Pizza! It's the same pizza goodness that everybody loves but with a fun twist. You can order two pepperoni pizzas and two cheese pizzas and swap their halves so you have two yummy Pokeball pizzas. Don't forget the black olives and cheese on top!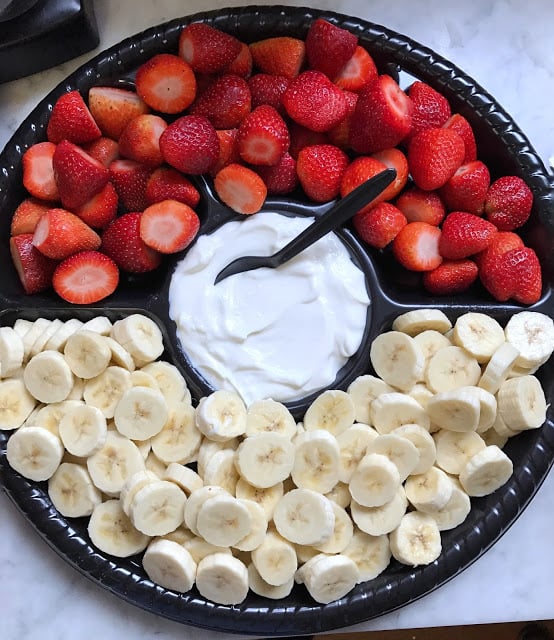 Want something healthy for dessert? This Pokeball Fruit Tray will fit right into your Pokemon party. It's super easy to make too! Just find some red fruits and light-colored fruits like the strawberries and bananas on this one, cut 'em up and serve in a round, black tray.
These Pokeball Oreos are super cute, and they're the perfect treat for someone with a sweet tooth. Can you believe that these are made with just 4 ingredients and it only takes 30 minutes to make 2 dozen?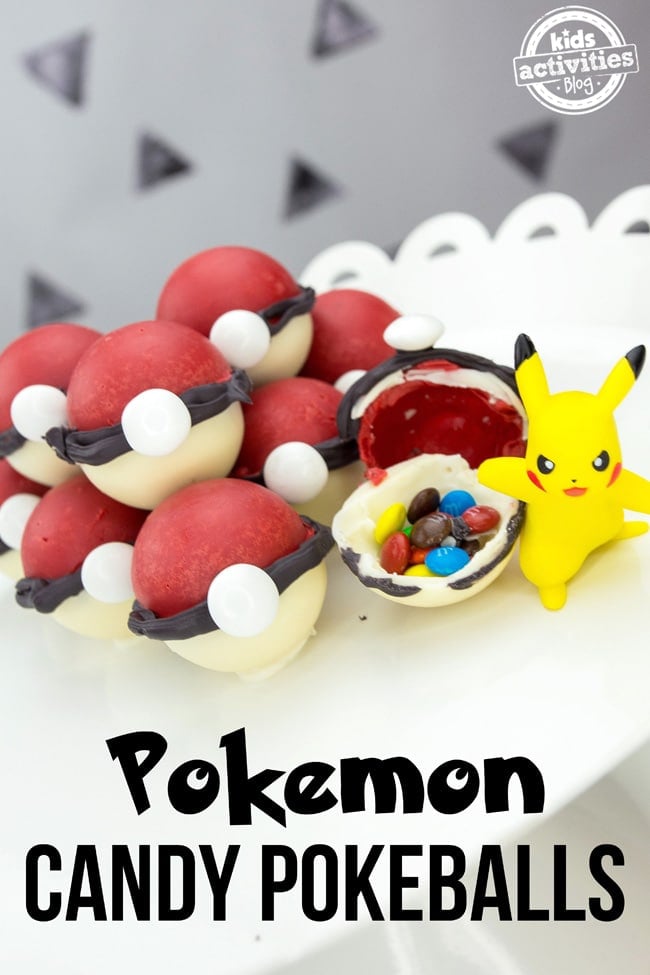 Look at these adorable Pokemon Candy Pokeballs! They are definitely perfect for your party's dessert table. Kids will go crazy once they see the surprise inside!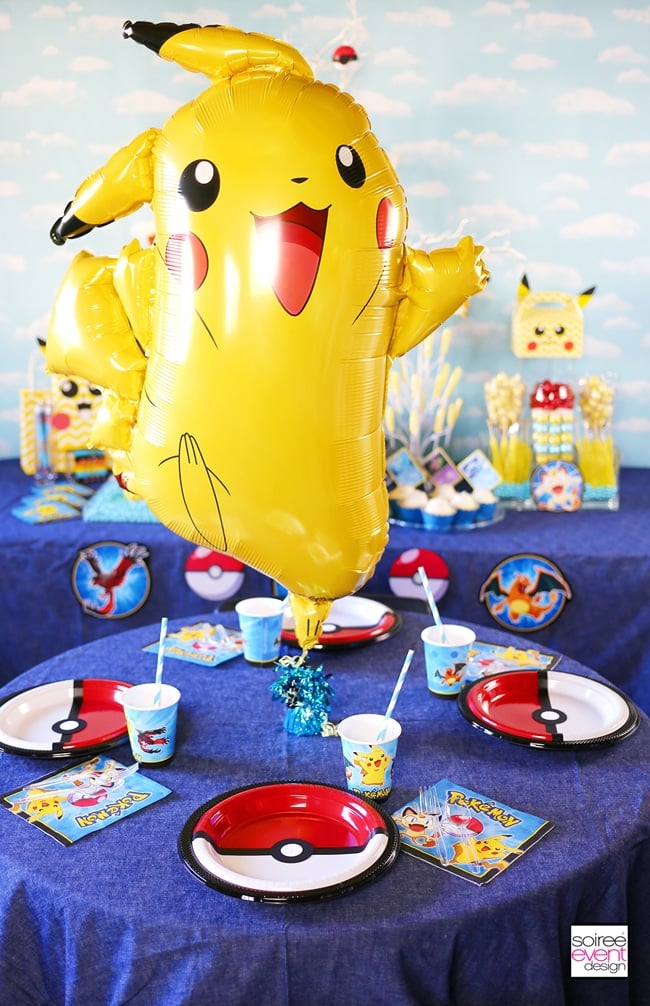 Of course, planning a party isn't just all about the food. Even your plates, cups, and decor should match the theme. Want to learn how to make Pokemon Pokeball Plates that look as great these? All you need are red and white paper plates, dark-colored washi tape, and some white paper, and voila! Super cool plates for your Pokemon party.
Just how cute are these Pikachu Peep Pops? This is a super crafty way to turn ordinary peeps into an adorable dessert that fits your party perfectly.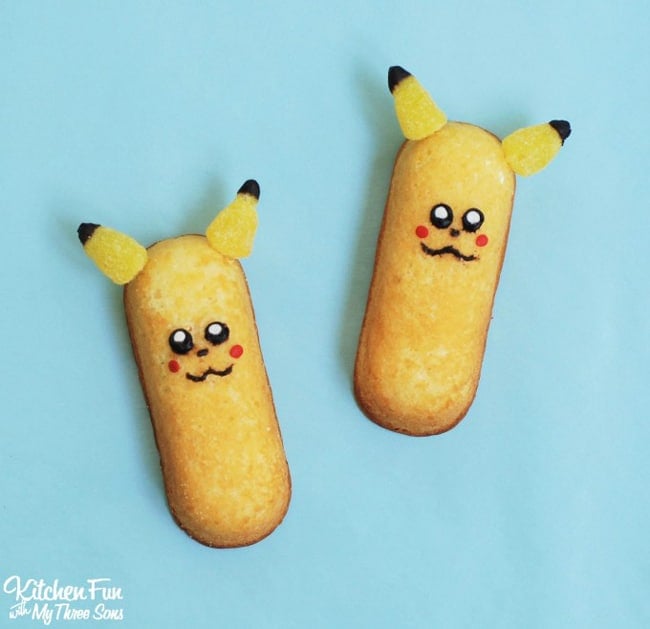 If you can do it with peeps, you can do it with twinkies. These Pokemon Twinkie Treats that look like Pikachu are another great addition to your sweets. Using yellow gumdrops for ears is just genius!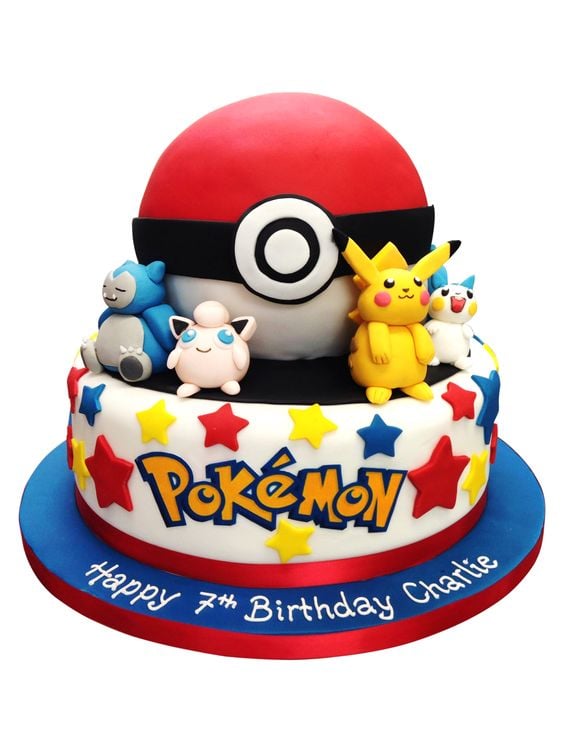 This gorgeous Pokemon Birthday Cake is just the perfect centerpiece for your party table! You can request for your kid's favorite Pokemon to be the cake toppers too!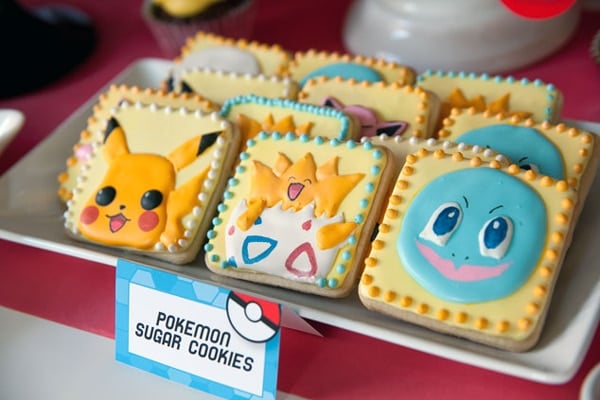 Basic sugar cookies with a Pokemon twist! These Pokemon Cookies can be made with any basic sugar cookie recipe, but you'll definitely have so much fun decorating them!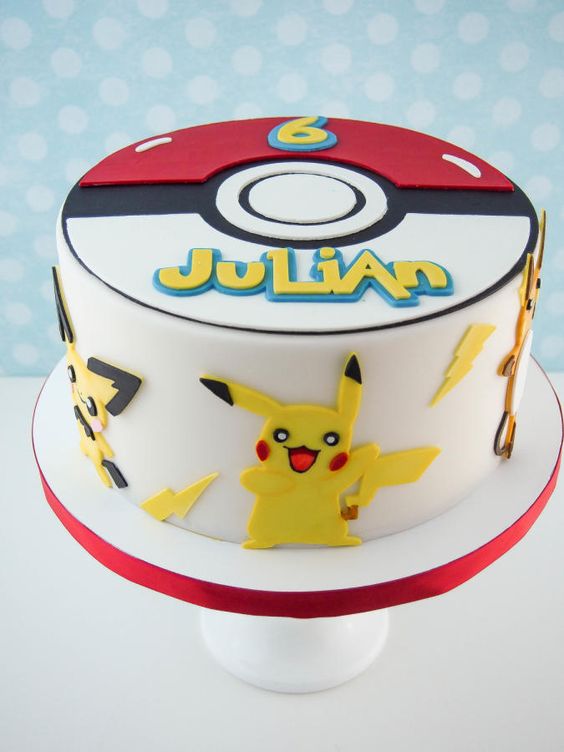 Looking for more Pokemon Cake ideas? Then how about this one? It's super simple, but it just screams Pokemon! It's definitely perfect for any Pokemon-themed birthday party.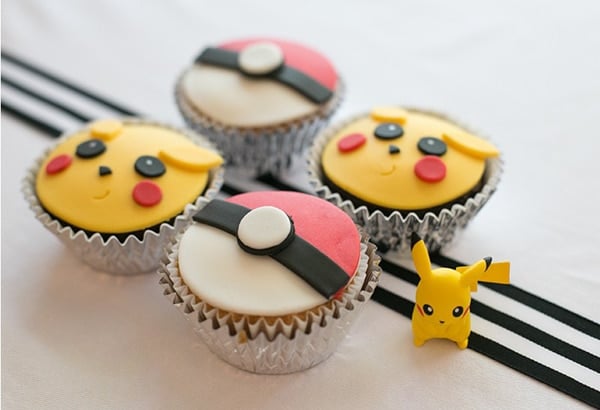 Don't want a big cake? How about having these Pokemon Party Cupcakes instead? These yummy cupcakes will look great on your party tables!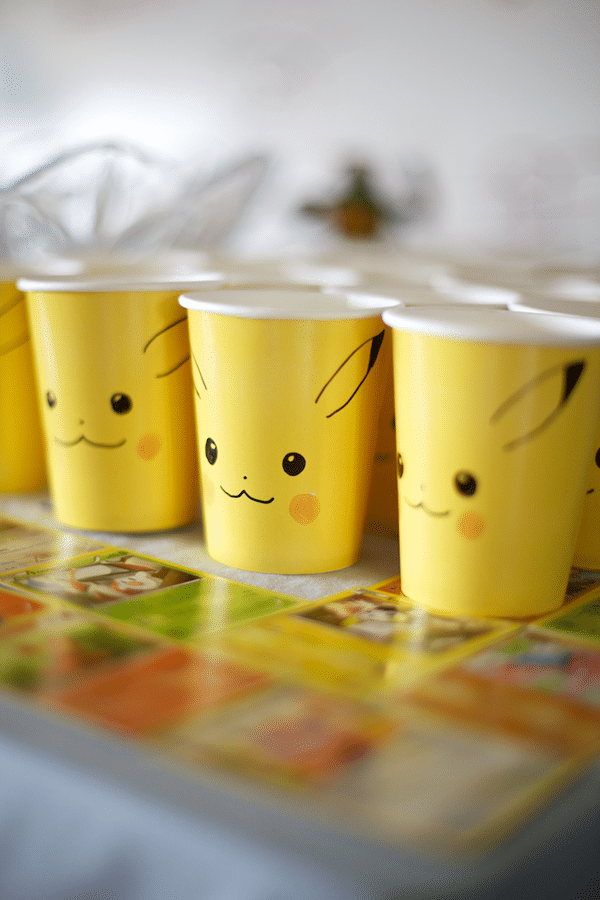 You can't have Pokeball plates without these matching Pikachu Party Cups! If you can't find ready-made Pikachu cups, you can even buy yellow cups and just draw on them with a Sharpie. Easy peasy, right?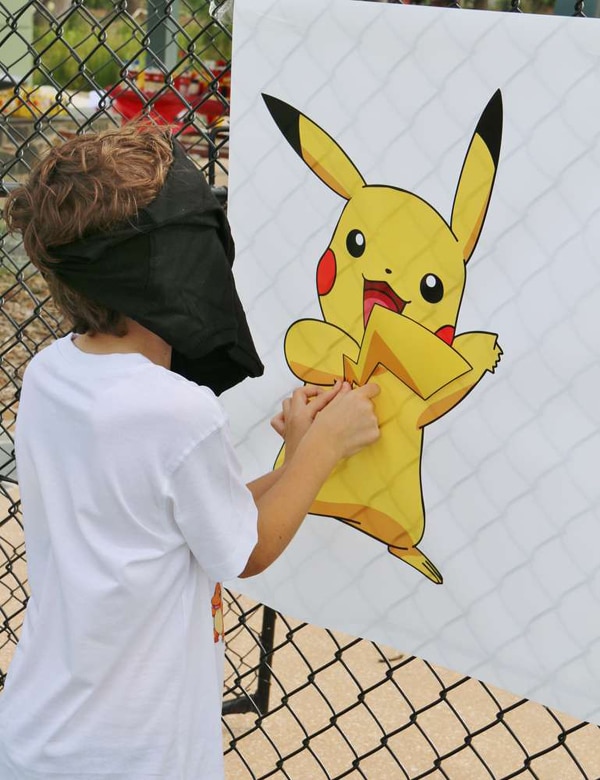 Keep the kids entertained with this fun take on a classic: pin the tail on Pikachu! This cool Pikachu Party Game will definitely have your kids laughing when they see where the tail ends up on Pikachu.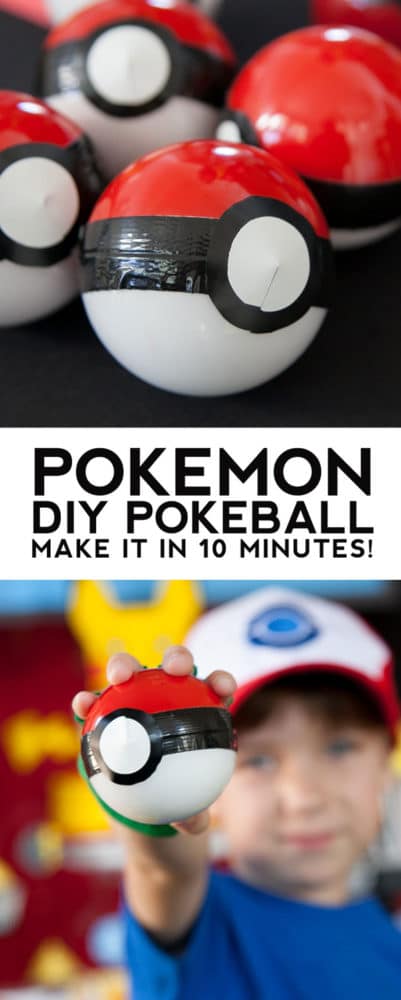 Time for some awesome party favors! These DIY Pokemon Pokeball Party Favors take just 10 minutes to make, and your kid's friends will definitely have fun using them to try and catch 'em all! Don't forget to add a treat inside. How about a cute Pokemon figurine? The kids will be super excited to see what Pokemon they caught!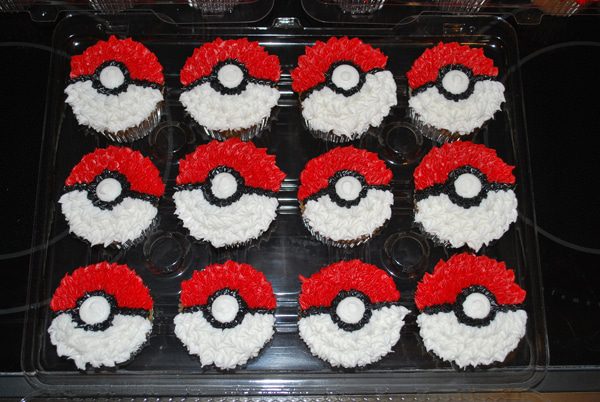 More cupcakes? Why not! These awesome Pokemon Cupcakes will look just amazing on your dessert table.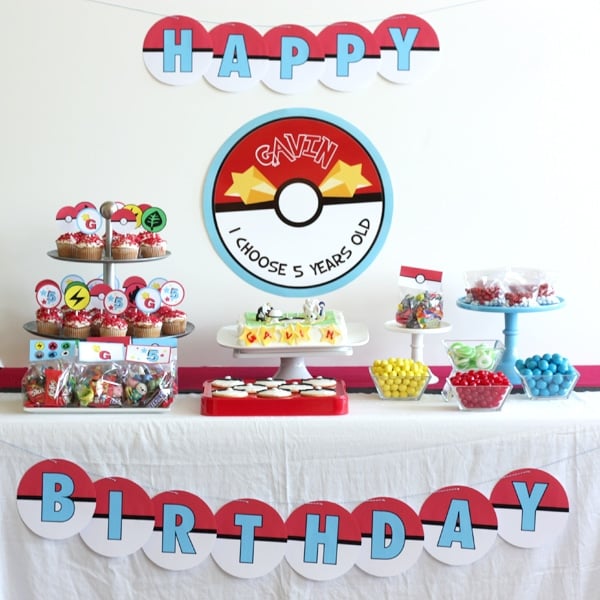 Looking for ideas on how to set up all the desserts you prepared? Check out this cool Pokemon Dessert Table. Your kid's sweet-toothed buddies will definitely be flocking over to this one!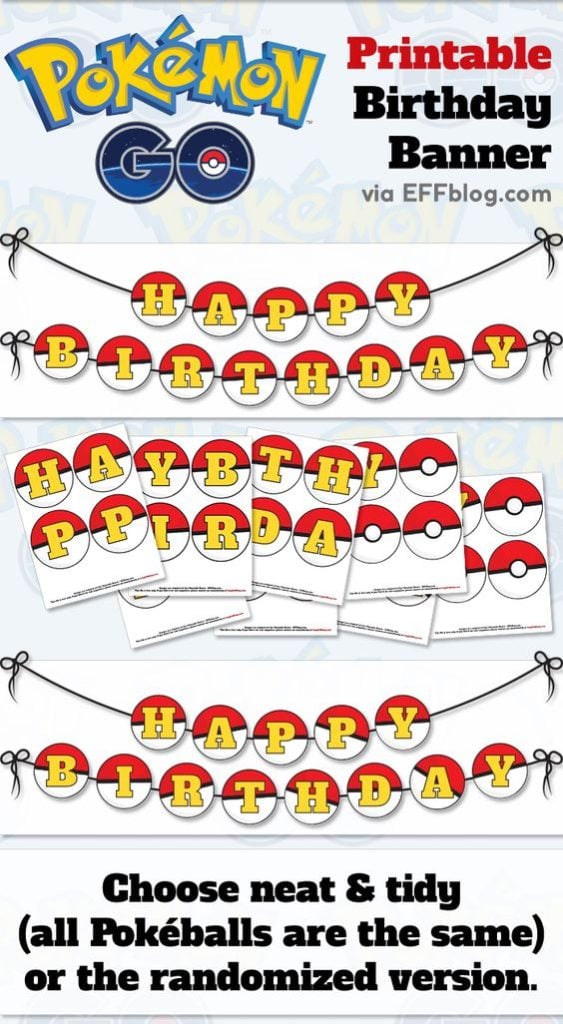 This Pokeman Printable Happy Birthday Banner is an awesome addition to any Pokemon birthday party. The best part is, they're free! Now you don't have to spend time trying to make your own. Party planning just got a whole lot easier.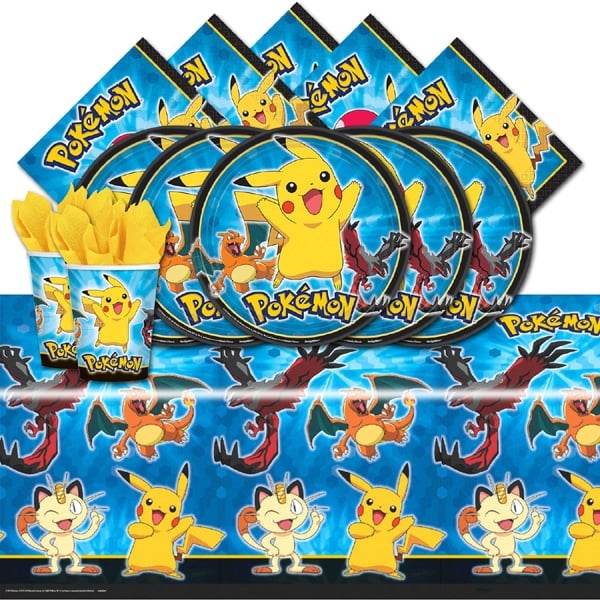 If you're in a rush or simply don't have the time to do the DIY plates and cups, just grab this Pokemon Pikachu & Friends Birthday Party Tableware Pack for 16. It's a complete set with all your party table needs.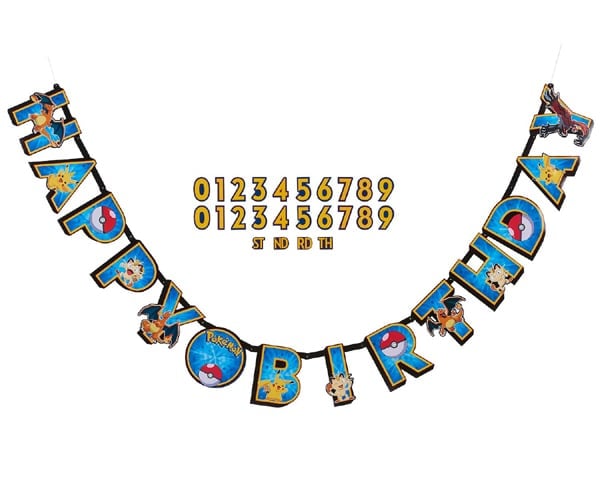 Here's a cool idea for a ready-made Pokemon birthday banner! This American Greetings Pokemon Add-an-Age Birthday Party Banner is all set for your kid's party, no matter how old they are! Just stick their age in the circle, and you're good to go.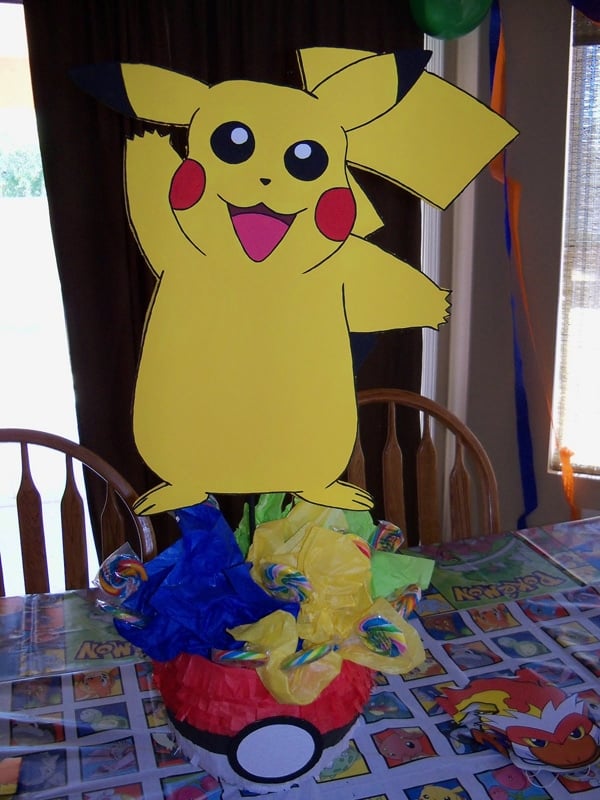 Want a super cute centerpiece to make your table extra special? Try your hand at this DIY Pikachu Table Centerpiece! It's an adorable foam Pikachu cut-out on top of a paper-mache Pokeball. The swirly lollipops inside the Pokeball is a nice touch.
Look how classy these Pikachu Hanging Party Decor Pokeballs are! You can hang them above your birthday banner as an added touch or have them hanging all over the place as awesome statement pieces!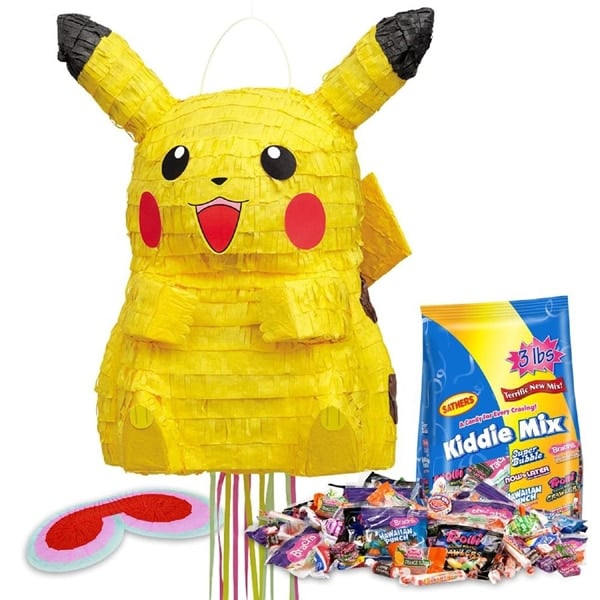 Want to make your party even more exciting? How about having a pinata? This Pokemon Pinata Kit makes it super easy for you to have an awesome pinata for your Pokemon party. It even has all the candies you'll need to put inside your pinata!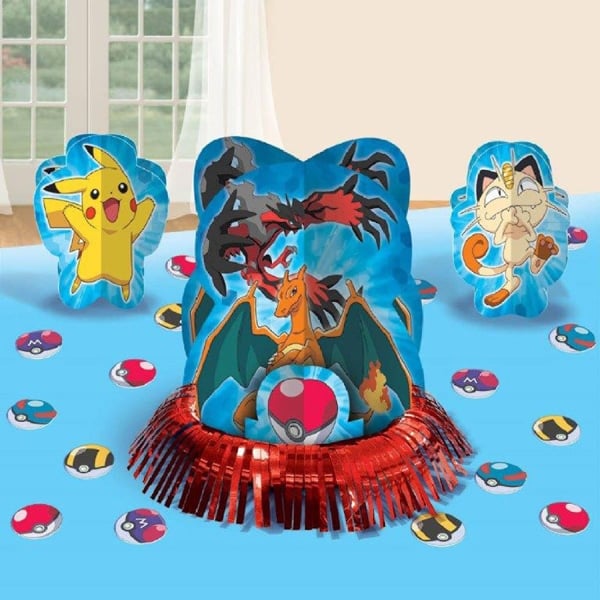 This Pokemon 23-Piece Table Decorating Kit is also another great addition to your party decor! It has three 3D centerpieces for your tables and Pokeball confetti with different types of Pokeballs in the package.
Throwing a Pokemon birthday party is so much fun, especially if you have these amazing ideas to get you started! Which of these 23 creative Pokemon birthday party ideas do you want to have at your child's party? Share your thoughts in the comments below!