Creative Lumberjack Birthday Party
You are going to adore this Creative Lumberjack Birthday Party from Sunshine Parties! Everything from the party printables to the stacked pancakes really make this party one of a kind! If you have a little woodsy, tough guy of your own, a buffalo plaid lumberjack first birthday is the perfect way to celebrate!
Lumberjack Party Supplies:
Hmmm … what to do for a two-year-old boy's birthday party theme?
Facts:
Ollie is turning 2

He is the youngest of three brothers (therefore, a tough guy)

He needs a kick ass party. No unicorns and fairies please.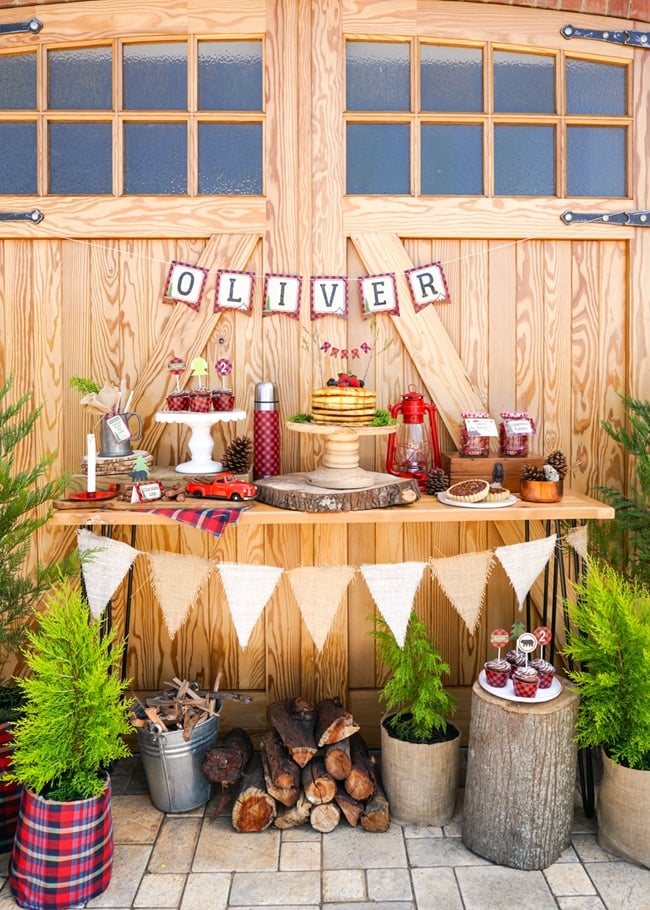 Solution:
Lumberjack. Yeah. Perfect. Lots of plaid, nature, wood, logs, pine cones and being in the great outdoors. Then, cosy campfires, s'mores and scary stories about the bears you chased away today. And we can't let the little lumberjacks go thirsty, they'll need lots of lumberjack lager and lattes.
So, that is how Lou got to create this Creative Little Lumberjack Birthday Party set up for her handsome little logging man. With loads of Buffalo plaid, burly hessian and a hefty crumpet cake, this was definitely Lumberjack land!
Using our digital printables for the cupcakes, invites, labels, signage, lumberjack beards, bunting and mini bunting, favor tags and more, Lou used her creative flair to set the perfect lumberjack theme. Check it out!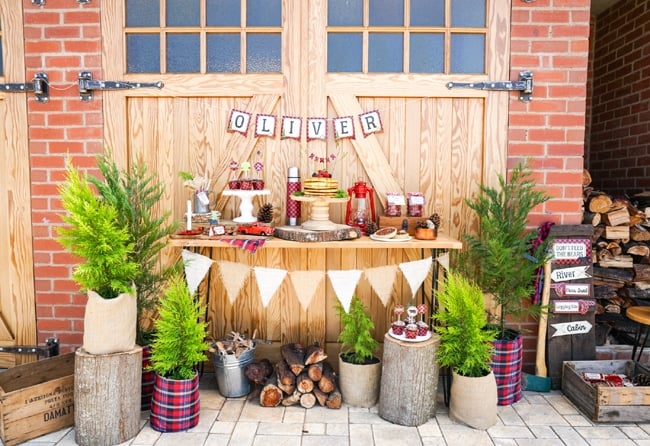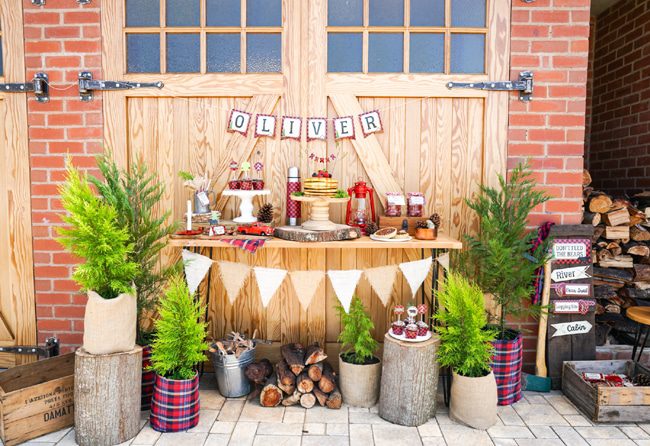 Main set up
How gorgeous, rustic and fresh is this little lumberjack main table set up? Bright green plants, rough-hewn logs, hessian bunting, crumpet cake, tartan cupcake wrappers and toppers and all the printables for favors, labels, signage, even beards for our macho little loggers available as part of the set!
Cupcake toppers
Tartan and fir trees and frosting on icing!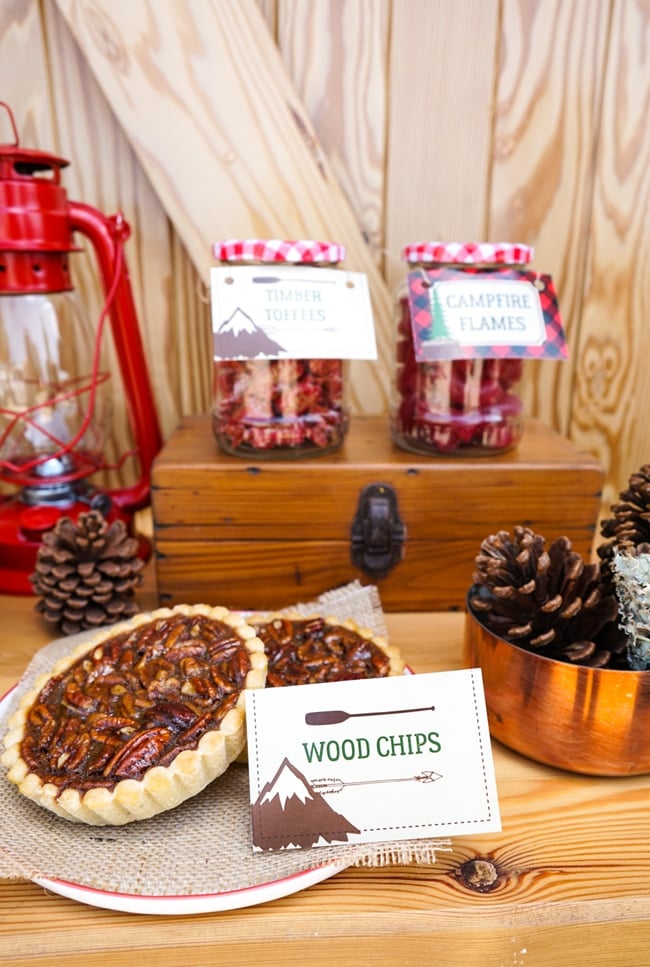 Wood chips food labels
Make everything about the forest – we used hessian fabric, pine cones, our printable food labels and some wood and lanterns.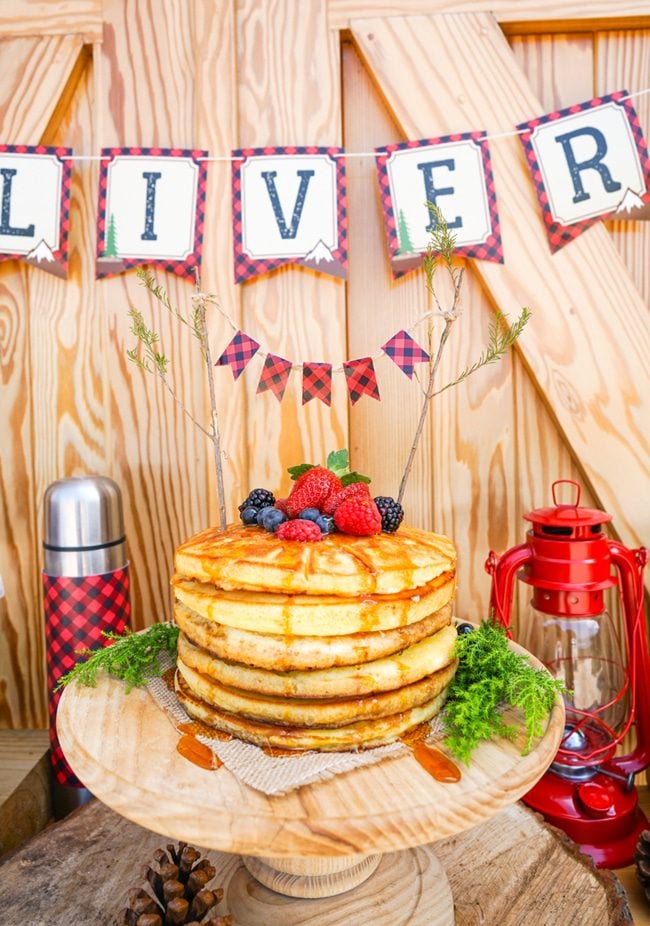 Stack of pancakes
Lumberjacks don't do cakes, they do PANCAKES! Ollie's Mom Lou used a flapjack recipe with a little extra baking powder and fresh forest berries and syrup to make this flapjack feast of a birthday cake!
Plaid you came
Party favor thank-you tags – we were so plaid they came!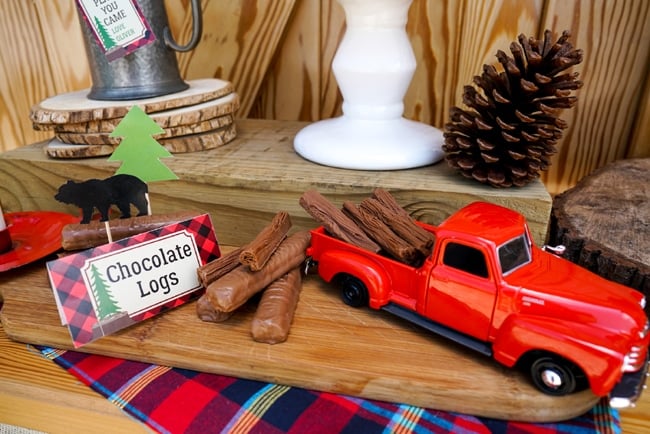 Chocolate logs
Logging and bears and the great outdoors! Add in a shiny red truck and actual chocolate and your little loggers get VERY happy!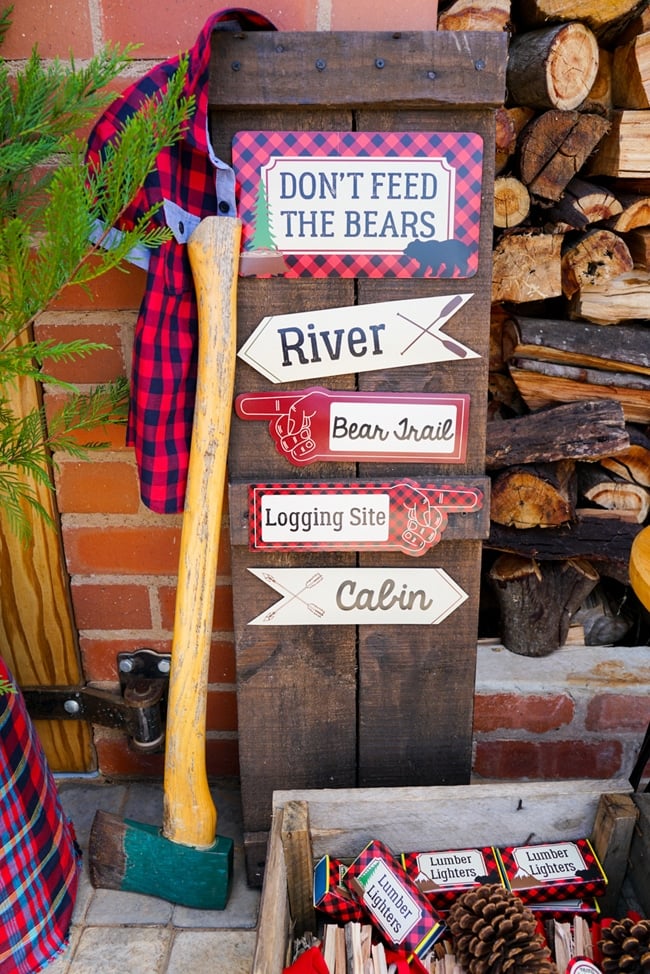 Signage
Use these awesome signage templates to let the lumberjacks know where to go. And warn them of course … you know, bears.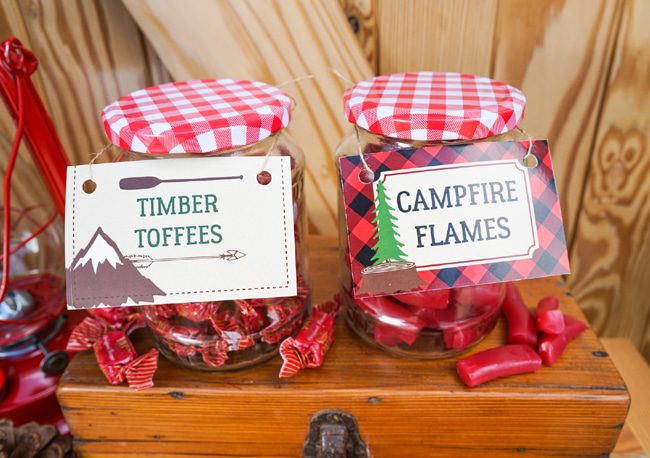 Jars
Jars of forestry candy will have sticky hands in there in no time at all!
Bunting
Ollie's plaid birthday bunting looked great against wooden doors.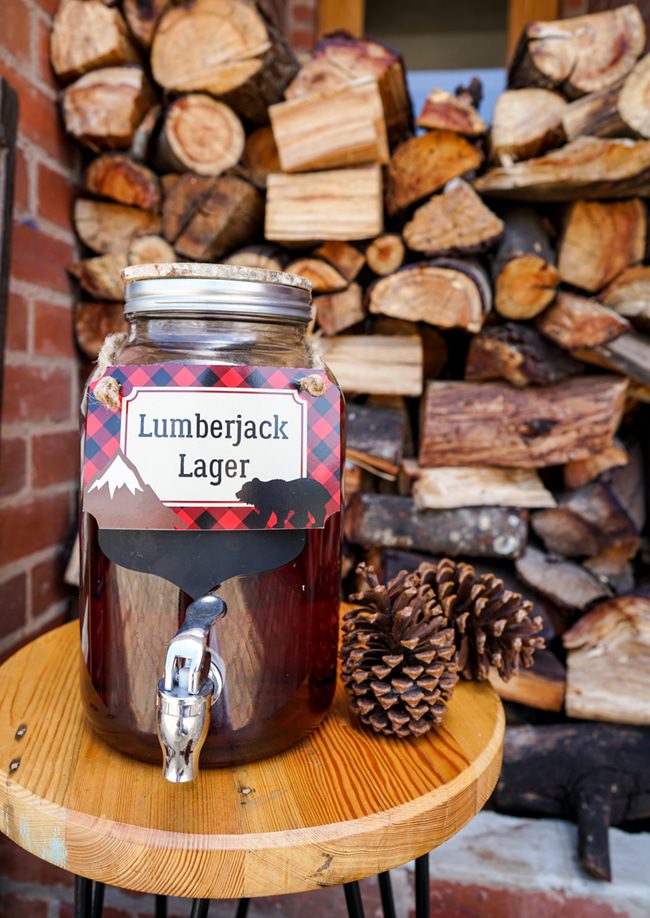 Lumberjack lager
We all know that lumber jacking is thirsty work! So we had some 'lager' (ok, Snapple) ready on tap for the thirsty boys!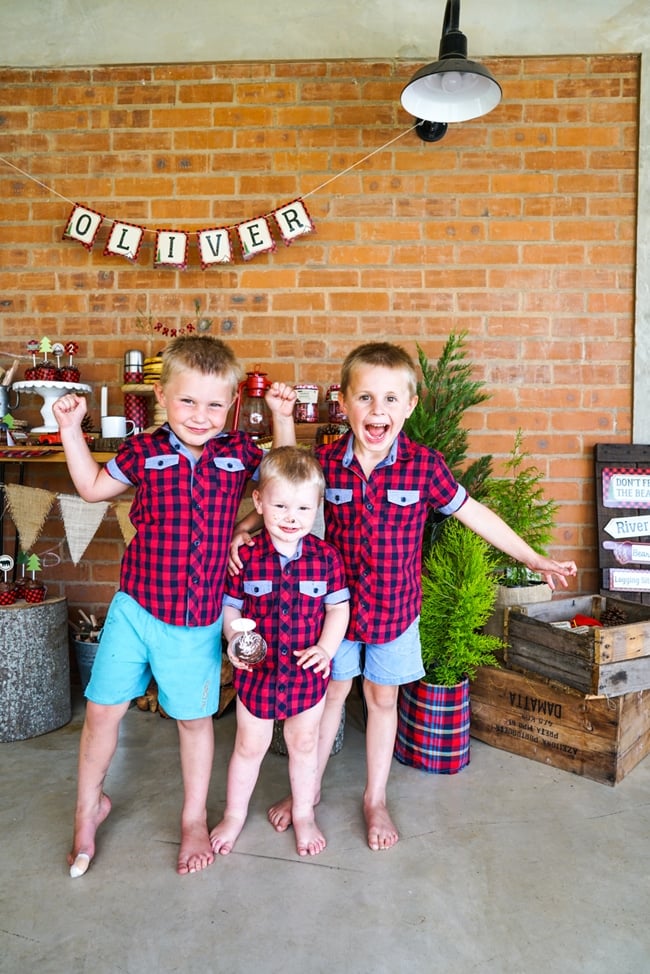 Boys
Birthday boy Ollie (2 years, the one with chocolate log on his nose) surrounded by his awesome big brother loggers Will and Tom. The matching plaid shirts – awesome touch! Such a creative lumberjack birthday party!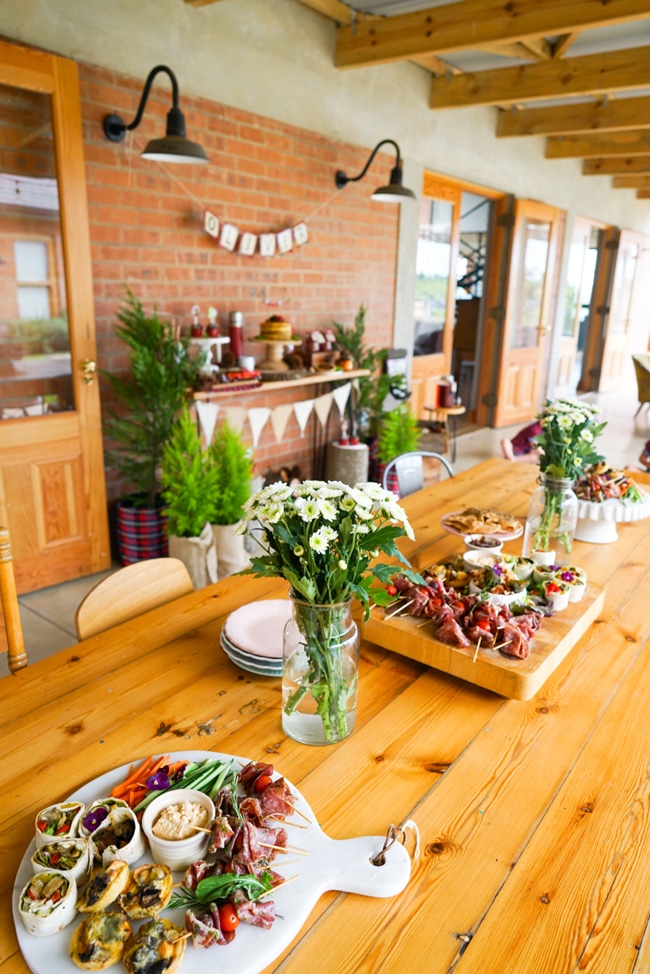 Savory food
Hmm … great forest pickings! The parents were kept happily munching on the most delectable Mediterranean platter cold meats, cherry tomatoes, wraps and delicious dips.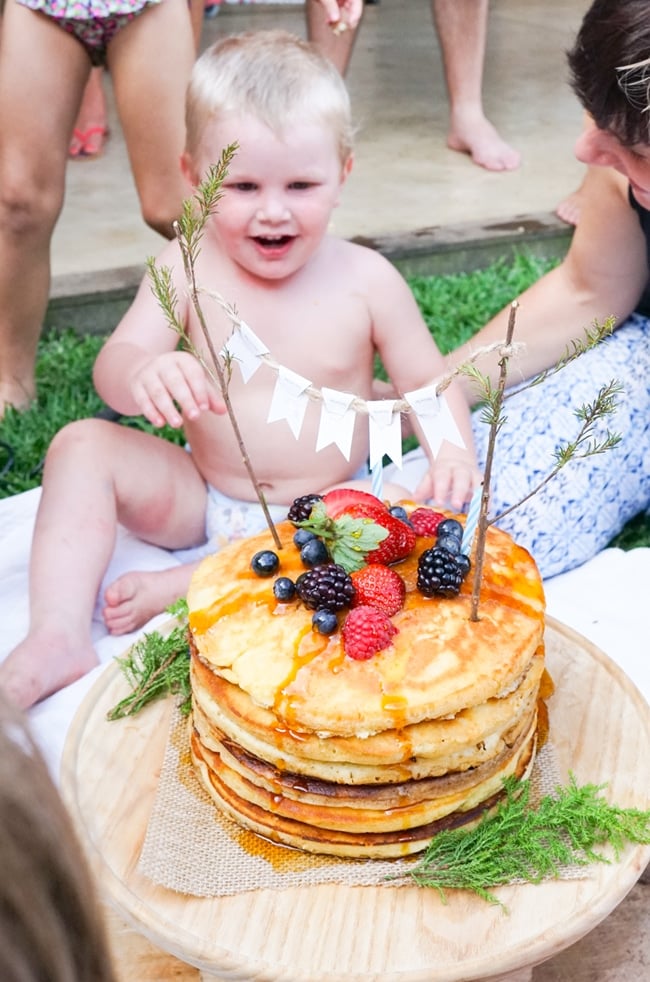 Ollie and his cake – happy little boy!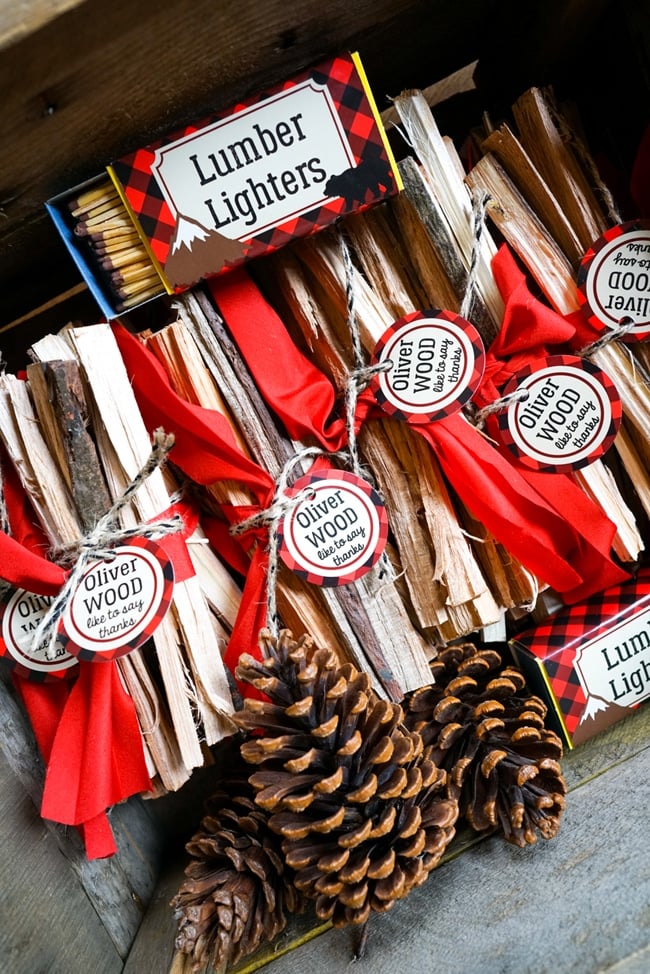 How cool are these for party favors! Little bundles of wood sticks and some lumberjack matches. Of course, only to be lit by Mom or Dad!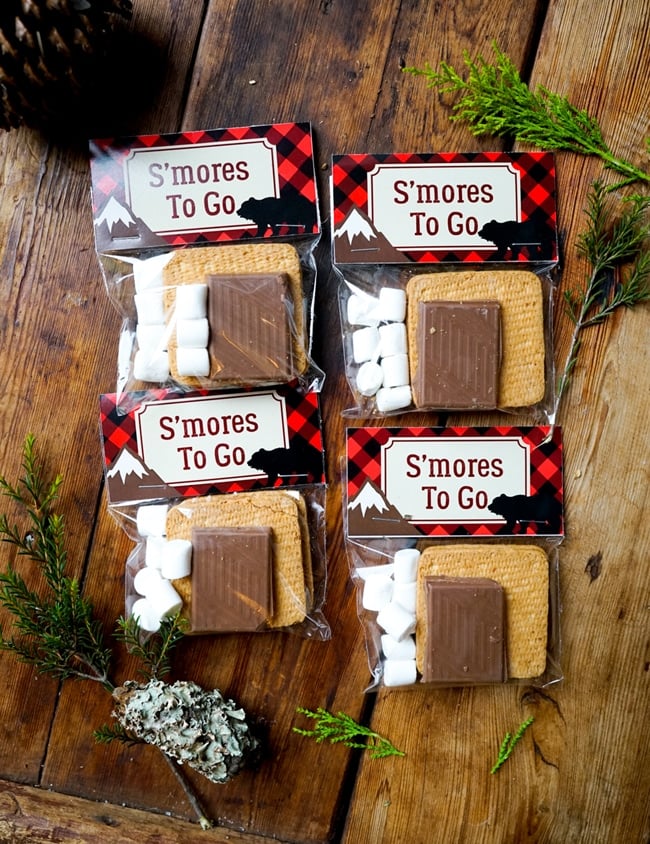 Gooey and yummy and delightful – what could be cooler than a s'more to go?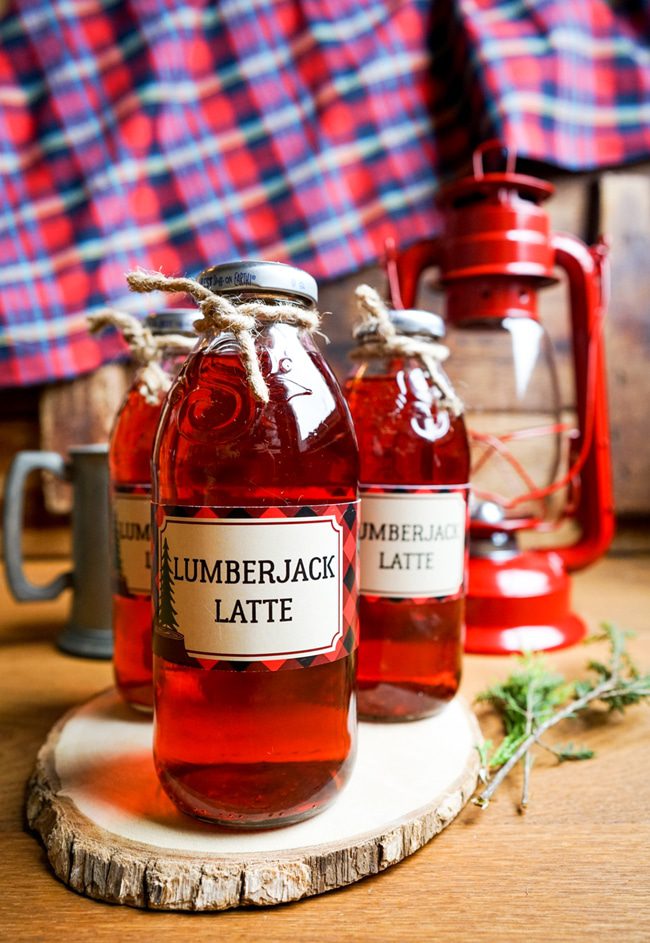 Go wild with your food labels – we chose to go with lumberjack lattes but there is no limit for where you can go with this!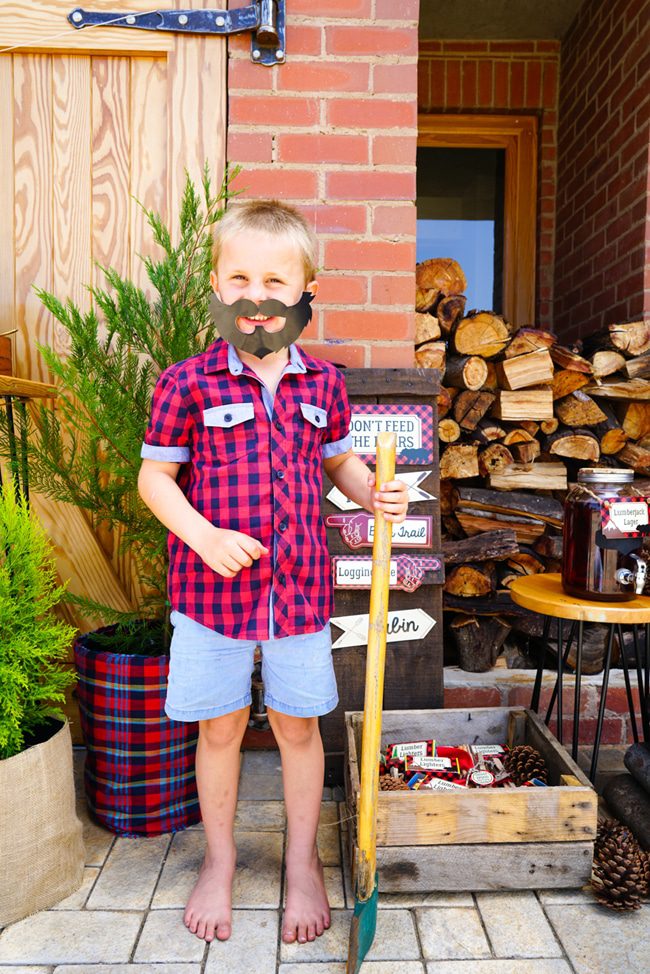 What a Creative Lumberjack Birthday Party! It looks like the little lumberjacks had the time of their lives!
What's your favorite details in this Creative Lumberjack Birthday Party? Let us know in the comments below!
For more party ideas, follow us on Instagram @prettymyparty and Pinterest and join us in our private Facebook group.
Party Vendors
Party Styling and Printables: Sunshine Parties