10 Christmas Party Game Ideas
Make the holidays fun this year with these awesome Christmas Games! What a great way to bring the family together and make memories!
How do you enjoy the holiday? Do you get together with family and friends and make memories by playing fun Christmas games? If not, try adding one of these family Christmas games! Adding games to any party or holiday gathering lets everyone relax, mingle, and best of all, have some holiday fun!
There are so many fun Christmas games that will get your friends and family in the holiday spirit. Whether you play the Saran Wrap Ball Game (Something I want to try this year!), the Jingle Bell Toss or the Gift Exchange Game, you and your guests will be in for one entertaining night! Check out these fun Christmas games that are perfect for kids and adults!
Christmas Games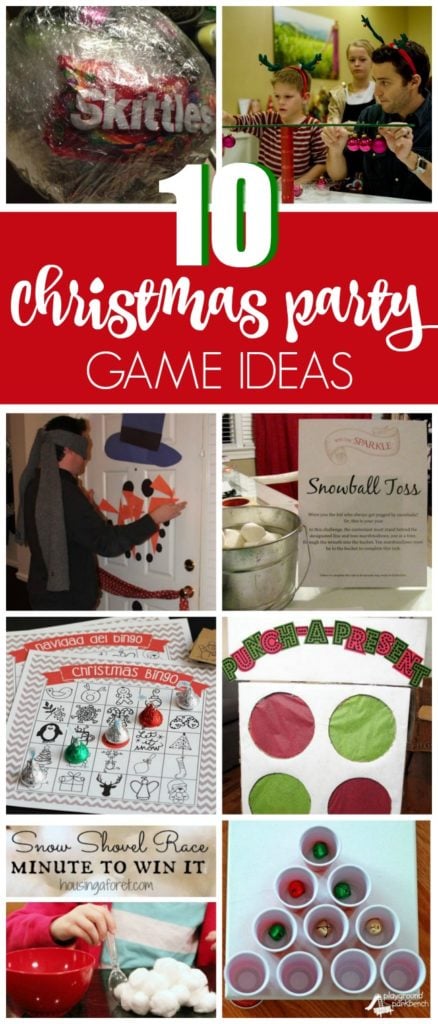 The holidays are such a fun time to catch up with family and friends! The season is full of laughter, presents, good food and drinks. But after all of that good food and conversation, it's time to break out the FUN with these awesome Christmas Games Ideas! Pick out your favorite Christmas games below and get ready to break them out this holiday! And even better, many of these holiday games are free and won't break the bank! This is especially good since you spent all of your hard-earned money on Christmas presents!
The number one rule of the holiday season? Don't stress yourself out! And that includes putting together Christmas games! So grab your hot chocolate, your loved ones, and a few fun Christmas games, and settle in for a warm and cozy night full of good memories and lots of belly laughs!
10 Christmas Party Games You Have To Play This Holiday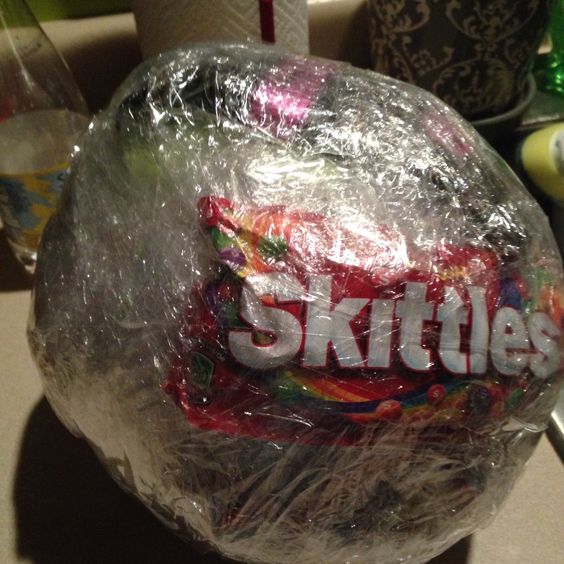 Christmas Game #1: This Saran Wrap Ball Game will be everyone's new favorite Christmas game! It's such a quick and easy game to put together before your party guests arrive. To play the saran wrap ball game, you'll need your completed saran wrap ball, a pair of dice and a pie plate. Begin by sitting everyone in a circle and giving one person the saran wrap ball and the person to their left the plate and dice. You must keep the ball on your lap at all times and unwrap it as fast as you can while the person to your left keeps rolling the dice until they get doubles. Once they roll doubles, the dice will pass to the person on their left and the saran wrap ball will pass to the dice roller. Once the person to their left rolls doubles the ball gets passed again.
What kind of prizes do you include in your Saran Wrap Ball Game? It's totally up to you. You can even make two Saran Wrap Balls – one for the kids and one for the adults. You can include prizes like gift cards, candy, gum, Dollar Store toys, Chapstick, fuzzy socks, etc.
Everyone will have a blast playing this fun Christmas game! It will be the highlight of your Christmas party!

Christmas Game #2: Think family-friendly beer pong! This Jingle Bell Toss Christmas Party Game is the same concept, but everyone aims to get the little jingle bells in the small glasses, instead. The kids will love this Christmas Party Game and it always makes a great holiday sound with jingle bells being tossed around! Get teams together and see who can win!
This is a great game to add to your minute-to-win-it Christmas games, as well. Everyone gets a minute to see how many jingle bells they can get into the cups, then it's time to move on! Who will win this minute-to-win-it Christmas game?!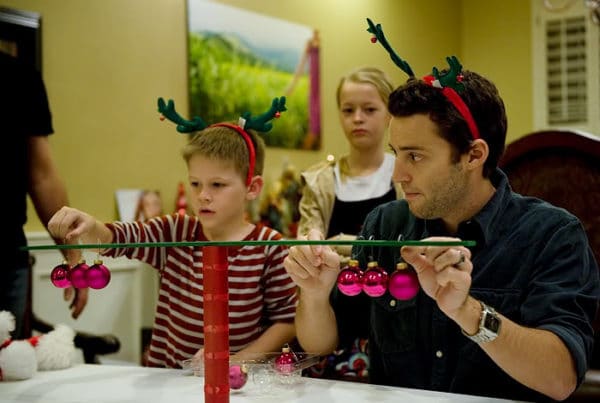 Christmas Game #3: Who has the best sense of balance in your family?! This Christmas Ornament on a Stick Game will separate the strong from the weak! Simply work to see how many ornaments you get on the stick before one side falls. Both kids and adults will have a great time playing this game! But you may want to buy some special, cheap ornaments for this Christmas game. You don't want any of the family momentos to break by accident!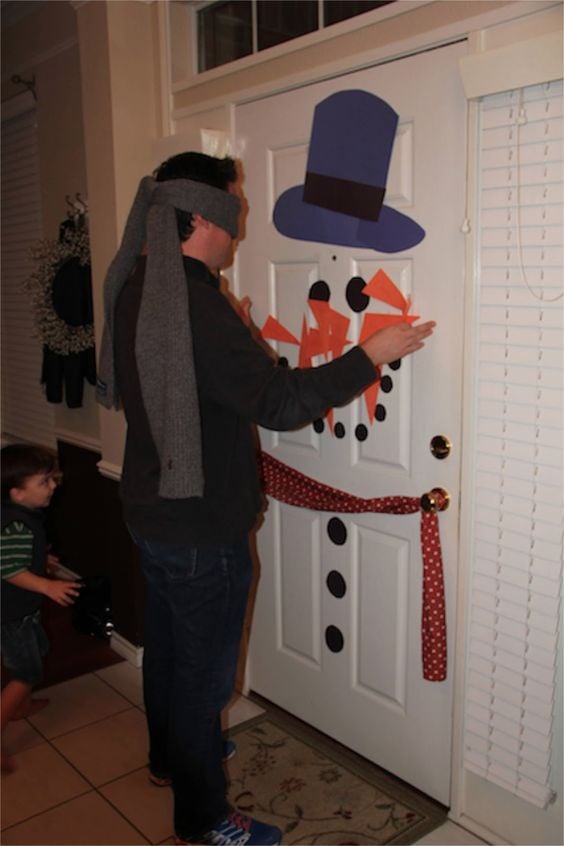 Christmas Game #4: Who needs pin the tail on the donkey when you have Pin the Carrot on the Snowman Family Christmas Game? This is a quick and easy Christmas game to set up at home. Just use a scarf to cover each contestant's eyes, and you're ready to play! See who does the best versions of the snowman and you have your winner!
It might be fun to make teams for this game, too, with someone directing and someone doing the work to pin the carrot on the snowman! Who doesn't love some good teamwork over the holidays?!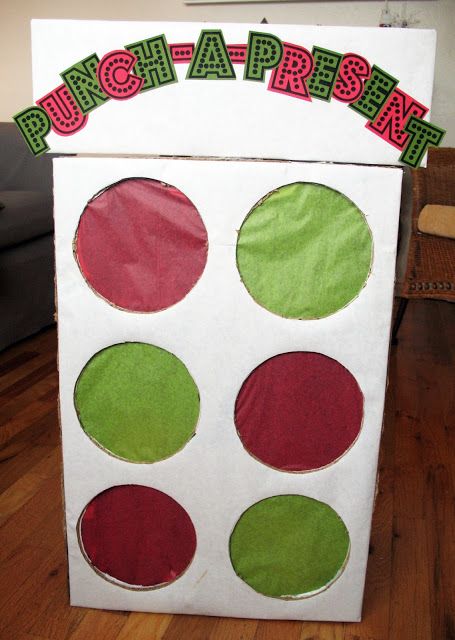 Christmas Game #5: If you're looking for fun Christmas games to play, this one should definitely be on your list! Your family is going to feel like they are on the Price Is Right after playing this great holiday game! Punch a Present Christmas Game takes a little work to set up, but before you know it, you're going to be ready and waiting to start! It's a Christmas game for kids or adults, so it's up to you what prizes will await behind the circles after they are punched out!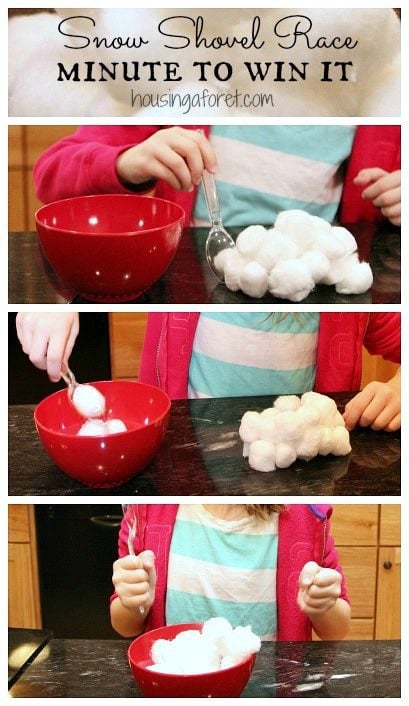 Christmas Game #6: Who doesn't love some exciting minute-to-win-it Christmas games? This Snow Shovel Toss Christmas Game will be a hit with your family! The kids will be asking to play it every year! Grab some cotton balls for the "snow," a spoon for the "shovel" and a bowl to scoop them into and you're all set!
Each team's designated "snow shoveler" can only use their spoon to shovel the pile of "snow" into the bowl. And of course, the challenge must be completed in under 1 minute! Give each player an equal pile of snowballs (cotton balls), a plastic spoon and a bowl. Race to see which player can scoop the most cotton balls off the table and into the bowl in a minute or less. But be careful, because only your spoon may touch the snowballs. Who's going to win? Are you going to pit kids against adults? You decide! What a fantastic Christmas party game the whole family will love!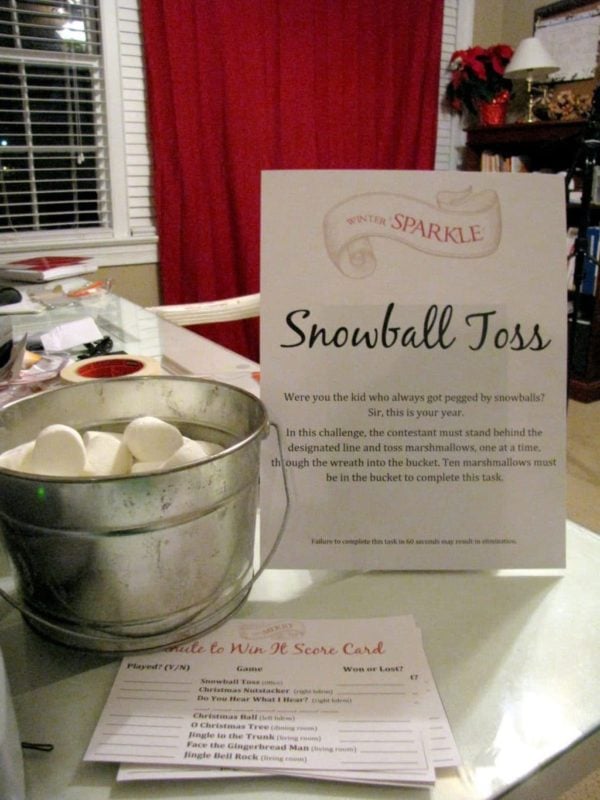 Christmas Game #7: The Snowball Toss Christmas Game is another great minute-to-win-it Christmas game that you can break out for the holidays! This is a really fun game to do in a group. Grab a Christmas wreath and throw a bucket behind it, and start chugging those marshmallows through the wreath! Once you get 10 marshmallows to land in the bucket, it's onto the next Christmas game. Is your family up for the challenge?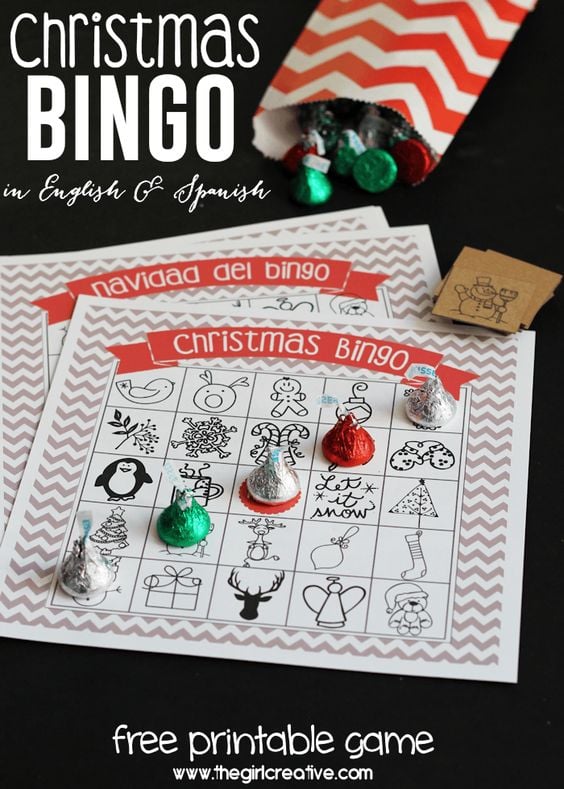 Christmas Game #8: Who doesn't love a good game of Bingo? This Free Printable Christmas Bingo Game is a great group activity for the kids at the kid table. Just make sure they don't eat all of your Hershey Kiss "daubers" before actually scoring a bingo! Set the kids up with their own cards, put a bowl of kisses in the middle for them all to reach, and start reading off those fun Christmas signs for them to mark! We especially love this one, as it comes in different languages, as well.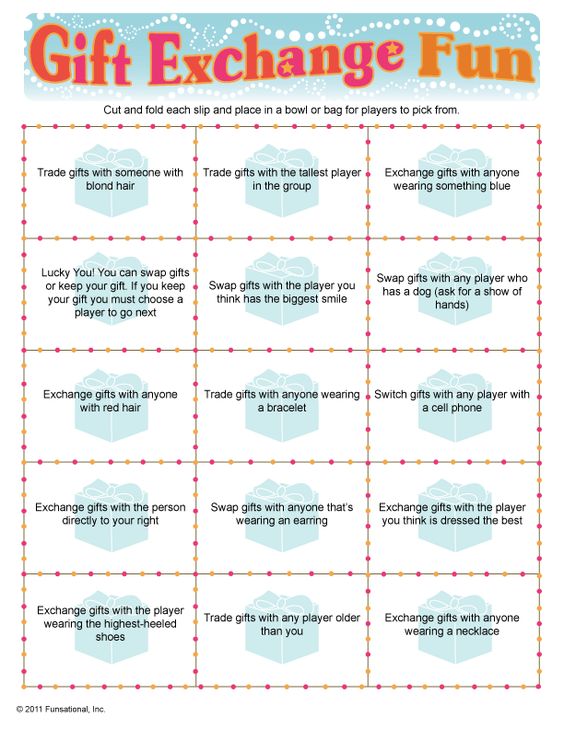 Christmas Game #9: This Christmas Gift Exchange Game is way more fun than the White Elephant version! You just never know what you're going to end up with! This is a great Christmas game for the office Christmas party, as well. Or if you're planning a fun Christmas party with your girlfriends, this is a great way to exchange gifts with your besties!
You could even add your own ideas to the mix and make it more personalized for your family and friends. You know your loved ones the best, so if there are other ideas that you have to add to the exchange game to make it even more fun, go for it! We're sure there is the potential to get a lot of laughs out of this Christmas game!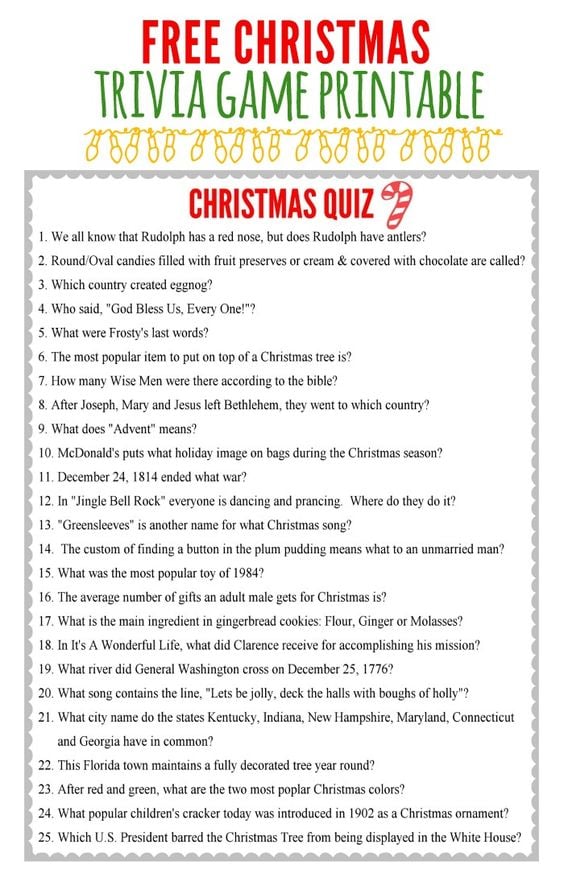 Christmas Game #10: How well does your family really know all of the Christmas traditions around the United States? Try printing out this Free Printable Christmas Trivia Game and see who scores the best! If it may be a little daunting for everyone to do individually, maybe set up teams for the challenge. Or, if you're having a party with friends, maybe set up the couples to do it together.
Make sure to have a fun prize for the winner who answers the most questions correctly. And … we'll leave it up to you if you will allow people to use their cell phones or not. We tend to think it's more fun to put cell phones away and see who actually knows the most based on their own knowledge. And we all know, free Christmas games are the best kinds of Christmas games!
Whether it's Christmas game fun around the Christmas tree or something you celebrate with your co-workers for your office Christmas party, these 10 Christmas Party Game Ideas will have everyone excited about the holidays! Even those bah-humbugs who typically don't like to join in the family Christmas game fun!
Do you have a fun family Christmas game tradition in your family? Is there something that you continue to do year after year and everyone can't wait to get started when you're all together? Before you start opening those Christmas gifts and after you eat all of the ham and turkey you can muster, get ready to break out some fun Christmas games! We would love to hear all about it in the comments below.
For more Christmas party ideas, follow us on Instagram @prettymyparty and Pinterest and join us in our private Facebook group.
SaveSave
SaveSave
SaveSave