Cool Blaze and the Monster Machines Party
What little guy wouldn't go crazy with a Blaze and the Monster Machines Party?! We are so in love with this fun monster truck celebration!
This Blaze Themed Birthday Party looks like it would have been so much fun to style! Mom wanted it to be super special and it looks like One Fine Day Parties didn't disappoint! Some of the fun features of this great party include a candy table with a tire cake stand, little toolboxes filled with candy, and of course, the gold trophies that are also filled with candy for all of the guests. Amazing!
Blaze and the Monster Machines Party Supplies
Little boys seem to love fast trucks and even more than that … they LOVE monster trucks! So you know a Blaze and the Monster Machines Birthday Party is going to be a fun, boy-approved experience!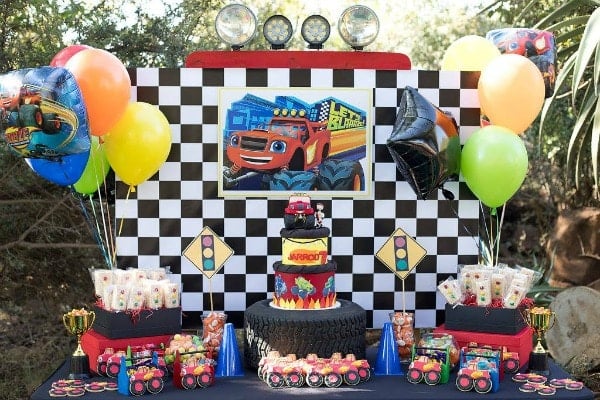 This backdrop was extra special because One Fine Day Parties made the most amazing Blaze lightbar with actual spotlights on!!!! It looks amazing! Can you even imagine being at the party with those lighting up for all of the little ones to gawk over?! AWESOME!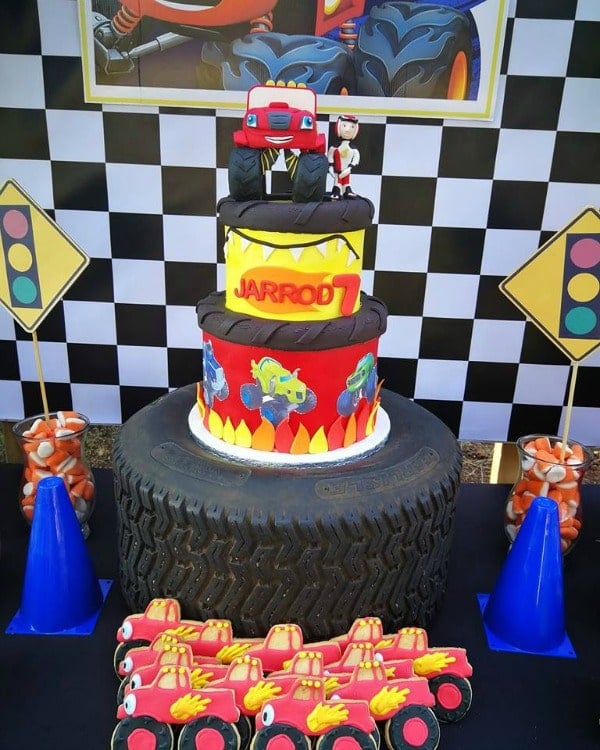 The birthday boy's mom created this amazing cake! We just love the monster truck cake topper and it's a completely rad idea to have actual tires serve as the cake stand! Talk about a Blaze and the Monster Machines Party! We love this!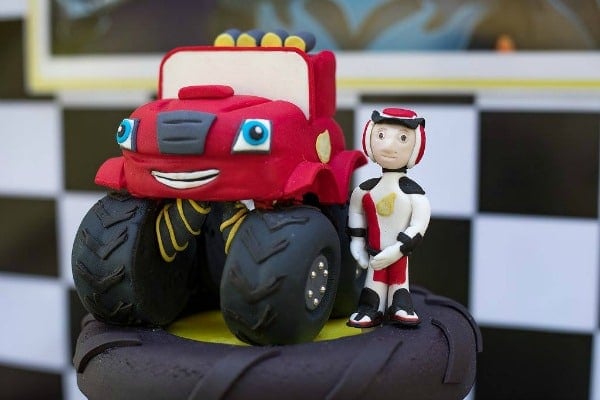 How could you not fall in love with this amazing cake topper?! This birthday boy loves monster trucks, so Mom made sure that's what he got!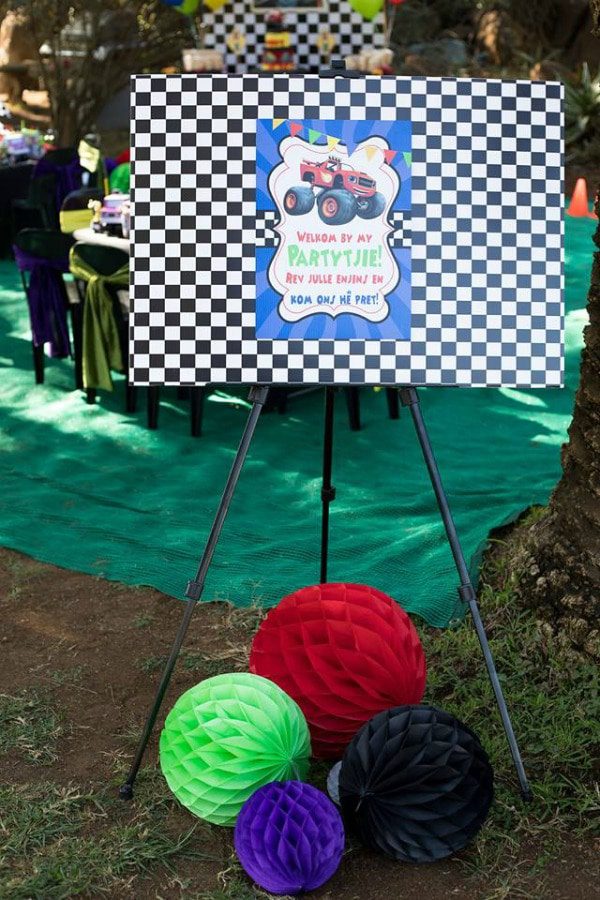 We love how the welcome sign is a play-off from the dessert table backdrop. With a checkered background, people knew what they were getting into when they stepped foot inside of this awesome Blaze Themed Birthday Party!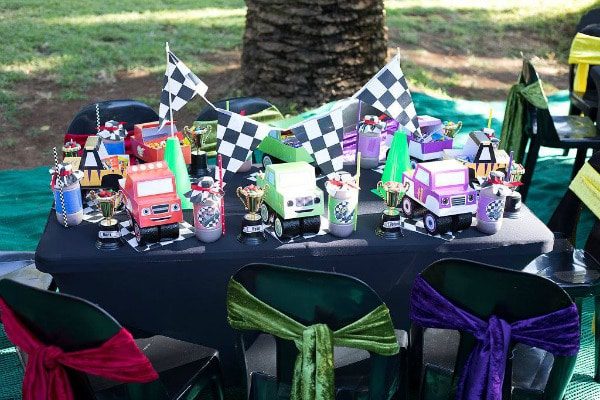 New black stretch table cloths and black kiddies chairs were used, along with colorful tiebacks to tie everything in nicely. They helped add a pop of color, and the stretch tablecloth makes it look like a great car shop where work needs to be done ASAP!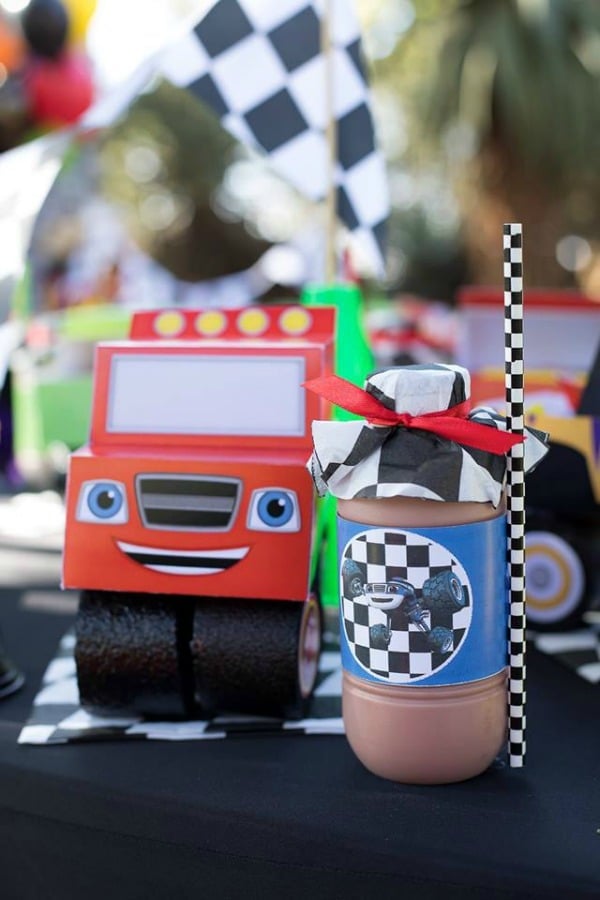 Just look at these super fancy chocolate milk containers! Every little guy needs to stay fueled up during their big birthday celebration, and this fun Blaze and the Monster Machines Party Idea made sure all of the little ones were ready to roll!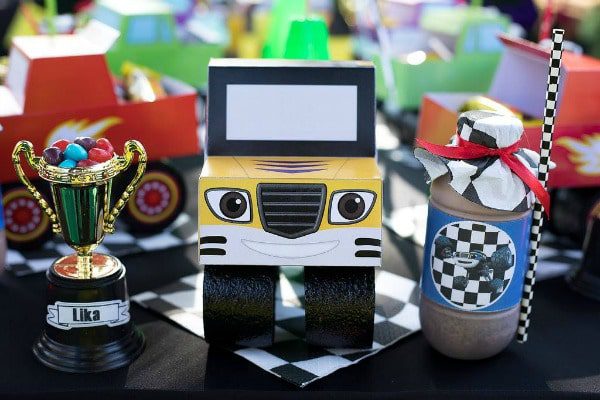 A winning combination for any little guy's birthday!
Each racer got a trophy filled with jelly beans and the most amazing blaze car treat box filled with party treats. Just look at those fun trophies! We're sure every little Blaze and the Monster Machines Party guest felt like a true winner after scoring an invite to this amazing birthday party! And those cookies? They look absolutely delicious!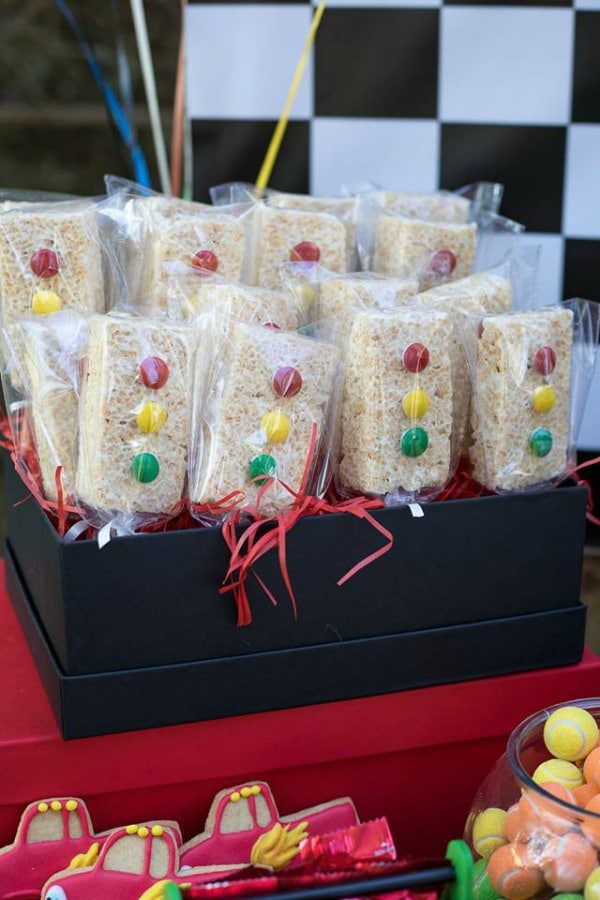 We just love these sweet Rice Krispie treats that are designed to look like stop and go lights! What great food ideas for a Blaze Themed Birthday Party! It's great that they are all individually wrapped, so nobody has to worry about sticky fingers or the treats going bad before they are opened up. Great idea!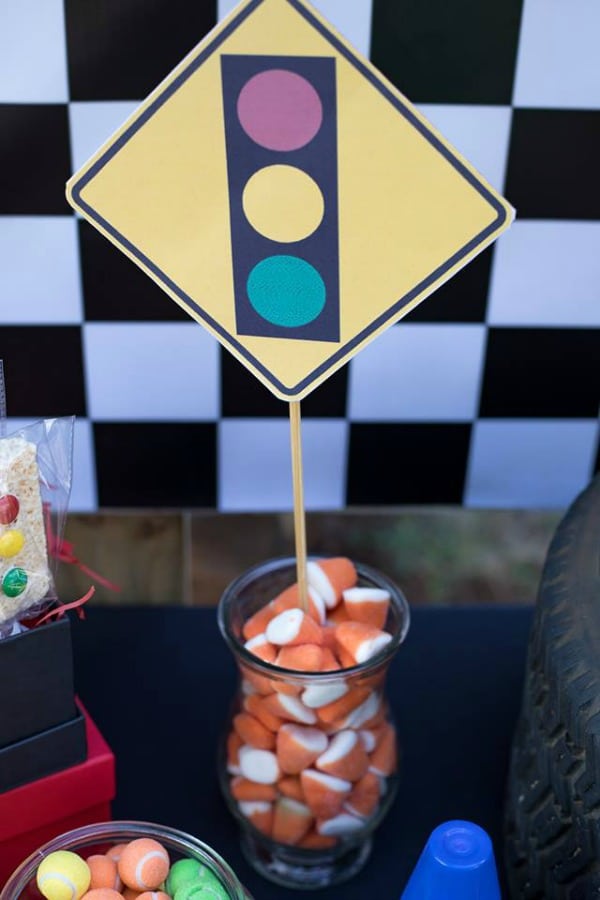 All of the party decorations are completely on point for the Blaze and the Monster Machines Party. Of course, there will be traffic signs when you have a monster truck party! Even Blaze needs to follow the rules when out and about on the roads, right?!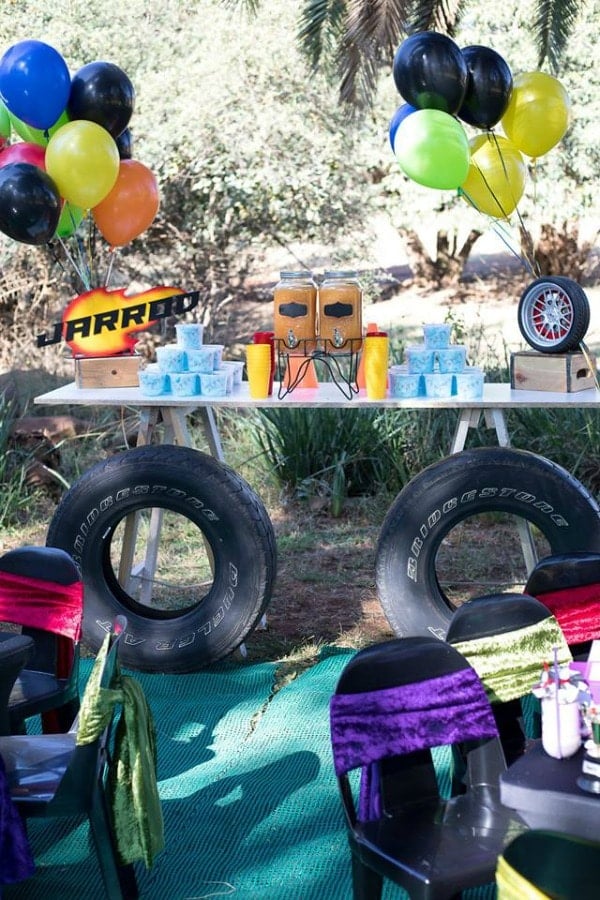 This amazing beverage station was all Dad's idea. He did so great! We love how the big tires are set up against the table. Everything looks great and it feels like a mechanic's paradise when they need to take a break and recharge! Perfect for all of the little drivers!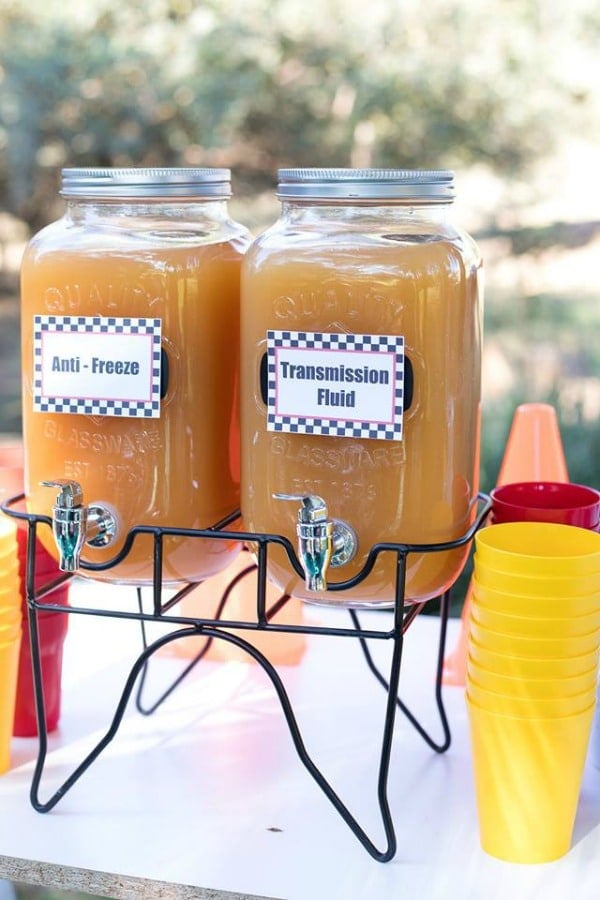 And of course, the beverages have fancy names too! "Anti-freeze" and "Transmission Fluid" are great drink labels for the beverage station.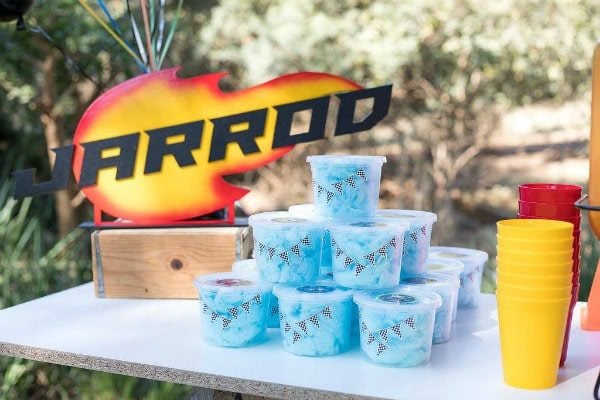 The custom wooden name was painted by the hubby of the owner of One Fine Day Parties and it was a huge hit! We also love that it's a great momento to keep in the birthday boy's room. What a great reminder of the fun Blaze and the Monster Machines Party he had!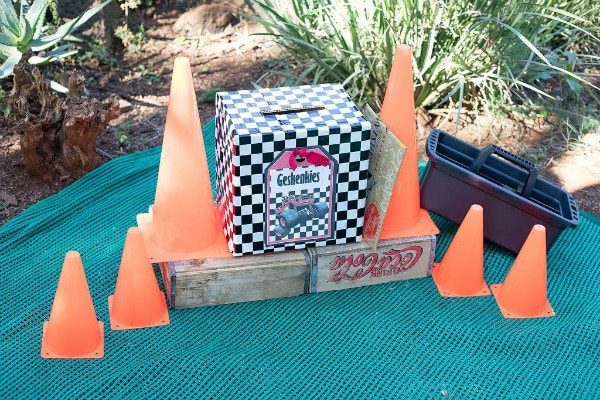 Of course there are a lot of fun games for the guests to partake in! Nobody was more excited than the birthday boy, though! Activities kept all of the little ones busy before it was time to dig into the cake and party favors!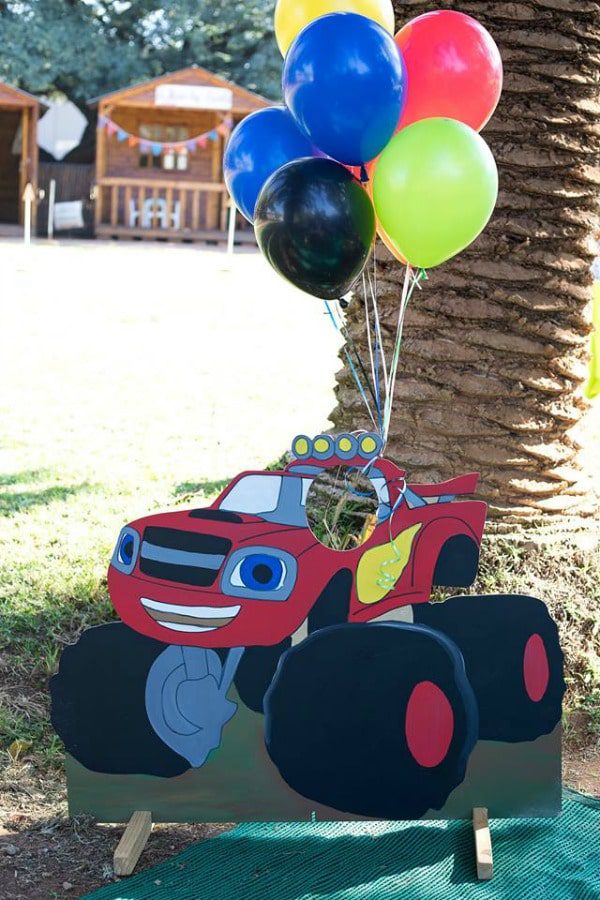 We love the monster truck face cut-out, too! Everyone had a turn getting their picture taken with the special photo prop. What fun Blaze and the Monster Machines Birthday Party Ideas! And it is such an easy set-up to prepare for the birthday party guests. A win-win!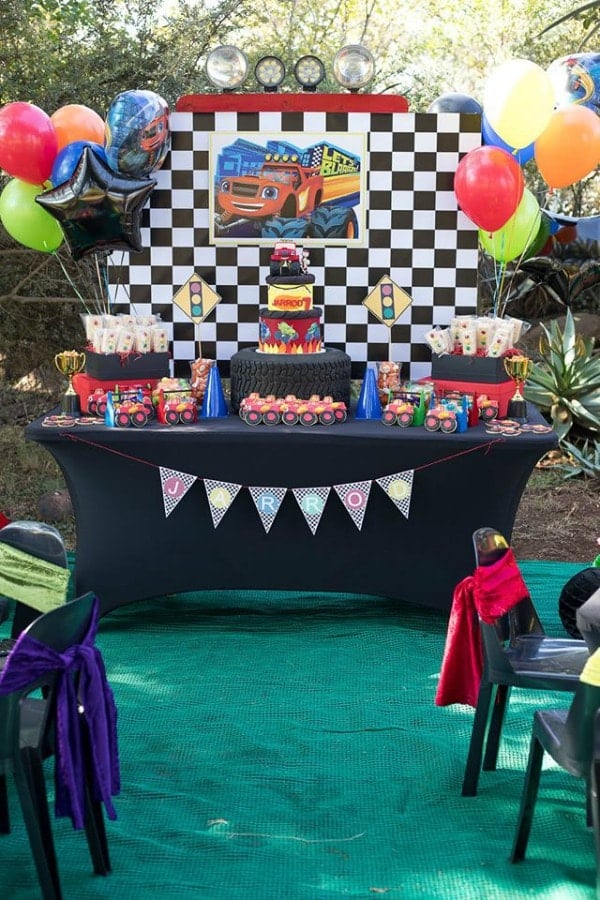 We are absolutely blown away by this gorgeous dessert table. The checkered backdrop makes it feel like a real race is getting ready to start. And with the fun balloons, tires, colors and signs, it couldn't have been any better!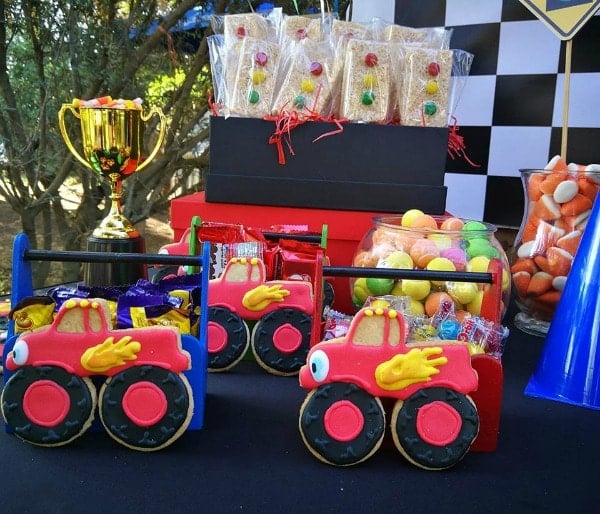 We love the little candy boxes that are used, which looked like "tool boxes". How original is that?! And by placing one of the Blaze cookies in front of it, it made the set-up look even better! The entire dessert table is complete perfection, with no detail forgotten!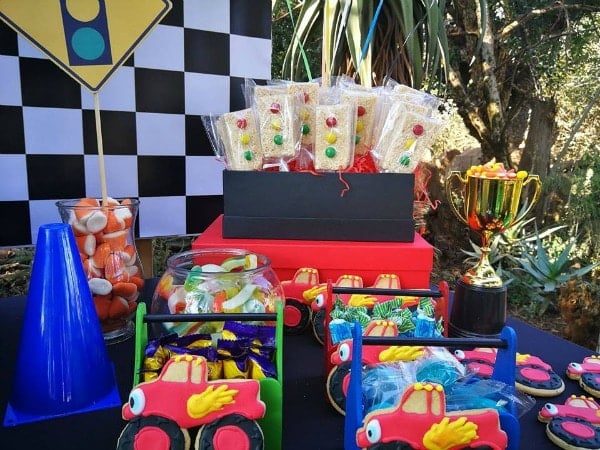 All of the guests couldn't wait to dig into all of the candy that was on the dessert table. Between the candy, cookies and cake, nobody was going to leave this Blaze and the Monster Machines Party hungry!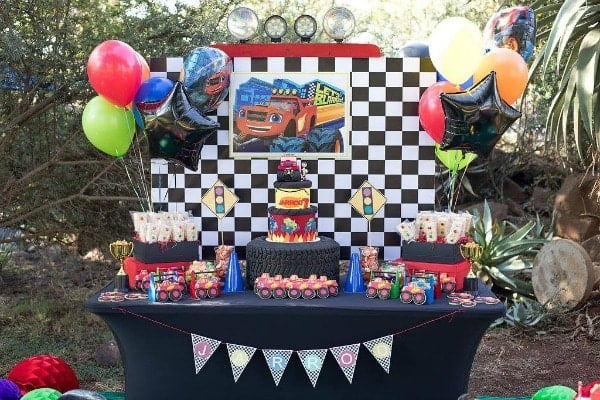 We just love how this theme came together! Everything looks so exciting and the attention to detail is absolutely remarkable! If you have a little guy who is obsessed with this TV show, or anything to do with monster trucks, there are some amazing decoration ideas, as well as fun food ideas for your party planning. We love everything about this! Well done!
What's your favorite detail in this Blaze and the Monster Machines Party? Let us know in the comments below.
For more party ideas, follow us on Instagram @prettymyparty and Pinterest and join us in our private Facebook group.
Vendors & Credits
Biscuits, Rice Crispy Treats: Oumas Pantry