5 Glow-In-The-Dark Oreo Halloween Party Ideas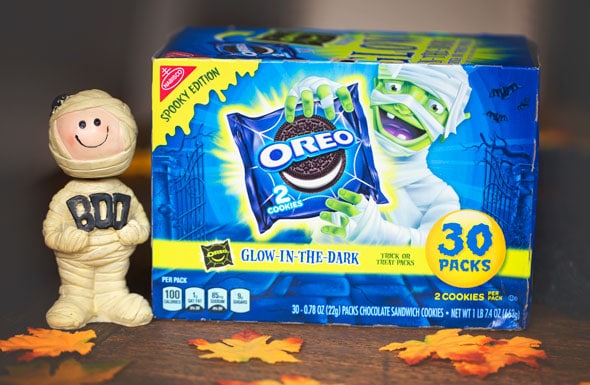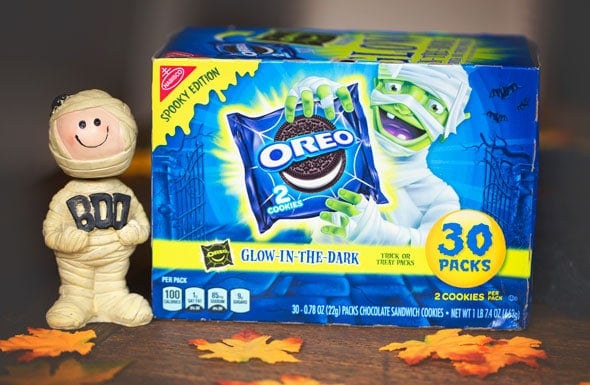 Halloween is such a fun time for the kiddos! Everyone is so excited to find the perfect costume and decorate their homes with all of the ghosts and goblins, but most exciting is all of the fun Halloween parties that take place! And don't forget about all of the great goodies that people give out when all of those trick-or-treaters come knocking on their door! That's where the newly packaged glow-in-the-dark
OREO
cookies come in! How could you not love these new perfectly packaged two-pack
OREO
treats that will be the ultimate festive treat coming out in October! These
5 Glow-In-The-Dark Oreo Halloween Party Ideas
will get you started on the perfect party-theme for your child's friends or the neighborhood gathering during trick-or-treating. How fun!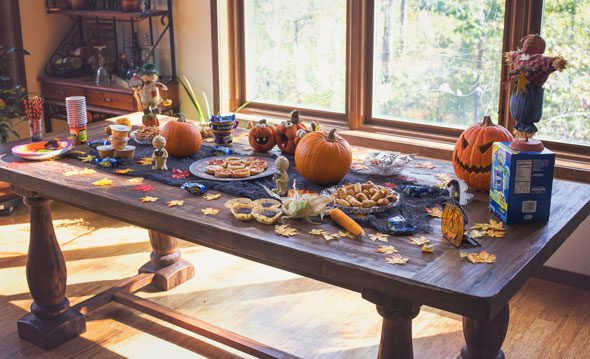 1. Fun Food
What is a Halloween party without fun food? This party was focused on the little ones in the neighborhood and making sure they had plenty of energy before heading out for a night of trick-or-treating!
For this party, food including pretzel bites, pizza rolls, and pretzels were served. Fruit cups, granola bars, and animal crackers were also offered to the crowd and it didn't take long for everyone to dig in. Of course, scattered throughout the event were the amazing new
OREO
glow-in-the-dark packages with 2 cookies per pack. Everyone needs some fun dessert!
2. Glow-In-The-Dark OREO Packages
Since
OREO
is launching NEW glow-in-the-dark packages, these are going to be a festive and convenient snack to add to your Halloween celebration! Depending on the time of day you plan to host your Halloween event, your guests may just be able to ooooh and aaaaah over the glow-in-the-dark feature that makes these
OREOS
one-of-a-kind!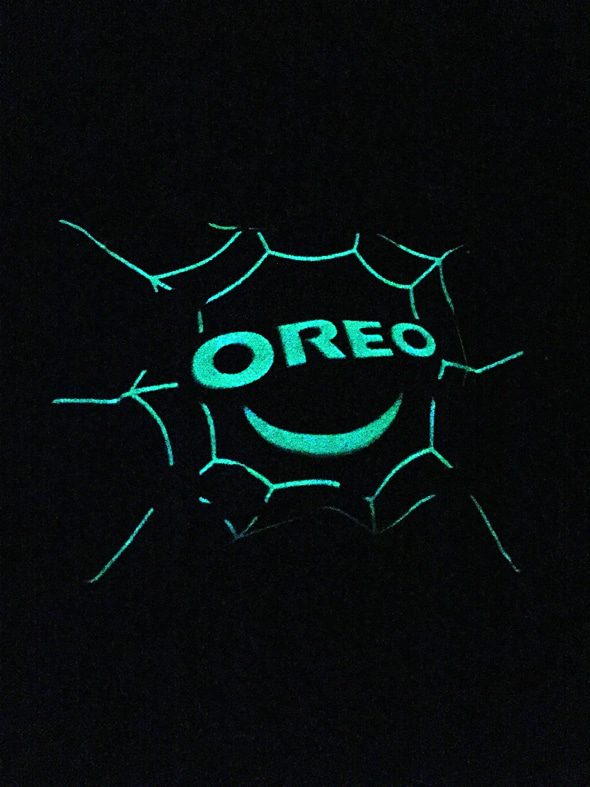 Each individual package contains 2
OREOS
, which means they are the perfect serving size for a spooky treat this Halloween season. They also are the perfect size to offer up at your Halloween shindig, as well. And don't forget the milk!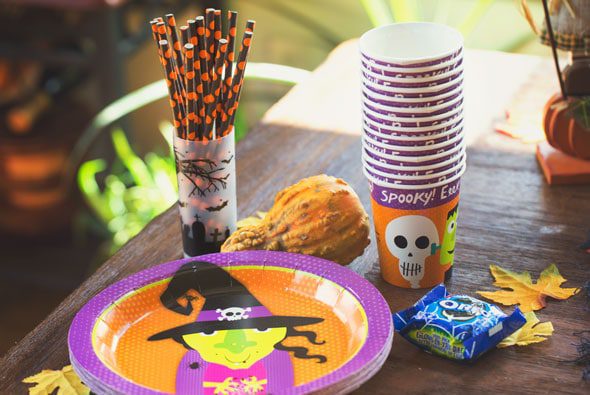 3. Fun Halloween Table Goodies
You can't forget about all of the fun decorations that Halloween brings with it! Grab some great Halloween-themed plates, cups, and other necessary table items to get your party started! Don't forget to check out your local Dollar Store, as well. You never know what types of finds you're going to be able to locate there and it may help you save a ton of money to be able to better serve all of those little ghosts and goblins that are going to show up at your house!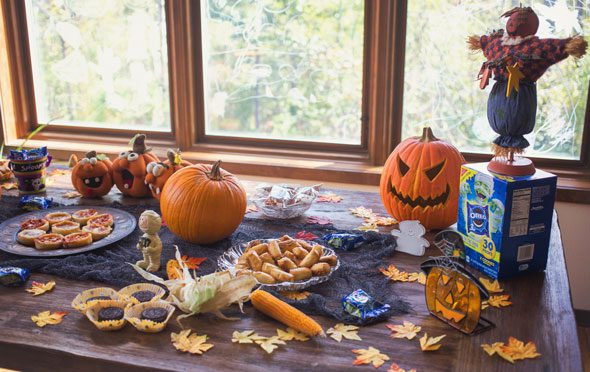 4. Spooky Tablescape
It is Halloween, after all! Make sure you include all of the fun things that come with it! Our tablescape included pumpkins, jack-o-lanterns, Indian corn, leaves, skeletons, ghosts, and some spooky black netting that served as our table runner. Some spooky mummy ghosts also graced the table and as the sun slowly began to set, it served as the perfect eerie backdrop to a hauntingly good time!
5. Party Favors
A fun party favor for your guests to take home is a must-have and will leave a smile on their face. And if you're going to send them home with something, make sure you give them their own
OREO
2-pack, which is the perfect size for their snack after they get home!
Kids are going to love the
OREO
glow-in-the-dark 2 packs, as well! All of the children absolutely loved the
OREO
2-packs that were available at the party and were definitely a fan-favorite. Now that they get to take some home with them, they're going to be even more excited! Grab some fun Halloween-themed cups or cans, fill them with tissue paper and some
OREO
glow-in-the-dark 2 packs, and you're all set!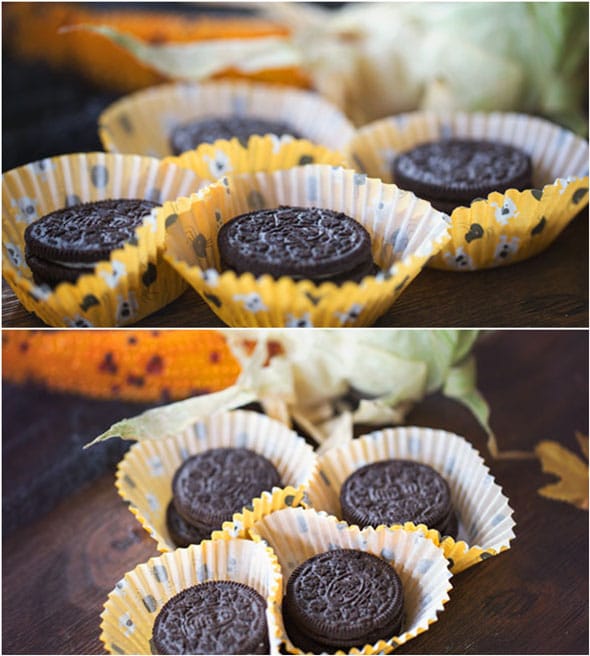 Who doesn't love OREOS, especially these newly available OREO glow-in-the-dark 2 packs?! They're portable, contain the perfect portion and are absolutely delicious. Not to mention, they are perfect for Halloween! Grab yours today at your local grocery store and get ready for your Halloween party now. Since they come in packages of 18, it's going to be the perfect item to add to your Halloween party or for your trick-or-treating adventures! Happy Halloween!
I was selected for this opportunity as a member of Clever Girls and the content and opinions expressed here are all my own.