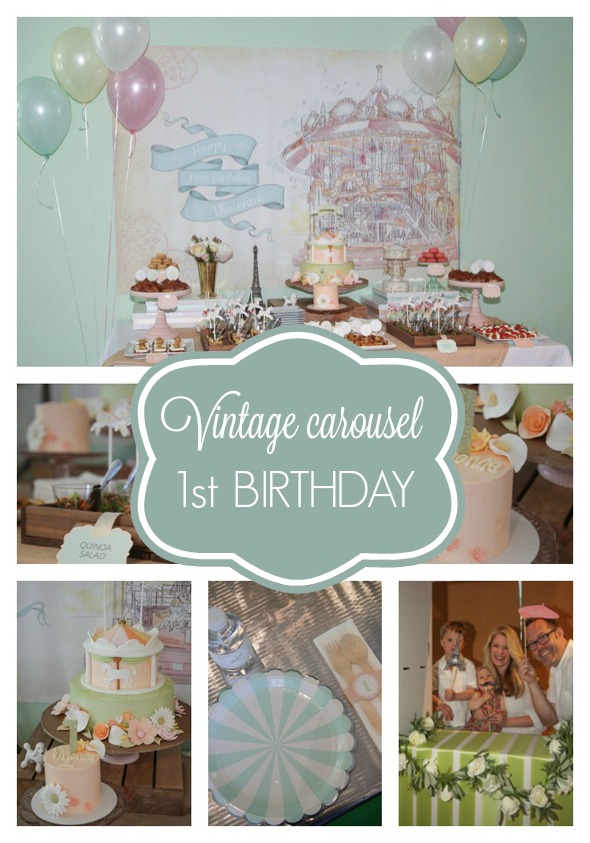 This Vintage Carousel Party by Simply Perfect Events NY is as sweet as sweet can be! Birthday girl Vivienne was celebrating her 1st birthday with this all time classic theme – a French Carousel Party! With French delicacies such as ham and cheese croissants, macarons, Brie cheese bites and petit fours, this party was a feast for the eyes and tastebuds! The color palette of mint green, yellow and baby pink set the tone for the dessert table and decor. The decor included a custom-designed backdrop, napping rings, water bottle labels, place mats and food toppers. Baby guests enjoyed the famous "baby bar" – small bites for small teeth! There was butter small pasta, berries and yogurt and assorted veggies and fruit nibbles! What a great idea! The gorgeous vintage carousel cake and the adorable smash cake for the birthday girl were truly works of art! What a wonderful birthday theme for this very special birthday girl!
Vendors & Credits
Concept, Graphic Design, Styling and Catering: Simply Perfect Events NY // Photos by: Marcella Cussolin
Also, be sure to check out this adorable Pink Carousel Themed Party
Plan a fabulous vintage carousel themed party with these fun party products!
What's your favorite detail from this party? Let us know in the comment below!