50 best things to do on your birthday

We've compiled the ultimate list of the 50 best things to do on your birthday. So if you're looking for something fun to celebrate another trip around the sun, this list is for you!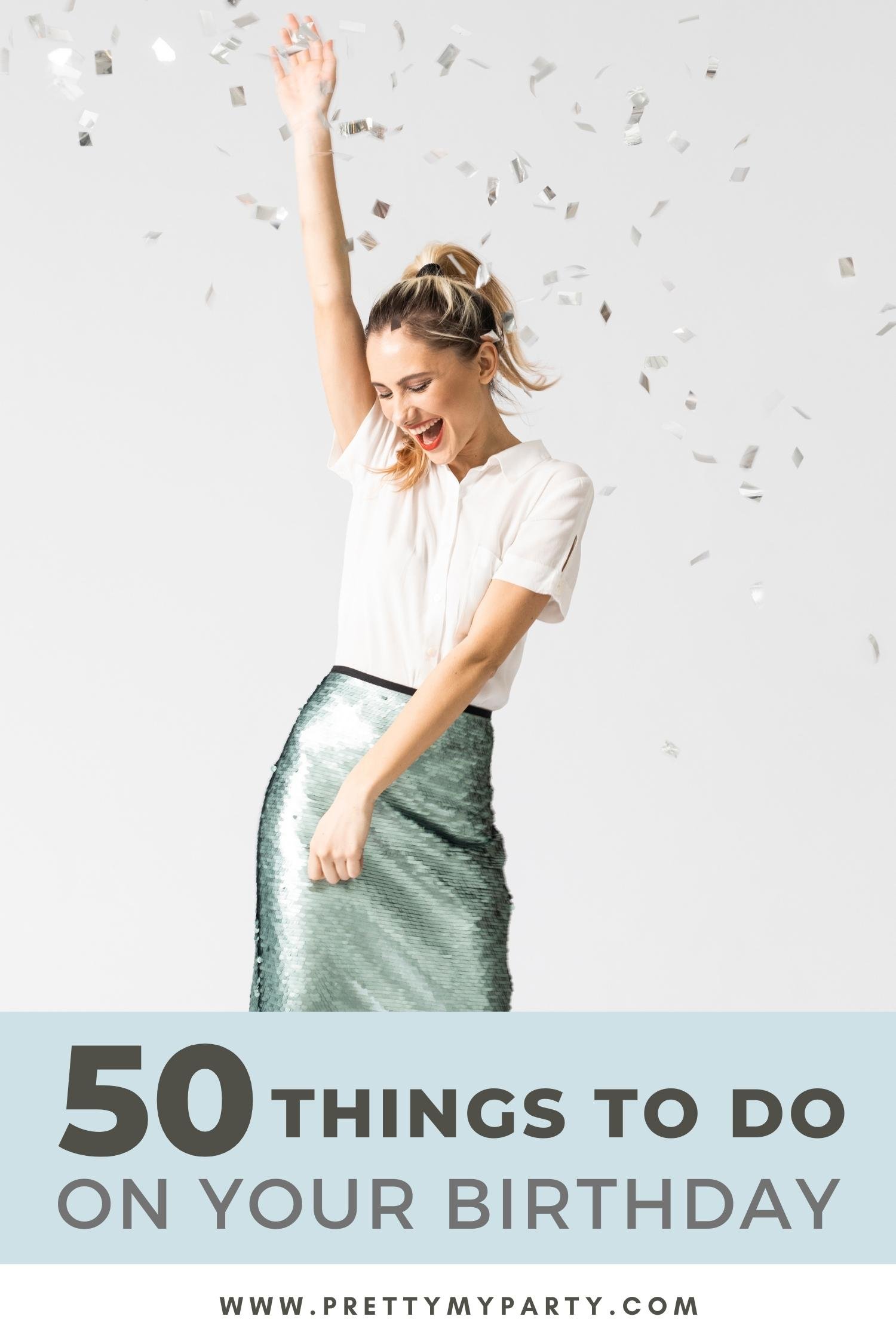 Not everyone loves celebrating their birthday, but for those who do, it can be a lot of fun to come up with ideas for how to mark the day. Of course, birthdays are meant to be special, but you don't have to plan something extravagant to enjoy your day.
When it's your birthday, sure, dozens of people on Facebook wish you a happy birthday, but this year it's time for you to go on an adventure! So, grab your favorite snacks, pick your favorite dessert, and list your favorite restaurants because it's time for a celebration.
Why do people celebrate their birthdays?
For some people, it's a chance to reflect on another year and celebrate milestones. For others, it's an opportunity to make new memories with friends and loved ones. And for some, it's simply a good excuse to eat cake!
Whatever your reasons for celebrating, birthdays are an excellent opportunity to do something different and exciting. If you're looking for ideas, there are plenty of birthday ideas to choose from that don't necessarily involve a party!
You can take these birthday ideas and add them to your birthday bucket list to cross off something new each year!
Here are the 50 best things you can do on your birthday to make it special and unforgettable.
1. Have a party with all your friends!
Having a party – large or small – with your friends is always a fun idea! You can go to a restaurant, club, or bar or have a more intimate gathering at someone's house. Make sure to include some fun decorations, games, and good food! Friends make birthdays more fun because there are so many things you can do with a group of people.
2. Go on a trip
Take advantage of your birthday and plan a mini vacation or weekend getaway! Whether you take a road trip to a nearby city or fly to a different state or country, make sure you go somewhere you've always wanted to visit. Just imagine all the places you'll see in your life if you visit a new place every year for your birthday!
Best cities to celebrate your birthday:
Nashville
Miami
Las Vegas
Palm Springs
New York City
Chicago
3. Book a staycation
Taking some time off work or school and booking a staycation is another great option for your birthday. Check into a fancy local hotel or resort or stay at a quaint bed and breakfast for rest and relaxation.
4. Get a makeover
Get your hair, makeup, and nails done professionally. Trying out a new style or makeup look can be a lot of fun, and it's a great way to celebrate a new year.
5. Do something adventurous
If you're feeling daring, why not try something new and exciting? For example, go skydiving, bungee jumping, rock climbing, or zip-lining! Or, if you prefer something a little less intense, try hiking, a hot air balloon ride, or a helicopter ride over the city.
6. Make a wish list for the year ahead
What do you hope to accomplish next year? Make a list of things you'd like to do, both big and small. This can be anything from learning to cook, taking a class, or starting a business or side hustle.
7. Do something nice for someone else
One great way to celebrate your birthday is to do something kind for someone else. For example, volunteer at a local shelter, visit an elderly neighbor or donate to a charity. Kindness has been shown to increase self-esteem, empathy, and compassion and improve mood. It's a win-win!
8. Relax and pamper yourself
Take some time on your birthday to relax and take care of yourself. Get a massage, have a spa day, or stay home and put your feet up with a bubble bath, a good book, or a movie.
9. Go out to eat at a new restaurant
Trying new things is always fun, and food is no exception. Pick a cuisine you've never had or go to a restaurant you've wanted to try.
10. Take a dance class
Taking a dance class is a great way to get out of your comfort zone and have fun. Various classes are available, from hip-hop and Zumba to Salsa and ballroom dancing. And if you love country music, you can go line dancing! Don't want to go out dancing? Have a dance party at home with the kids!
11. Go on a shopping spree
Treat yourself to something special on your birthday with a shopping spree! Whether you buy yourself a new outfit or pick up some small trinkets, indulging yourself on your birthday is always fun.
12. Have a picnic
A picnic is a relaxing activity if you want something low-key for your birthday. Find a pretty spot outdoors, pack a lunch, and enjoy the nice weather.
13. Go to a concert or show
Whether you prefer live music, theater, or comedy, there's nothing like seeing a good performance. So check out what's playing in your city and treat yourself to an evening of entertainment.
14. Get some new photos taken
Hire a professional photographer or ask a friend with a nice camera to take some new pictures of you. This is a fun way to capture your current look and update your photo collection.
Or spend time with your friends and make unforgettable memories on your birthday with a group photoshoot. DIY a photo backdrop and a cool sign add some balloons or props for some Insta-worthy photos with your besties! Turn on your favorite music, get silly, and strike a pose.
15. Make a scrapbook
Looking through old photos is always nostalgic, so why not make a scrapbook of your favorite memories? Scrapbooking is a crafty activity, and you'll end up with a beautiful keepsake.
16. Go to a museum or art gallery
If you're interested in culture, spend your birthday exploring a local museum or art gallery. You can learn something new and appreciate the world around you.
17. Go camping
Get out into nature, explore, and pitch a tent for a weekend of camping! Roast some hot dogs and make some smores around the fire and make memories with your loved ones.
18. Go stargazing
If you're lucky enough to have clear skies on your birthday, head outside and look up at the stars. Stargazing is a unique activity to do with friends or a romantic partner.
19. Have a themed party
Whether it's an 80s party or a Hawaiian luau, themed events are always a blast! Pick a theme that suits your personality and go all out with the decorations and food.
20. Go to an amusement park, fair, carnival, or festival
These are fun activities for people of all ages. Spend the day riding roller coasters and eating junk food! Make sure you don't overdo it – you don't want to feel sick on your birthday.
21. Go to a professional sports game
Whether you're into football, baseball, basketball, or hockey, score some tickets and go to a game! Watching a professional sports game in person is much better than watching it at home on television.
22. Get a psychic reading
Want to know what your future holds? Go get a psychic reading or a tarot card reading! Take some friends along and have some fun with it!
23. Go to a winery or wine festival with friends
If you're a wine drinker, gather some friends and go to a winery or wine festival. Spend the day sipping on various wines and learning the best wine and cheese pairings.
24. Go to a paint-and-sip night
Have a fun night sipping adult beverages and painting a masterpiece at a paint-and-sip night with friends. Paint-and-sip night is always a fun idea and a great way to spend your birthday with a group.
25. Attempt an escape room
If you like to solve riddles, puzzles, and clues, attempting an escape room with friends is an exciting and adventurous night out!
26. Make your own birthday cake
Do you love to bake? Show off your cake-making skills and make your own birthday cake. You can even make it a competition to see which person made the best-tasting or nicest cake!
27. Visit a zoo, farm, or aquarium
Do you love animals? Spend your birthday petting and feeding the animals at a zoo or farm. If underwater creatures are more your thing, visit the aquarium for the day.
28. Have a backyard BBQ or pool party
Plan a backyard barbecue or pool party if you're lucky enough to have a summer birthday. There's nothing better than a fun, low-key day hanging out with friends in the backyard.
29. Declutter your house
Cleaning and decluttering your home can be a therapeutic way to spend your birthday. Go through your belongings and get rid of anything you don't need or want anymore. You'll feel much better once everything is organized!
30. Plan a future dream trip
If you cannot travel this year, start planning your dream trip for the future. Research different destinations and make a list of what you need to do to make it happen. This will be something to look forward to! Take your family or make it a girls' or guys' trip with friends.
Top dream destinations:
Turks and Caicos
Greece
Italy
New Zealand
Scotland
Maldives
31. Play board games
Playing board games is an excellent option if you're looking for something low-key. Invite friends over and spend the evening playing your favorite board games. You can even have brunch or dinner before the games begin. Game night is ALWAYS a hit!
32. Go ice skating or roller skating
Dust off those skates and hit the rink! Whether you like roller skating or ice skating, it's always fun to hit the rink and skate with some friends and good music.
33. Hire a private chef
Hiring a private chef for the night instead of going out is a fantastic idea for your birthday. Hiring a personal chef is a luxury, so why not treat yourself to a fabulous dinner you don't have to cook?
34. Play laser tag or paintball
Let your inner child out with some laser tag or paintball! Competitive games are always fun.
35. Plant a garden
If you love plants and flowers, why not spend your special day planting a garden at home? Planting a garden is therapeutic and gives your home that added curb appeal.
36. Go for ice cream
Maybe you're not much of a cake eater. That's ok! There's always ice cream. Make the ultimate sundae at home or go to your local ice cream parlor and order your favorite ice cream with all the toppings!
37. Sing karaoke
You don't have to be the best singer in the room to sing karaoke! So let loose and sing your favorite tunes with friends for a fun night out!
38. Go to the beach
If the beach is your happy place, make your birthday a beach day! Pack up your beach essentials, kick back, and relax while listening to the sound of the waves.
39. Go bowling
Bowling can be a lot of fun. If you're looking for a fun-filled activity on your birthday, bowling is a great option.
40. Have a birthday scavenger hunt with friends
Scavenger hunts are fun for all ages! So get some friends and family together and plan a fun birthday scavenger hunt. You can even plan one for someone else's birthday and have the last clue lead them to a big birthday surprise!
41. Go on a brewery tour or attend a brew fest
If you love craft beers, consider attending a brewery or a brew fest. Sipping on different craft beers with friends is the perfect way to spend your birthday!
42. Go to a waterpark
Whether you go to an outdoor or indoor waterpark, you'll have an adventure going down all the water slides, floating in the lazy river, and splashing in the wave pool. One must-see indoor waterpark is Kalahari. They have locations in Pennsylvania, Texas, Wisconsin, and Ohio.
43. Spend the day at a botanical garden
There's so much to see at a botanical garden. Spend the day exploring the living plant collections among the beautiful gardens and landscapes.
44. Go bar hopping with friends
Set out for a night of bar hopping with friends for your birthday. Plan your bar locations for a night full of fun. You can even get some cool t-shirts made for your bar-hopping adventure!
45. Host a video game night
If you love playing video games, invite some friends over for a friendly competition. Order pizza and serve snacks and drinks for the ultimate video game night!
46. Host a backyard movie party
Set up a big screen in the backyard with some comfy seating, pop popcorn, set up a movie snack bar, and watch a movie under the stars.
47. Go to a casino
Test your luck on the blackjack table or slots at the casino. Maybe you'll even be a BIG winner on your birthday!
48. Rent a limo or party bus for a night out on the town
Get a group of friends and rent a limo or party bus for a night out on the town. Dress in your best party attire and paint the town red for your special day!
49. Go to a yoga or meditation class
Yoga and meditation are great ideas if you want to begin a new age in a calming state. Make it a regular routine, and you'll see how positively it impacts your life.
50. Enjoy a magic show
Hire a magician for a show full of tricks and illusions everyone will love. The day will be full of magic, fun, and memories.
What to do on your birthday if you are alone?
If you find yourself alone on your birthday, don't worry! You can still do plenty of things to make the day special. You can go see a movie, grab some good takeout, go shopping, or relax at home with your favorite show and snack.
How can I make my birthday special without friends?
If you don't have any friends to celebrate with you on your birthday, don't let that get you down. There are so many activities you can do to make the day unforgettable. Make the day all about you and do your favorite things.
Is it OK to spend your birthday alone?
Yes, it is perfectly fine to spend your birthday alone. In fact, many people enjoy spending their birthdays alone because it gives them a chance to reflect on their life and celebrate another year of growth. Birthdays are a time for celebration, so even if you don't have anyone to celebrate with, make sure to treat yourself to something special on your big day!
How do you make a birthday party interesting?
One way to make a birthday party interesting is to add some fun things that will surprise and delight the guests. Some ideas for doing this include adding a special theme, hiring entertainers, or creating interactive games. Another way to make a birthday party enjoyable is to personalize it for the guest of honor by including their favorite activities, food, or decorations.
How can I make my birthday special without money?
There are plenty of ways to make your birthday special without spending any money. Here are a few suggestions:
Have a picnic in your backyard or at a nearby park
Make a special dessert at home
Go for a hike or walk in nature
Spend the day doing something you love, like reading, crafting, or playing sports
Volunteer for a local charity or cause close to your heart
Have a movie marathon with your favorite snacks
Spend time with loved ones and create new memories together
Extra special things to do on your birthday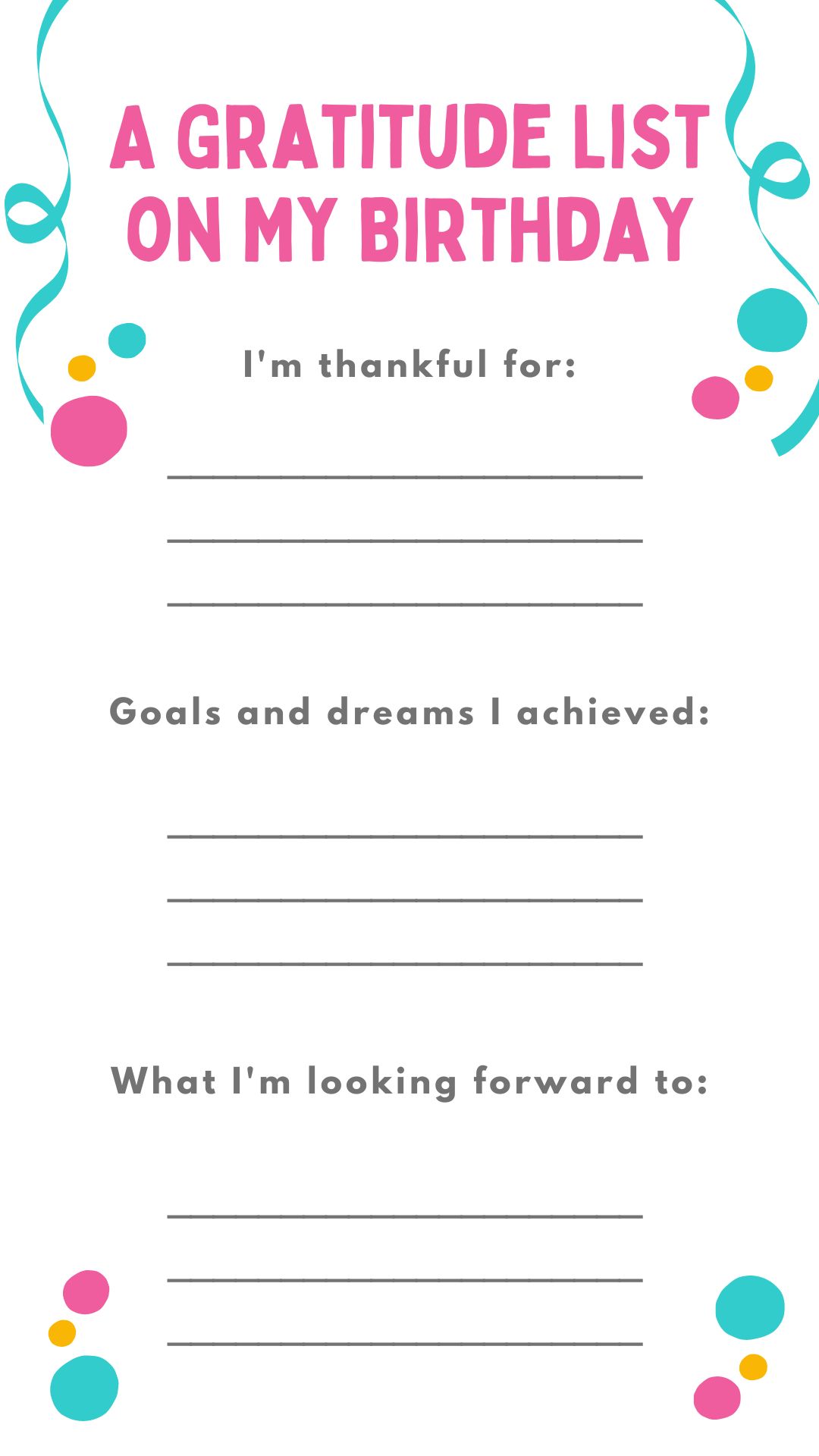 Grab this Free Birthday Gratitude List and write down the goals you've achieved and things you're grateful for
Go around to different restaurants collecting your free birthday meals
Show a little creativity and plan a high tea for your birthday celebration
Visit an animal shelter and give dog or cat food as a gift or make a donation.
Go to a bakery and buy cookies and a birthday cake for yourself
Check out these ideas next time you're looking for things to do on your birthday, check out these ideas. Now that face masks aren't required, and you don't have to sit in your living room unless you want to, it's time to get out and have some incredible experiences for your next birthday!
What's the coolest thing you've done to celebrate another trip around the sun? Let me know in the comments below.