Sparkly Pink First Birthday Party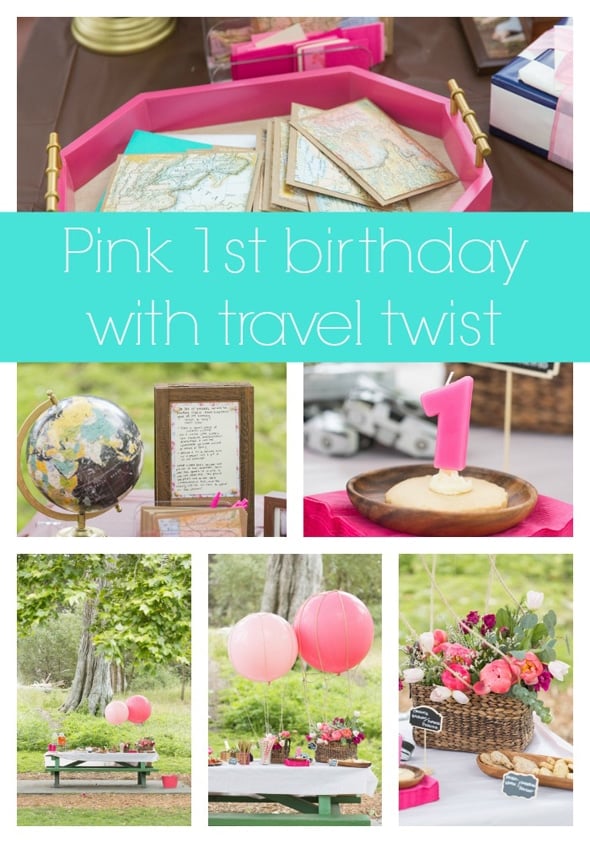 This sweet 1-year old birthday girl absolutely loves anything sparkly, as well as pink, so Mom knew a girly party was going to have to be in order! After some searching for things that could be repurposed that she already had, it was decided that the theme would be a Sparkly Pink First Birthday Party. You can't get much more girly than that!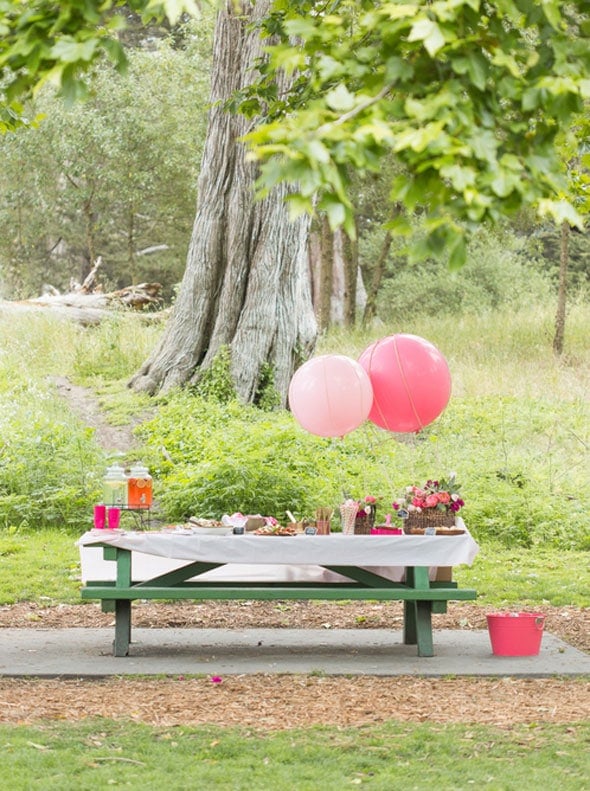 Colors for the event, in addition to pink, included gold and brown. They complemented each other so well and the color scheme turned out perfect!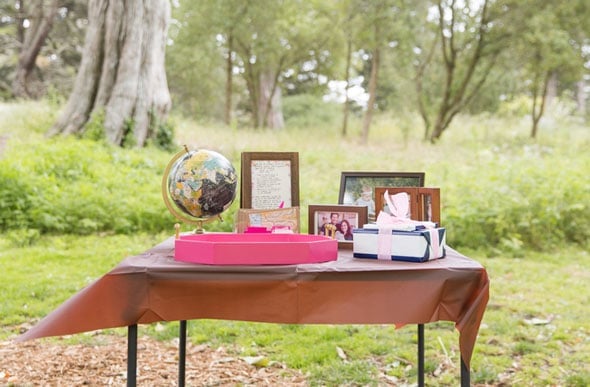 The party was held at Golden Gate Park in San Francisco with around 25 guests attending the milestone event including children. Cristin More Photography took all of the gorgeous pictures to document the event for years to come!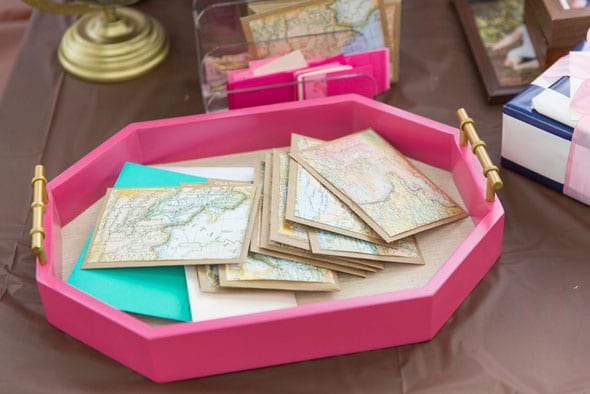 No only did Mom decide on the great color scheme for the party coupled with sparkly pink, but in lieu of guests bringing gifts, they also requested everyone bring a few dollar bills. They had a station with envelopes, pens, and small pieces of paper and guests were asked to write down their favorite international location. After attaching one paper per bill with a paper clip, guests were than asked to place them in envelopes, seal them and write their name on it. Everyone than placed it into the card holder that was at the "travel station".
You may be wondering what this was for and I have to tell you, this is the coolest idea ever! The family plans to do this at all of the birthday girl's parties every year in the future. On her 16th birthday, they will go through them all with her and have her pick from the pile of guest location recommendations and they will go to that place for her birthday! The money she has accumulated through all of the guest dollar contributions will be used as her personal spending money on the trip. What a great idea! We all know how quickly toys break and are forgotten, but this is a wonderful way of creating something that will never be forgotten. Way to go, Mom!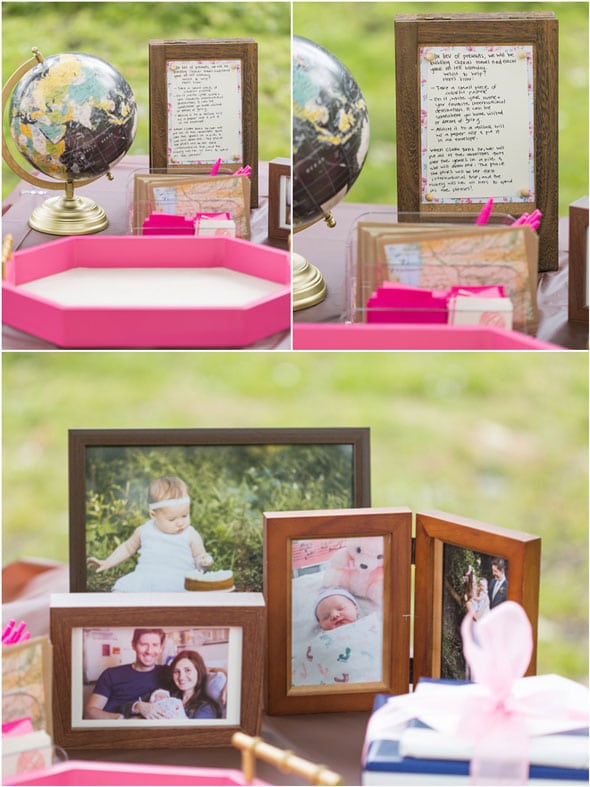 For decorations, Target and Crate & Barrel supplied the majority of the items that were used. Mom also repurposed as many dishes as possible from sets she already had and filled in the gold bowls and accessories.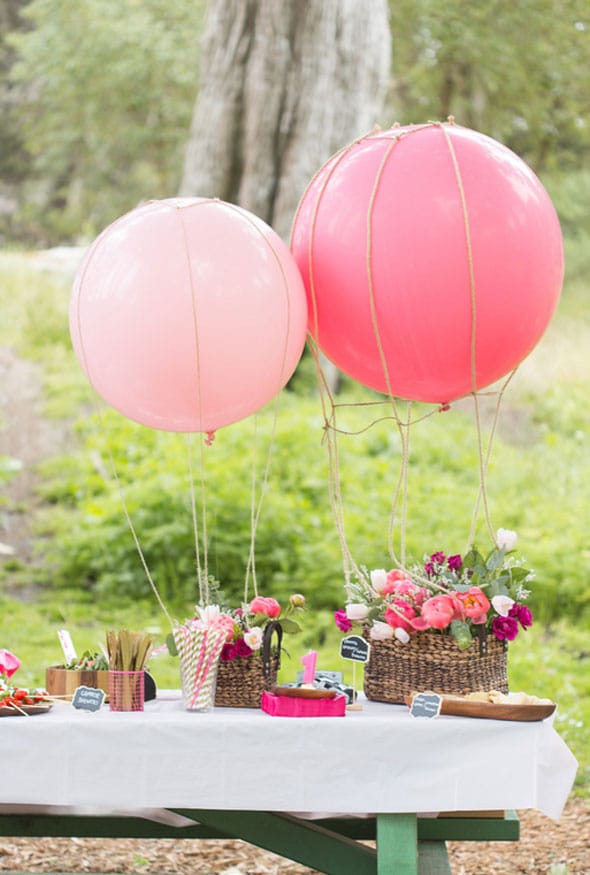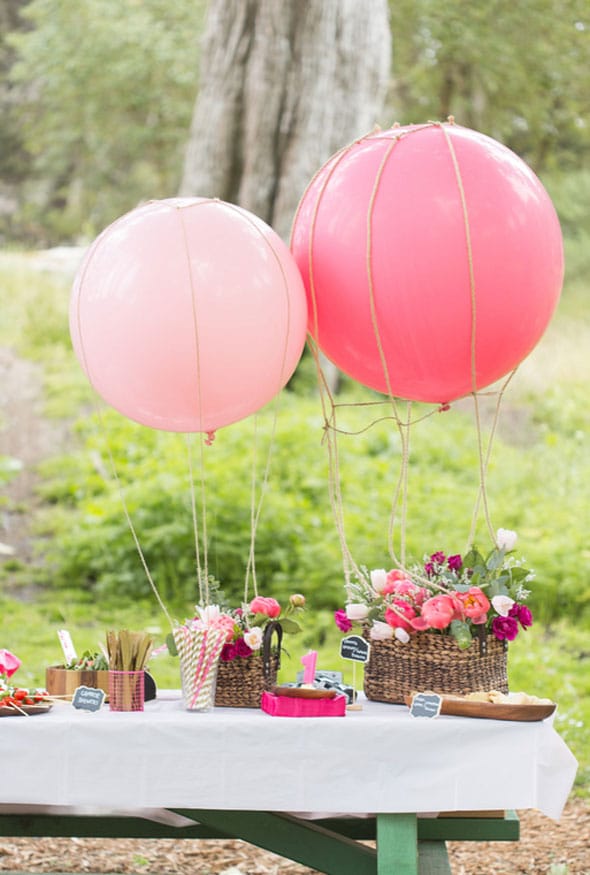 And how about these DIY Hot Air Balloons? Mom got a little guidance from Pinterest on how to create the look she was going for and they turned out amazing! Balloon Delights provided the balloons she used for this DIY project. She got 36-inch round balloons and slightly deflated ones to make it smaller than the other. She tied them to the baskets with twine and fishing wire for stability and got some beautiful flowers at her local farmer's market to craft a few arrangements with. Voila!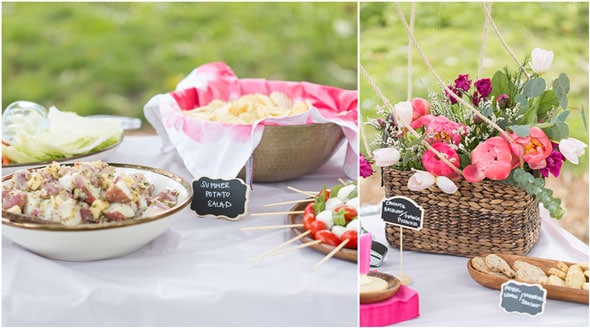 Food for guests to munch on was definitely not in short supply. They had BBQ's, along with a lighter version of potato salad, chips, caprese skewers, bacon cheeseburgers, along with veggie burgers. All of the food was a hit and all was delicious!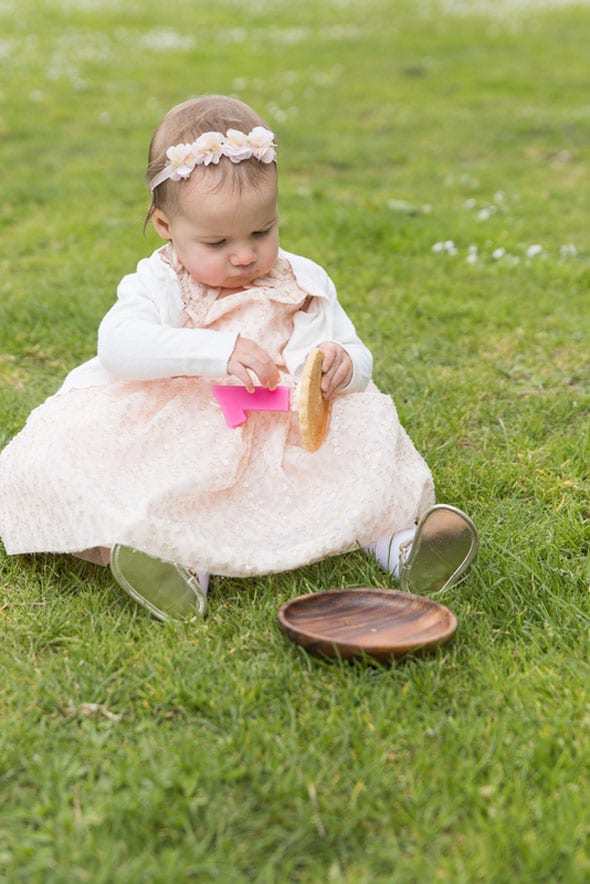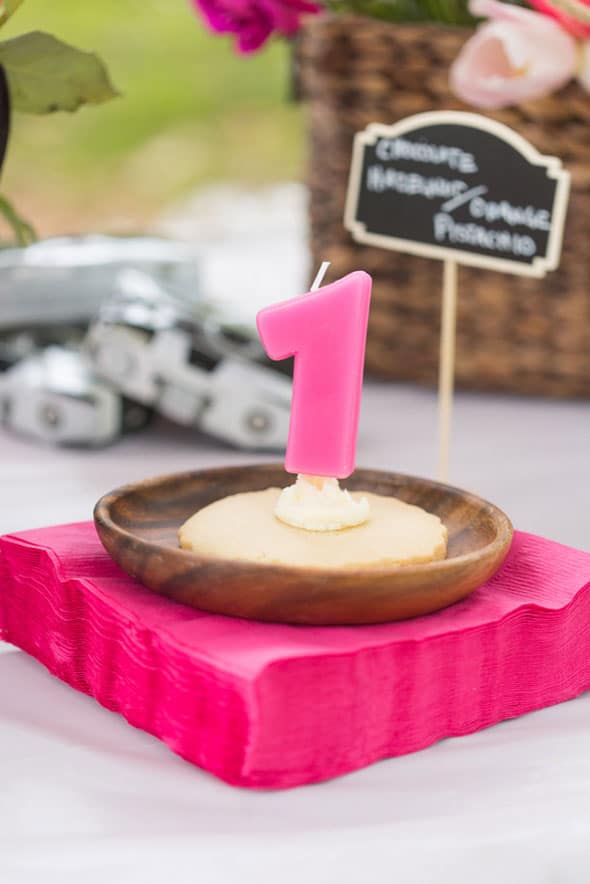 The birthday girl has an egg allergy, so it was a no-brainer that cake wouldn't be served. Instead, Mom opted for easy to chew, eggless shortbread! Batter Bakery provided incredible shortbread in all sorts of unique flavors, such as chocolate hazelnut and pistachio orange! What a unique dessert idea and one that was popular with all of the guests!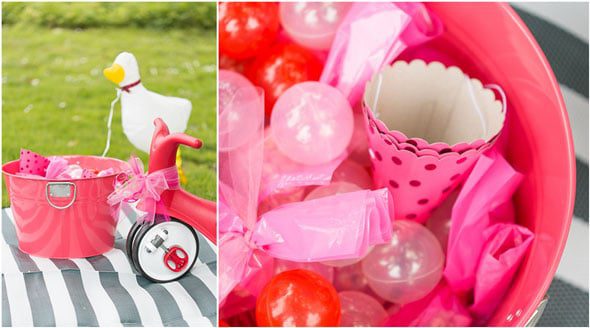 Games were also quite the event at this first birthday party! Lawn games, including washer toss, Frisbee golf and lawn darts, were set up for the adults to enjoy. There was also a little station set up for the kids that had ball-bit balls in it, along with party hats and koosh balls from the dollar section of Target. The birthday girl also shared her mini-tricycle with the other kids and there was a fun large duck balloon that walks along when pulled for the kids to play with. Everyone had so much fun! Mom also thought ahead and provided little pink bags of cereal puffs and freeze-dried yogurt bites in pink bags for all of the little babies to play with and take home. All of the parents appreciated that effort for the smaller children in attendance!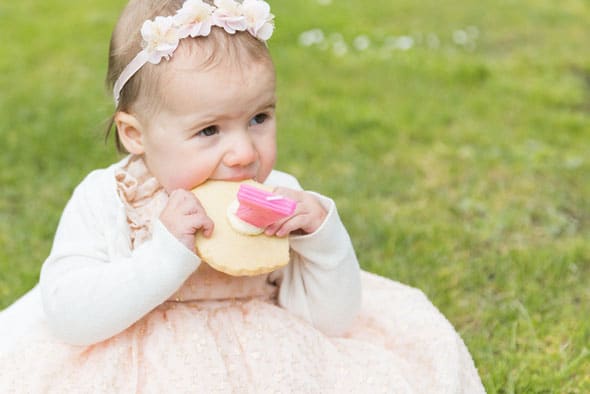 This was one fun first birthday party and the birthday girl will sure love the awesome travel-themed tradition her parents have instilled! What a beautiful party with fun DIY projects and gorgeous decorations!
Vendors & Resources
Photography – Cristin More Photography // Balloons – Balloon Delights // Shortbread Desserts – Batter Bakery // Party Dress – Janie and Jack // Flower Crown – H&M // Decorations – Target, Crate & Barrel
Plan your own Sparkly First Birthday Party with these fun party products!
Sign up for a 30 day free trial of Amazon Prime and get free 2 day shipping on your party products!