5 Tips for a Fun Date Night at Home
I've noticed that after having kids date nights can be few and far between. Demanding careers and stress of daily life can really make it difficult for you and your spouse to have some alone time. Don't worry about getting a babysitter or finding money in your budget for an expensive dinner. Relax after the kids go to bed and make it a fun date night at home! There are many fun things you and your spouse can do to spend some quality time together without leaving the house. Here are 5 Tips for a Fun Date Night at Home.
1. Beer and pizza anyone?! Make it a fun and casual night at home with your favorite brew and some DIGIORNO Thin Crust Pizza! The brand that set the bar for oven-ready pizza has now raised it again with DIGIORNO Pizzeria!™ Thin! This is an entirely new pizza. Using carefully selected ingredients, Pizzeria!™ Thin puts the proof in the Pizzeria! as one of DIGIORNO's most delicious pizzas yet!
DIGIORNO Pizzeria!™ Thin starts with a preservative-free crust that is proofed for nearly 90 minutes before being baked in a 700 degree oven for a thin and crispy crust.
With a unique, homemade shape the Pizzeria!™ Thin crust is drizzled with extra virgin olive oil for a hint of flavor and then topped with a specially-crafted sauce made from scratch using vine-ripened tomatoes, basil, thyme and oregano.
New Pizzeria!™ Thin pizzas are topped with the 100% real cheese, premium meats, vegetables picked at the peak of ripeness and have no artificial flavors, so you'll only taste delicious ingredients.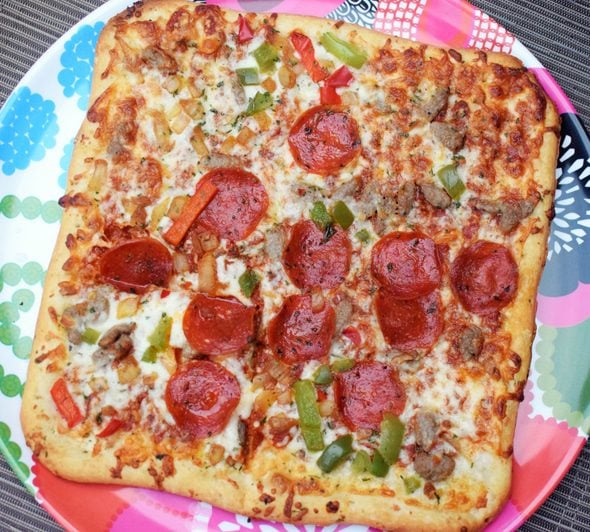 New DIGIORNO Pizzeria!™ Thin pizzas are available in four delicious varieties, including:
Supreme Speciale: Topped with caramelized onions, red & green peppers, premium pepperoni, Italian sausage
Primo Pepperoni: Topped with premium pepperoni
Margherita (unique to Thin): Topped with diced roma tomatoes, basil, and mozzarella, parmesan, romano and asiago cheeses
In our house, we love the pepperoni and supreme pizzas! DIGIORNO is so confident you'll agree that New Pizzeria!™ Thin is delicious, that it is offering a "Love It Or It's Free Guaranteed" refund. If for some reason you try the new Pizzeria!™ Thin and don't like it, you can visit DIGIORNO.com for more information on how to receive a refund.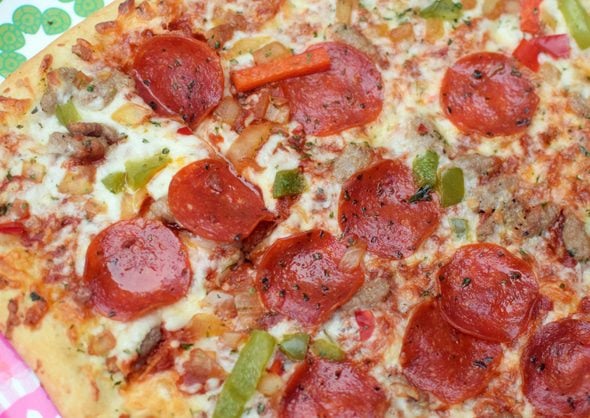 2. Watch a movie or two that you've been wanting to see! I know in my house we debate on which movie we want to watch. I usually like the romantic comedies and my fiance likes the action-packed flicks. Why not watch both movies while you're enjoying some pizza and beer?! Or if it's getting too late in the evening, make a second date night at home happen! It's so important to make quality time for your spouse. There really is no better way to do that than to spend an evening at home where you two are most comfortable!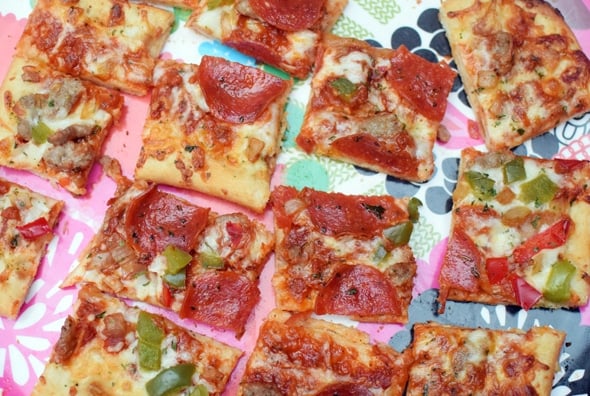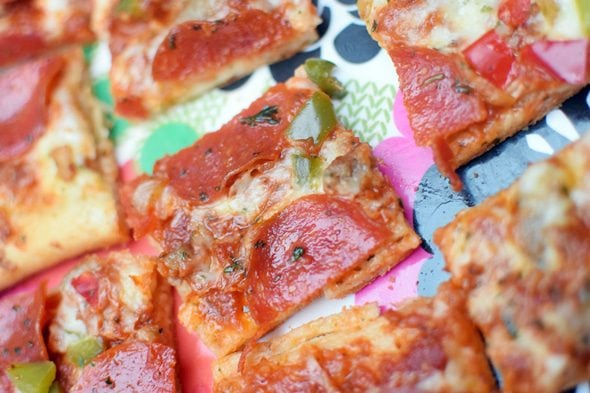 3. Have a pizza picnic! Set down a blanket on the living room floor in front of the television and have an indoor pizza picnic! Grab your favorite bottle of wine and dessert while you watch a movie.
4. Play a game! See how well you and your spouse know each other and have a prize for the winner. You can make it more exciting by giving the loser diaper duty for the week or getting your movie pick first for the next date night at home!
5. Set up a fun date night photo booth! When was the last time you and your hubby were in a photo together?! I know I'm not in many because I'm always the one taking the photos. Aside from family photo shoots, there really aren't that many photos with the two of us in them. Set up a fun DIY backdrop, get some fun props, and strike a pose and get silly. The couple that plays together stays together!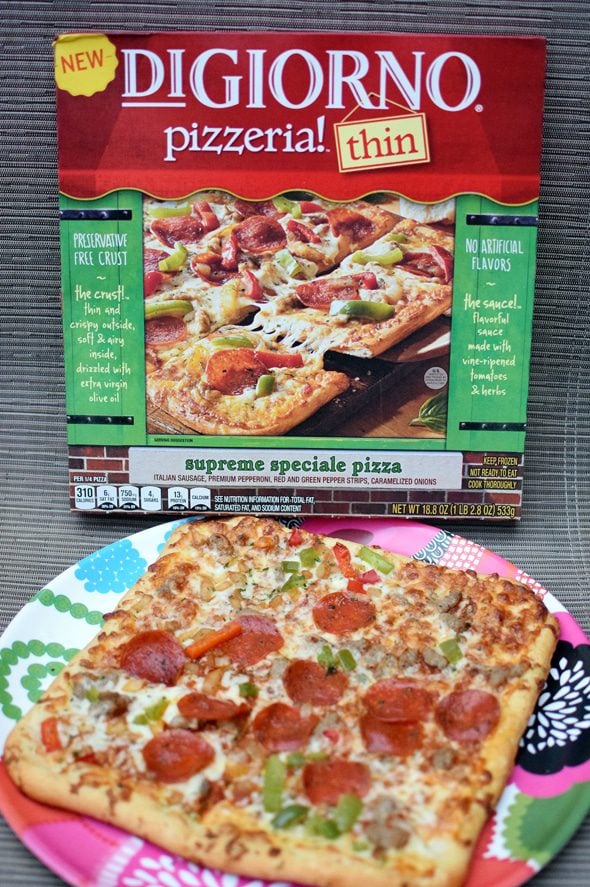 Do you have a fun idea for a date night at home? Let us know in the comments below!
DIGIORNO is excited to hear what fans think of the new Pizzeria!™ Thin pizzas. It is asking consumers to taste for themselves and then visit the DIGIORNO Facebook or Twitter page (@DiGiornoPizza), to share feedback and pictures using the hashtag #YouBeTheJudge.
Stay up to date with all things pizza by following DIGIORNO on Twitter and Facebook.
I was selected for this opportunity as a member of Clever Girls and the content and opinions expressed here are all my own.