Silver and White Holiday Party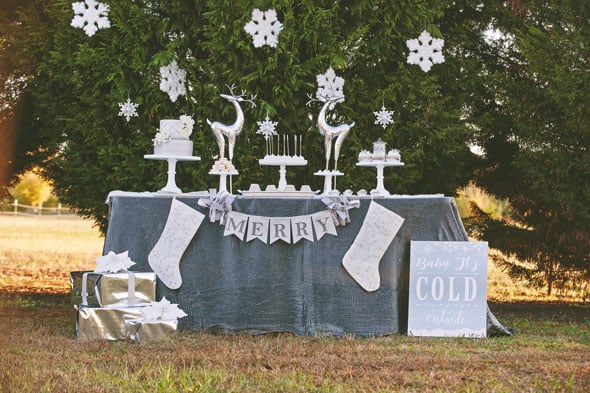 We love all things holidays! There are so many gorgeous aspects to planning a holiday party that can be used and they are always so cheery and fun! So when Sweet Georgia Sweet decided to plan a Silver and White Holiday Party for friends, we couldn't get enough of it! What an inspirational layout and with the holiday season right here upon us, there is no better time to plan a celebration with friends and family like this! Party of 7 Photography captured all of the beautiful elements from this holiday party and it couldn't have turned out better!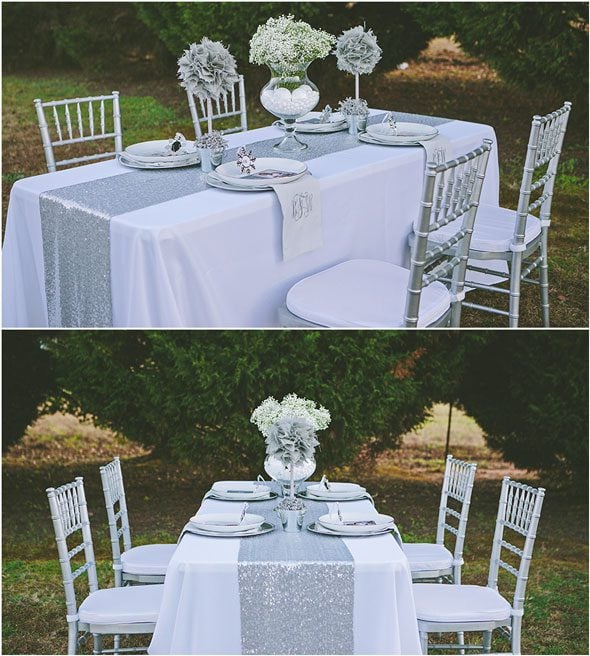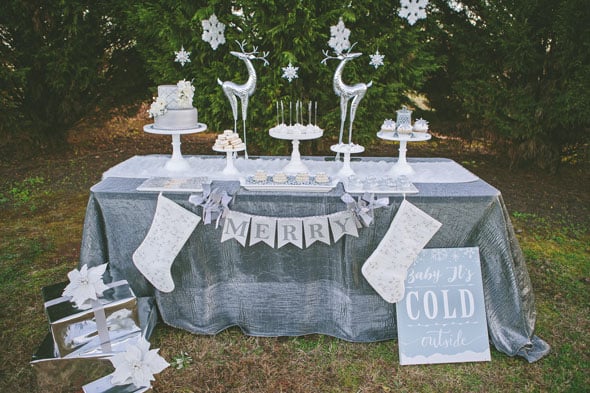 When starting to plan the party, Sweet Georgia Sweet found themselves fascinated with all things silver, wintry, and of course, anything in a snowflake shape! And since the party was held outdoors, the beauty of nature was also a key part of the celebration! How gorgeous was this set-up?!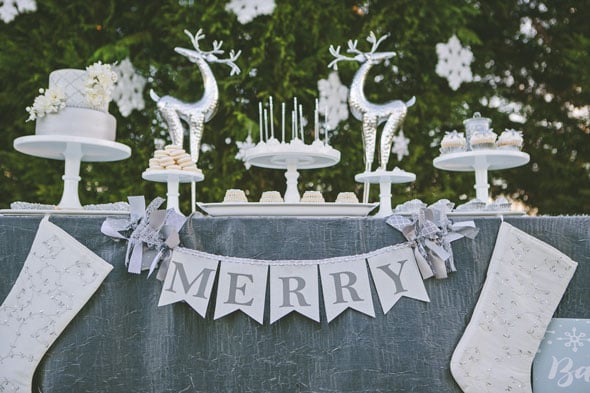 Oversized fir trees provide the perfect backdrop for the dessert table. And at the last minute, large sparkly snowflake ornaments were added and nestled perfectly right into the branches. How elegant did this turn out?! What a wonderful background effect!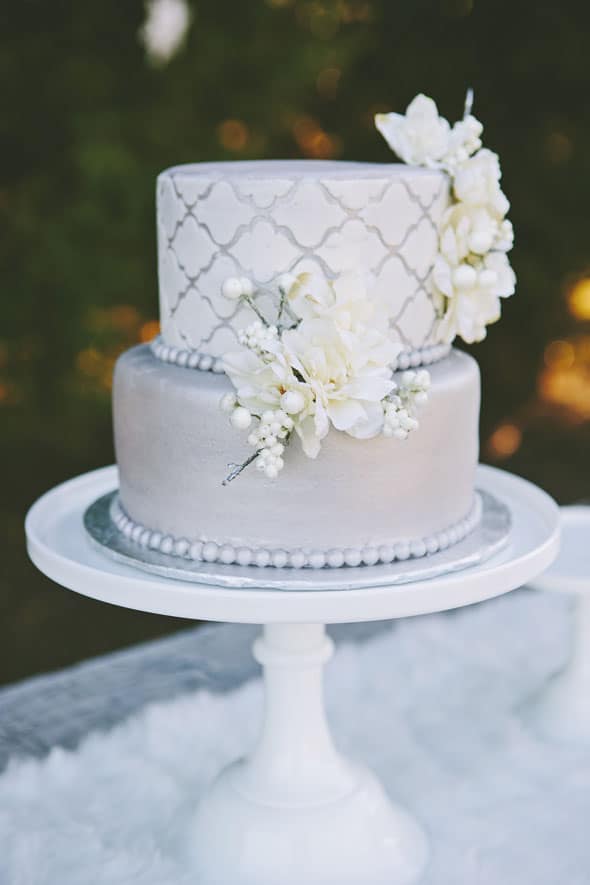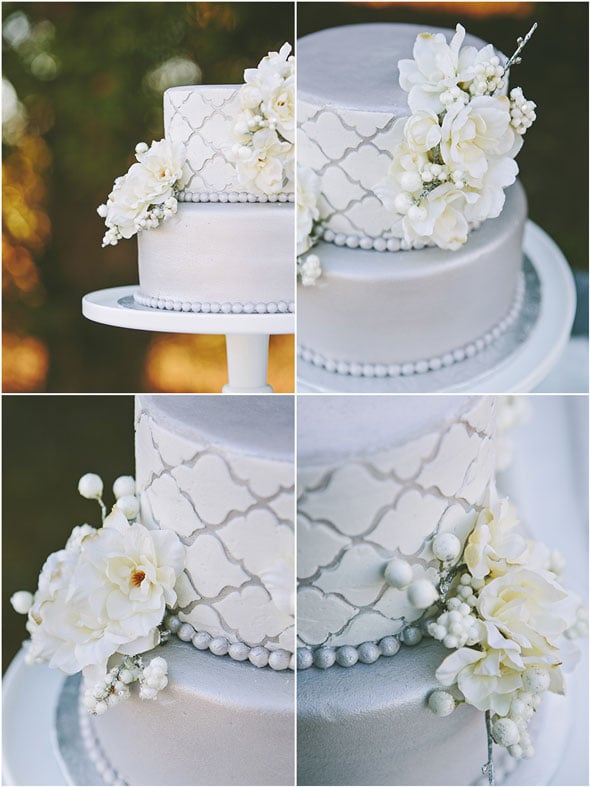 Desserts were absolutely exquisite! Look at this gorgeous two-tiered silver quatrefoil cake from Bliss Bakery! The details are 100% amazing and it fits in perfectly with the silver and white holiday theme!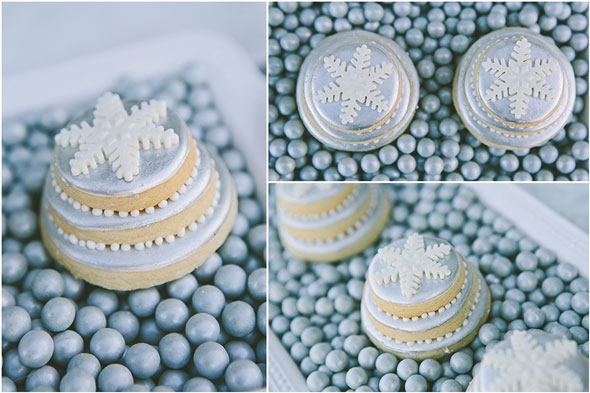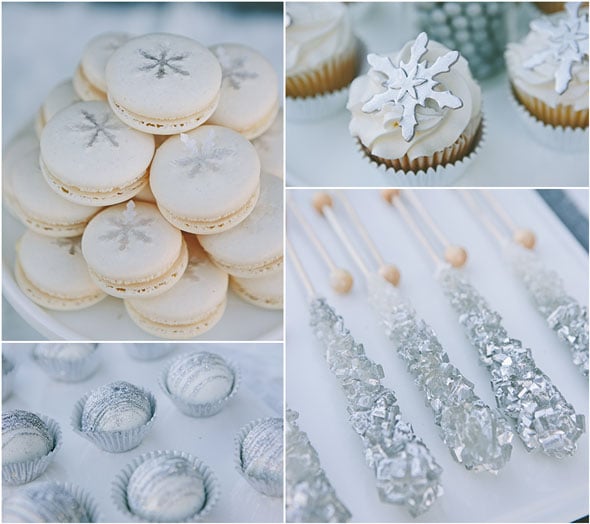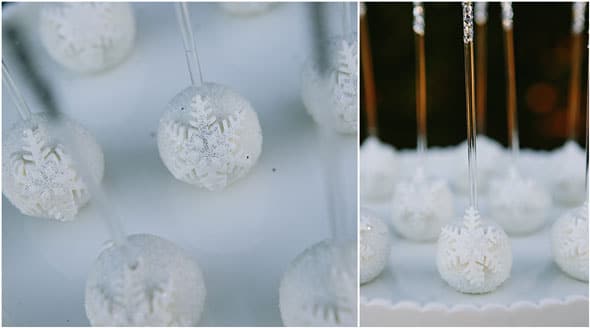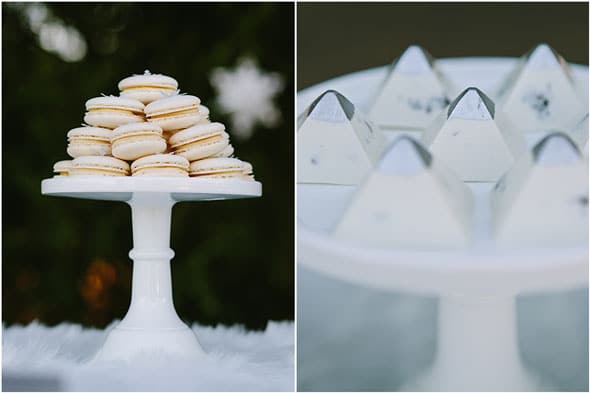 From the intricately-designed snowflake cake pops from The New York Cakepopery to the snowflake topped cookie towers from Crumbles, the desserts did not disappoint! Look at those amazing Oreo Pyramids, provided by Bella's Bakery and Bowtique!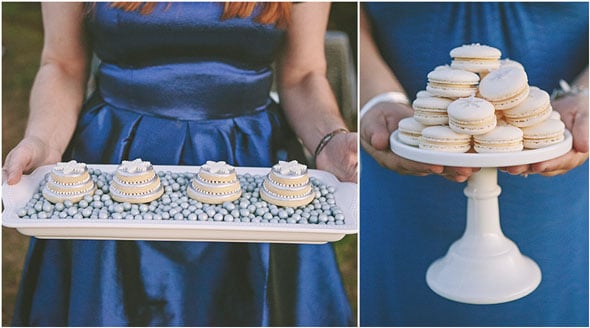 And what a wonderful presentation!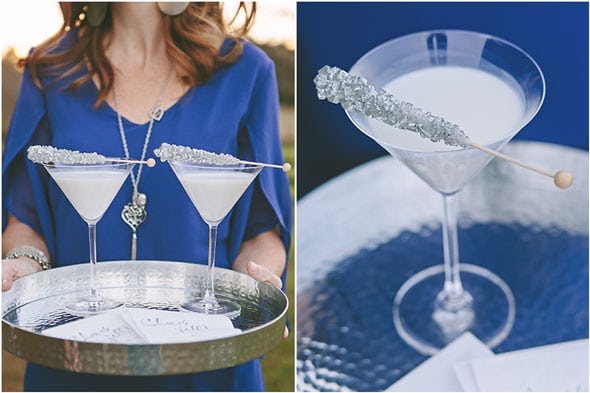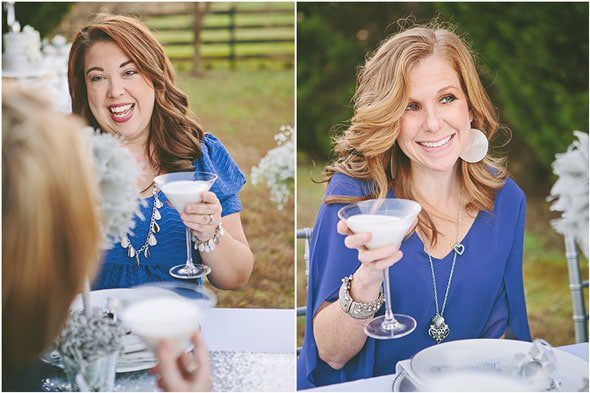 White Christmas martinis were served with glam rock candy from Sparkling Sweets Boutique and everyone went crazy over them! What a unique look!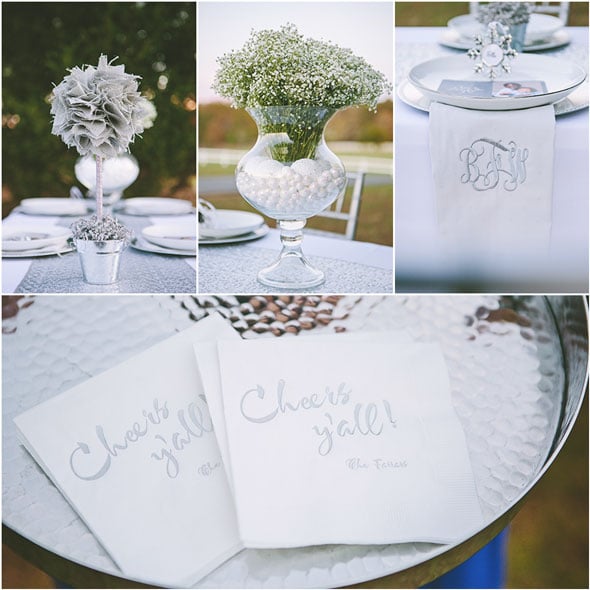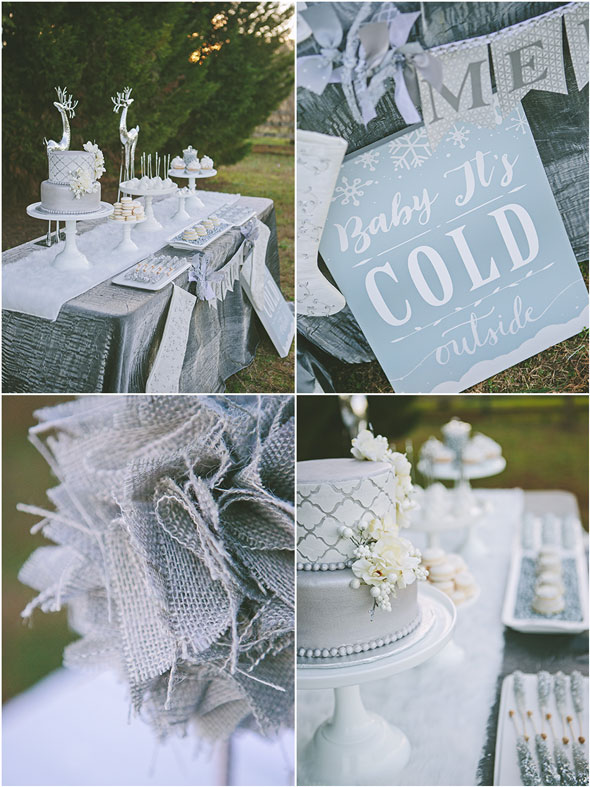 For the guest tables, clean lines, glitzy sparkle and a little traditional Southern flair were added in with the monogrammed linen napkins from Emerald Cove Designs. Every detail was absolutely perfect! We just love those burlap topiary centerpieces!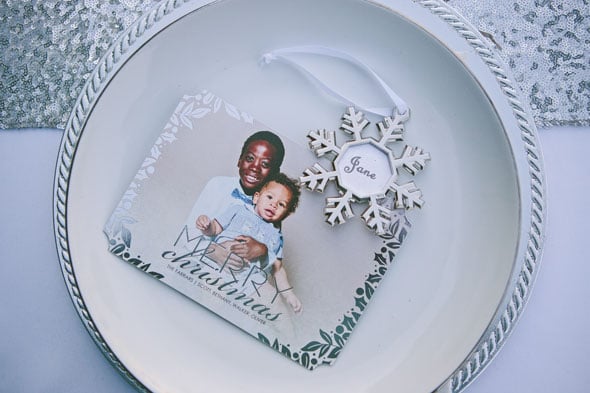 Each place was set with a silver snowflake place card holder from Kate Aspen, which was also an ornament. What a perfect party favor!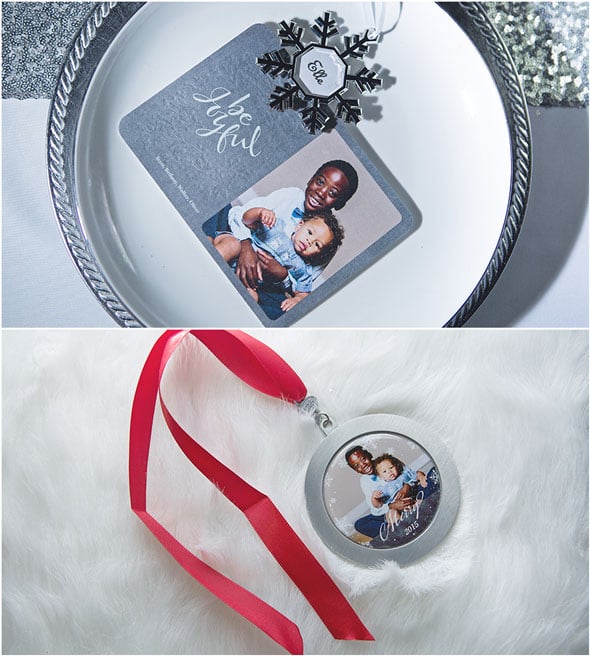 For a final personal touch, Sweet Georgia Sweet used their family Christmas cards as part of the table decorations, which came from Tiny Prints.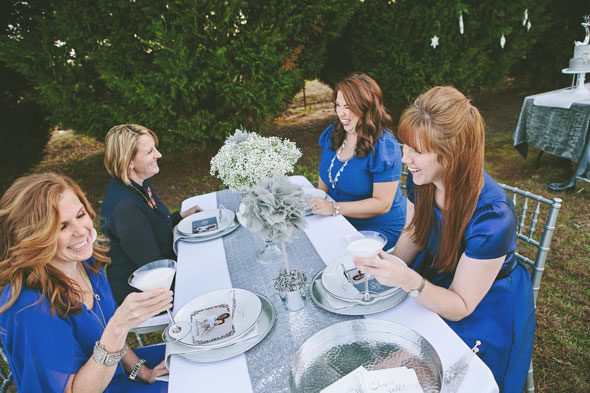 Celebrating the holidays with close, special friends is such a great way to usher in the joy of this festive season! Happy Holidays, everyone! What's your favorite design elements of this gorgeous party? Let us know in the comments below!
Vendors & Credits
Party Styling, Banner, and Centerpieces: Sweet Georgia Sweet // Photography: Party of 7 Photography // Oreo Pyramids: Bella's Bakery and Bowtique // Cookies and Macarons: Crumbles // Cake Pops: The New York Cakepopery // Cake: Bliss Bakery // Fondant snowflake Toppers: Edible Details // Glam Rock Candy & Cake Balls: Sparkling Sweets Boutique // Invitation, Christmas Cards, Napkins, Photo Ornament, Canvas Print: Tiny Prints // Snowflake Place Cards: Kate Aspen // Monogrammed Linen Napkins – Emerald Cove Designs // Party Rentals: An Affair to Remember
Plan the perfect holiday or winter-themed celebration with these products: