New Years Eve Outdoor Movie Night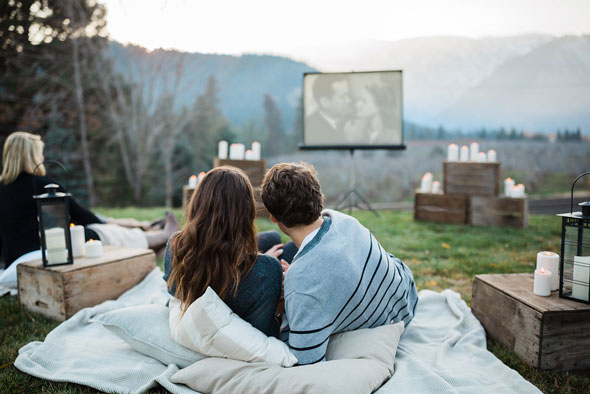 Ringing in the New Year with friends and family is a timeless tradition that never goes out of style! But after years and years of working tirelessly to plan the perfect event that includes tons of people or heading out for a night on the town, where it ends up loud and you never get to actually hold a conversation with your dear ones, what is someone to do? How about plan a New Years Eve Outdoor Movie Night with friends, instead?!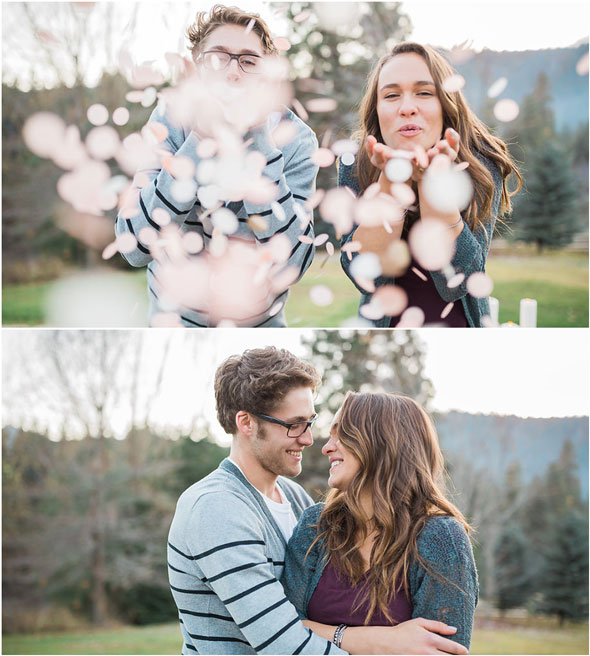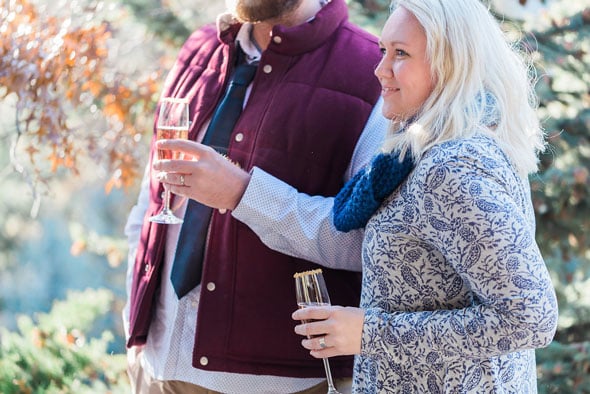 That's what HRJ Events & Vintage Rentals did! The theme of the evening was Dinner al fresco, along with a classic outdoor movie night to ring in the New Year. Instead of trying to include everyone and inevitably being disappointed with another New Year's Eve, this celebration was kept more intimate with a gathering of 6 friends, with the party held at the hostess' home!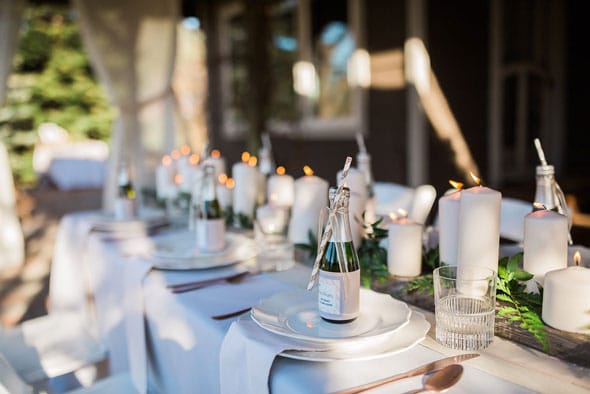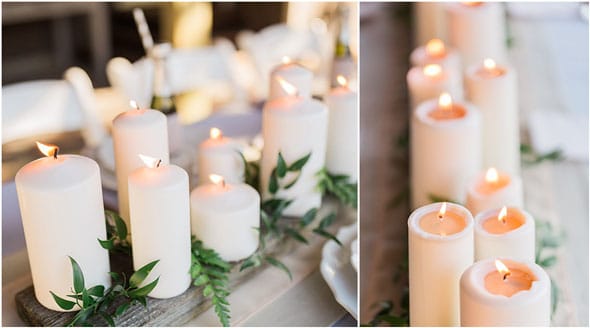 To keep things less flashy, HRJ Events & Vintage Rentals decided to stick to more neutral colors, such as creams, tans, grey, blush pinks with an added pop of Rose Gold. The results were phenomenal and Nicole Conner Photography did a wonderful job of capturing all of the gorgeous details!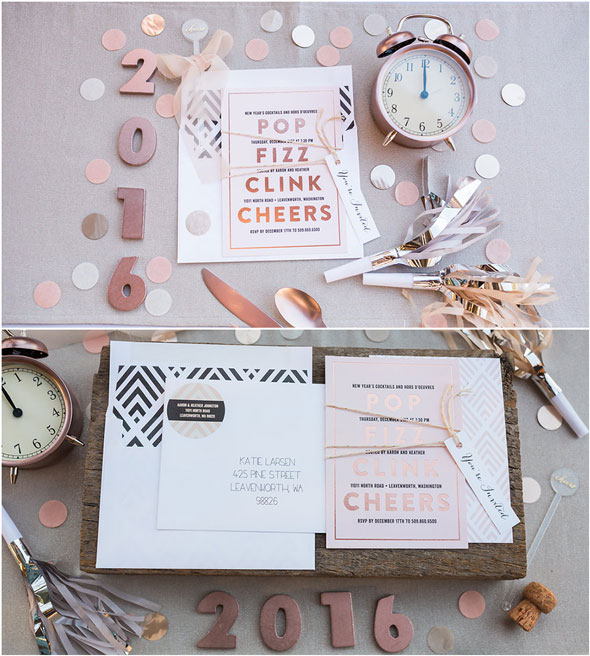 The most adorable party invitations were ordered through Tiny Prints, along with some cute personalized home decor that was perfect for hosting an outdoor movie night, like pillows and blankets.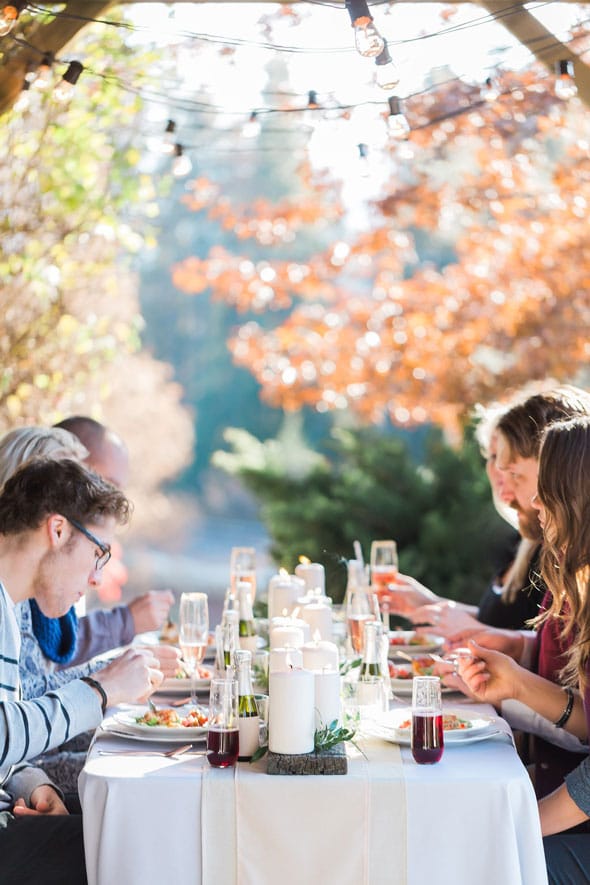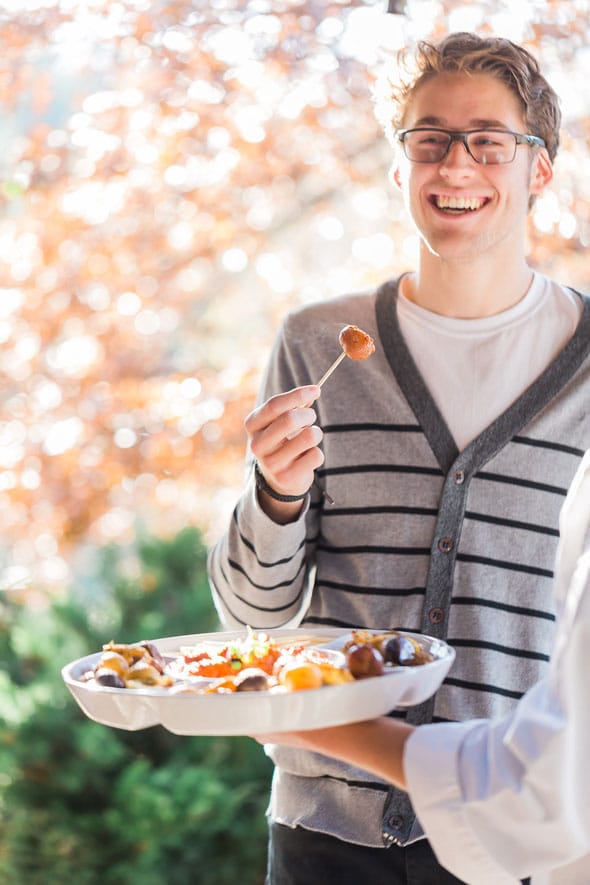 There is nothing like enjoying an unforgettable meal with good company and it was definitely the highlight of the event! A delectable 8-course meal was enjoyed by everyone, including 4 different amazing appetizers. The entire meal spanned over the course of over two hours and was the perfect way to spend the last hours of the current year before anticipating the new year's countdown!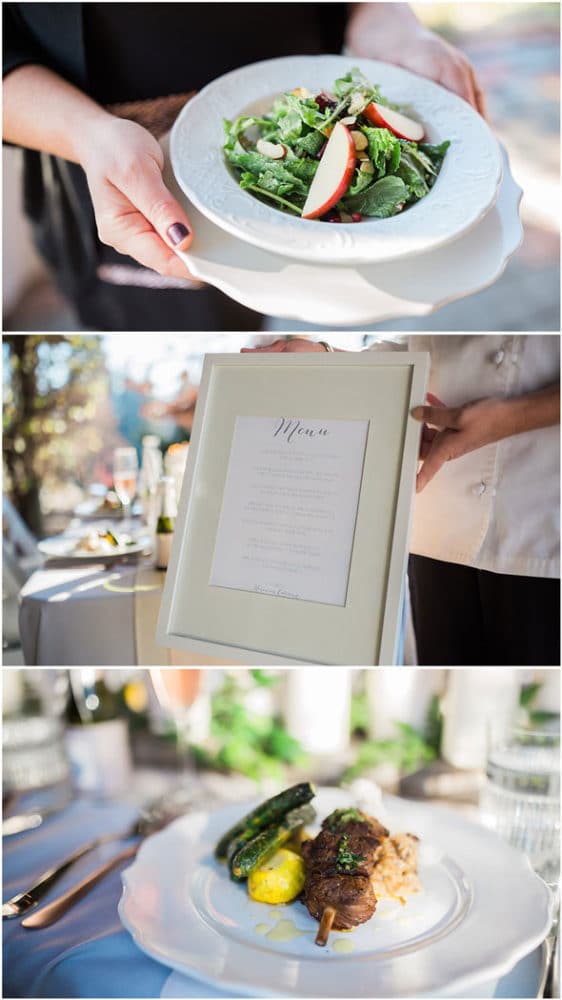 Ravenous Catering created the menu for the evening and what they came up with was absolutely superb! It was a meal that was savored and relished by all!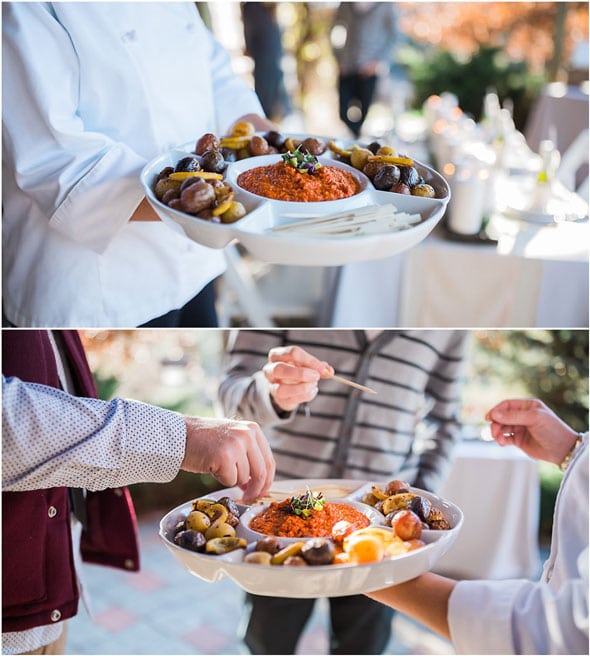 To begin with, appetizers included Walla Walla Onion & Parmesan Dip with Toasted Pita Chips, Lemon & Rosemary Roasted Petite Potatoes with a Red Pepper Romseco Dipping Sauce, and finally, locally foraged Chanterelle Mushroom Bruschetta with Chèvre Cheese & fresh Rosemary. Sensational! Arugula Bedded Dungeness Crab Cake with Heirloom Tomato Concise & Creole Remoulade Sauce and Smoked Bacon Wrapped Prawns in a Satsuma Ginger Glaze with Black Sesame Seeds were also served.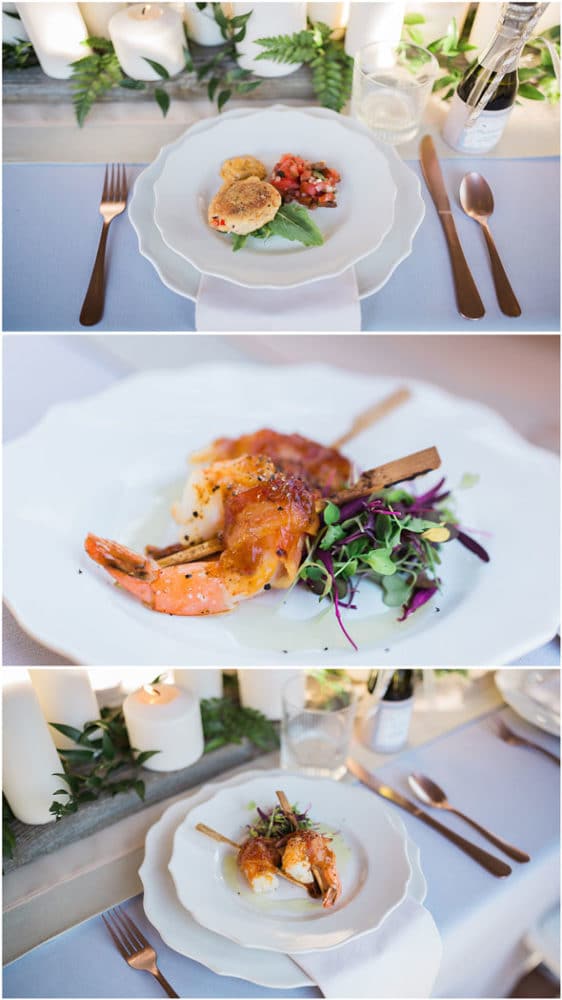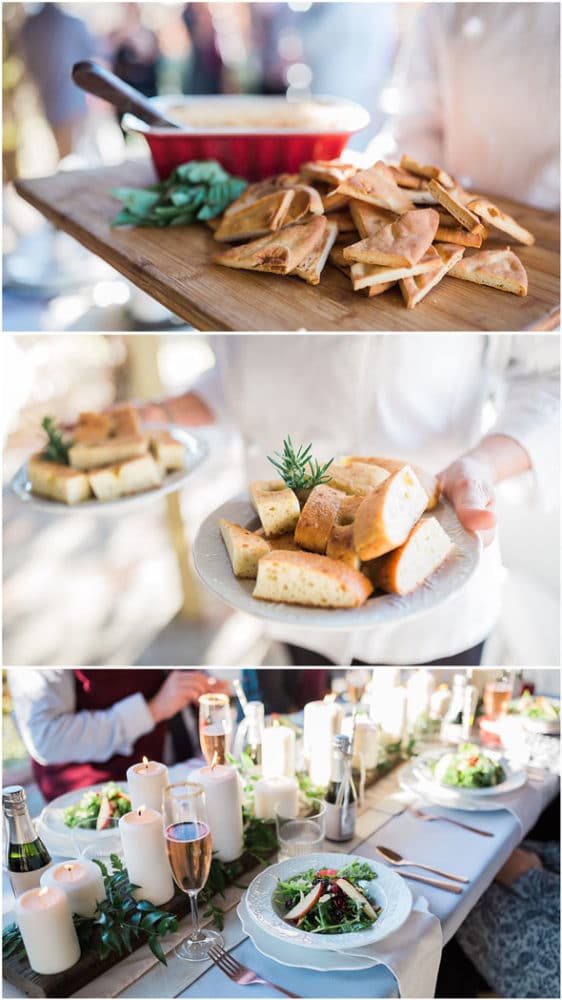 Finally, Honey Glazed Beef Tenderloin Brochettes with Wild Mushroom Risotto and Baby Squash was served. And how about that incredible-looking Focaccia Bread?! The salad served was a Baby Kale Salad with Local Ambrosia Apples, Toasted Almonds, Pomegranates and Dried Cherries, tossed in a Vanilla Bean Vinaigrette. Our mouth is watering!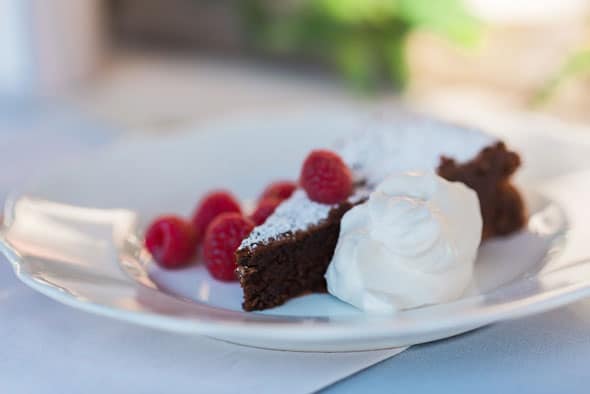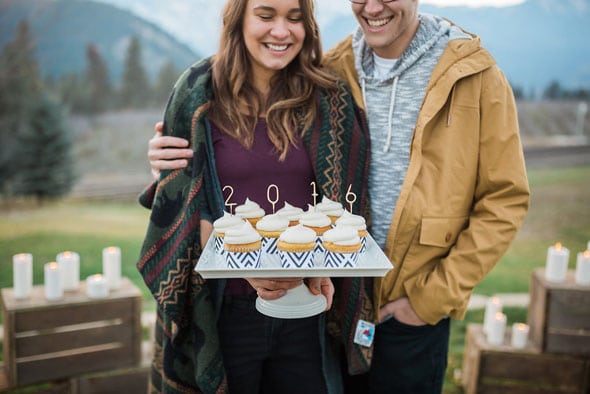 And who could forget dessert? Ravenous Catering created a delicious Dark Chocolate Gateau with Fresh Raspberries and Frangelico Cream. Exquisite! Cupcake Blues also made their signature vanilla cupcakes for the movie's snack bar, as well!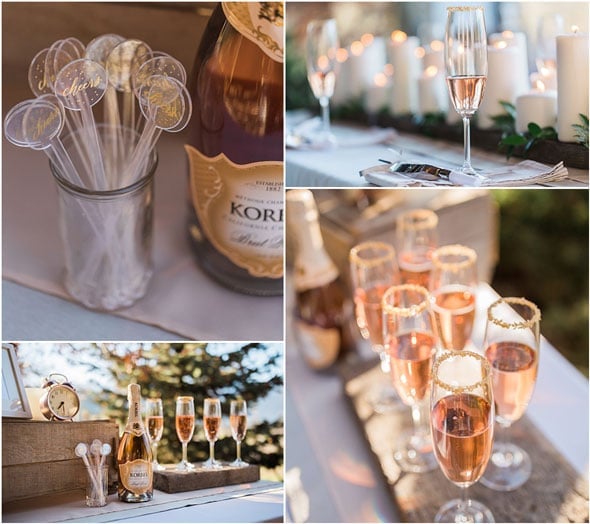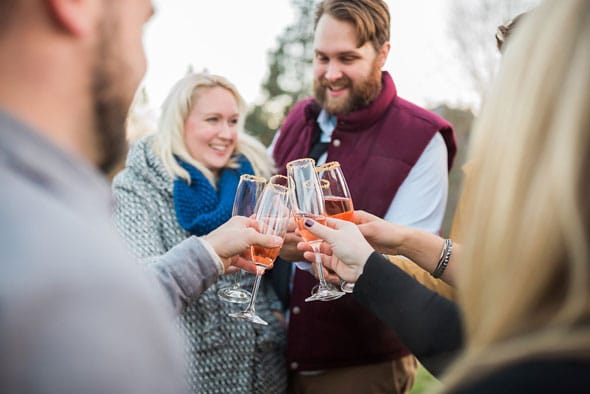 What New Year's Eve would be complete without a bubbly bar?! Antiques from the hostess' own collection were used throughout the event, particularly old apple wood boxes. These were incorporated into the table decorations and at the bubbly bar, which was the perfect compliment to the other decor! The cute "Cheers" drink stir sticks were found on Etsy and were the perfect addition to the bubbly bar!
DIY Projects also were part of the fun! The two table runners on the dinner table, along with the cloth napkins, were sewed by the hostess.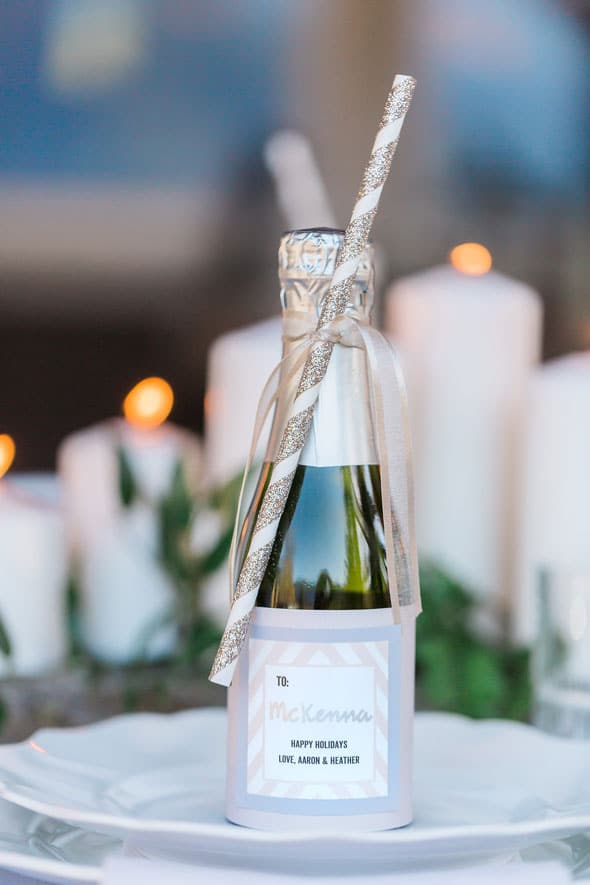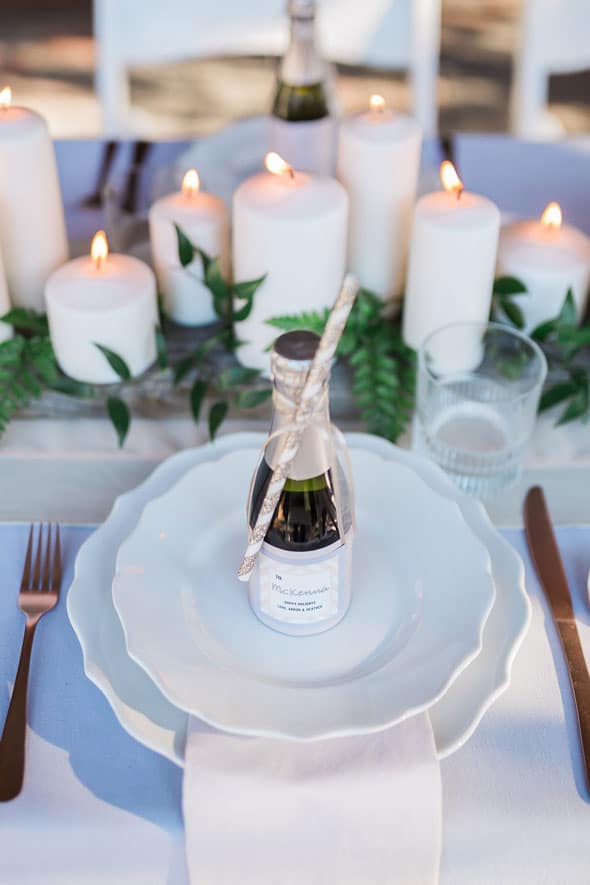 Another DIY project was the place settings! HRJ Events & Vintage Rentals used gift tags from Tiny Prints and embellished them onto miniature bottles of Champagne that doubled as place settings, as well as party favors for the guests. How adorable did these turn out?!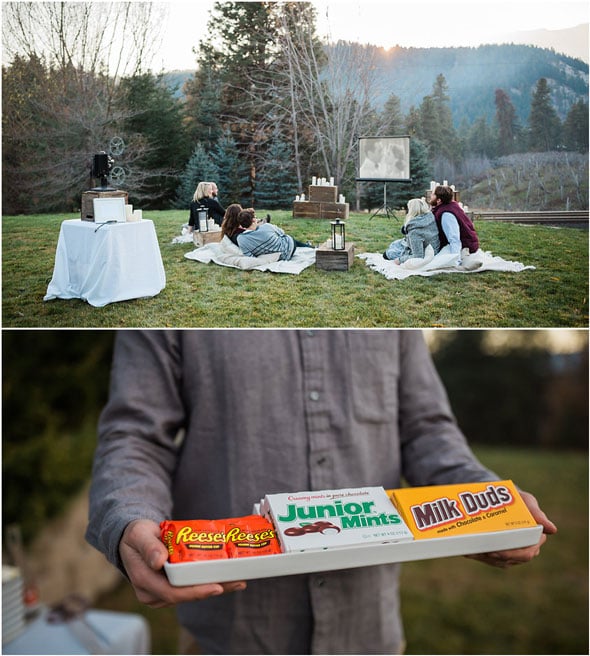 To cap off the evening, there were screenings of old classic movies to ring in the New Year! How fun and what a unique idea!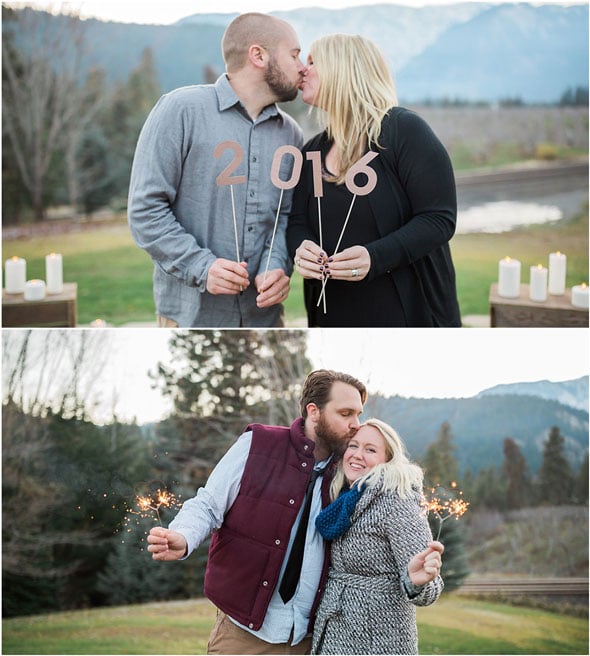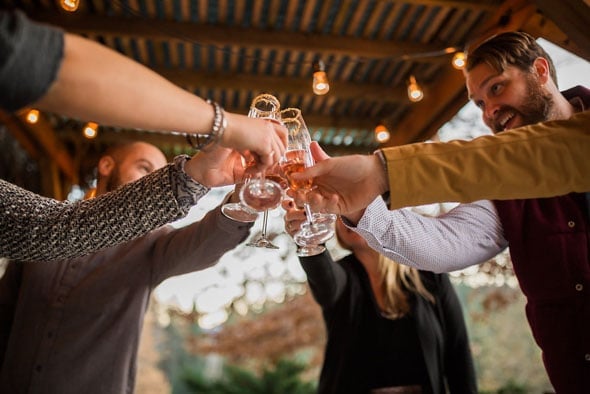 What an exceptionally fun New Year's Eve idea! Hopefully this will inspire intimate dinner parties, along with fun outdoor movie nights! What a great way to celebrate any special occasion!
Vendors & Credits
Party Styling and Design: HRJ Events & Vintage Rentals // Photography: Nicole Conner Photography // Catering: Ravenous Catering // Cupcakes: Cupcake Blues // Invites, Gift Tags, Personalized Blanket and Pillow: Tiny Prints // "Cheers" Drink Stir Sticks: Etsy
Plan the ultimate New Year's Eve celebration with these fun party products!