Quick and Easy New Years Party Setup
This Quick and Easy New Years Party Setup is gold and glam with gorgeous printable party decorations!
Can you BELIEVE New Year's Eve 2018 is less than ONE MONTH away! One month until we ring in all the joyous potential of 2018. And because this time of the year is just so busy, with Christmas and New Year's only one week apart, we just know you will want to get organized. So, without further ado, let us present to you this Quick and Easy New Years Party Setup. We have the most fun, sparkly, fresh and contemporary New Year's Printable Party Set around! YAY! AND, you can set this baby up in under an hour, we'll explain how!
You will also love these New Year's Eve Party Ideas: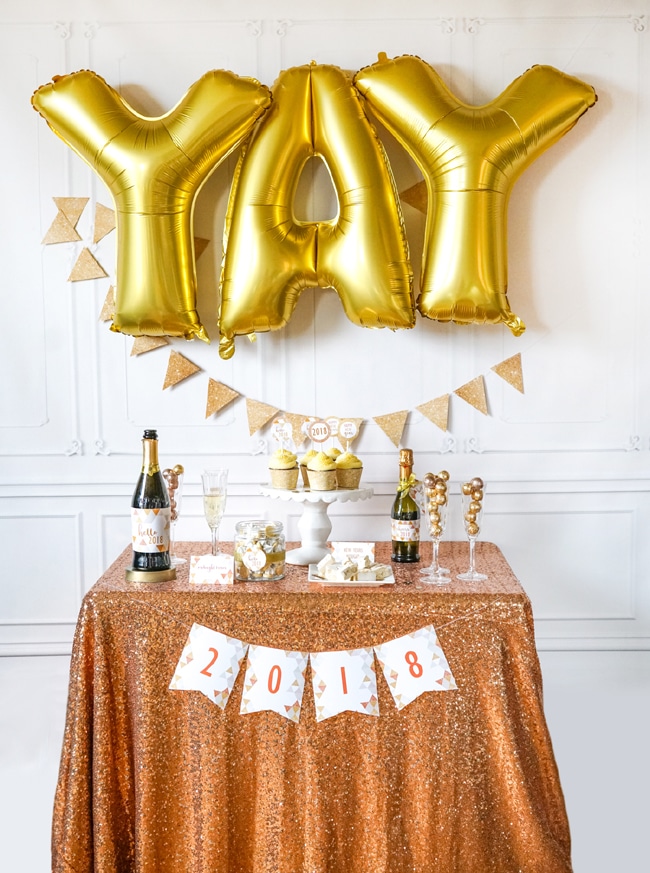 It all starts with the most beautiful New Year's Eve party invitation. An invitation so classy and sparkly and clean and fresh that no-one could say no! This one is an INSTANT download. You edit with your party details and then print at home or take to your local printer. You can have them out by this afternoon! Then, the fun of all the party planning starts!
For major impact, grab ANYTHING gold. Take a look around your home and see what you might have available already before dashing out to buy or rent. And mix golds – rose gold, shiny gold, antique gold … silver, bronze – bring them all in!
We got a golden balloon 'YAY' and hired a sequined table cloth for our 'impact pieces'. Quick work! We also did not focus on loads of New Year's Eve party food, but just a few delicious platters and focused on the detail in the food and wine labels.
Foil wrapped chocolate balls in silver, gold and bronze added even MORE glitz. Never too much glitter, we say!
Grab your matching New Year's Eve party pendant banner, cupcake toppers and wrappers and editable wine bottle and food labels. It all adds up to create the kind of atmosphere that ensures your countdown is one of pure style!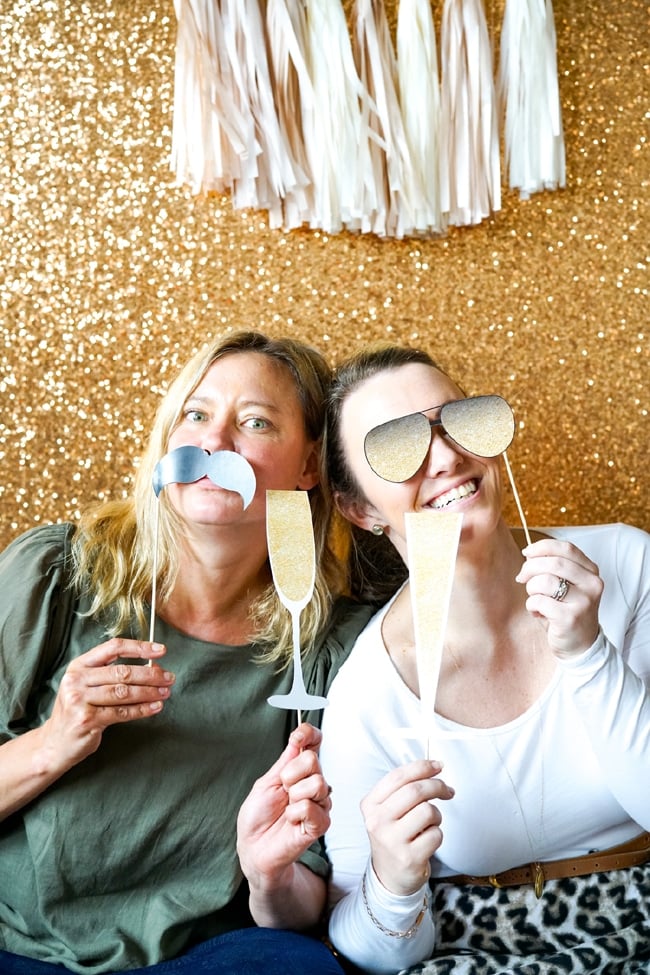 And then YOU can dance the night away because it's all done, quick quick! Let 2018 be your year of happiness, laughter and celebration!
What do you think of this Quick and Easy New Years Party Setup? Let us know in the comments below!
For more party ideas, follow us on Instagram @prettymyparty and Pinterest and join us in our private Facebook group.
SaveSave
SaveSaveSaveSave
SaveSave
SaveSave
SaveSave
SaveSave