Pixar's UP Themed Baby Shower Ideas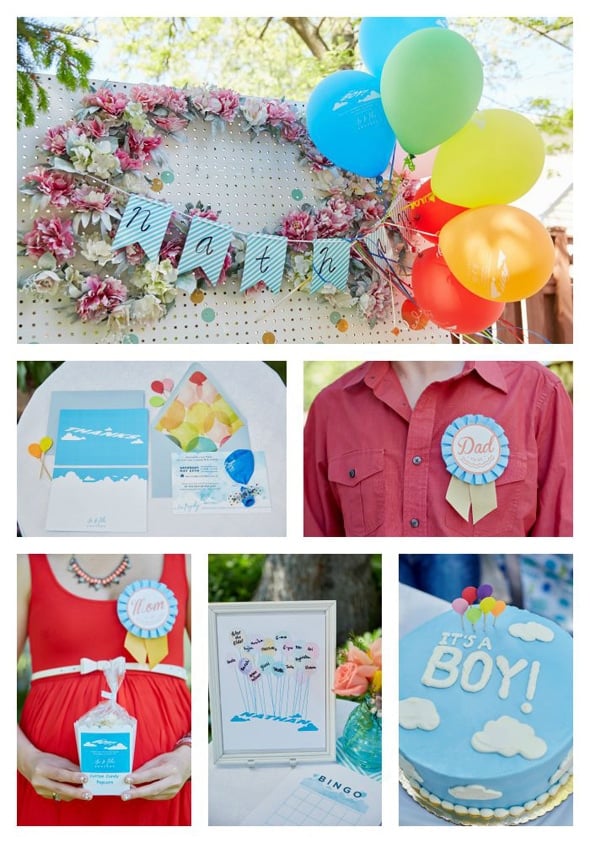 If you loved Disney Pixar's movie Up, you will adore these cute and colorful Pixar's UP Themed Baby Shower Ideas! This mom- and dad-to-be love the movie too and the message behind it, so they had a blast putting together the ultimate baby shower for their bundle of joy … a Boy!
From the Mom-to-Be: Up movie is one of my favorite animation movies. Mostly because it has a great lesson that I want my kids to learn; the adventure is out there! Also because the grumpy old guy character reminds me of my husband Piotr Krzyzek when he wants to be left alone, but deep down also very loving. And the super friendly dog reminds me of our husky dog Iceberg. Hence, I guess it was really fitting that we take it as an inspiration for our maternity session and the baby shower theme. You'll see how we incorporate the UP movie title graphic and play it up with "IT'S A BOY" instead, oh and don't forget those colorful balloons! We had them custom printed too for our guests to have fun with when they received it in the mail!
The party was held at my in-laws' backyard. We had 15 people celebrated our baby shower and share the fun with us. Up movie has a great message to learn from and not only that, the blue sky and colorful details just fit our vision for our baby shower. We got the party supplies and products from both Etsy and Target. All of the food was homemade by my in-laws, and included hamburgers, grilled meat and veggie kabobs, and bacon & cucumber bites. Oh and of course there was popcorn from Patti's Popcorn! I made a "Mom to be" and "Dad to be" award badge for my husband and I at the shower. We played Bingo to guess what baby products/gifts that we would get from our friends and family and a few other games like guessing the length of my pregnant belly, guessing how many jelly beans were in a jar, and drawing/doodling on blank bibs contest.
Vendors & Resources
Photography:
Wojoimage Photography
Instagram: @wojoimage
Facebook: https://www.facebook.com/WojoImage
Stationery:
Chykalophia Design
Instagram: @chykalophia
Facebook: https://www.facebook.com/chykalophia.gdesign
Floral:
Dahlia Blooms
Instagram: @dahliabloomschi
Facebook: https://www.facebook.com/dahliabloomschicago
Cake:
Whole Foods Market
Instagram: @wholefoods
Facebook: https://www.facebook.com/wholefoods
Popcorn:
Patti's Popcorn
Instagram: @pattispopcorn
Facebook: https://www.facebook.com/pattispopcorn
Plan an amazing Up-inspired baby shower like this one with these fun party products!