Party Like a Panda Birthday Party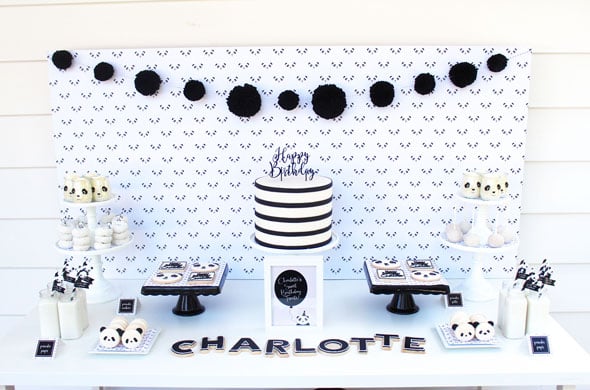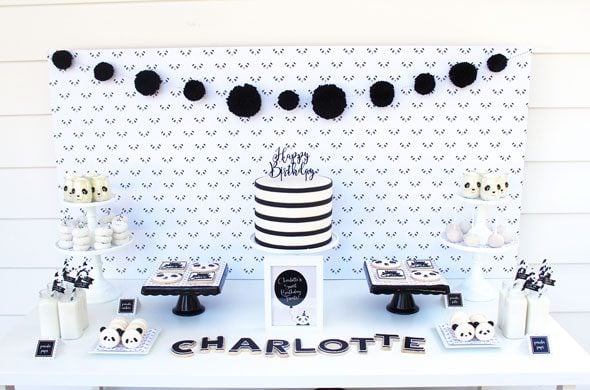 Picture it. It was "panda"-monium! When this young lady turned ten, she wanted a Party Like a Panda Birthday Party, since it is her favorite animal. Starting with a black, white and blush color scheme, Bloom Designs designed a sweet little panda face that was carried throughout the decor and paper products. What an awesome idea!
There were custom plates, cups, napkins and balloons that were made using the panda design to fit the party perfectly. These small, extra personalized touches really define a party, which was made clear with this party in particular! It was flawless!
Mini panda erasers were glued to straws on the milk bottles. How absolutely adorable are they?
The drink station was absolute perfection! Look at the perfect placement of every single item, along with the great details with napkins, cups and bottle labels!
During the party the girls had panda pasta and panda dogs, which is the birthday girl's favorite! They ate on the dinner table that was set with custom panda plates and party-like-a panda cups. The black and white color scheme made everything look so sophisticated and elegant for this little lady's birthday party!
The girls entertained themselves at the panda polish station and also went on a panda hunt.
Once it got dark, the girls settled into the little movie lounge area and watched Kung Foo Panda where they ate panda popcorn and panda puffs.
For party favors, the girls took home their adopted panda, complete with party hat. What a wonderful final touch! And the wonderful personalized signs were perfect to find all around the party!
Overall, the entire party was drop-dead gorgeous, from the top to the bottom. Everything was perfect and every guest was treated like a princess for the entire event. How much fun to look back on when you're older to know you had such a fun birthday party with friends!