How to Save Hundreds on Holiday Gifts
The holidays are coming fast! Every year around this time, I start shopping for Christmas presents. I know with 2 months left to go, I need to start finding the best deals on toys, clothing, electronics, and more. Now that I play Santa, which is one of my favorite jobs, I want to make sure I get the best deal for the items I'm buying. Learn how to save hundreds on holiday gifts with a little method I've been using for a few years now. I began telling my friends how I shop for the holidays and I was amazed that they didn't know they can save a ton of money! So today, I'm sharing my little savings secret with you!
A few years ago, I became an Amazon Prime Member and it was seriously one of the best decisions I ever made. The best part is that you can Try Amazon Prime 30-Day Free Trial
and when you find out how much you love it, you can Shop Amazon – Give the Gift of Amazon Prime
. I know I would love to get Amazon Prime as a gift! After you see how much money you save with FREE 2-day shipping all year long, you will never want to pay those ridiculous shipping prices again!
Being a mom to a young child and taking them shopping is no easy task. I really amped up my online shopping after my son was born because it was just too much work to get to the store, only to get there and have him throw a tantrum. I would then get frustrated and forget the things I went there to buy! Does this sound familiar?
So, I started a wish list for my son on Amazon. I add to his wish list all year and then share that list with family and friends for his birthday and Christmas. It's great for our out-of-town relatives who don't know what to buy him. I also started my own wish list for things I would like to buy for our new house.
Now this is where I get a little strategic! Around September and October, I start checking the wish list daily. Prices can change so fast on Amazon, so I usually make it part of my morning routine before I check my email.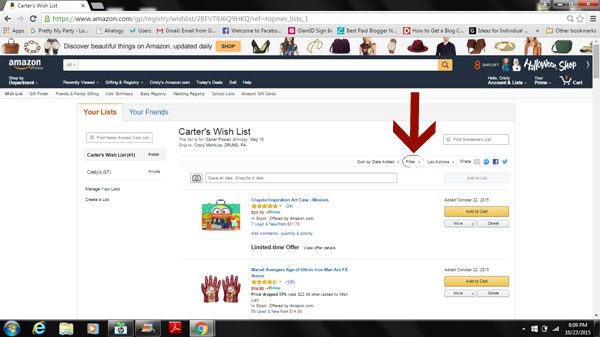 Under the search area of your wish list in the upper right corner you will see Filter (See red arrow on photo above). Click on Filter and then select "Items With Price Drops". It then lists all of the items on my son's wish list with price drops and tells me how much its has dropped.
By just searching now, I found out an item on my son's wish list dropped 35%!!! I usually wait until an item drops 30% or more before I purchase it. This is how I saved hundreds of dollars last year on my holiday shopping!!! I even compared store sales prices last year to the items I bought on Amazon and the store prices were always a lot more than what I paid using my system on Amazon. It really is as simple as that to save hundreds on your holiday shopping! You will be surprised at how much and how often prices drop on your favorite items on Amazon!
Be sure to Shop Amazon's Holiday Toy List – Kid Picks
and Shop Amazon's Holiday Toy List – Mom Pick's
I'm also super excited about Introducing Amazon Handmade
! Start creating those wish lists now to save tons this holiday! And remember, when the holidays are over, you can save this way on birthday gifts, anniversary gifts, or just to treat yourself!
What ways do you save money on your holiday shopping? Let us know in the comments below! Happy Holiday Shopping!