Halloween Scavenger Hunt For Kids (free printable)
Have you ever thought about planning a fun Halloween scavenger hunt for kids? Halloween is a time for costumes, trick-or-treating, and pumpkin carving.
For many families, it's also a time for treasure hunts. If you're looking for something fun to do with your kids this Halloween, consider organizing a spook-tacular scavenger hunt with clues and prizes. Everyone is sure to have so much fun!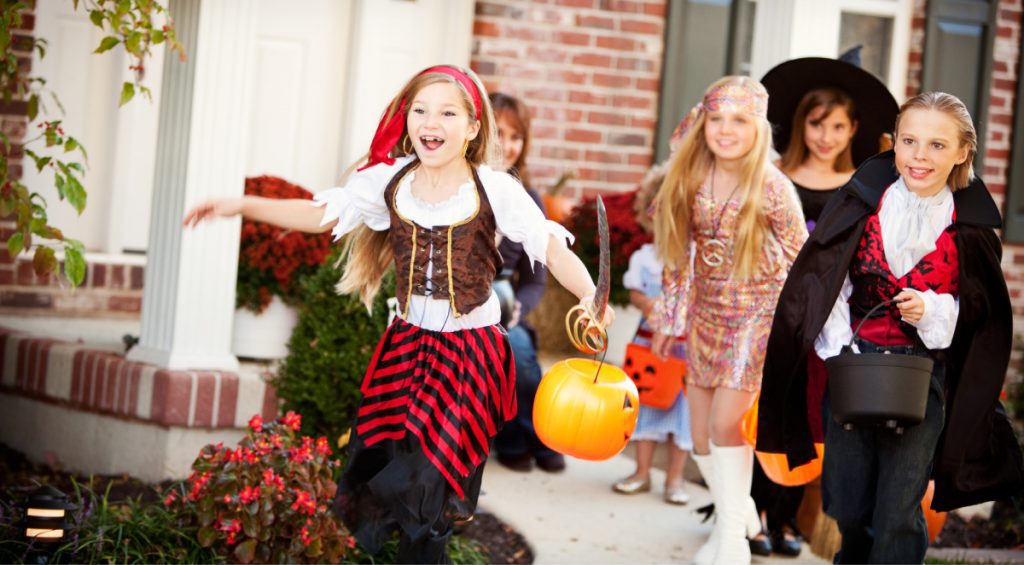 We've put together a list of ideas to get you started, and be sure to grab your free printable scavenger hunt clues below. So grab some candy and get ready to start hunting!
What is a Scavenger Hunt?
The month of October is filled with tons of spooky excitement with fun Halloween activities and parties.
One way to celebrate is by going on a Halloween scavenger hunt with family, friends, or the neighborhood kids. It makes for a night, or day, filled with laughter, screams, and sugar highs!
A scavenger hunt is a game where players collect or identify specific items, usually within a time limit. It can be played both indoors and outdoors.
Popular holidays to play a scavenger hunt are Halloween and Easter, with a Christmas scavenger hunt being the most popular.
However, any event can be turned into a fun scavenger hunt with the right planning!
How to set up a Halloween Scavenger Hunt
You'll need some basic materials to get started on your scavenger hunt. Here is a list of what you'll need:
A list of items or clue cards for players to find or identify (more on this later)
A way to divide players into teams (if several people are playing)
A timer (optional)
A prize for the winning team (optional)
You can also add some Halloween-themed decorations to set the mood, like fake spider webs, pumpkins, and ghosts.
Now that you have everything you need, it's time to start planning your spook-tacular scavenger hunt.
Planning a Fun Halloween Scavenger Hunt
When it comes to planning the perfect fun activity, the Halloween season is a great time to gather your friends and have a fun Halloween hunt. Running off that sugar is never a bad idea, right mom?
Depending on the age of your participants or family members, there are a few different ways to get into the Halloween spirit.
Let's talk about how to adapt the activity and scavenger hunt list depending on who's playing with this breakdown of Halloween scavenger hunt ideas.
Kids of All Ages
Start by creating a list of different Halloween items to find, like jack-o-lanterns, scarecrows, spiders, and other Halloween-themed items.
Then, head out into the neighborhood to see who can find the most things on the list. When the crew is made up of different age groups, adults and older kids can help younger players.
Here's a list of Halloween scavenger hunt items to get you started:
A pumpkin
A black cat
A broomstick
A witch's hat
A spider web
A ghost
A skeleton
A bat
An owl
Younger Kids
Younger children will enjoy dressing up in a Halloween costume to turn a good time into a fun-filled activity the whole family can enjoy.
For kids who aren't reading, use clue cards that have photos of common Halloween items or Halloween decorations throughout the neighborhood.
Another great way to handle clues for younger kids is to hide items in a designated area like a park. Use orange and black streamers to section off the area if necessary and place the items where they're hidden, but not super hard to find.
You can also use a Halloween treasure hunt format. Some fun prizes you can purchase and hide for this age group are stickers, Halloween pencils, mini coloring books with crayons, or other small kids-friendly items.
Teens & Tweens
Typically a scavenger hunt has a first clue that's given to the teenagers to get them started. You'll need to explain the instructions and let them know that each clue leads to the next clue and, eventually, the last clue.
Prizes and winning are a big incentive for this age group, so plan a final prize that can be enjoyed by everyone, like a spooky pizza party around the dinner table.
You might also want a grand prize for the winner. Something simple like a gift card or a huge bag of candy would be great.
To make things more challenging, you can set a time limit, or make it a race to see who can find the most items on the list. You can also split into teams if playing with a large group.
Free Printable Halloween Scavenger Hunt
Make planning easier with free printable Halloween scavenger hunt clues that you can quickly print on cardstock paper using your home printer.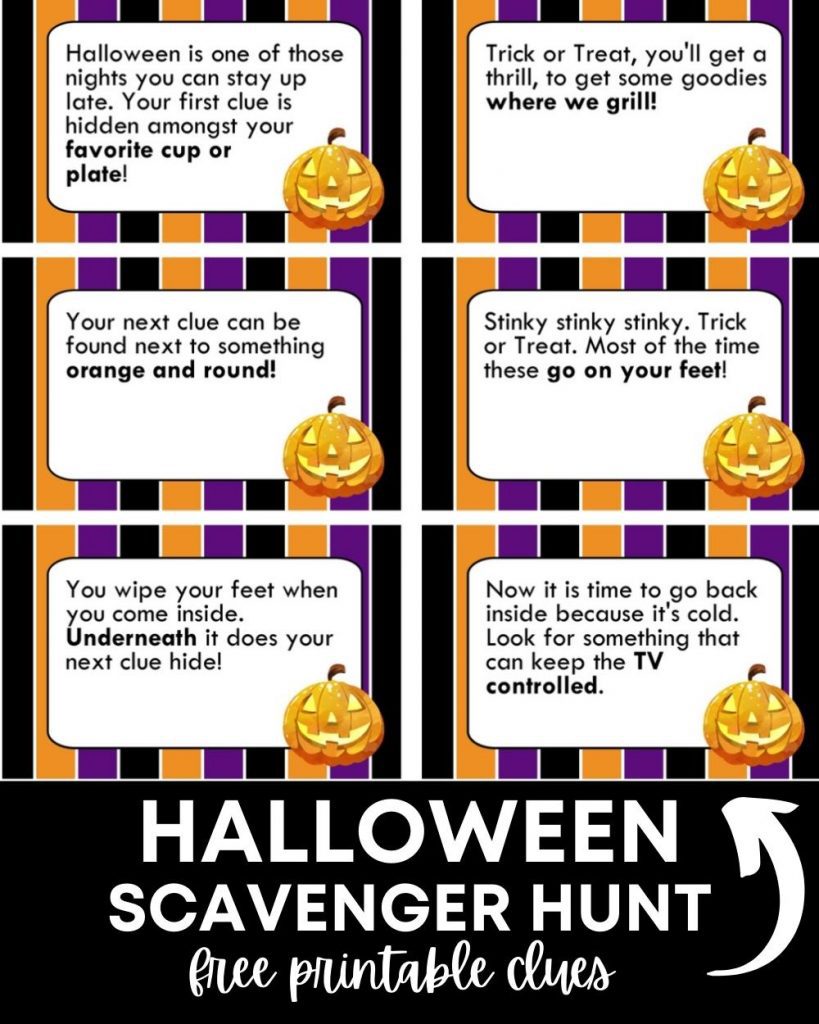 DIYing has never been easier with free printables that have clues and recommendations for a spooky way to plan some Halloween fun!
Pair the activity with Halloween-inspired food and treats, like these Easy Halloween Candy Bark and Mini Chocolate Donut Spiders, for a great Halloween party! After the scavenger hunt, set out to trick or treat together for a full night of Halloween fun!
This scavenger hunt is perfect for any age and can be done as a family, with friends, or with a group of neighborhood kids.
What You'll Need:
To get started, you'll need a few things:
A printer to print out the PDF file
Scissors to cut out the clues
Pencil or pen for teams to cross out items or check them off
This activity is great for a neighborhood Halloween scavenger hunt, a school party, or a Halloween party in your backyard. Be sure to take plenty of pictures along the way to document all the fun!
Love this Halloween idea? Leave a comment below and let us know if you plan a scavenger hunt this Halloween!
Ready to join the party? Become a VIP by joining our private Facebook community today!