Grown Up Milk and Cookies Inspiration Shoot
A Milk and Cookies Themed Party is perfect for kids and adults!
There's nothing better than a milk and cookies party for adults with delicious desserts and some "grown up milk!" Who says adults can't have fun too?!?! Relive your childhood with this fun Grown Up Milk and Cookies Inspiration Shoot!
The Milk and Cookies Party Theme is popular among children, but an adult Milk and Cookies Party is a fun spin on this classic theme! That's where this Grown Up Milk and Cookies Inspiration Shoot comes in! The party supplies and decorations used for this shoot were simple and rustic. The colors seen throughout this event were blues, browns, creams and whites. Wooden boxes, stands and a milk cart brought in that rustic vibe.
What's great about this theme, is you can turn this idea into a hot cocoa and cookies party in the winter to celebrate a birthday or holiday with friends and family. You can even host a children's Valentine's Day milk and cookies party. Both kids and adults will love this idea because who doesn't like cookies, right?!?!
Milk and Cookies Party Ideas
Fun Milk and Cookies Party Menu
Delicious Desserts: Cookies, Cupcakes, Macarons, Mousse, and MORE
Flavored and "Adult" Milk Varieties
Chocolate Bar Favors
Milk and Cookie Party Supplies and Decorations:
See more party ideas: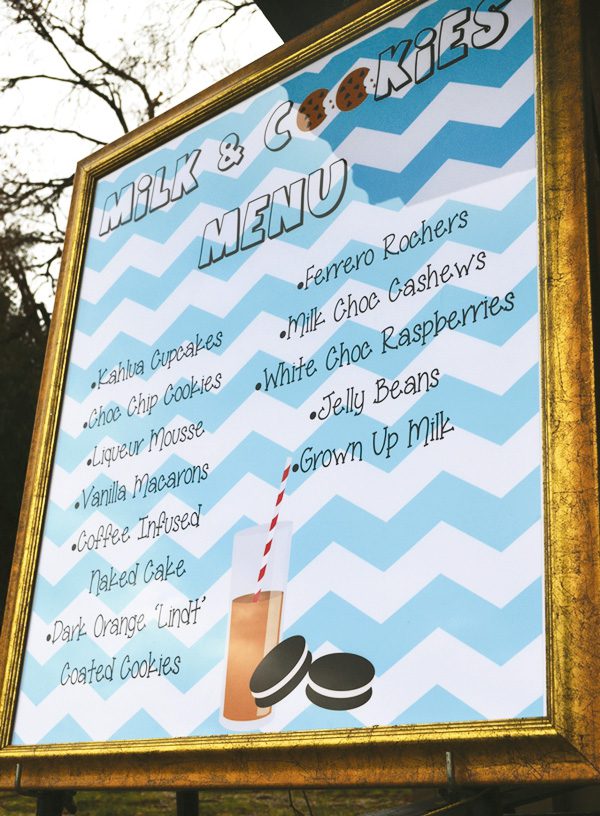 What's your favorite details in this Milk and Cookies Party? Let us know in the comments below!
For more ideas, follow us on Instagram @prettymyparty and Pinterest and join us in our private Facebook group.
Party Vendors
Chocolate Chip Cookies, Blue Cake Stand and Venue: Jacqui from The Iced Biscuit
Coffee Cake, Haklua Cupcakes, Baileys Chocolate Mousse and Drink Cart: Aimee from My Little Sunshine Cakes
Vanilla Macarons: Anne- Sophie from Anne-Sophie Artisan Patisserie
Tassel Garland: Bianca from Blush Loves Mint
Clear Acrylic Lolly Jars: Sam at Sugarlicious Parties
Lollies: Sweet Box Waverly Gardens
Chocolate Oreos and Alcoholic Milk: Akrivi from Party Printables by Akrivi
Printables, Props, Photography and Concept Styling: Akrivi from Party Printables by Akrivi