Frozen Olaf Themed Birthday Party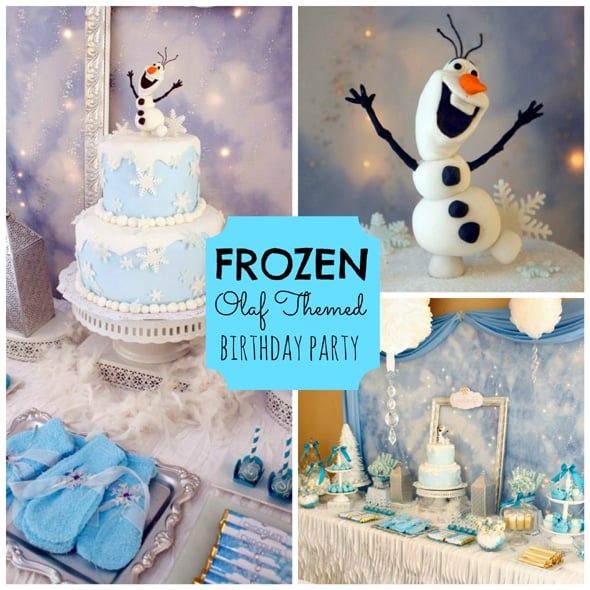 What better way to celebrate a sweet little girl's birthday than by throwing her a Frozen Olaf Themed Birthday Party?!?! Disney's Frozen is ALL of the rage right now and we love seeing everyone's interpretations on this great birthday party theme!
This was such a beautiful birthday party, full of surprises and entertainment! What an absolutely gorgeous tablescape! And for a different twist on the Frozen theme, Olaf took center stage for this party!
Tables were decorated with details and a white color scheme and centered around the main character, Olaf! The tables were gorgeous and the glasses with the pretty blue and white straws added such a great element to the table settings!
How gorgeous are these terrific white trees that were part of the dessert table? Such a great item to add to the decor and put a winter wonderland atmosphere together!
Elegant touches that made this unique party were done by Fancy Events Lorena del Valle. The beautiful crystals that were used helped to form the "ice theme" that is such an integral part of the Frozen movie. And all of the gorgeous desserts that were prepared for the birthday party were so beautiful. Cupcakes, cake pops, and chocolate bars were only part of the delicious assortment of items available for all of the guests.
Macaroons and different varieties of decorated cake pops were definitely the stars of the dessert table! And the decorations that brought the dessert table to life? Simply outstanding! The lovely white tablecloth that was surrounded by cotton in areas definitely brought the Frozen landscape to life!
What would a birthday party be without a cake? And what a cake it was! Olaf took center stage on the top of this birthday cake made by Pastry Nomeolvides and the feathers surrounding the cake stand made everything come to life! And how about that backdrop? The sparkly blue was a perfect addition to the party, but it really stood out with the twinkly white lights that were set up behind it. Gorgeous!
The party moved outside where awesome entertainment was ready to hit the stage! Aron Gutie and Pablo Casas provided magic and comedy for all of the guests, who loved the fun that was provided!
Crowns were available for all of the little princesses to take home and they thought it was so much fun to pretend they were princesses for the day! How could they not want to emulate their heroes, Elsa and Anna?!
Overall, it was a wonderful Frozen-themed party! Olaf had a great time entertaining everyone and the girls loved seeing the fun-loving snowman as the center of the party! Frozen is such a great party theme right now and it's so much fun to see all of the different twists that are done on the same movie!
Credits & Resources
Decor and Stationary – Fancy Events Lorena del Valle // Photography – Gabriel Cabezas // Cake – Pastry Nomeolvides // Pinata – Party de Chile // Banquet – Roma Banquets and Catering // Entertainment – Aron Gutie and Pablo Casas
Shop these popular Frozen gifts:
Sign up for a 30-day free trial of Amazon Prime and get free 2-day shipping on your Frozen products!