Free Cocomelon Party Printables
Are you looking to throw your child a fun and colorful Cocomelon birthday party? Look no further! Our free Cocomelon party printables are perfect for decorating your party space!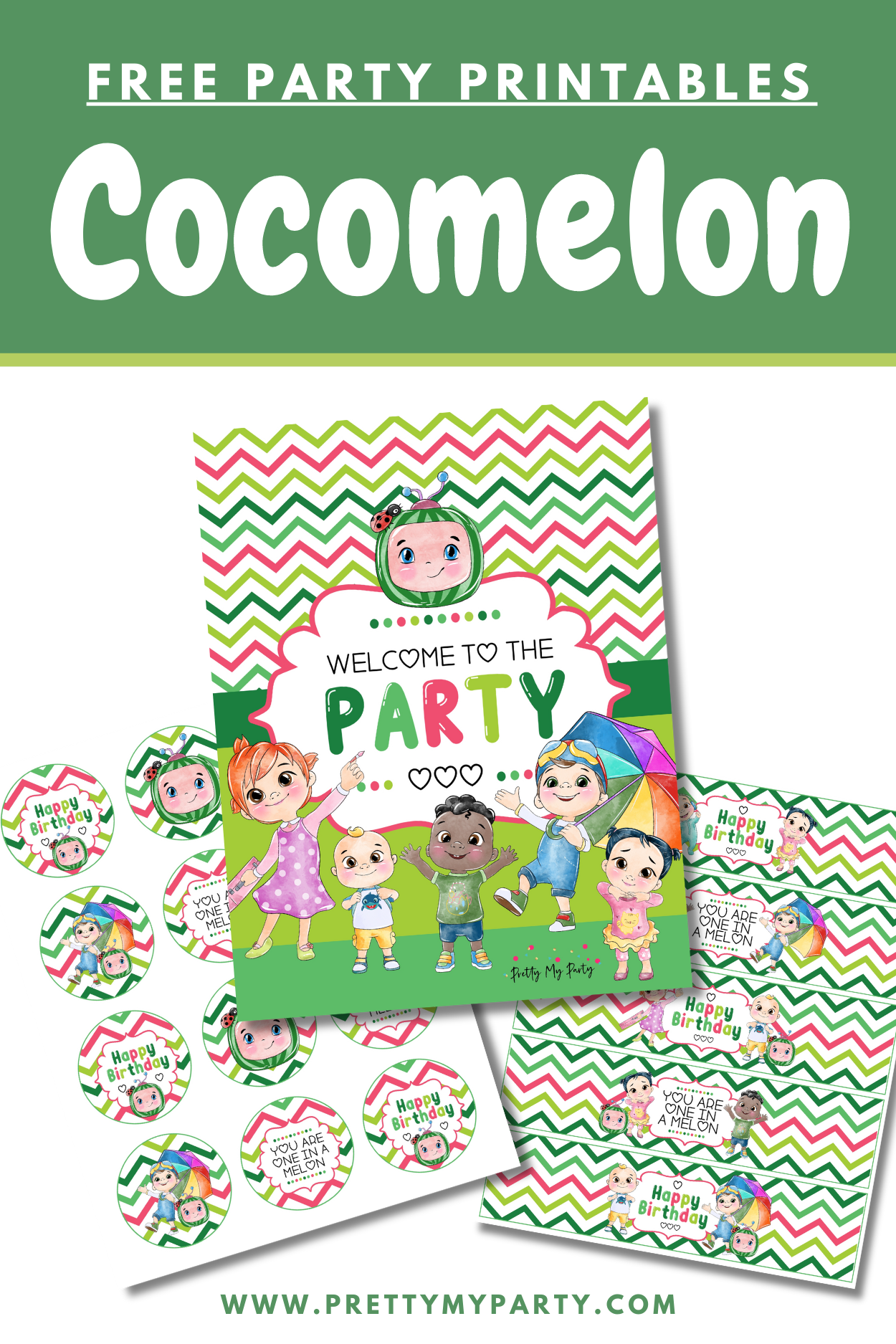 Just grab your free printables to complement your other party decorations and create a fun and festive atmosphere that your little one will love.
From banners to cupcake toppers and a welcome sign, these adorable party printables will be a hit at your party!
To get started, print out the Cocomelon party printables on your home printer on thick cardstock paper.
Then, get creative and decorate your party space to match the Cocomelon theme! You can add balloons, streamers, and other decorations to create a fun party for kids.
Cocomelon Party Printables
Start by welcoming the guests to your Cocomelon party with our adorable Cocomelon party welcome sign!
Cocomelon Party welcome sign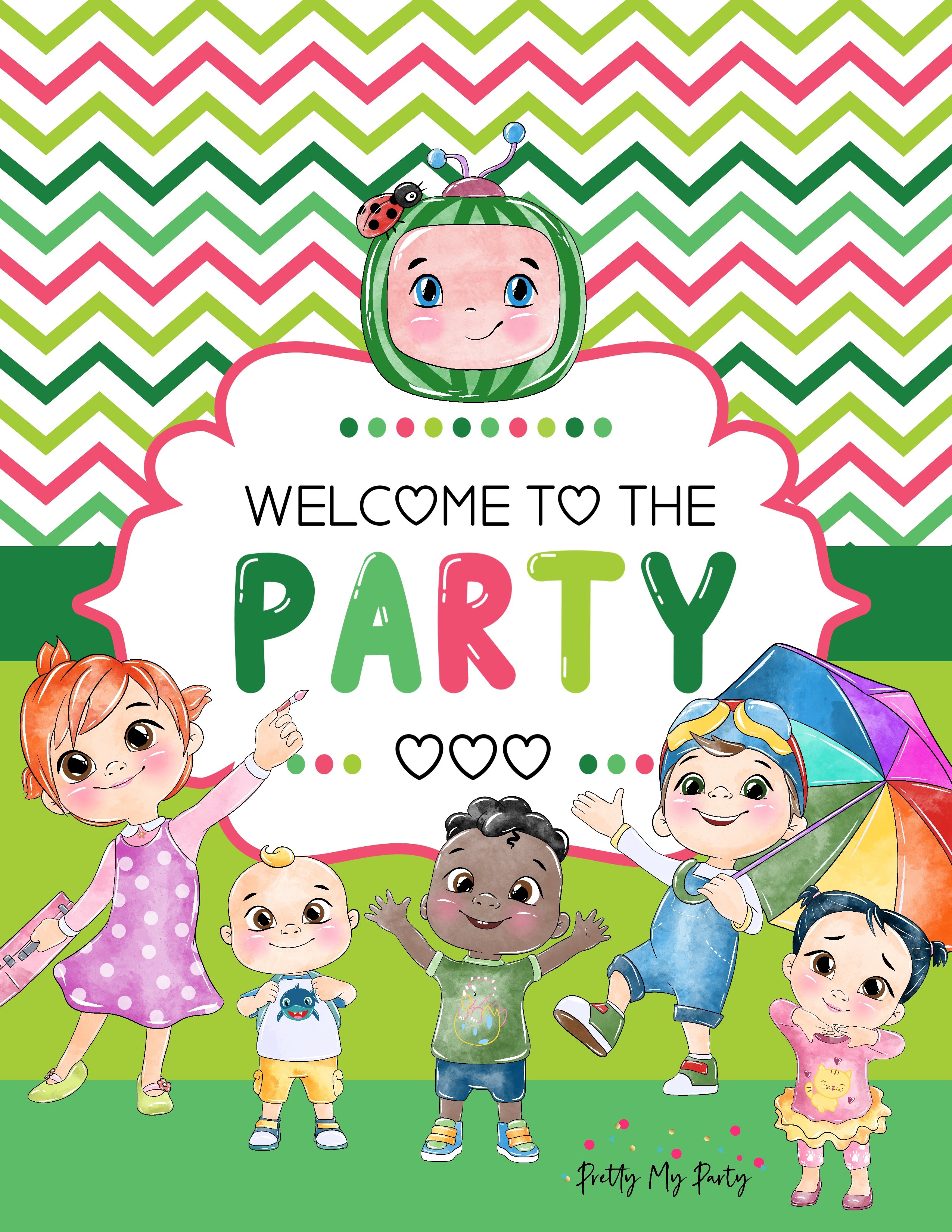 Just download, print on thick cardstock paper, and add it to a photo frame near the entrance of your party.
Cocomelon Party cupcake toppers
Next, grab our Cocomelon cupcake toppers.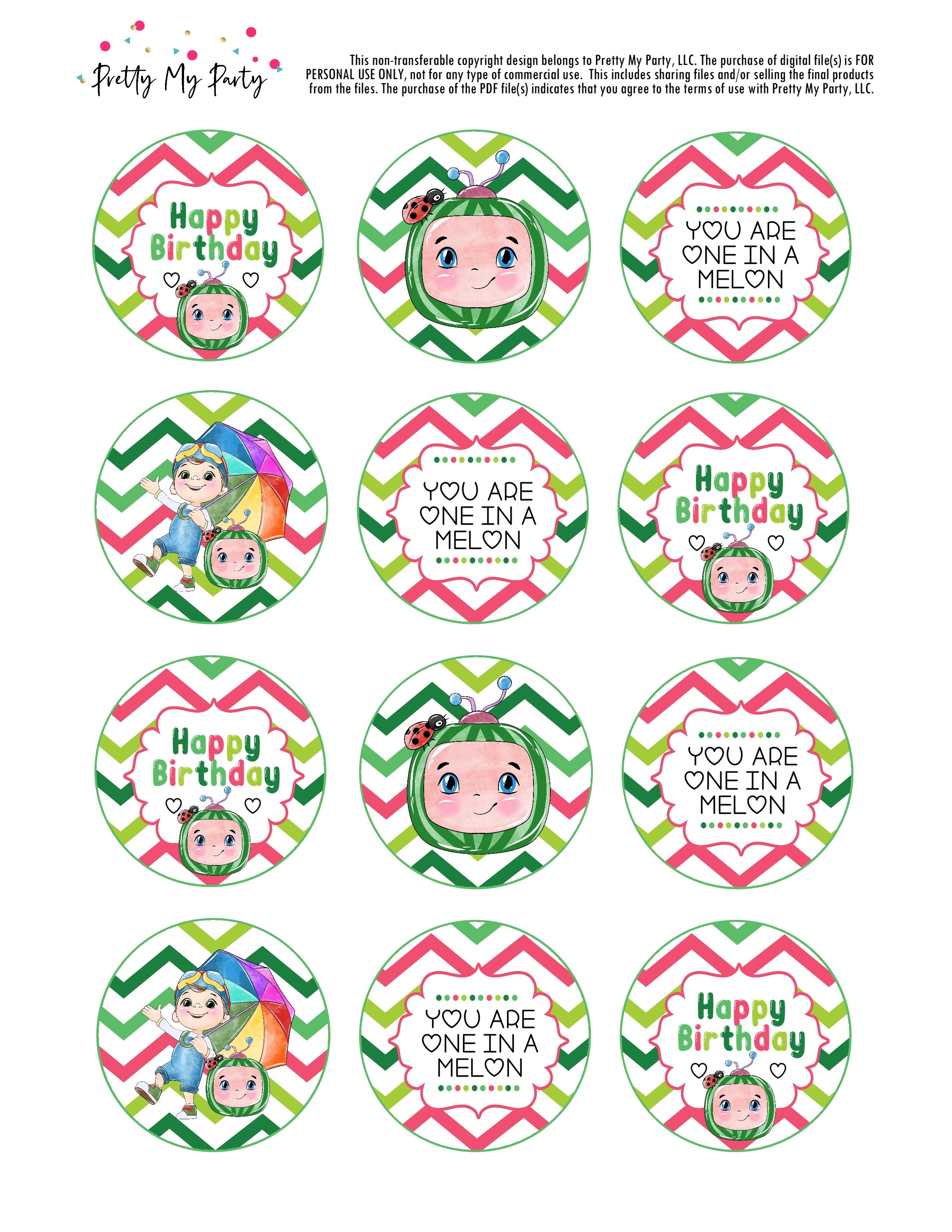 Cocomelon Party cupcake toppers
Here's how to assemble your cupcake toppers:
1. Download the free cupcake toppers
2. Print them on cardstock paper
3. Cut out the cupcake toppers using scissors or a circle punch
4. Grab some lollipop sticks
5. Hot glue the cupcake toppers to the top of the lollipop sticks
6. Insert your toppers into your party cupcakes!
And that's it! Now, you have some festive Cocomelon-themed cupcakes for everyone to enjoy!
Cocomelon Party water bottle wrappers
Another great added detail for your Cocomelon-themed birthday party is to dress up your water bottles!
That's right! These free Cocomelon water bottle labels are the perfect added detail to your party. Everyone will commend you on your attention to detail.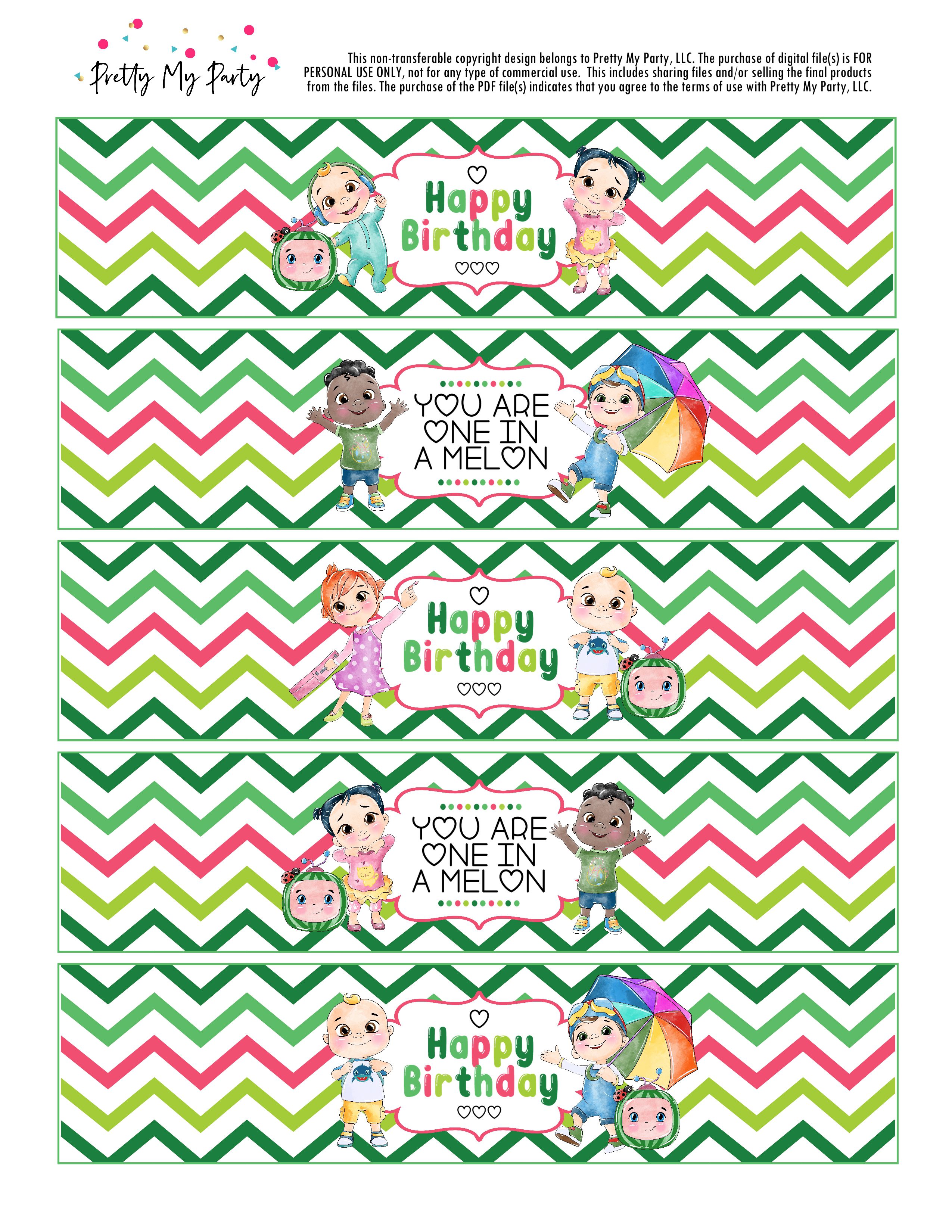 Cocomelon Happy Birthday Banner
This colorful Cocomelon happy birthday banner is a great way to add some festive decor to your event.
The banner can be hung on the wall, over a doorway, across the front of the gift or dessert table, or used as a backdrop for a fun photo opp.
To use this character-themed Cocomelon banner for your party:
1. Download the banner to your desktop.
2. Print the banner on cardstock paper.
3. Cut the banner out using scissors.
4. Using a hole puncher, punch holes in the top corners of the banner
5. Take a string or ribbon and put the string through the holes to connect the letters to spell HAPPY. Then do the same for BIRTHDAY.
6. Add the Cocomelon characters to the ends of the happy birthday banner and hang it using tape or Command hooks.
7. Optional: Add balloons on each end of the banner to dress it up.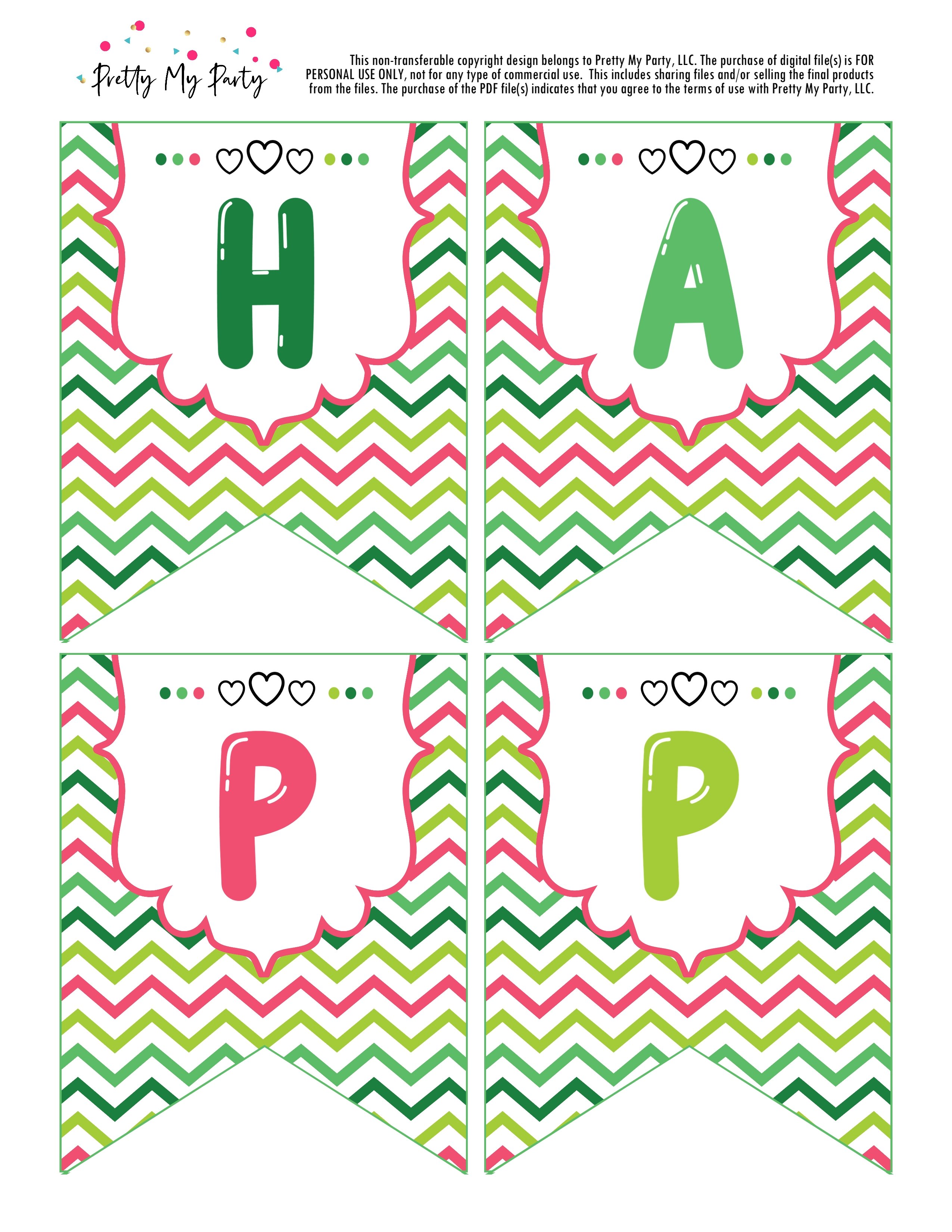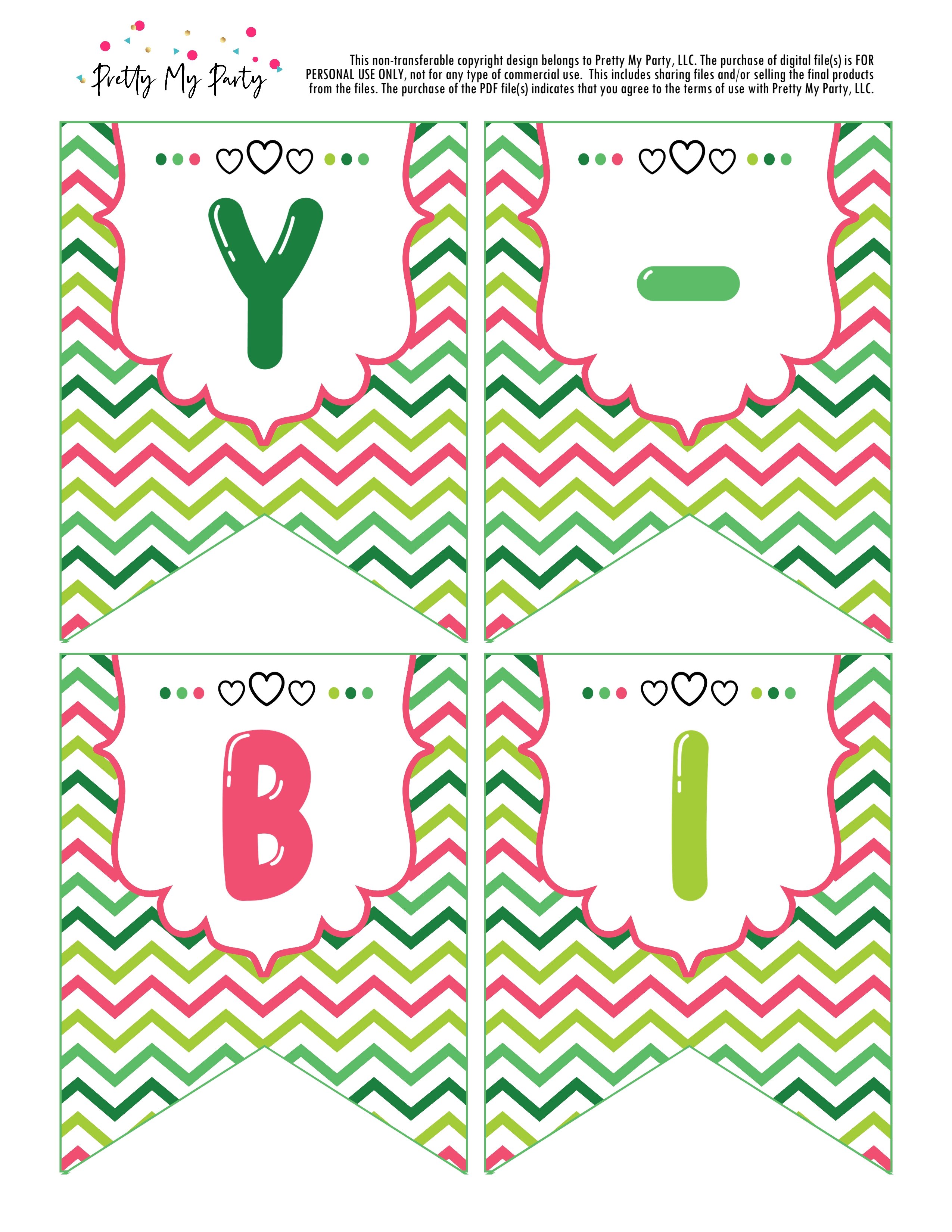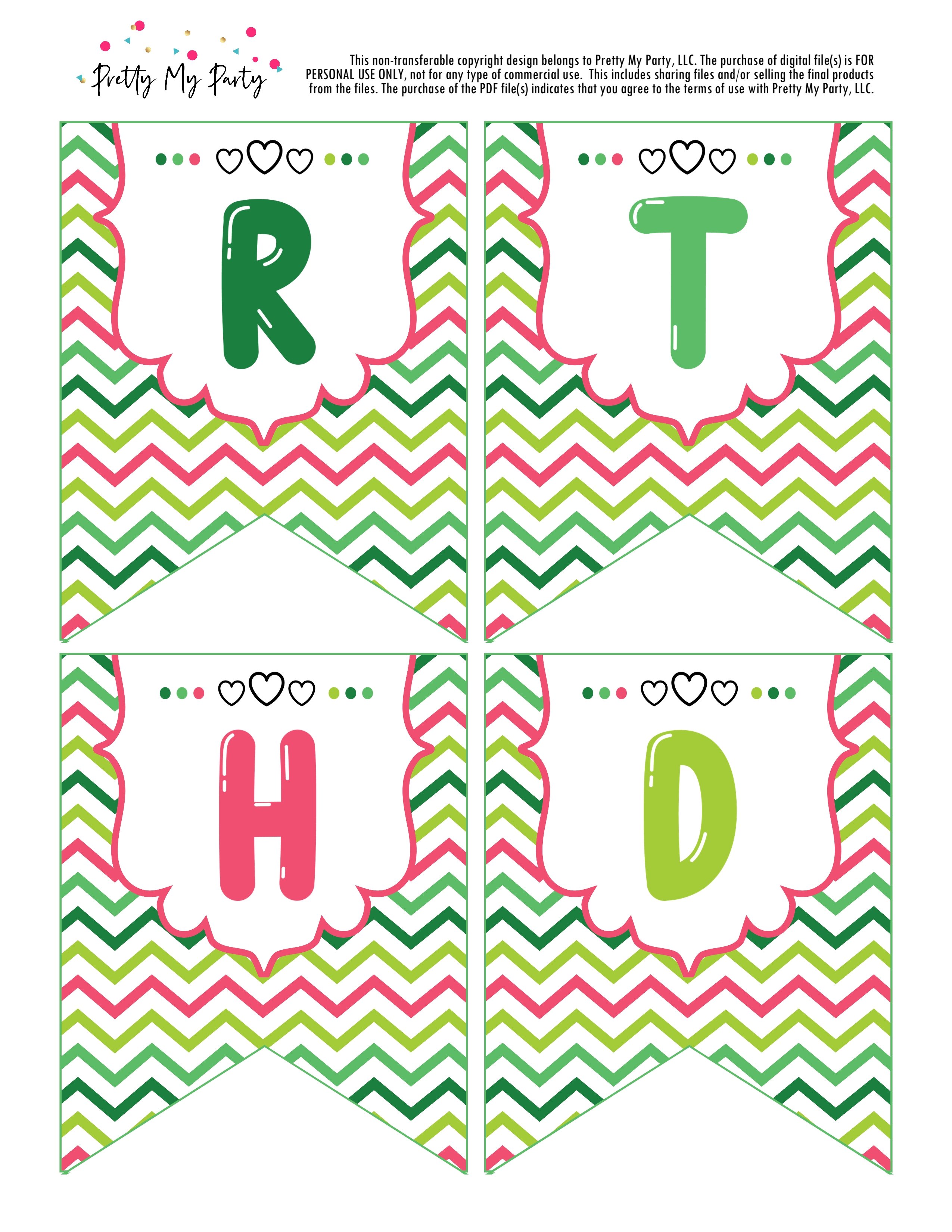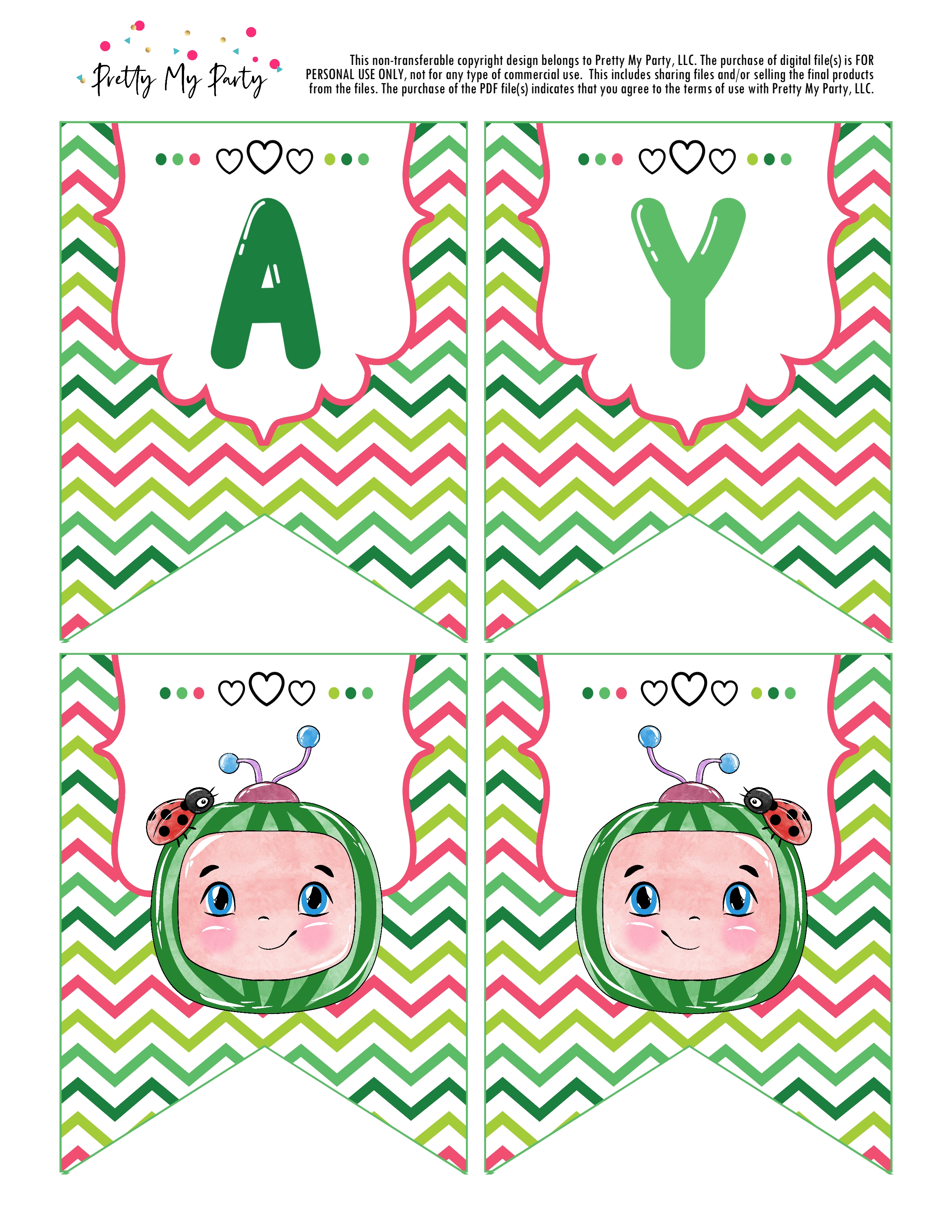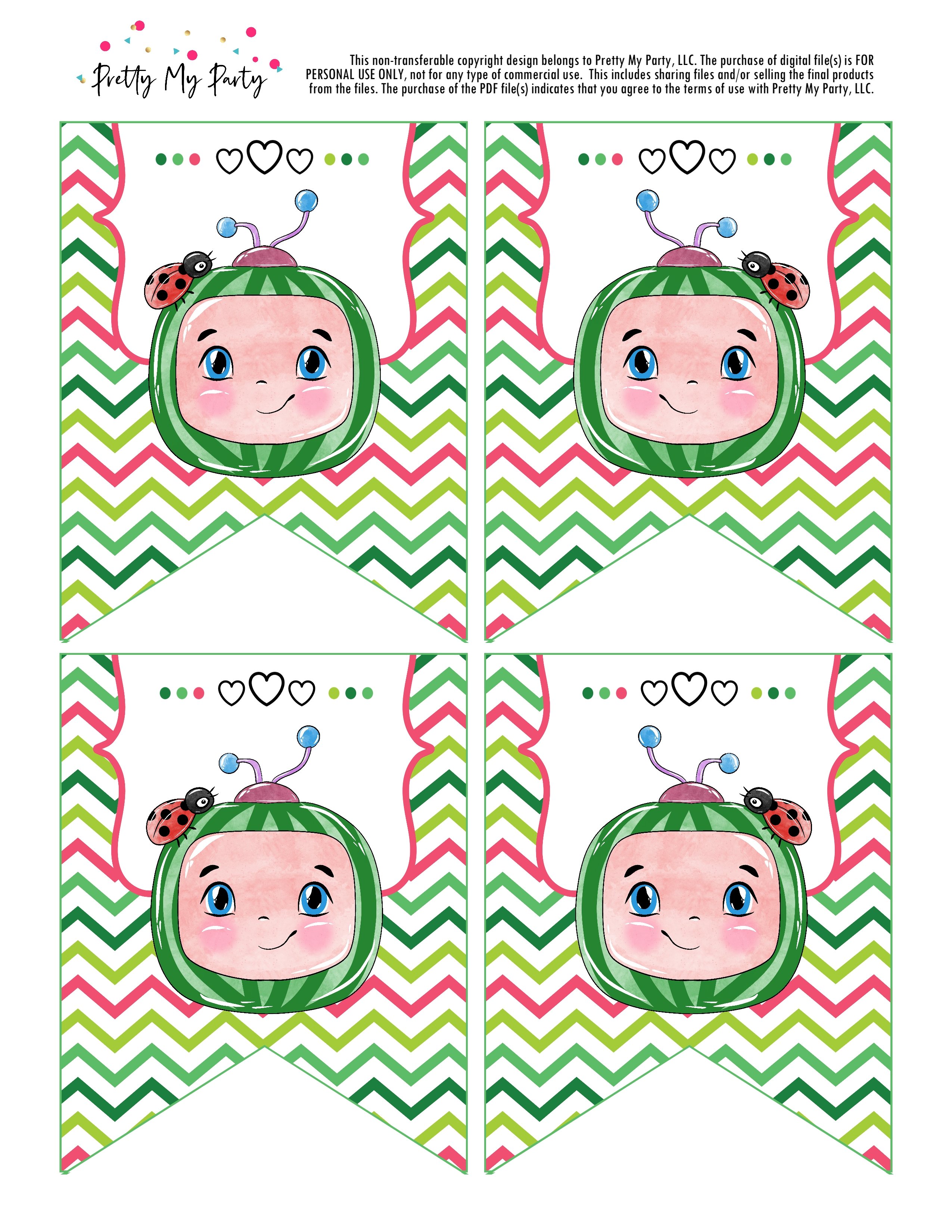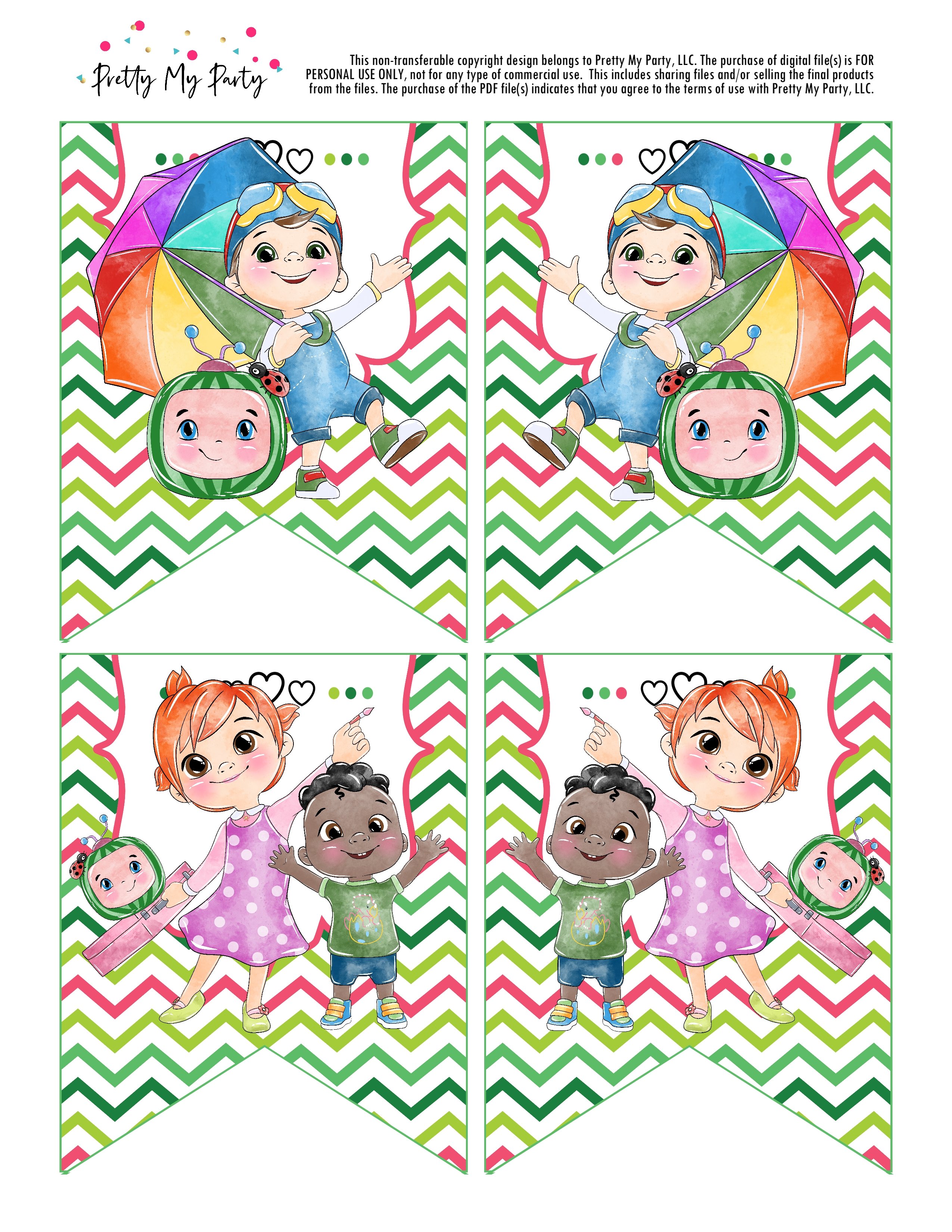 This Cocomelon happy birthday banner is a simple way to add some fun to your child's party. It's sure to make your toddler feel special and excited on their big day!
Tips for throwing a Cocomelon birthday party
Planning a child's birthday is no easy task. Here are some tips for throwing a Cocomelon-themed party:
1. Set a budget. Children's parties can be expensive, so it's important to set a budget and stick to it. This will help you avoid overspending so you have enough money for all the important things, like food, decorations, and activities.
2. Determine your guest list. Will you be inviting kids from your child's class, family, neighbors, friends, etc.?
3. Choose your location. Will you host the party at your home, in your backyard, at a park, or at a local party venue? The number of guests you invite will determine your venue.
4. Choose your Cocomelon party invitations.
5. Order your Cocomelon cake or cupcakes.
6. In addition to our free party printables, you can buy more Cocomelon party supplies and decor, like table covers, napkins, cups, plates, etc.
7. Plan the party menu. Will you hire a caterer, make food yourself, or have friends and family pitch in and help make the food? Don't forget about the drinks too.
8. Plan age-appropriate games and activities. No party is complete without some fun games!
Some ideas include:
Cocomelon karaoke
Cocomelon dance party
Musical chairs with Cocomelon songs
Cocomelon coloring station with coloring pages and crayons
Making crafts inspired by the show
9. Buy party favors. Do you want to give candy boxes, a Cocomelon-themed sugar cookie wrapped with a gift tag, or a toy or coloring set?
---
With a mix of creativity, a splash of color, our awesome free Cocomelon party printables, and a hint of that Cocomelon magic, your child's party will be the talk of the playground.
Let the music play, the decorations sway, and may your little one's Cocomelon day be filled with unforgettable play!
Don't forget to tag us on social with the hashtag #prettymyparty so we can see how you use our free printables!