Enchanted Forest Slumber Party
Create an Enchanted Forest Themed Party and make it a sleepover with cool teepee tents!
This whimsical Enchanted Forest Slumber Party, styled by Priscila Hawn of Sweet Memories By Design was a fun-filled party with unique and creative design elements. As guests entered the party, they were welcomes with a wooden ONE filled with pink and gold balloons. Pinks, golds, white and greenery filled the space accented with rustic wooden elements, such as the dessert table backdrop and dessert platters.
Everyone was most excited about the fun teepee tents decorated with butterflies, greenery and flowers. This enchanted forest birthday party was cute as can be with all of the party supplies and decorations making this theme come alive. Everything from the amazing enchanted forest themed cake and desserts to the table settings and dessert table looked magnificent. Clearly, you can throw an enchanted forest party at home and bring the elements of the outdoors inside like in this sweet first birthday.
Enchanted Forest Slumber Party Ideas
Teepee tents accented with flowers, greenery and butterflies
Tents included fun camp fire and wooden log pillows, forest animal treat bags, forest animal pillows and teepee pillows
Gold, pink and white balloon garland accented with greenery around birthday girl's high chair
White wooden 1 decoration filled with pink and gold balloons
Gorgeous dessert table with wooden backdrop and pink, gold and white balloon garland with greenery
Dessert table backdrop includes gold hoop wreaths with flowers and greenery
Mushroom decorations
Wooden dessert platters
Kid's table with pink chairs accented with fairy wings for the girls and swords for the boys
Wooden guest table with wooden slices and flower centerpieces and wooden chairs with white balloons and greenery
Enchanted forest themed treat boxes and milk labels
Mushroom party napkins
Gold geometric vase filled with greenery, a flower and lights
A fun two-tiered birthday cake with wooden-inspired bottom layer, accented with mushrooms, flowers, and butterflies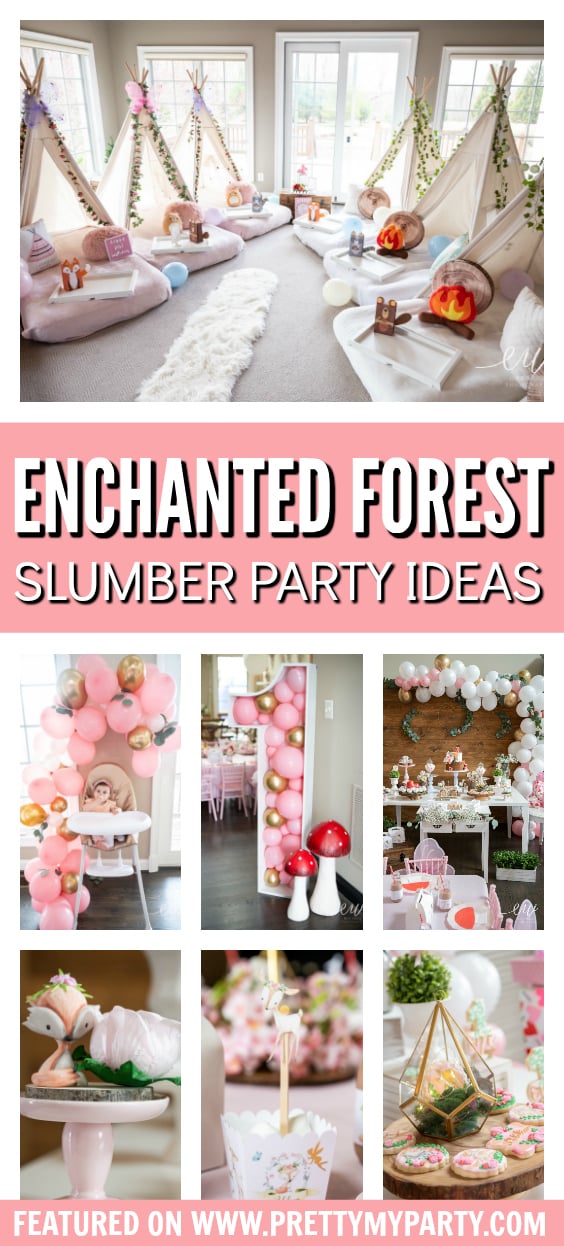 Enchanted Forest Party Supplies and Decorations:
See more party ideas here:
From Priscila about the party: The breathtaking "slumber party at Adelina's enchanted forest". What a beautiful and fun party it was! It could not have turned out different – Adelina's mommy, an inside and out gorgeous woman, made me to feel "at home" since our very first phone call. I was very excited when I heard her ideas and chosen theme: Enchanted Forest, a slumber party for family and friends. We worked closely and designed a lovely and fun party filled with beautiful details.
The guests were welcomed by our beautiful wooden number ONE filled with balloons as they entered the party room. There was the cake and sweets table, as well as the guests tables – kids and adults.
For this party, I designed four types of personalized treats: chocolate lollipops and three different styles of carrot cakes. One was the carrot cake on a stick; next was a mini cake with clear domes covering the "fairy garden" and a tall fairy house. They were all delightful and very cute! We also had the popular Brazilian chocolate caramels, called "brigadeiros". If you know me, you know that the guests will always find the "brigadeiros" in my parties. Everyone loves them.
The kids table also turned to be gorgeous and so much fun! We had themed personalized plates, napkins, chocolate milk bottles and s'mores sets. Since that table was also for entertainment, we had paint your own themed cookies (woodland animals. My favorite was the fox!) and personalized painting sets – a beautiful personalized favor box including a brush, a canvas, 3 types of washable paints and a painting palette. Super cute! Oh, I need to mention that each of the beautiful chairs – from Capital Party Rentals – had either a butterfly wing (for the girls) or a wooden sword (for the boys) hanging. It actually added some charm to the decor!
The day was absolutely gorgeous, the guests enjoyed some nice fresh air and the kids had a great time with the outdoor entertainment: Astro Jump brought a fun princess moon bounce (the birthday girl's sisters were thrilled). There were also plenty of chalks, bubbles and fun at the playground. The amazing and very talented Faces by Janet joined us to face paint the little ones faces. It was an absolute success!
Erica Wilcox, the extremely talented photographer did (as always) an amazing work capturing the 'Sweet Memories' and at this time, together, we set up a "smash the cake" area. One of my favorites parts of the day (if not, the top favorite!) was to watch sweet Adelina smashing her cake in the presence of her family and friends. After a fun-filled day, the guests enjoyed the fun teepees!
What's your favorite details in this Enchanted Forest Slumber Party? Let us know in the comments below!
For more party ideas for girls, follow us on Instagram @prettymyparty and Pinterest and join us in our private Facebook group.
Party Vendors
Graphic Design & Paper Goods: Simply Chic