Elegant Pink First Communion Celebration
First communions are such a special day in a child's life! This Elegant Pink First Communion Celebration was the perfect party fit for a princess! The day had everything a little girl would need: her friends and family there to celebrate, a pretty venue, a stunning cake, a candy bar, gorgeous florals, and more! What a lucky little lady!
See also: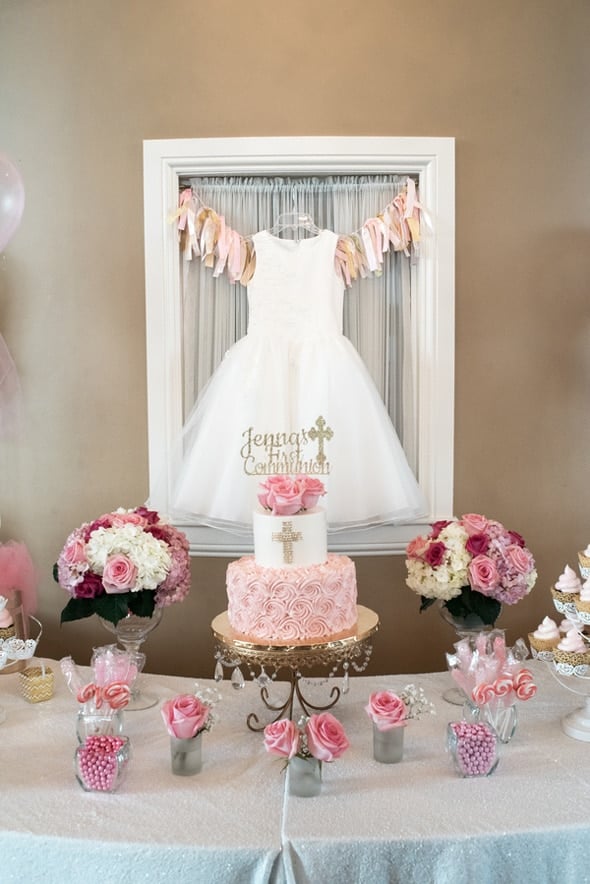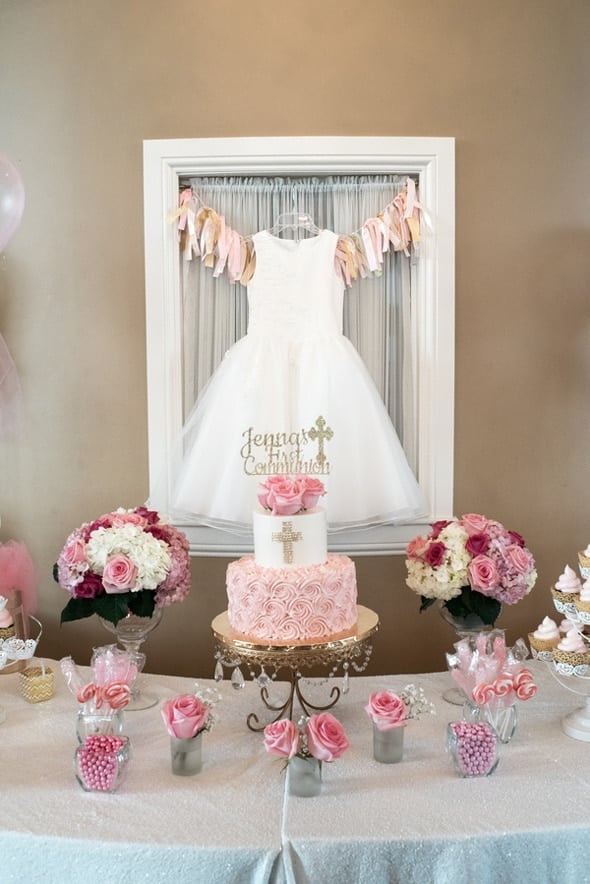 One of our favorite details of this celebration was the way they had the little girl's first communion dress displayed at the party. It made such a creative backdrop to the cake table! LOVE!
Once the formalities are done, though, it's time to celebrate such a special accomplishment in a young Catholic girl's life!
This little girl's communion was a multicultural event, with Lebanese and American touches! What a great way to bring in some amazing Middle Eastern food!
There were plenty of American favorites, though.
This cake was such an amazing creation. It was so beautiful, it was hard to ruin it to eat! The crystal cross was gorgeous and the frosting roses all around the cake were a perfect touch.
What an amazing candy table that guests were able to snack from during the event. They could even take bags full of candy home for later. What great memories!
Don't forget the delicious cupcakes! Look at that amazing dessert table. It was exquisite and everything about it was a great way to celebrate this sweet girl's first communion.
How sweet are these gifts that were given out for guests? With a rosary wrapped around the present and great medallions that were found on the table, it was gorgeous and sophisticated.
Flowers, along with other details, brought everything together for this elegant pink First Communion celebration.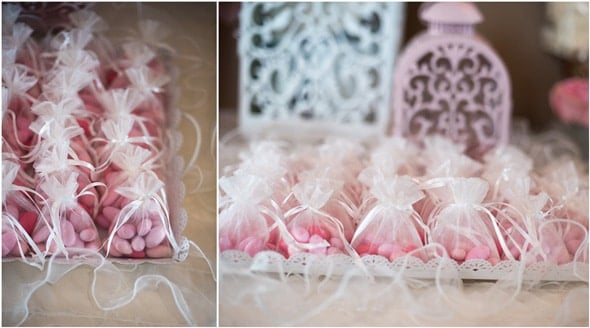 Sweet candy gift bags were another great addition for guests to take when they left!
An Elegant Pink First Communion Celebration is a great way to welcome a little girl into her faith. No detail was left to chance and everything was glamorous, as well as gorgeous!
Party Vendors
Photography: That Wandering Light
Setup and Flower Arrangements: Joumanas Creations
Venue and Food: The Club at Nevillewood
Cake and Cupcake: Market District
Lebanese Sweets: Shatilla
Balloons and All Other Pink Candy: Zeina Jalkh
Plan a beautiful pink first communion celebration with these ideas from our party stylists: