Easter Bunny Carrot Patch Photoshoot
Hop on over to this super adorable Easter Bunny Carrot Patch Photoshoot!
This Easter Bunny Carrot Patch Photoshoot, styled by Kham Meas Munoz of Hello Pretty Events from Orange County, California, is absolutely darling! Every little detail was perfect from the orange and white balloon garland accented with greenery to the custom carrot patch stand, beautiful floral arrangements, and the coordinating Easter bunny decor! This Easter photoshoot would also make the perfect Easter Bunny Carrot Patch Party too! Seriously, what a cute spring or Easter party theme!
Some Bunny is 10 months old
From Kham: My son, Emmett, is a teething, drooling, big ball of fire! He has such a big personality, and is putting everything in his mouth right now! For his 10 months birthday, I decided to do an Easter photoshoot (yes, I am that mom who celebrates every month right now). If you're going to do a photoshoot with your baby or young child, please make sure it's after they're fed and well rested! We learned this from his 6 months photoshoot where he cried bloody murder because it cut through his nap time. Therefore, this time, we made sure he was content. Boy, was he happy, especially after eating the macarons!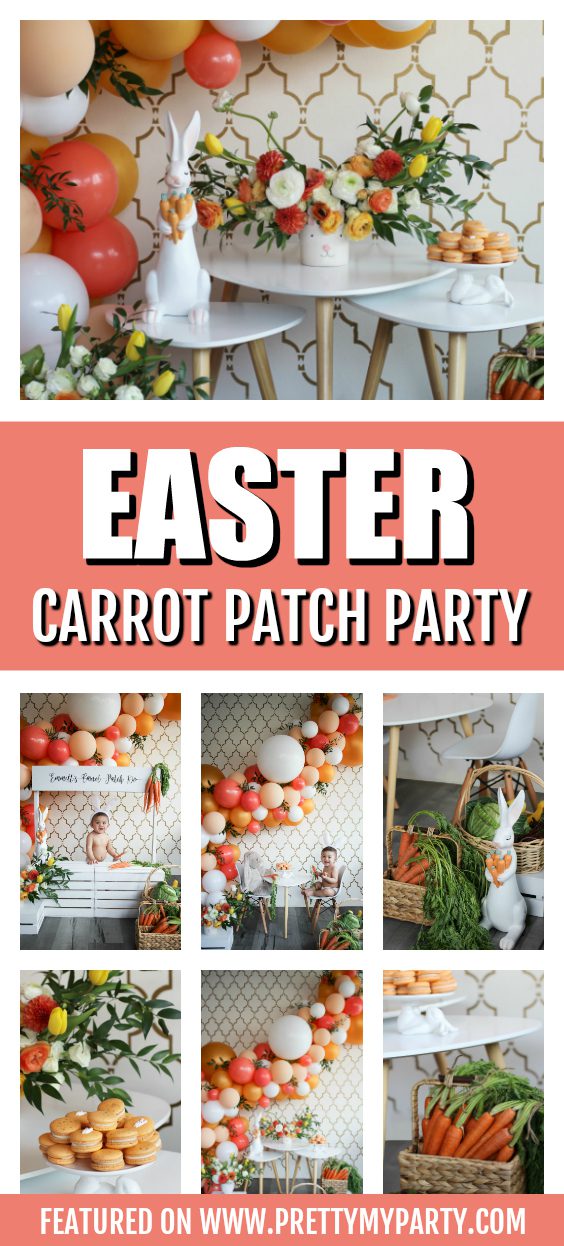 Easter Bunny Carrot Patch Photo Ideas
Amazing coral, white, blush and metallic gold balloon garland accented with greenery
Custom white carrot patch stand
Gorgeous floral arrangements with yellow tulips (the staple flower of Easter), peach ranunculuses, rust dahlias (for the pop of color), ivory spray roses (to add texture), and Italian ruscus leaves (for a more organic look).
Adorable bunny face flower vase
Cute bunny dessert stand
Adorable bunny holding carrots
Vanilla flavored macarons drizzled with gold accents and topped with Easter bunnies
Vegetable baskets with cabbage, beets, squash, and of course, CARROTS!
Adorable bunny ears for the cute model
Plush bunny friend enjoying some carrots
Bunny Themed Party Ideas:
This little guy looks like he's having a blast with Mr. Hops! We absolutely adore the fun and gorgeous set up for this Easter Bunny Carrot Patch Photoshoot!
What's your favorite details in this darling Easter Bunny Carrot Patch Photoshoot? Let us know in the comments below!
For more party ideas for kids, follow us on Instagram @prettymyparty and Pinterest and join us in our private Facebook group.
Vendors & Credits
Design, Styling, Floral and Balloons: Hello Pretty Events
Balloons: North Star Balloons and Qualatex
Macaroons: Sweet Treats By Yvette