Double Chocolate Marshmallow Cookie Sandwich
"This post was sponsored by Hello Happy Hello Hershey's as part of an Ambassador Activation for Influence Central."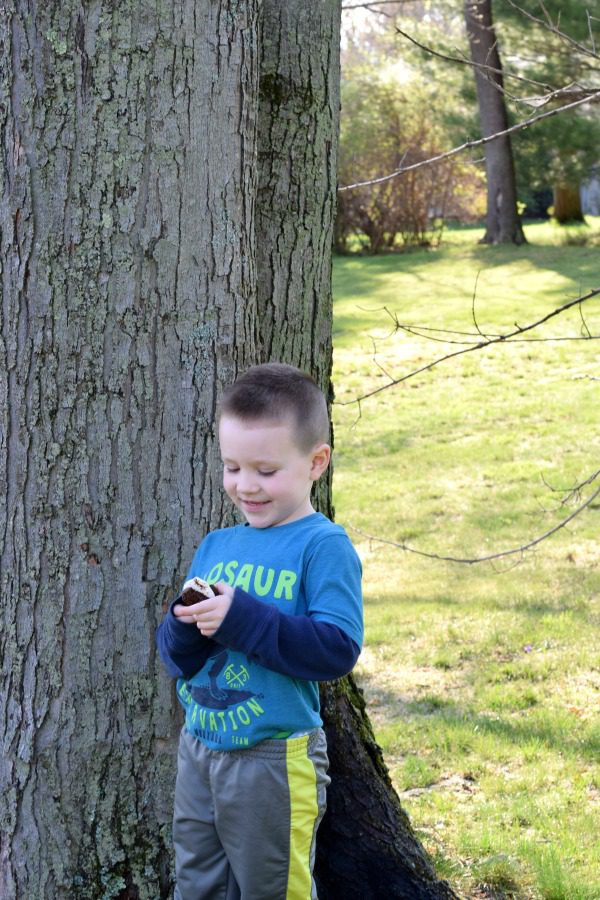 We all get consumed by the demands of our everyday lives and sometimes we forget to stop and enjoy the little things in life. HERSHEY'S is seeking to open the world's eyes to the everyday joys around us by creating experiences through which people can choose HAPPY! For me, family is what life is all about and what makes me the most happy! Creating special moments with my son and family are what truly makes my heart smile!
Choosing happiness is something I try to live by everyday! HERSHEY'S is facilitating Hello Happy Moments to show families that they can choose happiness anywhere, at any time – whether it's that s'more after school, a delicious baked treat shared on a Sunday afternoon or a dance off, families can choose to find happy moments each day.
On Take Your Kids to Work Day (April 28), HERSHEY'S will set out to remind people that happiness is a choice and sweeten their day by celebrating "Hello Happy Moments" – the intimate, individual and personal moments of happy that we choose each and every day, which build connections and create memories that last a lifetime – by showing parents ways that they can enjoy fun, and unexpected, happy moments with their children.
My little guy LOVES chocolate. He definitely takes after his mama! I work a lot from home, so taking a much-needed snack break with my buddy is just what I need to get through the day!
We sprinkled a little bit of happy into our snack break with some HERSHEY'S Milk Chocolate Chips! Since we both love chocolate, we made these delicious Double Chocolate Marshmallow Cookie Sandwiches while we enjoyed some time outside! Chocolate and sunshine … now that makes me HAPPY! Check out the recipe below and enter to win a HERSHEY'S Prize Pack!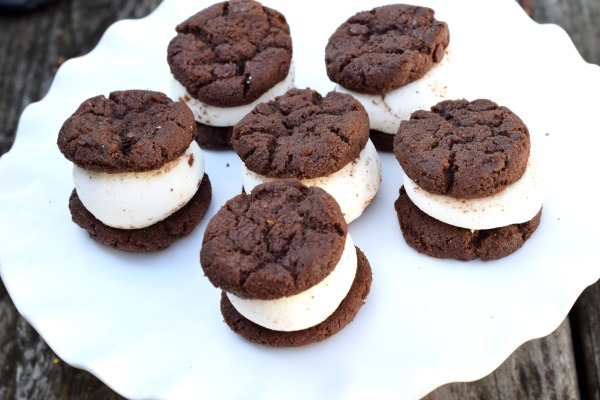 Double Chocolate Marshmallow Cookie Sandwiches (Prep time 15 minutes)
Ingredients:
2 cups all-purpose flour
2/3 cup HERSHEY'S Cocoa
3/4 teaspoon baking soda
1/4 teaspoon salt
2 sticks margarine softened
1 1/2 cups sugar
2 eggs
2 teaspoons vanilla extract
2 cups HERSHEY'S Milk Chocolate Chips
1 bag of marshmallows
Directions:
Heat oven to 350 degrees.
Stir together flour, cocoa, baking soda and salt. Beat butter, sugar, eggs and vanilla in large bowl until fluffy. Gradually add flour mixture, beating well. Stir in chocolate chips. Drop by rounded teaspoons onto ungreased cookie sheet.
Bake 8 to 10 minutes.
Remove from oven and let set for 2 minutes on the baking sheet. Do not turn off oven.
Transfer to a rack and cool for 2-3 more minutes (until they are cool enough to handle).
Flip over half of the cookies and place 1 whole marshmallow on each cookie. Place in the oven and bake for 1-2 minutes or until the marshmallow is soft and gooey. Take out of the oven and press the marshmallow down gently with your fingers. (I do this before placing the cookie on top so it doesn't crumble).
Top with another cookie and serve immediately. Cookies are best served hot. To reheat cookies just place in the microwave for a couple of seconds.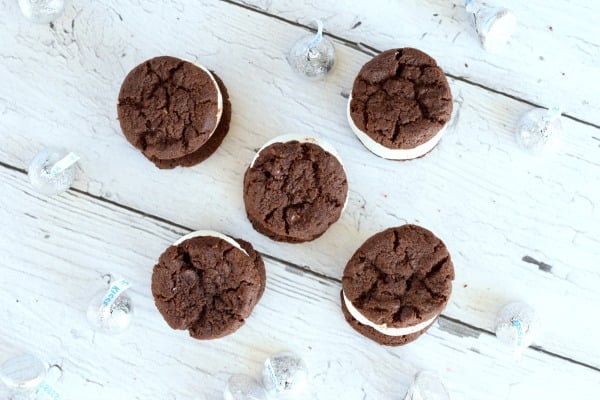 What's your "Hello Happy" Moment?! How do you enjoy HERSHEY'S chocolate? Let us know in the comments below!
Now for the fun part! Enter to win a HERSHEY'S Prize Pack! Giveaway is open to U.S. residents 18 and older.
"Contest entrants are only eligible to win once per sweepstake, per household as part of a campaign sponsored by Influence Central."
a Rafflecopter giveaway