Cops and Robbers Themed Party
Whether you're a good guy or a bad guy, this Cops and Robbers Party will be fun for everyone!
It's not a party until the cops show up, right?! This fun Cops and Robbers Themed Party, styled by Parties A Breeze of Australia, has so many and clever party ideas! It's nothing but the best for little Junior Constable Knox! His family pulled out all the stops with this Cops and Robbers Theme! Everything from the walkie talkie juice boxes to the "Copcorn" was just the icing on the cake! And a Copy and Robbers Party wouldn't be complete without a mug shot line up, right?! This party sure "captured" some fans!
Cops and Robbers Themed Party Ideas
Police car photobooth and photo props
Police car dessert holder
Blue donuts with gold sprinkles
"It's Not A Party Until the Cops Show Up" and "Stop Resisting and Take A Donut" party signs
Clever themed desserts with tent cards, including Police Batons, Magnifying Glasses, Evidence, Walkie Talkie Juice Boxes, "Copcorn" and more!
Birthday cake with cop car cake toppers
Police car favor boxes
Awesome blue balloon decorations
Cops and robbers life-size party props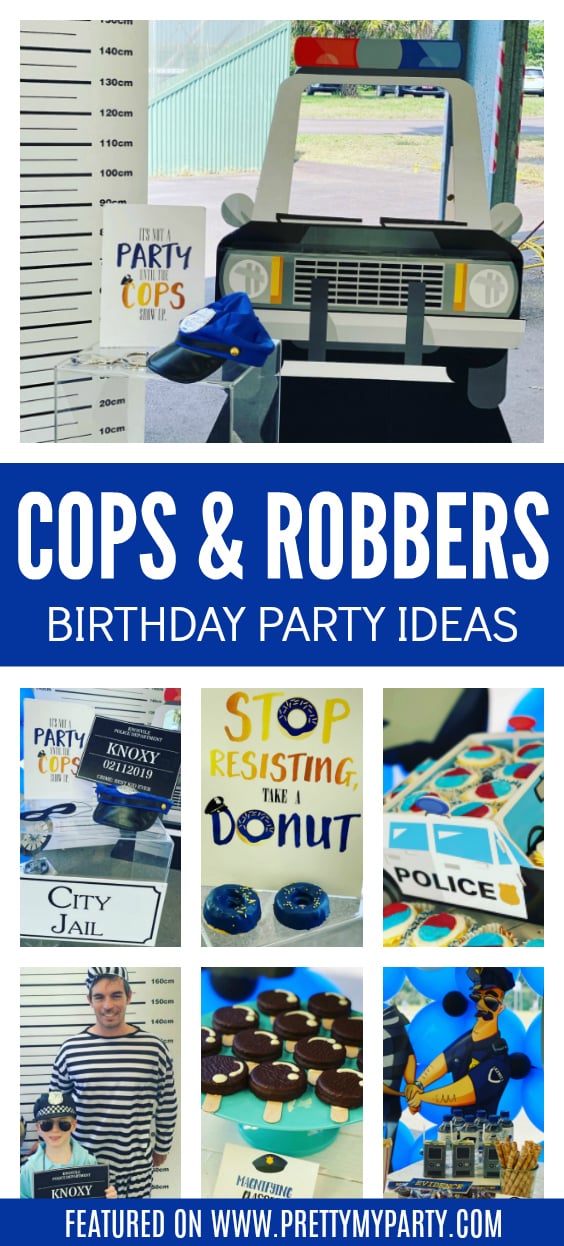 Cops and Robbers Party Supplies and Decorations:
See more party ideas for boys here:
What a fantastic
Cops and Robbers Party
full of fun and exciting party ideas! It looks like the adults and the kids had a blast in their cops and robbers costumes getting their mug shots!
What's your favorite details in this fun Cops and Robbers Themed Party? Let us know in the comments below!
Party Vendors