Colorful Angry Birds Birthday Party
If your child is asking for an Angry Birds Birthday Party, take notes because this party will give you the perfect inspiration!
Angry Birds is such a fun birthday theme for kids. Everything from the characters to the colors really make this theme a favorite among kids. If your child wants an Angry Birds Birthday this year, take some notes from this amazing Angry Birds Party styled by One Fine Day Parties. The Angry Birds Party Ideas include an incredible Angry Birds birthday cake, cookies, decorations, party favors, and more! Your head will be spinning after you see all of the details in this awesome Angry Birds Themed Party!
Angry Birds Party Supplies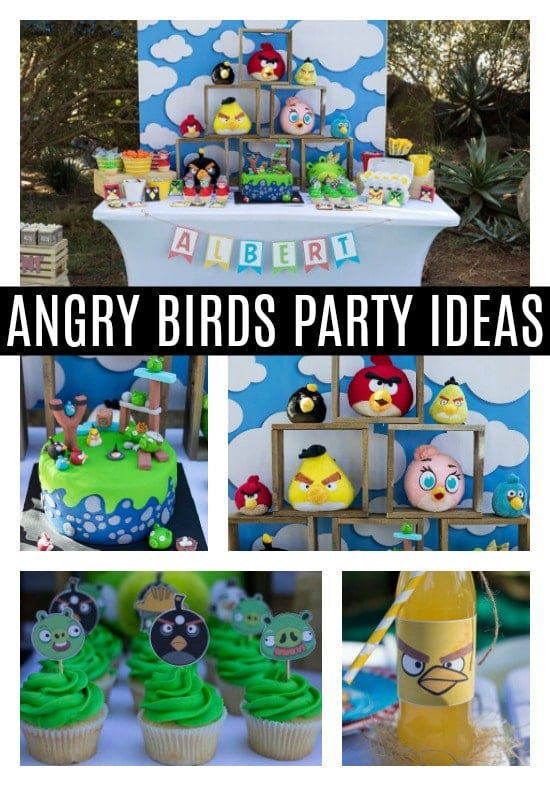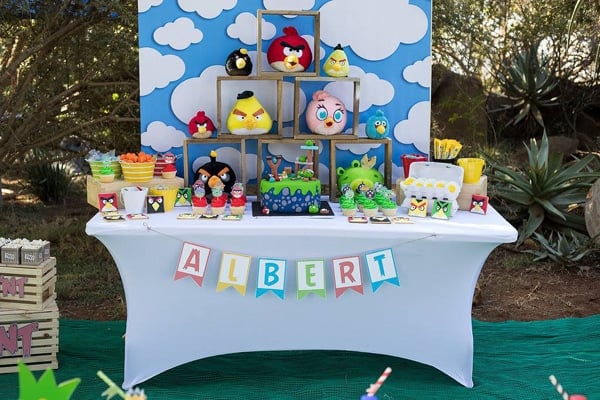 The first step to creating a memorable Angry Birds Birthday Party is to start thinking about your dessert table. The dessert table is the focal point of any party and it's where you can have the most fun with your party theme. One Fine Day Parties did a fantastic job with this colorful Angry Birds dessert table. We absolutely adore the backdrop, which features the sky and some clouds. Many of the Angry Birds characters also made an appearance on the dessert table, which really brightened up the party decor on the sweets table. A color coordinating banner with the birthday boy's name on it hung across the front of the table, while the colorful desserts rounded out the design.
Angry Birds Party Ideas we love
The Angry Birds Dessert Table featuring the colorful characters
The dessert table backdrop made to look like the sky with clouds
The amazing Angry Birds cake
Colorful Angry Birds cookies
Colorful place settings featuring Angry Birds characters
Colorful tulle ribbons on each chair
The TNT Popcorn Station
Angry Birds Themed Photo Cutouts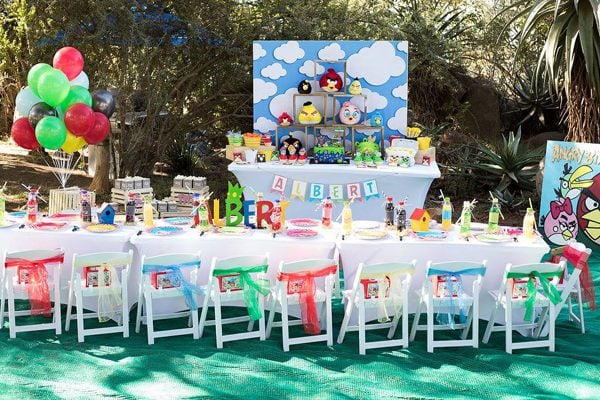 Everywhere you turn there's pops of color everywhere. Colorful tulle ribbons were tied to each chair with a surprise favor box awaiting each guests on the chairs. How fun!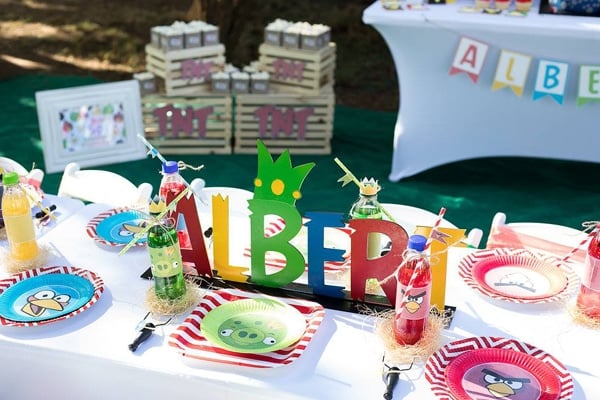 Of course, we have to recognize the guest of honor with a color name place on the table! We also love how colorful the guest's table is too. Plates with red zig zags and stripes were paired with Angry Birds characters and really made the table come alive. Angry Birds party printables were also seen around the beverages.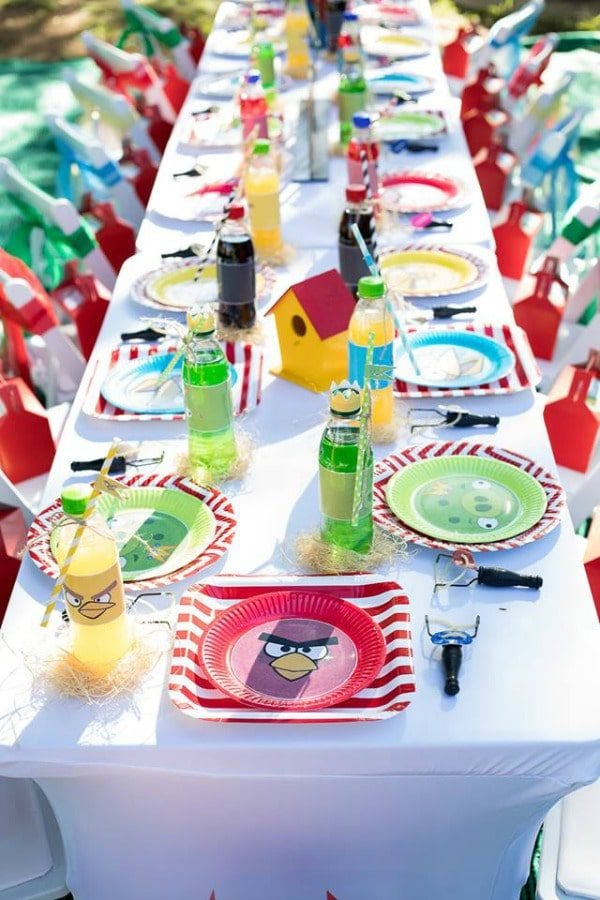 Some think that setting the table for a party is boring, but we're here to tell you that it can be tons of fun! Especially when you get creative like they did here with this Angry Birds Birthday Party table setting!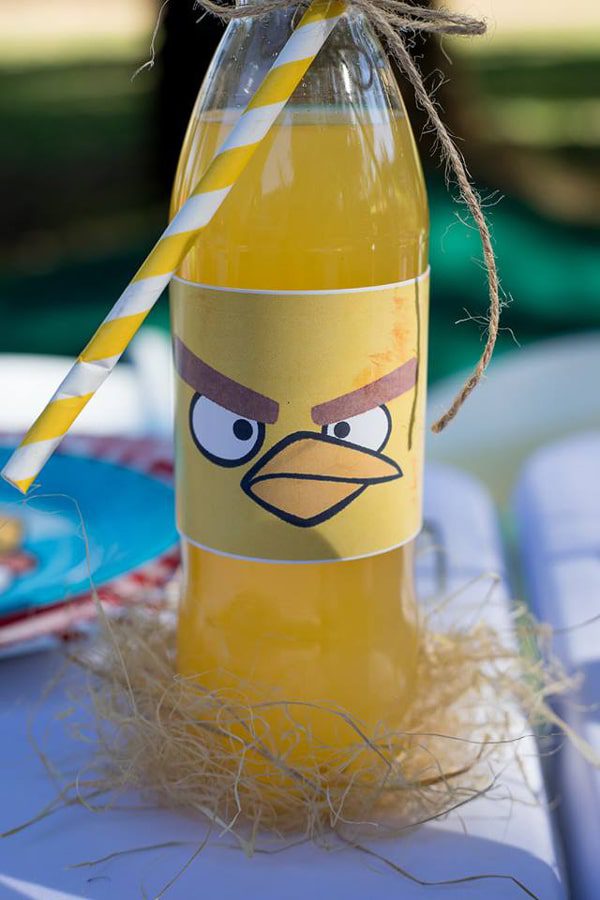 You know, it's the simple things that make a party a total hit! Party beverages used as table decor are always a great idea. The party printables on each beverage with different characters really made this table shine as the kids entered the party space. This Angry Bird above, known as Chuck, helps bring just the right amount of "anger" to the party. Although most would agree that he's rather cute!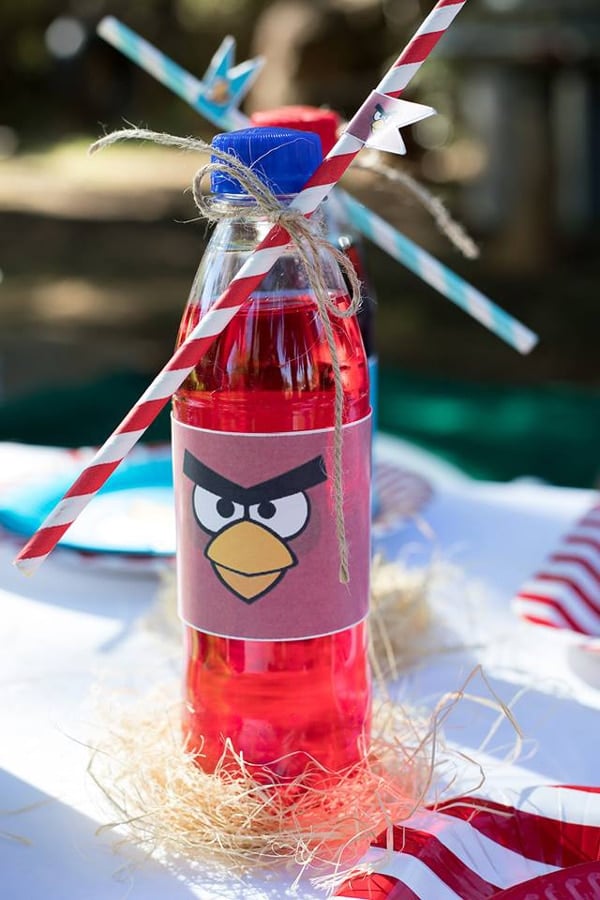 You can never have too many Angry Birds at this kid-approved birthday party. We're also loving this little character. Terence is quite the character in Angry Birds, so he's bringing a lot of personality to this party table. Just look at how life-like he looks! We also love how they place each drink on a "bird's nest." What a clever idea!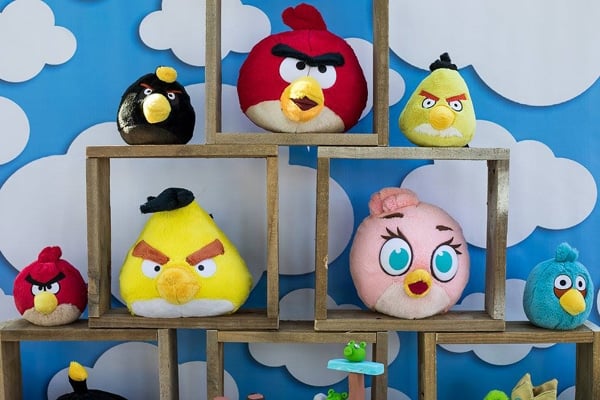 What is an Angry Birds Birthday Party if you don't include all the characters? Pictured here are some of the adorable characters. Almost the whole Angry Birds gang is here including, Bomb, Terence, Chuck, Red, Stella, and The Blues. Every kid has their favorite Angry Birds character, so you know each child will be looking for their stuffed versions of their favorites. So fun!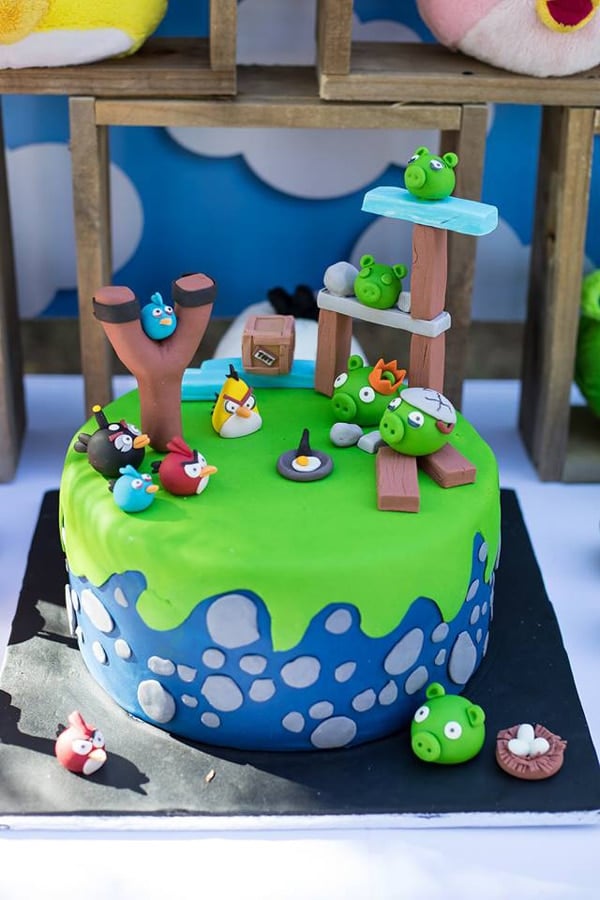 Have you ever seen an Angry Birds Cake made with such precision?! There is so much detail in this cake, it's going to be hard to cut into it. We love the colors, characters, and everything in between. The baker of this birthday cake, definitely nailed the Angry Birds Birthday Party theme!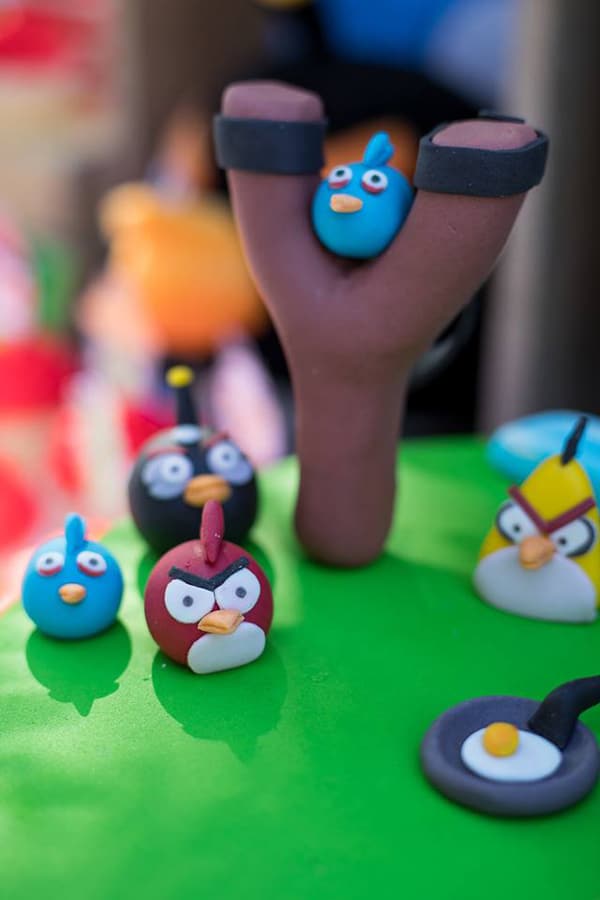 This Angry Birds cake Topper is amazing in so many ways! It just screams Angry Birds! You couldn't look at this cake and NOT know it's an Angry Birds Birthday Theme. Just look how perfect and "angry" those characters look!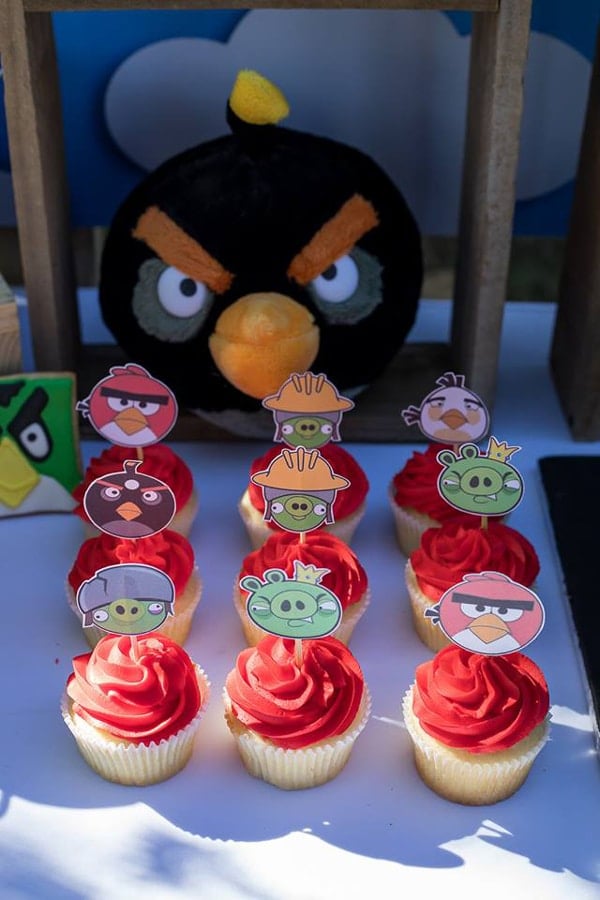 These little Angry Birds cupcake toppers are everything. The red iced cupcakes and character theme cupcake toppers make the dessert table pop with color and character! The kids are going to love pulling off these cupcake toppers and enjoying them! What's not to love about them?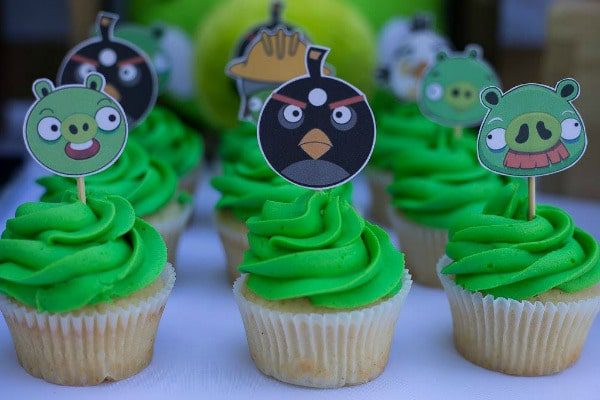 The dessert table also featured green iced cupcakes as well. It doesn't get much better than seeing your favorite characters on top of delicious cupcakes!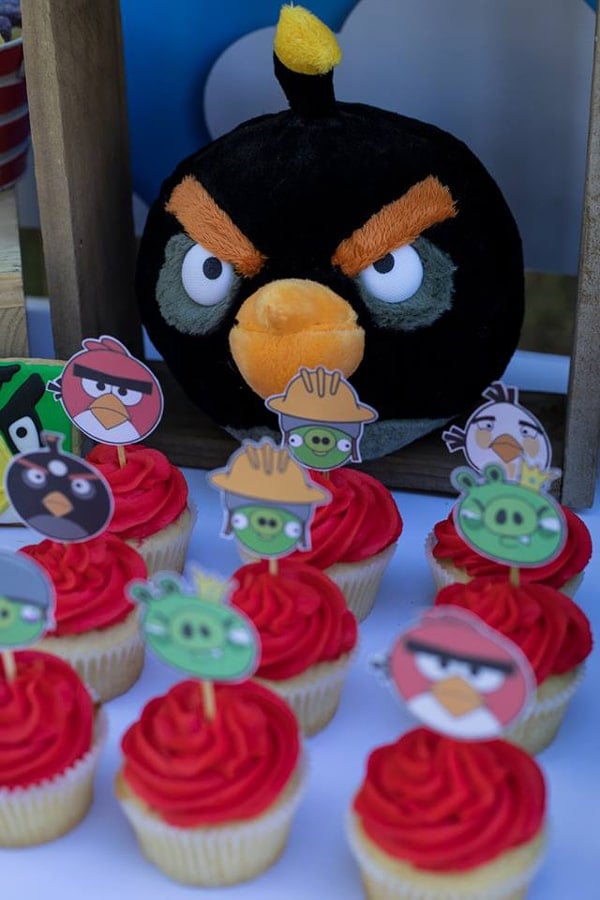 If you were to look at the stuffed Angry Bird and the cupcake topper, they look identical. We can't get enough of the Bomb as the stuffed animal and look at how perfect he is as a cupcake topper.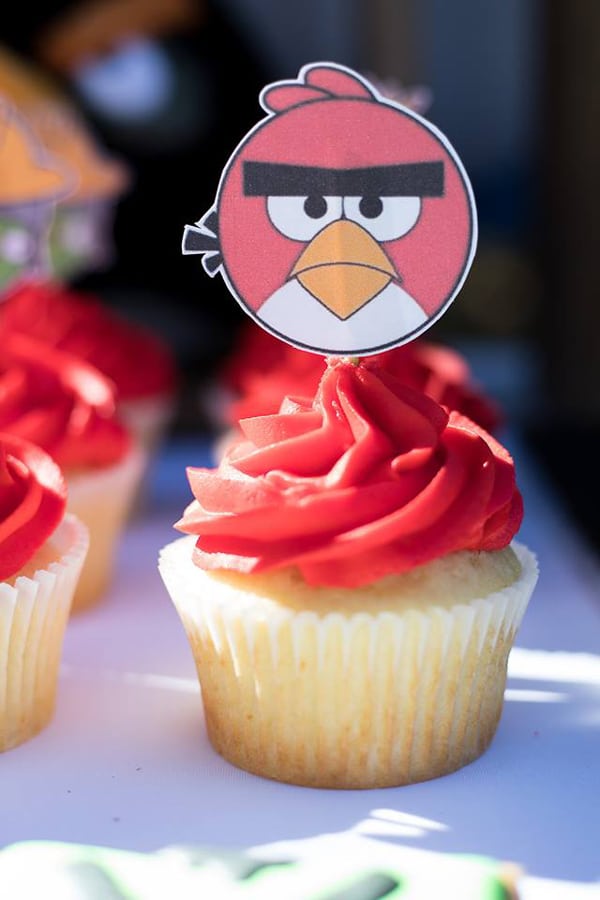 Red is one of the more popular Angry Birds and he is always the star of the show. Look at him just looking at everyone with his cute, angry face. These Angry Birds cupcakes get two thumbs up for sure!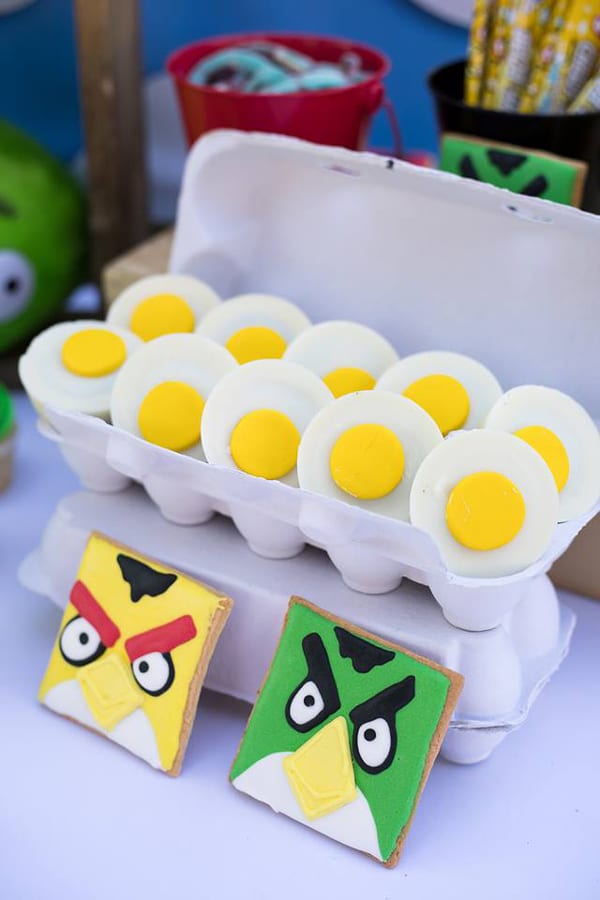 As if the cupcakes weren't adorable enough, check out these extra perfect Angry Birds cookies! The party creator went the extra steps to add these eggs and cookies to the dessert menu. How fun! Kids and adults, alike loved all of the Angry Birds desserts on the sweets table.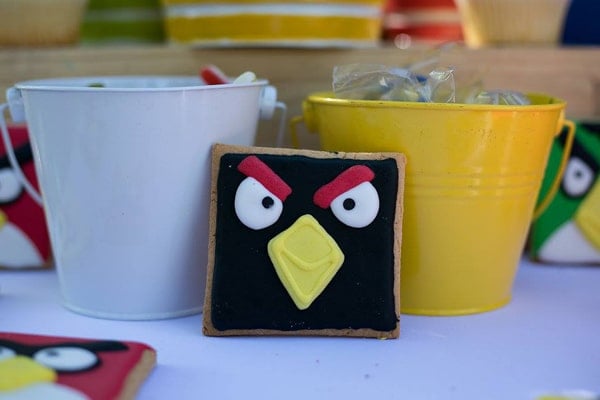 Bomb is just having way too much fun at this party. He's showing up everywhere. If you're a fan of Bomb, then you know there is plenty of room for him at this Angry Birds Birthday Party.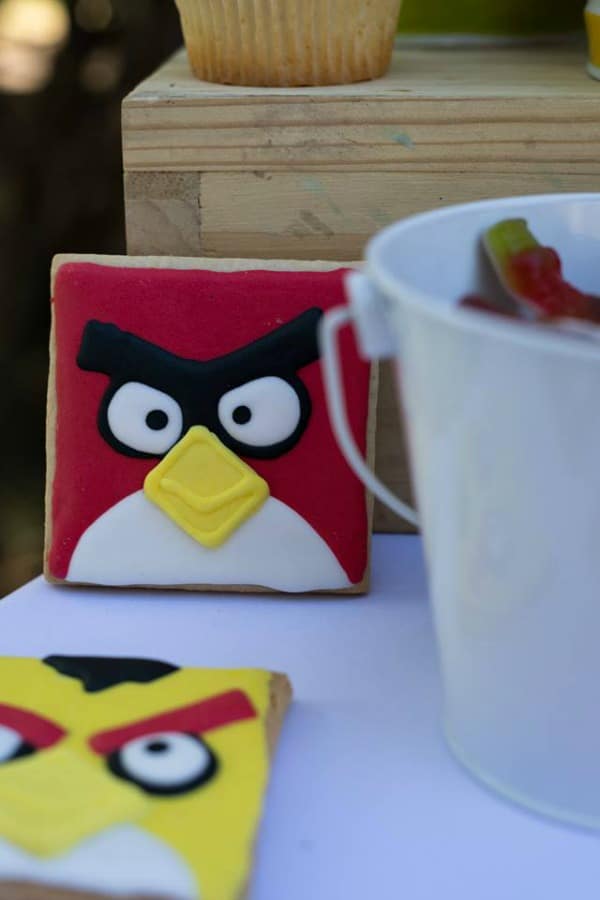 The setup of this Angry Birds Birthday Party is just so much fun. The cleverly hidden Angry Birds really help bring about the mischief that the Angry Birds represent.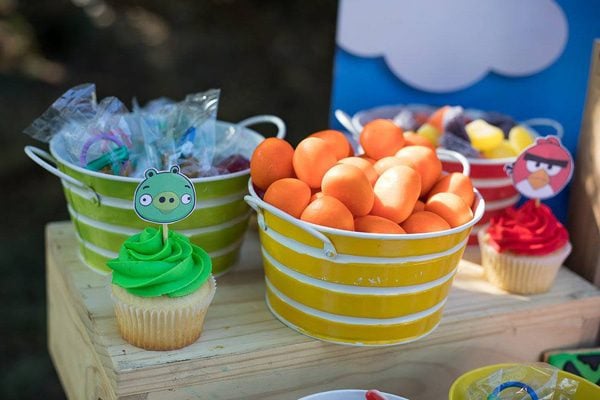 The Angry Birds party foods shown here are so colorful! They bring this party to life in a whole new way.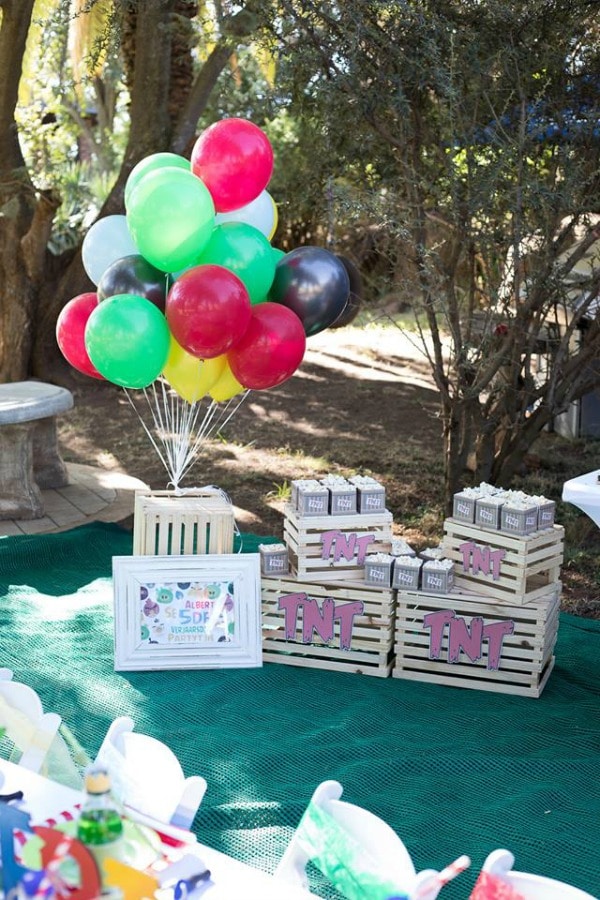 Let's talk about this fun TNT popcorn station for the party guests to enjoy! The popcorn station also featured color coordinating balloons and a fun birthday sign. What a great little set up for the kids to enjoy!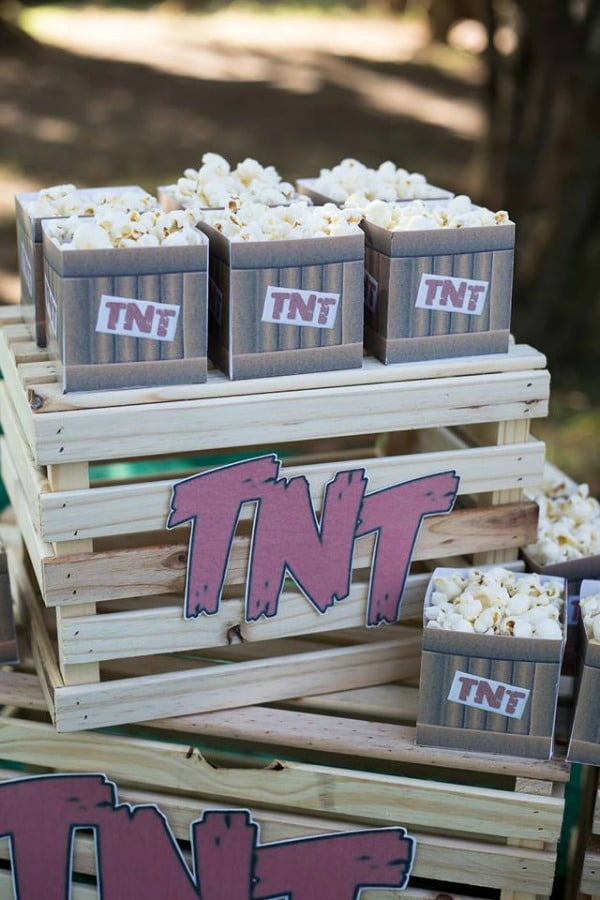 Adding popcorn to these TNT bins was an amazing move! Kids love popcorn, but TNT represents Angry Birds to a T. You need the right snacks at a birthday party and popcorn was the right snack for this one!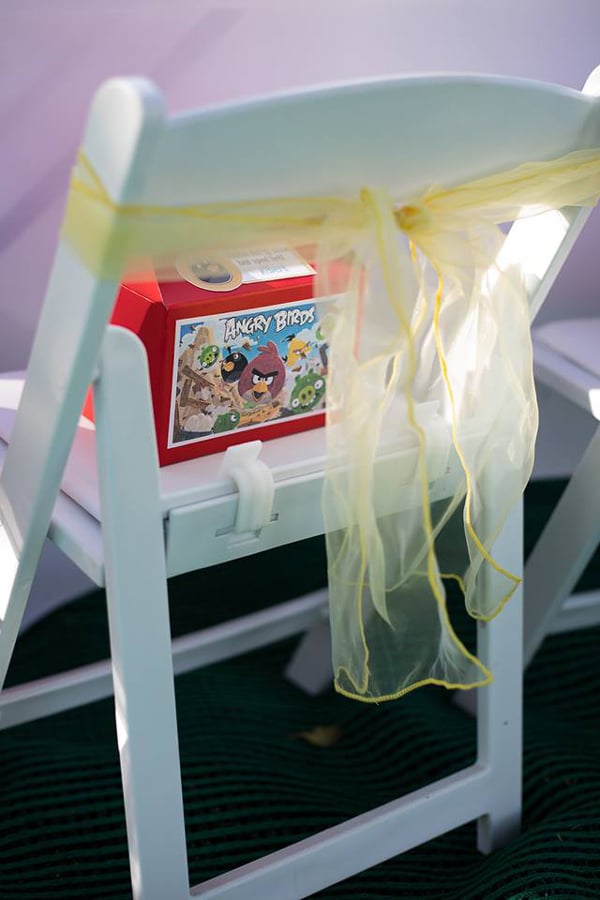 We brought attention to these tulle ribbons earlier, such a great touch to the Angry Birds Birthday Theme! This party creator really knows how to play on color, very well!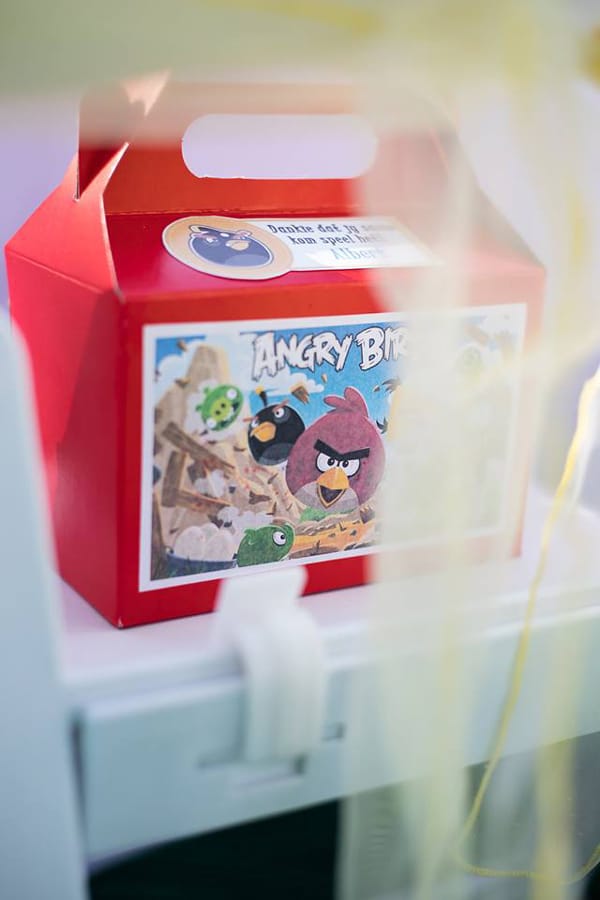 Every Angry Birds party-goer needs a little box of goodies to take home with them. We can't get over how perfect this party favor box is. The kids sure were excited to rip this box open to reveal some awesome party goodies!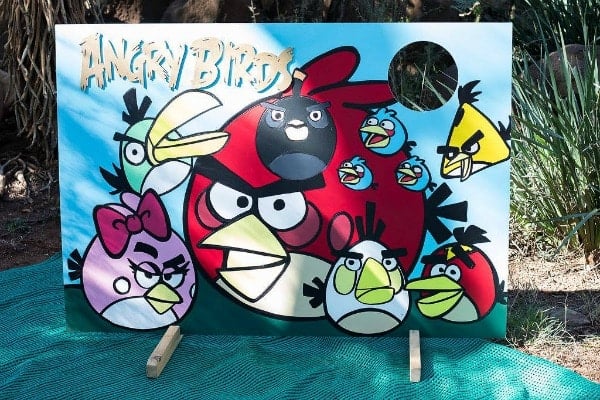 For the best photo ops, these fun Angry Birds themed photo cutouts were placed around the party for guests to take pictures. What a great idea to do instead of a traditional photo booth.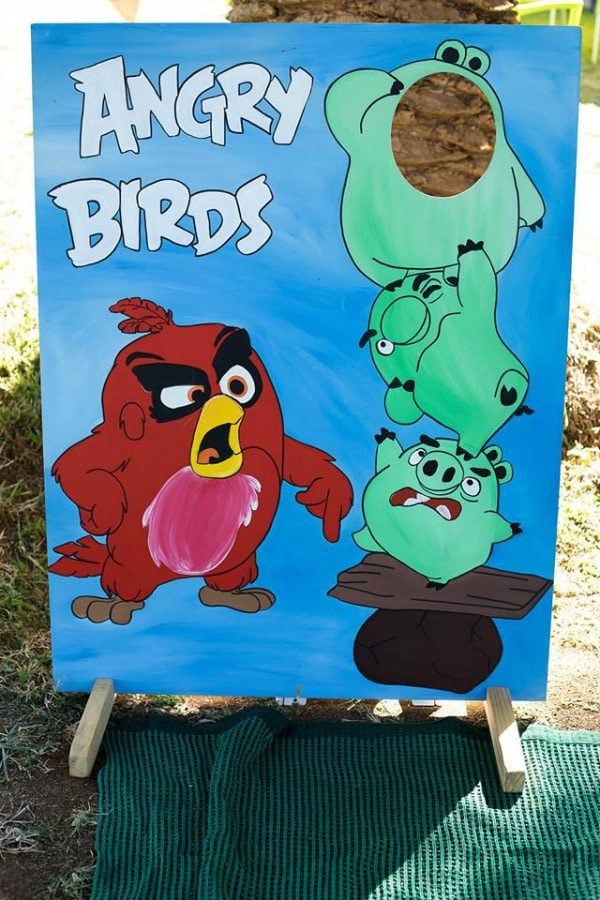 As kids leave the party, they can even get their picture snapped behind this fun Angry Birds cut out! This is the icing on the Angry Birds cake for this party. Seriously, if you or your child love Angry Birds, then these Angry Birds Party Ideas are for you! Happy planning!
What was your favorite part of this Angry Birds themed party? Let us know in the comments below!
Vendors & Credits:
Party Styling: One Fine Day Parties
Cupcakes and Cookies: Oumas Pantry
Venue: Kids Fun Party Venue
Photography: Anneke Schultz photography