Best Creative Shadow Box Ideas
The best creative shadow box ideas all in one place. Get crafty and make your memories last forever with the best displays!
Best Creative Shadow Box Ideas
Do you have a bunch of special, highly treasured trinkets related to an event or special occasion that you just can't part with? You want to display them so that they won't collect dust inside your storage boxes or closets, but you don't know how to get started.
Well, here's the perfect solution to your memento dilemma: shadow box displays! There are so many fun and creative shadow box ideas for any life event.
What to Put in a Shadow Box
Before you search for DIY shadow box ideas, you have to know exactly what one is first. A shadow box display, or more simply, a shadow box is an enclosed display created using a sort of deep picture frame with a glass cover or a small display case. Inside this box, you put keepsakes and various objects that adhere to a certain theme or event of personal significance to you or to whomever you're creating the shadow box for.
A shadow box is not just something you do for yourself, you can gift one to others too! Maybe you want to look for shadow box ideas for your boyfriend or your parents. There's a lot of possibilities that you can explore if you're looking for cool shadow box ideas.
Can't wait to make your own shadow box? Here are 13 of the best creative shadow box ideas to get you started!
See also: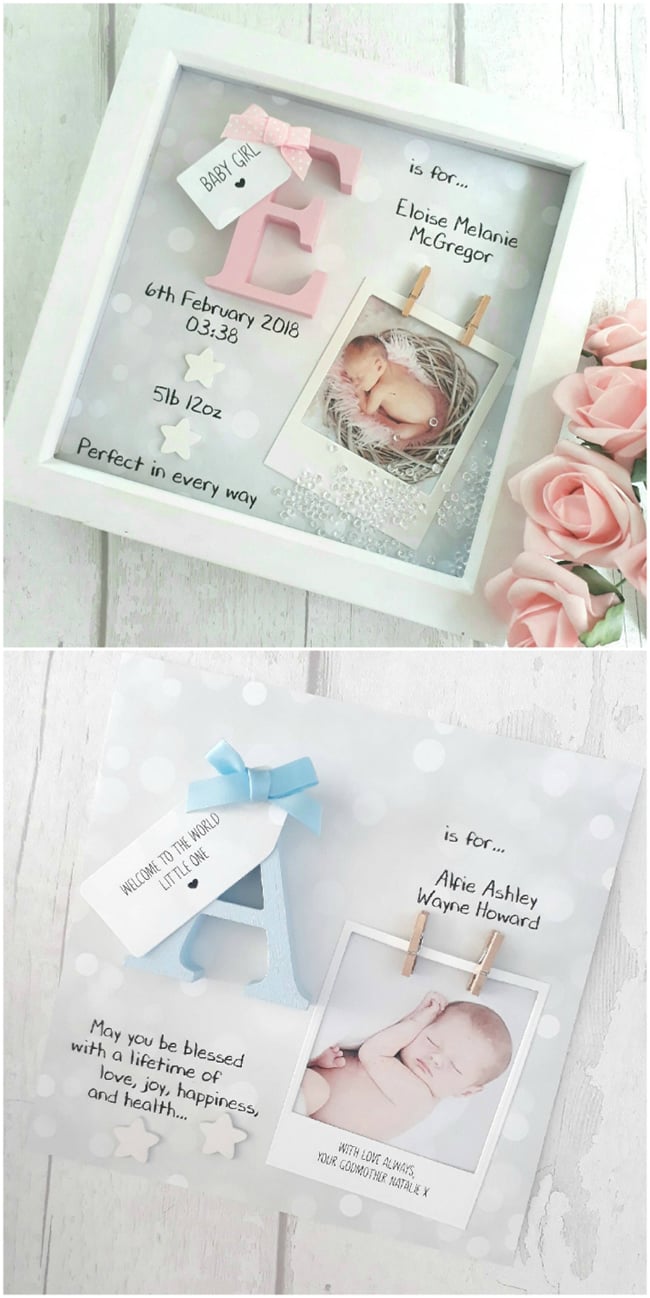 Newborn Shadow Box: Baby shadow box ideas are one of the most sought after shadow box display ideas. Who wouldn't want to commemorate the day of their little one's birth with a gorgeous display?
Cute wooden letters of your child's initials, an adorable photo, their first outfit, and other details of their birth (weight, date, and more) are perfect memories to store in your newborn shadow box.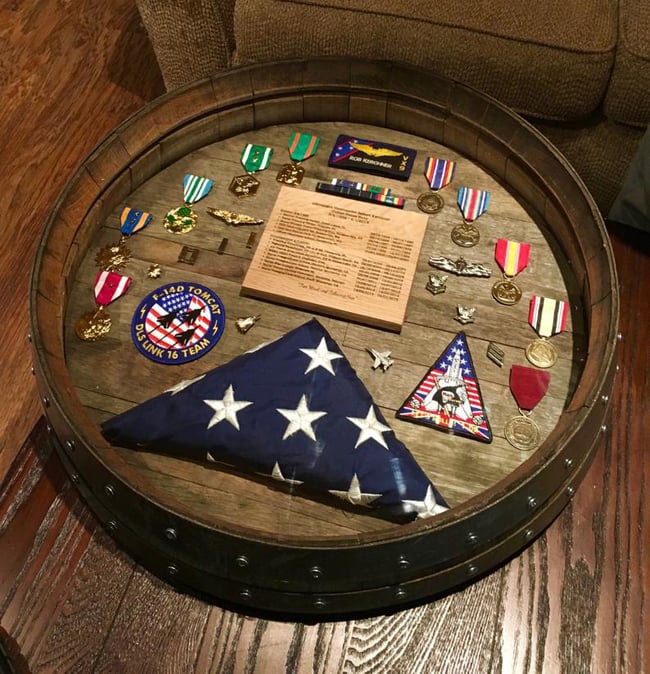 Wine Barrel Military/Law Enforcement Shadow Box: There are so many Army, Navy, or military shadow box ideas to do!
This super creative wine barrel shadow box shows off service medals and ribbons. Other things you can include are important mementos like training letters, rank insignia, service stripes, dog tags, or unit patches.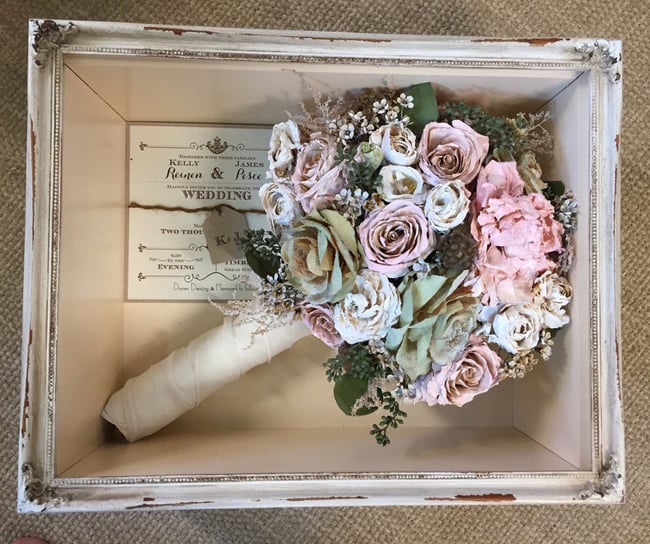 Wedding Bouquet Shadow Box: There are many interesting wedding shadow box ideas around simply because there's plenty of trinkets and keepsakes involved in a wedding.
This one features the bouquet and invitation, but you can also include a selection of photos, garters, table decorations, wedding favors, wedding veil, and so much more!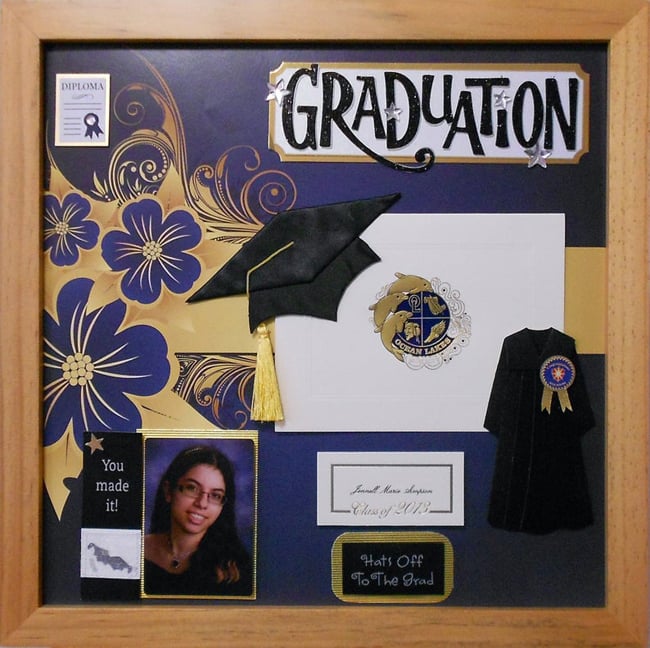 Graduation Shadow Box: There are many important events during your school days: first day of school, senior prom, and of course, graduation day!
You can put your graduation photos, cap, sash, tassel, diploma, and any other important item you've saved from the special day in a shadow box.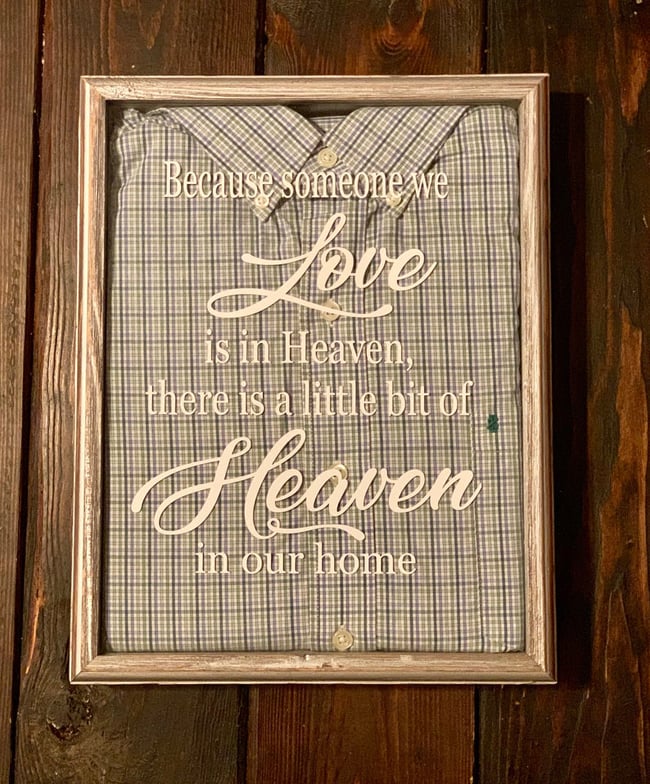 In Memory Of Shadow Box: A shadow box is also a sweet and simple way to remember our dearly departed ones.
There are many memory shadow box ideas to inspire you to keep your loved one's memory alive.
Take your time and sort through their personal items and photos to choose the ones that honor their memory and legacy the most.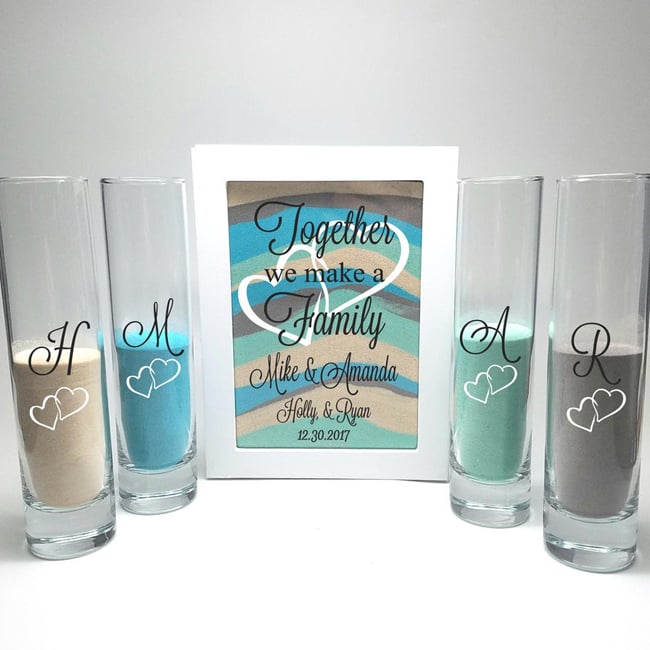 Blended Family Shadow Box: How adorable is this idea of creating a blended family shadow box?
Blending of sands is a lovely way to symbolize the unifying of two families into one, and it's an excellent shadow box idea too!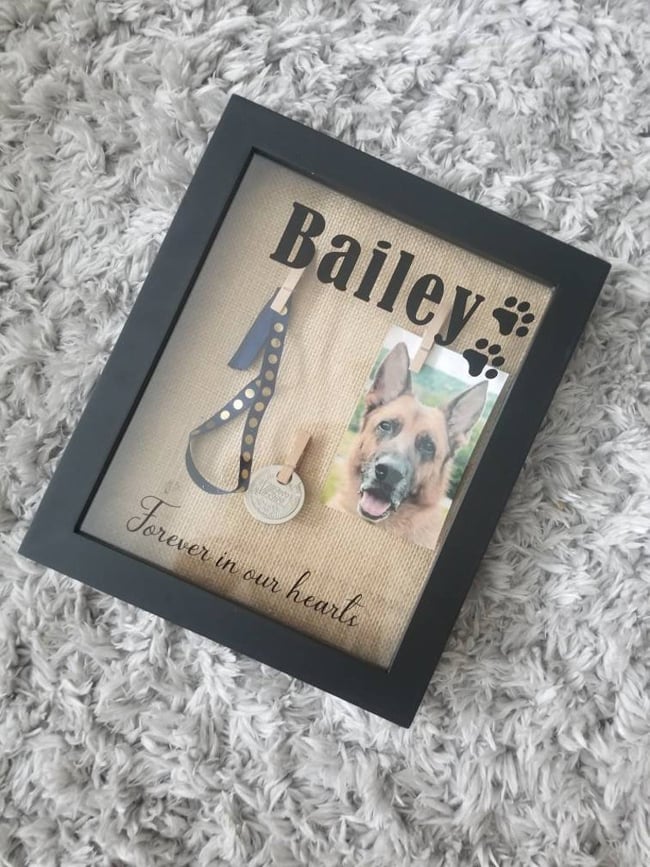 Pet Memorial Shadow Box: Our pets are more than just pets, they're family. To keep our fond memories of them alive, why not create a shadow box?
You can include your pet's collar and pet tag plus a lovely photo of them so that you'll always remember the joy they brought to your life.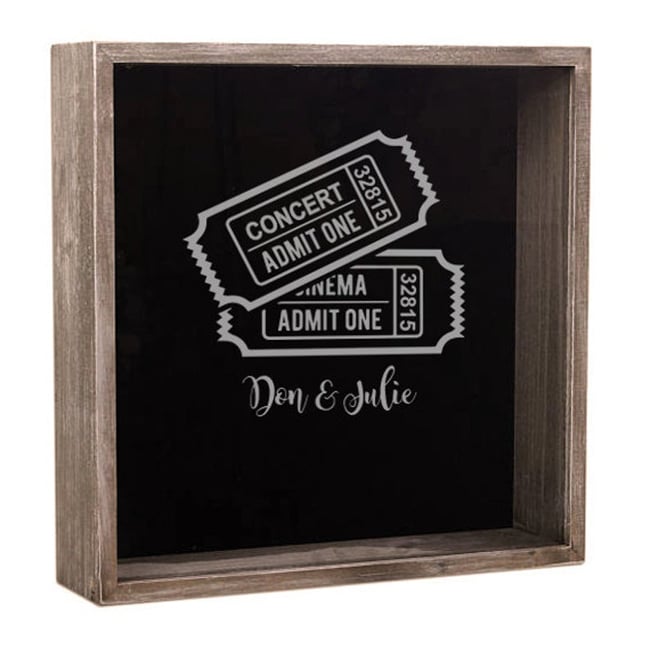 Concert Ticket Holder Shadow Box: Love going to concerts and hearing your favorite bands or artists live?
This shadow box idea is perfect for you! Create this simple shadow box and store all your concert tickets in it to proudly display all the great concerts you have attended!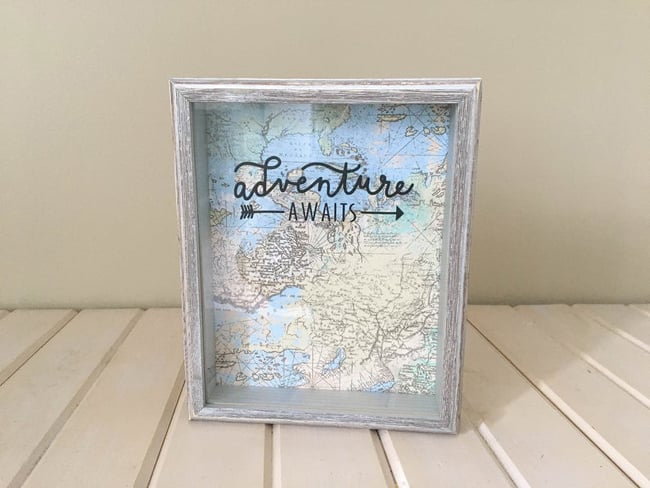 Travel Shadow Box: If wanderlust and travel are more your thing, you can also create a travel shadow box to keep all of your mementos from each travel.
Keep your plane, bus, or train tickets, postcards, or anything unique that you always collect from your adventures!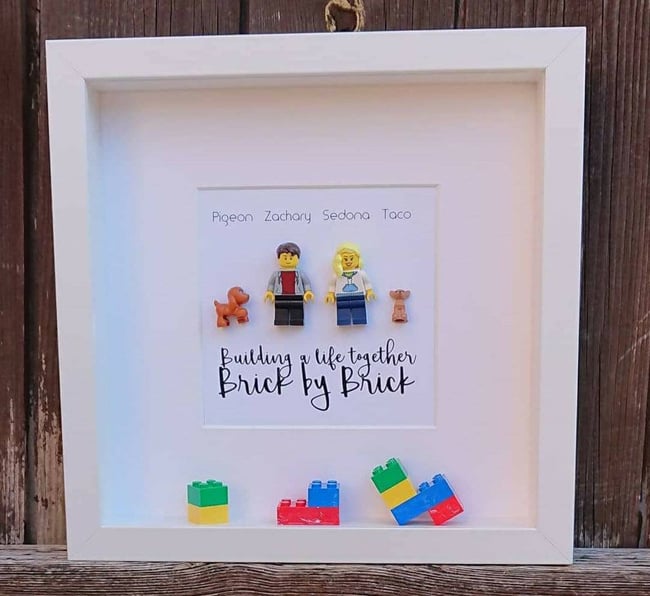 Lego Family Shadow Box: This adorable shadow box is the perfect decoration for your family room! We love how the pets are included in the family too, because of course it wouldn't be complete without them.
You can add more Lego pieces as your family grows too!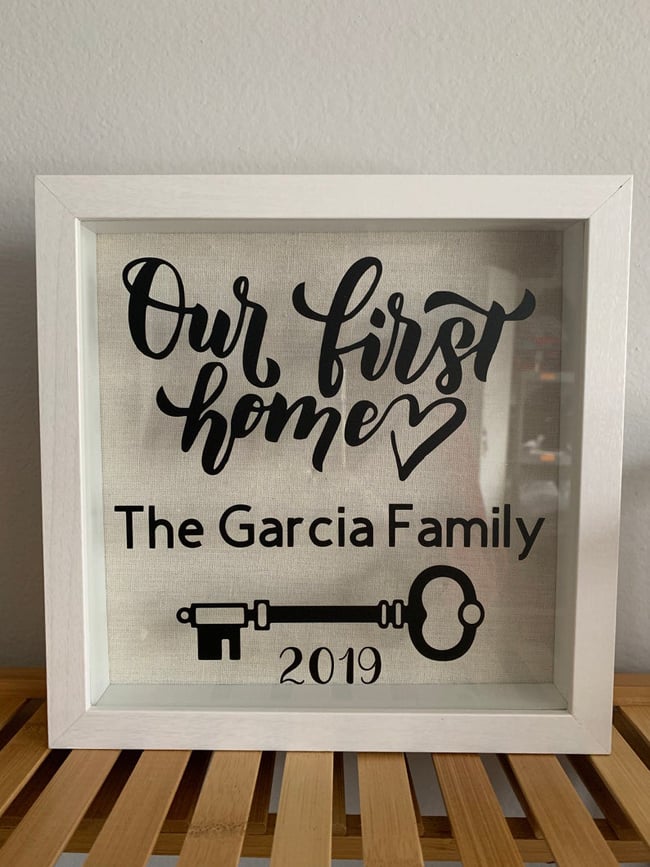 First Home Shadow Box: Buying a home is a major milestone, and it's only normal for you to want to immortalize this amazing feat!
This first home shadow box is simple with just the family name and the year the house was bought.
If you want to include some trinkets in your first home shadow box, a copy of your key or a photo of you and your family in front of your home is also an excellent idea!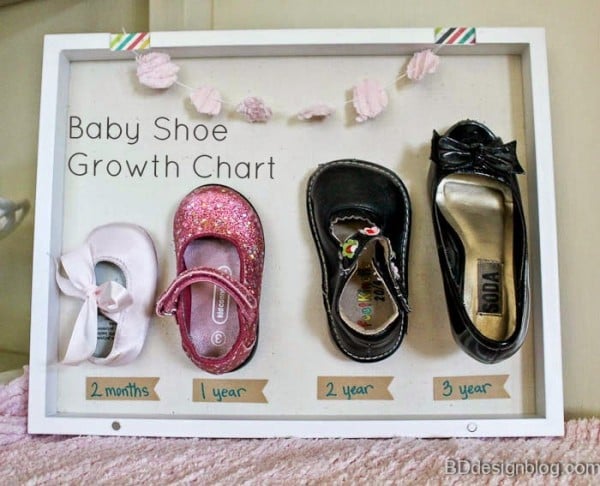 Baby Show Growth Chart: Babies grow up so quickly, so make sure you keep memories of them at every stage. This growth chart makes adorable use of baby shoes because baby feet grow way too fast!
You can also use your baby's clothes to show their super quick growth! Also, keep records of their weight and height and use those numbers to decorate your baby growth chart shadow box.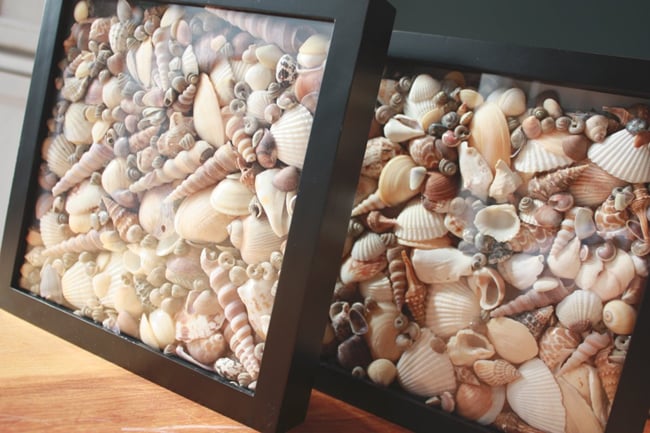 Seashell Vacation Shadow Box: Love going to the beach? What about creating a romantic seashell vacation shadow box?
If you love collecting pretty seashells whenever you go to the beach, a seashell vacation shadow box is going to be a great way to keep your vacation memories alive.
Photo albums and picture frames are great and all, but they don't really allow you to display actual trinkets and special objects.
Creating a shadow box (or several) can help you proudly display your mementos and add a touch of personality to your living space.
Which of the shadow box decorating ideas did you like most? Are you excited to try and work on your own unique shadow box ideas?
For more party ideas, follow us on Instagram @prettymyparty and Pinterest and join us in our private Facebook group.