Apple Pie Pops With Apple Cider Glaze
Looking for the best apple pie recipe? Try these Apple Pie Pops!
Have you ever had pie pops? If not, it's a great way to enjoy your favorite pie on a stick! Plus, they're perfect for kids too! These Apple Pie Pops with Apple Cider Glaze will be an instant hit with kids and adults alike. These Apple Pie Pops are quick and easy to make. So, if you and your family are planning on going apple picking this season, stock up on some juicy, crisp apple to make a dozen or so of these sweet and delicious Apple Pie Pops!
Whether you're hosting Thanksgiving this year or planning a fall festival, these pie pops are sure to be a crowd-favorite!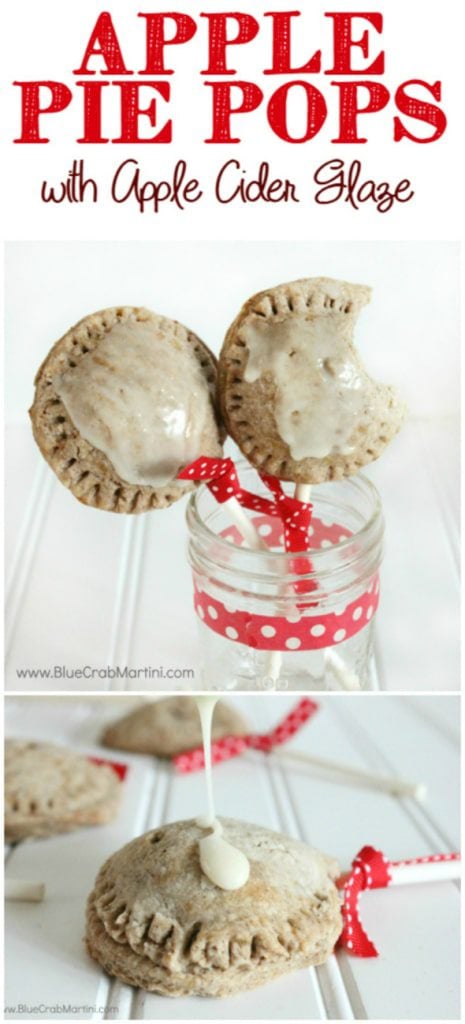 Pumpkin may be the reigning star of fall baking but there's another equally delicious fruit in season right now – Apples! Sure, they aren't as versatile as pumpkin (you're never going to see an "apple spiced latte" at Starbucks), but they're the perfect ingredient for cakes, muffins, pies, and now pie pops! Treat your family or party guests to these Apple Pie Pops With Apple Cider Glaze!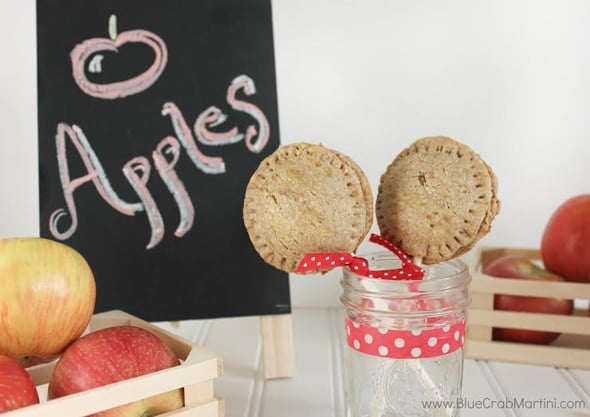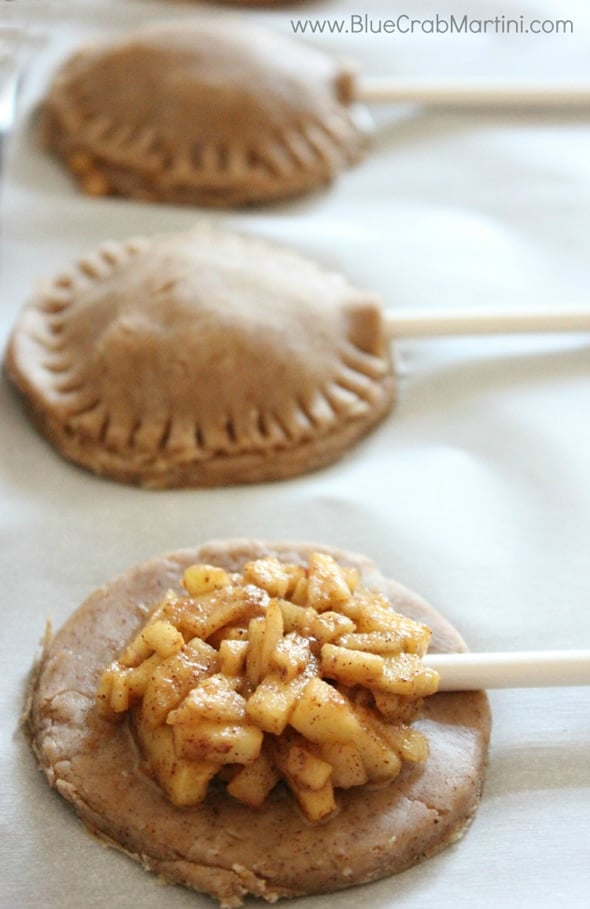 The apple orchards are packed with sweet, juicy apples this time of year. Our family loves all kinds of apples, but the Honeycrisp Apples are our favorite! They are mildly sweet with just a hint of tartness, and have a firm texture that holds up well in apple pie filling. My 2-year-old even managed to sneak one while I was baking, little rascal!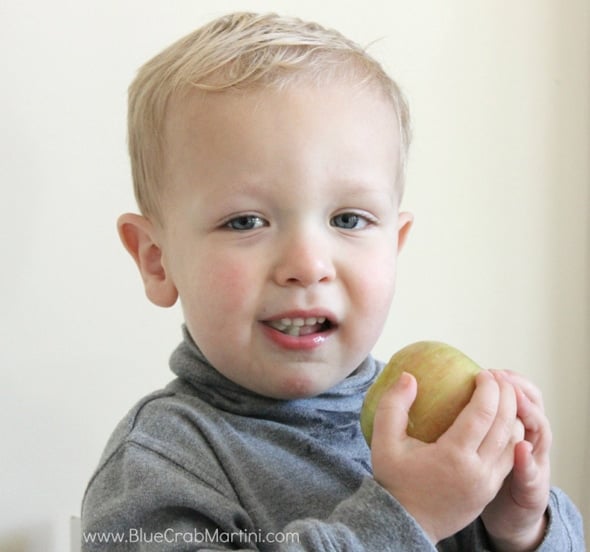 These bite-sized Apple Pie Pops are perfect for any fall holiday or event! They're small enough for the kids to have a sweet treat without going into sugar overdrive. Another bonus is that they're portable, making them ideal for bake sales, parties, and play dates.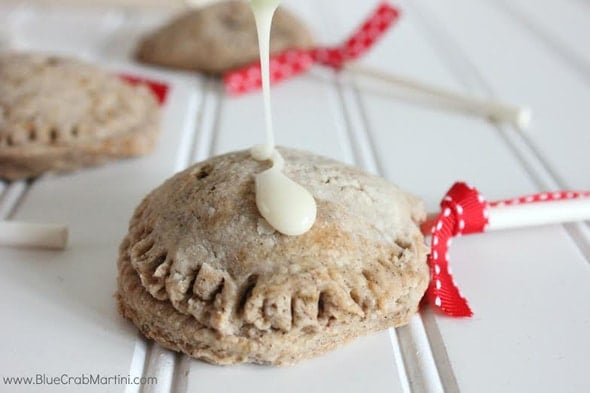 The idea for these Apple Pie Pops came to me last summer when I made a delicious coconut oil pie crust. I knew that with the addition of a few fall-inspired spices, this crust would make the perfect apple pie. The tricky part was patiently waiting for apple season to arrive. Thank goodness it did, and not a moment too soon!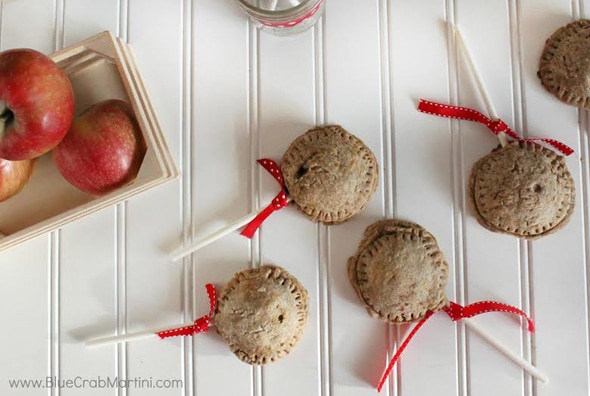 How to make Apple Pie Pops
INGREDIENTS:
Filling:
1 tablespoon butter or margarine
1 1/2 cups thinly sliced, peeled apples (1 1/2 medium)
1 teaspoon lemon juice
1/4 cup caramel topping
Crust:
1 pie crust, softened
8 lollipop sticks
1 egg white, beaten
1 teaspoon sugar
1/8 teaspoon ground cinnamon
Glaze:
1 cup sugar
1/2 cup apple cider
1/2 cup butter
1 tablespoon light corn syrup
1 teaspoon vanilla extract
INSTRUCTIONS:
In 8-inch skillet, melt butter over medium heat. Add apples and lemon juice; cook, stirring occasionally, until apples are almost tender. Stir in 1/4 cup caramel topping; continue cooking until sauce is thick and coats apples. Set aside.
Meanwhile, heat oven to 400°F. Unroll pie crust onto cutting board. Using 3-inch round cutter, cut out 12 rounds. Place 6 rounds on ungreased cookie sheet. Spoon fruit mixture evenly onto each round to within 1/2 inch of edge. Place 1 craft stick in each filling from center to edge of round.
Flatten remaining rounds until 4 inches in diameter. Brush underside of each round with egg white; place over fruit. Press edges together; seal with fork. Cut small slit in top crusts to vent steam. Brush tops with remaining egg white. In another small bowl, mix 1 teaspoon sugar and the cinnamon; sprinkle over tops.
Bake 12 to 15 minutes or until crust is golden brown. Remove from cookie sheet to cooling rack; cool at least 10 minutes.
For the glaze, bring sugar, apple cider, butter, and corn syrup to a boil in a small heavy saucepan over medium-high heat, stirring constantly. Reduce heat to medium, and cook, stirring constantly, 4 minutes. Remove from heat, and stir in vanilla. Drizzle over apple pie pops and serve.
What do you think about these Apple Pie Pops With Apple Cider Glaze? Will you make them this fall? Let us know in the comments below!
Christin of Blue Crab Martini is a Chesapeake Bay loving, country girl with a passion for real food and good wine. She grows her own veggies and is always up for a good time. She is also an adventure seeker and expert marshmallow roaster, which comes in handy when raising two little boys! When she's not busy testing recipes in the kitchen and being a super mom (in training), she is a graduate student at the Johns Hopkins University.