Alice in Wonderland Birthday Party
This Alice In Wonderland 3rd Birthday features fun and creative decorations, desserts and more!
When the time comes for a little girl's 3rd birthday party, one has to think about the things she loves and how to narrow down the endless selection of possible themes to go with. We all want to throw the perfect party and make sure it's a memorable event that incorporates lots of fun for the little birthday girl. That's exactly how this mom Shauna of POMP felt when it came time for her daughter, Harper's, big day! After pillaging through numerous blogs, Pinterest pins, and Etsy shops, Mom found the inspiration she was looking for. The theme for this event? … An Alice in Wonderland Birthday Party!
Alice In Wonderland Party Ideas
20 Bunny Petting Zoo For The Kids
Hand-Painted White Roses
Flamingo Straws
Moss Covered Eat Me & Drink Me Paper Mache Letters
Mad Hatter Pinata
Sandwiches Shaped As Hearts, Diamonds, Spades and Clubs
Moss Table Runner
Red Rose Garden Queen of Hearts' Crown Topped Birthday Cake
Wonderland Cupcakes with the Cheshire Cat, Tweedle Dee & Tweedle Dum and Alice falling down the Rabbit Hole
Tea Party Treats like Macaroon Filled Mugs and Teapot Cookies
Which Way Direction Sign and Deck of Cards Birthday Banner + Silhouette Photo Booth Props
"Take Me" Party Favors
More party ideas: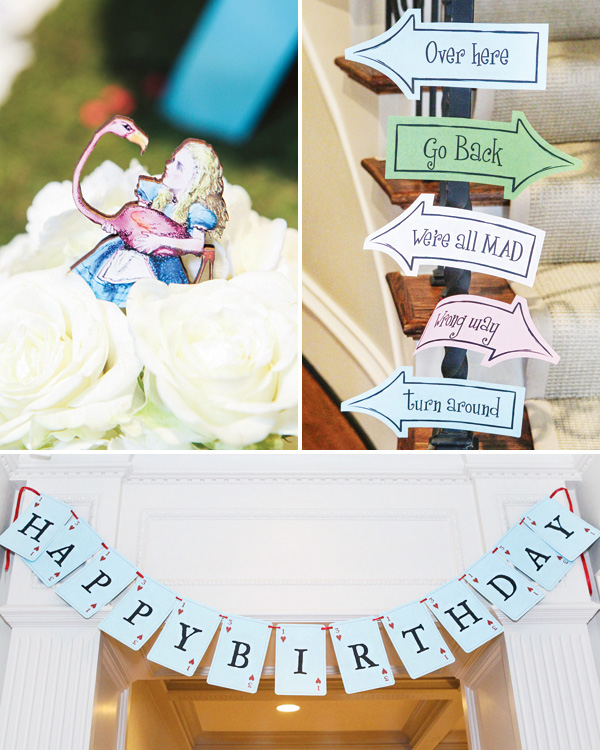 After the party was over and everything was etched into the memories of everyone there, Mom was asked to list her favorite elements or highlights of the event. "Besides it being a blast to plan, the moss covered paper mache letters were one of my favorite elements. I also thought the hand-painted white roses turned out beautifully. When I shared that I wanted white roses dripping in red paint with the florist I feared they would think I was crazy. But Jackson Durham created beautiful whimsical floral arrangements for the party."
Party Vendors
Event Design: POMP
Floral Design and Execution: POMP and Jackson Durham
Custom Paper Mache Letters: POMP
Photography: Rhiannon Lee Photography and Amy Herndon Photography
Flamingo Straws: Oriental Trading Company
Cupcake Toppers: Sweeten Your Day
Marshmallows: Madyson's Gourmet Marshmallows
Cookies: Crème De La Cookie , Unrefined Bakery and POMP
Large Bunny Cutout and some paper goods: POMP
Other Items: Michaels and JoAnn Fabric
Looking to plan your own Alice in Wonderland Party?! Check out these fun products:
Also, get FREE 2 day shipping on your party products when you sign up for Amazon Prime.