16 Fun Ghostbusters Birthday Party Ideas
If you're planning a Ghostbusters Party look no further than these awesome 16 party ideas!
If there's something strange in the neighborhood, who you gonna call? Ghostbusters!
Ghostbusters is such a fun party theme because of all the cool, uncanny, and awesomely weird creatures and characters in it! A Ghostbusters theme party that's oozing with spooks, food, and green slime is perfect for any kid who loves to bust out their proton pack and catch all the ghosts haunting the neighborhood.
Looking to throw the ultimate Ghostbusters birthday party? Here are 16 fun Ghostbusters birthday party ideas to get you going!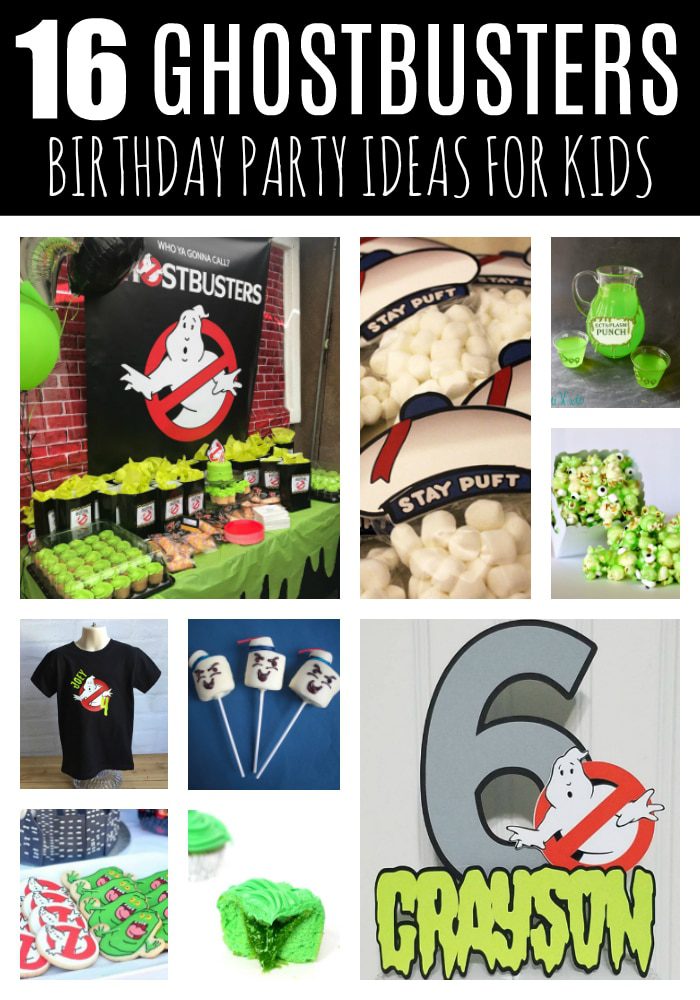 Ghostbusters Party Supplies and Decorations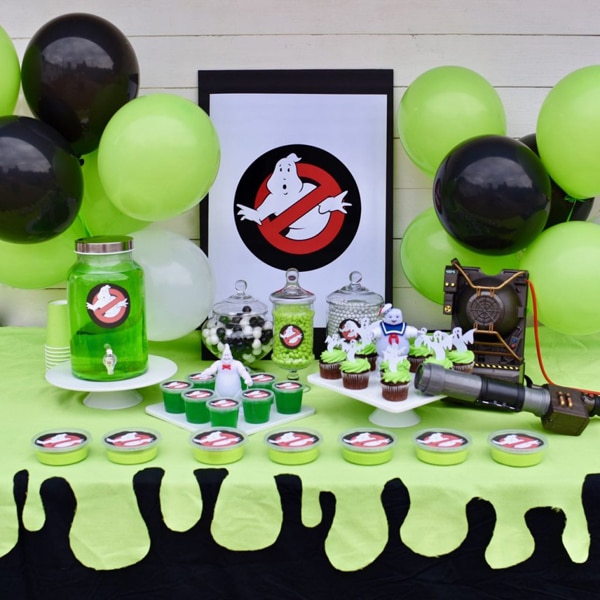 Ghostbusters Birthday Party Idea #1: This green and black Ghostbusters Party Table is just oozing with spooky goodness! From the green ectoplasm punch to the slime tablecloth to the awesome proton pack, this table setup is just filled to the brim with amazing Ghostbusters birthday party ideas!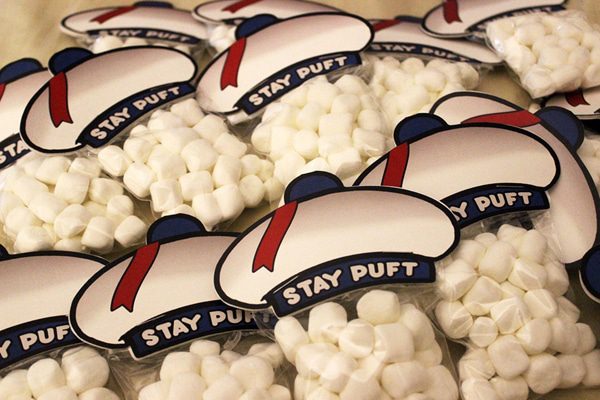 Ghostbusters Birthday Party Idea #2: Who's your favorite Ghostbusters ghost? The Stay Puft Marshmallow Man is definitely one of the most popular ghosts in Ghostbusters, so it's only fitting to have a Marshmallows Party Favor dedicated to this terrifying but oddly cuddly ghost. Some plain white marshmallows in a bag and sealed with the memorable Stay Puft hat is all you need to make these yummy Ghostbusters party favors.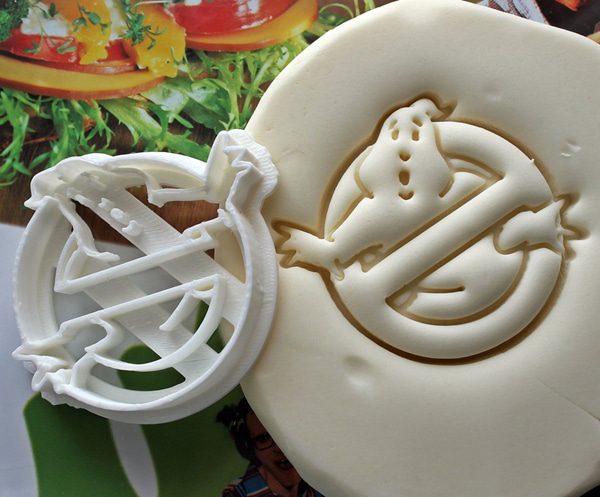 Ghostbusters Birthday Party Idea #3: Want to go the DIY route with some of your party food? You can get this Ghostbusters Cookie Cutter online or a similar one at your local Ghostbusters party supplies store to make some cute cookies featuring the Ghostbusters logo!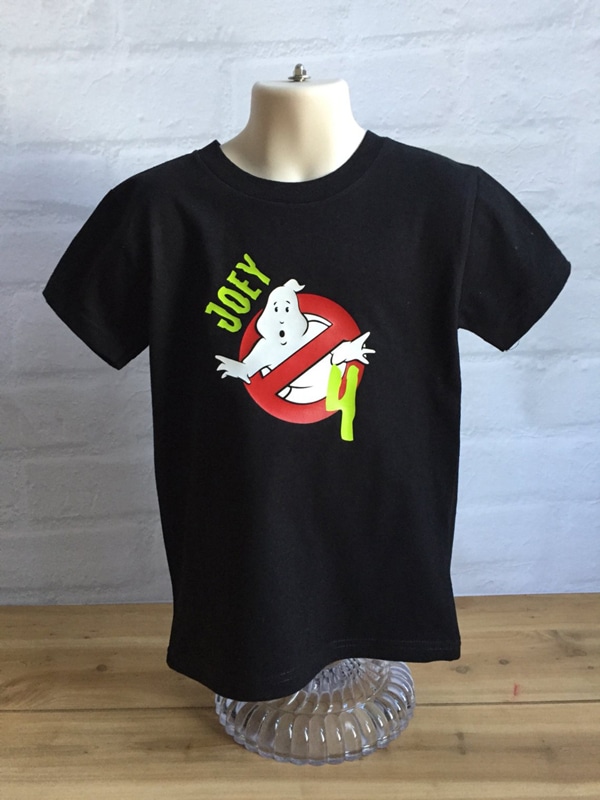 Ghostbusters Birthday Party Idea #4: Let your birthday boy or girl show that they ain't afraid of no ghost with this wicked Ghostbusters Birthday Shirt! If you want to include the entire party in the ghosthunting fun, you can get a bunch of plain black t-shirts and get it custom printed with the ghostbusters logo plus any other customization you want to add. This is great if you're looking for practical party favor ideas!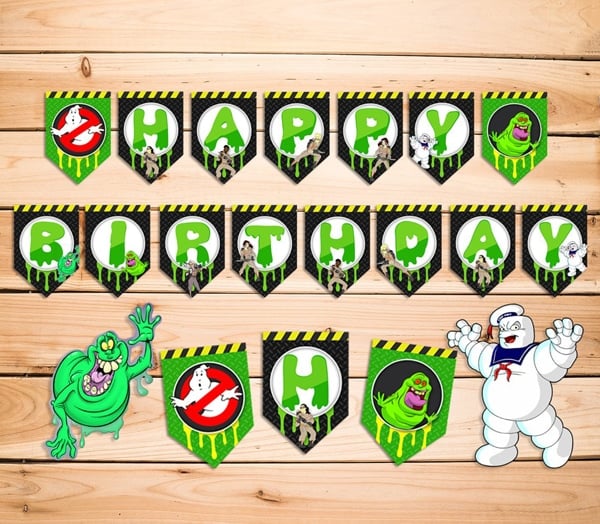 Ghostbusters Birthday Party Idea #5: Check out this awesome Ghostbusters Birthday Banner! It's got all the works including ectoplasm, dripping green slime, the Ghostbusters logo, our favorite Stay Puft Marshmallow Man ghost, and of course, the Ghostbusters team! This is going to look amazing at your Ghostbusters birthday party!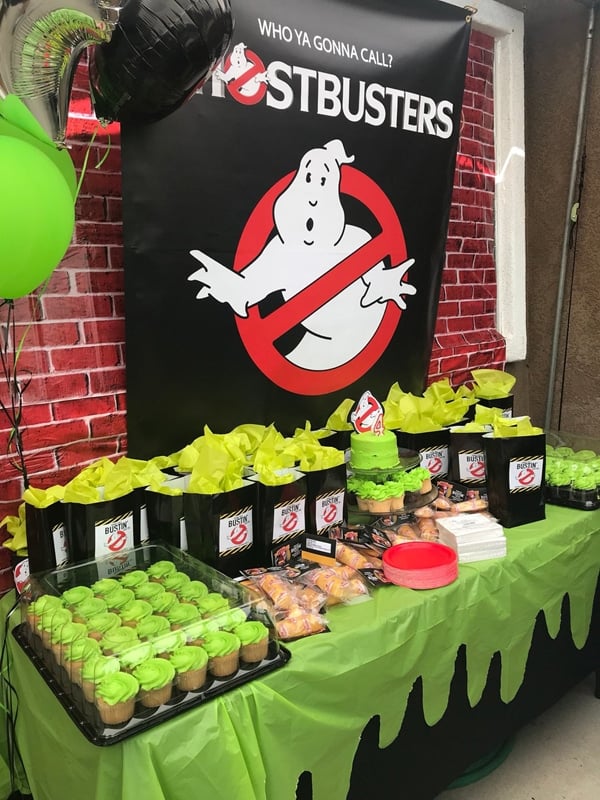 Ghostbusters Birthday Party Idea #6: This Ghostbusters Party Backdrop Sign really stands out! If you want to make your table setup pop, get yourself a giant party backdrop like this one to adorn the walls at your Ghostbusters party too!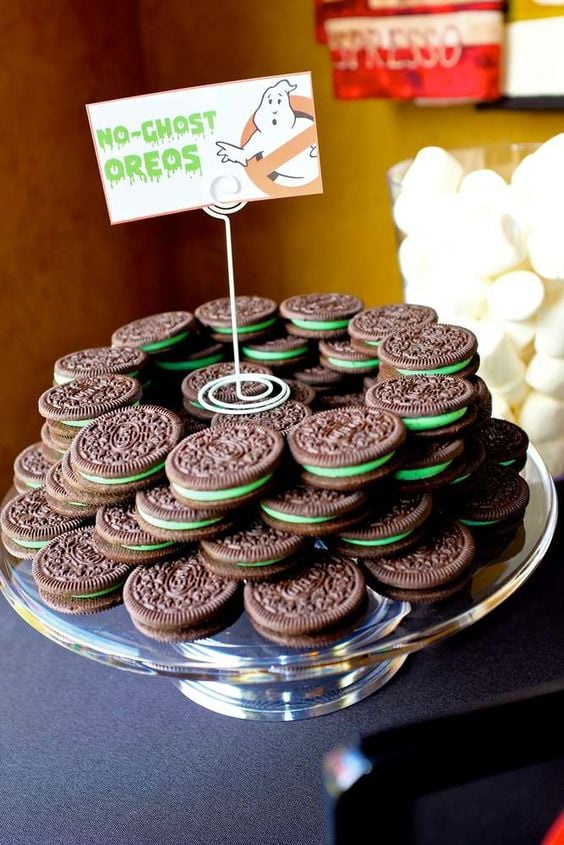 Ghostbusters Birthday Party Idea #7: Your guests are definitely going to marvel at these No Ghost Oreos! Your little guests will be in awe of the weird but yummy green Oreos that you'll probably see them flying off the dessert table!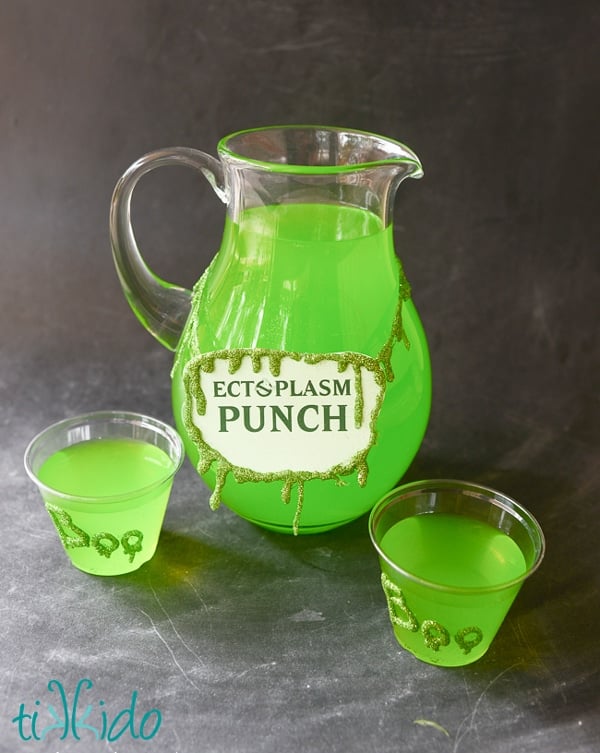 Ghostbusters Birthday Party Idea #8: What else are your party guests going to be drinking but this wickedly cool Ghostbusters Party Punch! What really makes this drink special is the lime green glittery slime decoration! It's an easy DIY project that will look great on a bunch of your other Ghostbusters party decorations too.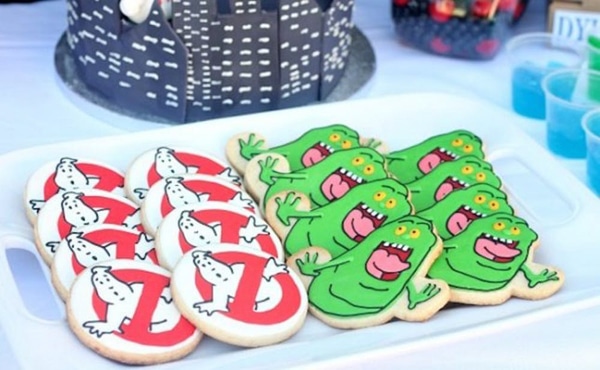 Ghostbusters Birthday Party Idea #9: These Ghostbusters Sugar Cookies look super cute! The detail that went into making these sugar cookies must be immense! If you're up to the challenge, you can even take inspiration from these and make them yourself. The kids are going to love them!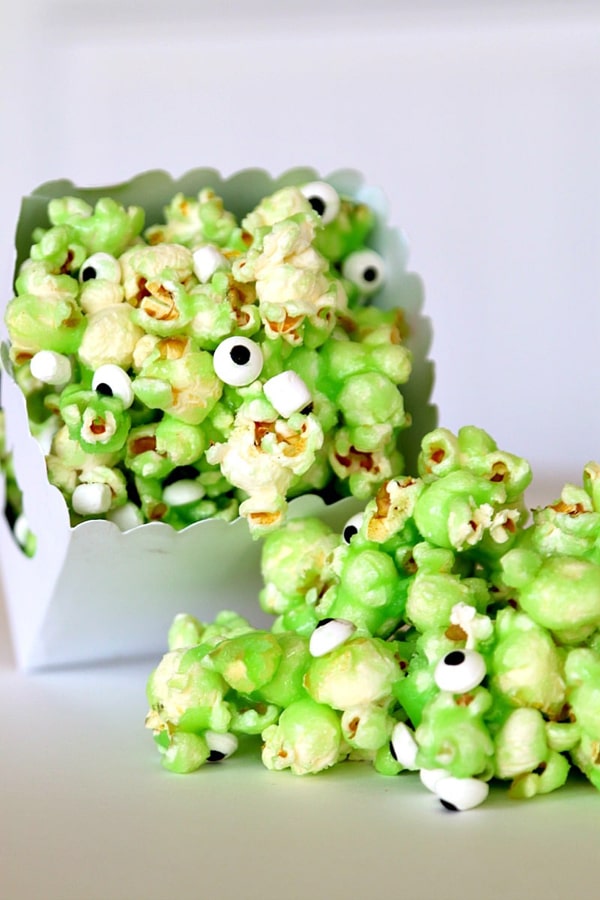 Ghostbusters Birthday Party Idea #10: Now this Monster Slime Popcorn is something that's a lot easier to handle making. To make this gooey slime popcorn with tiny eyeballs, you're going to need some lime jello and eye candy. It's a sweet treat that looks and tastes amazing!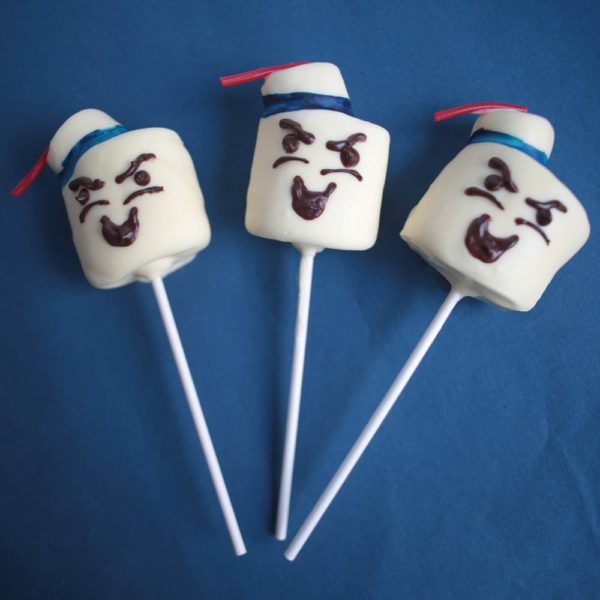 Ghostbusters Birthday Party Idea #11: Show that Stay Puft Marshmallow Man who's boss by letting your guests munch on these Marshmallow Pops! If you want to make these marshmallow pops yourself, you're going to need a bunch of jumbo and regular marshmallows, some white and dark chocolate, twizzlers, and some navy blue cocoa butter.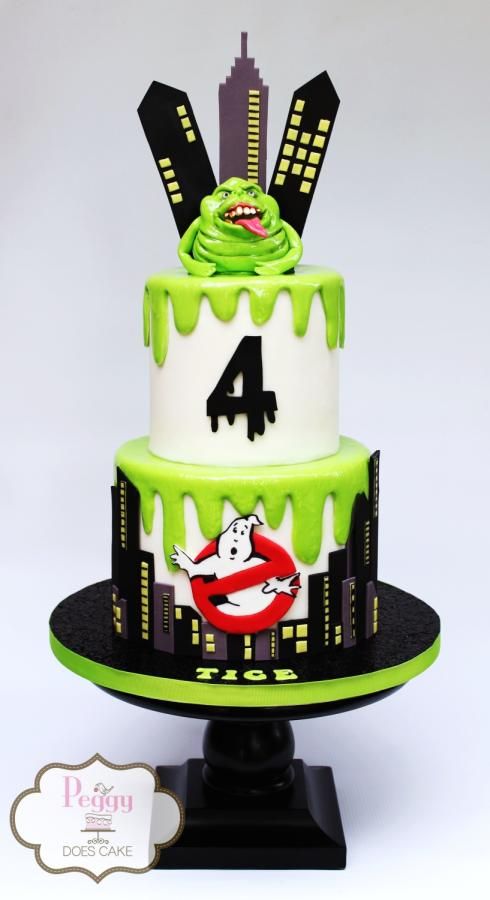 Ghostbusters Birthday Party Idea #12: Wow, this Ghostbusters Birthday Cake is truly something else! From the oozing green slime to the fondant nighttime cityscape to the amazingly detailed ghost cake topper – this wonderful Ghostbusters cake is a true masterpiece! It looks almost too good to eat! If you're looking for the best Ghostbusters cake ideas, you can't go wrong with this one.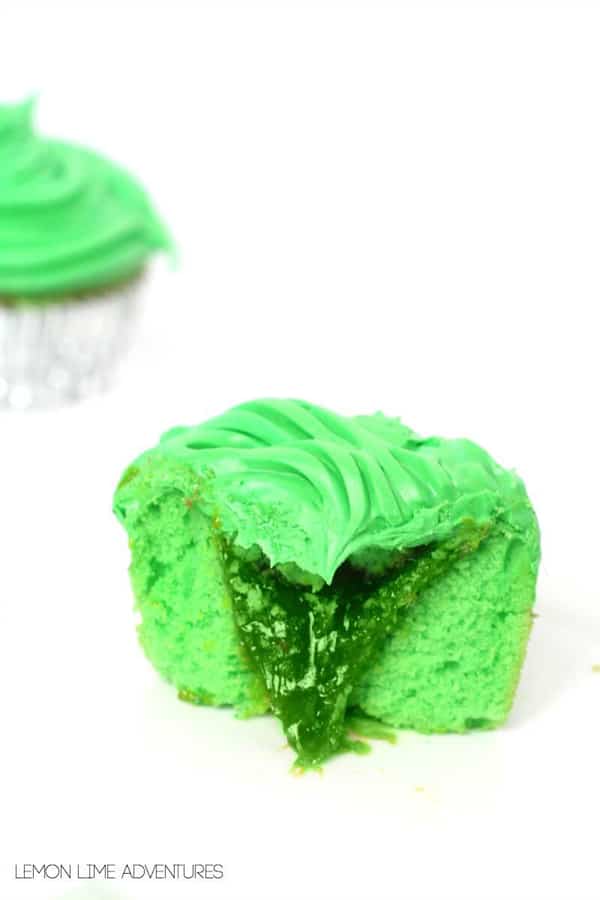 Ghostbusters Birthday Party Idea #13: Sure, cupcakes are nice. But Green Slime Cupcakes are way better! These cupcakes with a gooey, slimy surprise inside are going to be a hit at your Ghostbusters party!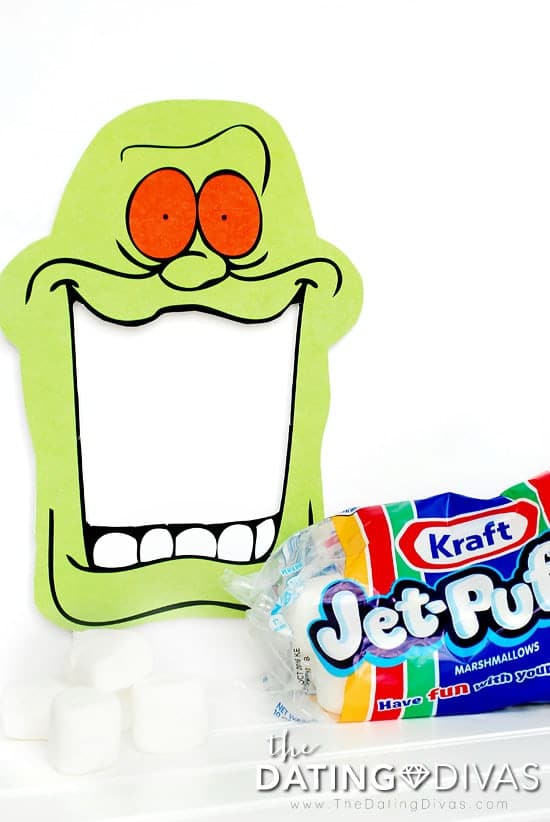 Ghostbusters Birthday Party Idea #14: Looking for cool Ghostbusters birthday party games? How about this Feed Slimer Ghostbusters Party Game? Get the free printable, print it out on some sturdy card stock and have fun throwing marshmallows into Slimer's mouth! The one who shoots the most marshmallows wins!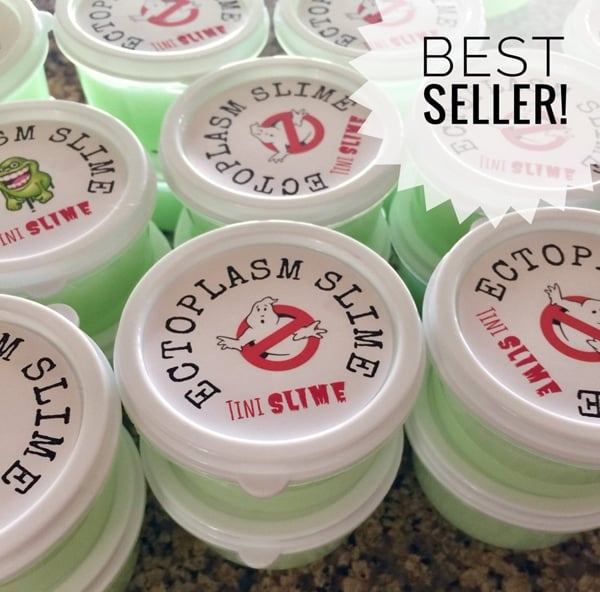 Ghostbusters Birthday Party Idea #15: Kids just love slime! If you want to give them a party favor that they're really going to enjoy, get these Ghostbuster Slime Party Favors! It's slimy, it's green, and it glows in the dark. For added fun, you can even have a slime making session at the party! There are a lot of You Tube tutorials about making your own slime, so you can watch some of them, get the materials and supervise the kids as they have fun making their own ectoplasm slime!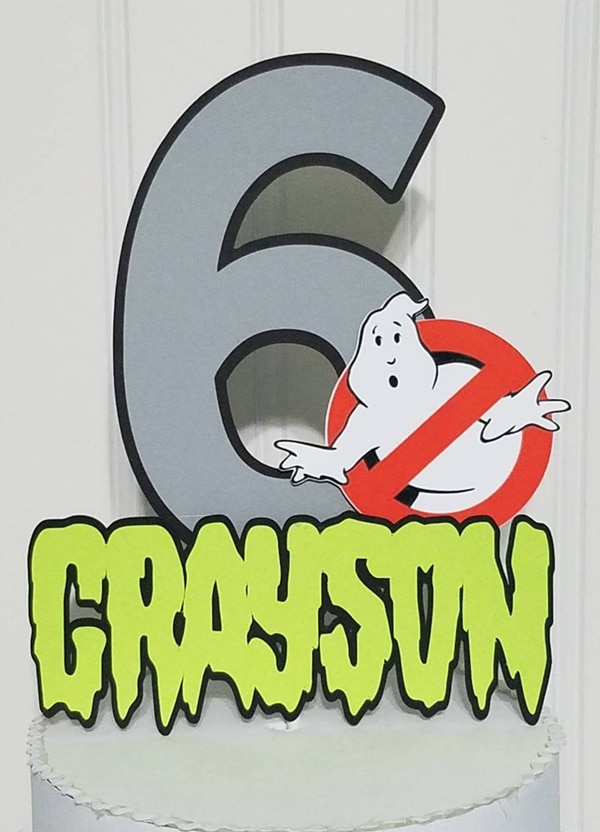 Ghostbusters Birthday Party Idea #16: This giant Ghostbusters Cake Topper is going to look amazing on any cake! If you don't want to have a custom cake made, you can get your favorite cake at the baker or bake your own recipe and add this cake topper for an instant Ghostbusters effect!
Which of these spooky and fun Ghostbusters party ideas are you raring to try out? Share your favorites in the comments section below.
Have you ever hosted a Ghostbusters party yourself? We'd love to see some amazing pics of your Ghostbusters birthday party ideas too!
For more awesome party ideas, follow us on Instagram @prettymyparty and Pinterest and join us in our private Facebook group.