Wild West Themed Engagement
This Wild West Themed Engagement Photoshoot is full of fun!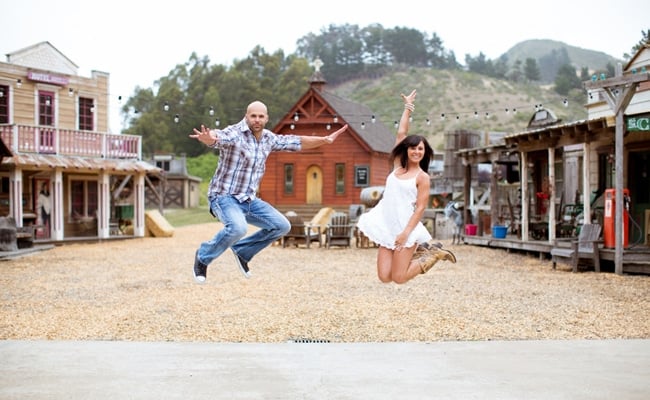 From Mark Williams Photography: "We started out at Long Branch in Half Moon Bay. A great venue for weddings, and on a weekday around 6 p.m., we had the place to ourselves. We went straight to the church to start the session off. Immediately they showed their personality. From there, we went to a grass field. There were a few horses so we didn't stay too long, but were able to get a few amazing shots that just make your heart melt. We did some nice solos of Elisa too!
We walked over to a haystack and envisioned somewhat of a vogue-look, and Elisa nailed it. Chris and Elisa were up for anything. They showed their serious side as well as their fun-loving side. The details caught my attention here. She had on some great boots, which she got for free in Vegas. All she had to do was model them. There was even a jail cell that we couldn't get into, but again, they wanted to play. So we took a couple of photos of Chris getting in trouble.
Chris and Elisa love to dance, with or without music … Elisa especially. They danced for me a bit and we got some great photos and some great action shots. What is an engagement shoot without a great jumping picture, right? Well, they took it to the next level and jumped higher than anyone I know.
Driving around, we found this cute spot with a lot of trees and a grassy area. We thought it would be nice to have a picnic date in the outdoors with nothing but a blanket and some candles. We ended the day at the beach below the abandoned pier in Half Moon Bay."
Credits & Resources
Photography: Mark Williams Photography
Venue: Long Branch