Vintage Train Birthday Party
What little boy isn't absolutely crazy about trains?!?! This little birthday boy spent Christmas absolutely mesmerized by a train that was moving on a track around the Christmas tree, and that is where inspiration hit! Of course, the perfect theme for this little guy was a Vintage Train Birthday Party!
The local train museum near where the family lives was the natural choice for the party venue. What a perfect place to hold the party at!
Mom, who is the owner of A Party Studio, was aiming for a rustic, vintage look for the party to match the location, yet keep it fun and colorful.
Therefore, the color scheme decided upon was grey, yellow and blue. Burlap, lace, and natural twine were also incorporated and the flowers that were displayed inside mason jars were the perfect touch to the party theme! Oooh La La Paperie also provided the gorgeous ruffled crepe paper streamers. Talk about a perfect fit!
All Things Great and Small was on-hand to capture the party in all of its glory! What wonderful pictures that will be cherished with love and fond memories for years to come.
The dessert table featured a chocolate fudge two tier cake and chocolate and vanilla cupcakes with classic buttercream frosting.
Hershey kisses, Hershey nuggets, cookies and cream bars of chocolate and rock candy were also on-hand for guests to enjoy. Some of the candy was displayed in a hand-made wooden train that was found at a local craft fair. What a perfect party find!
Bagels, croissant sandwiches, and fruit skewers were served at the party. At the tables inside the dining cart, bowls of pretzels, popcorn and of course, more candy, were put out for guest to enjoy, as well.
For the party favors, each child got a train engineer cap, which was found at Target. There were also wooden train whistles and personalized sugar cookies by Alaina Ladner for kids to take, as well!
The museum had a miniature train that all the kids enjoyed riding. They all wore their caps and blew their really loud whistles and obviously, had an absolute blast!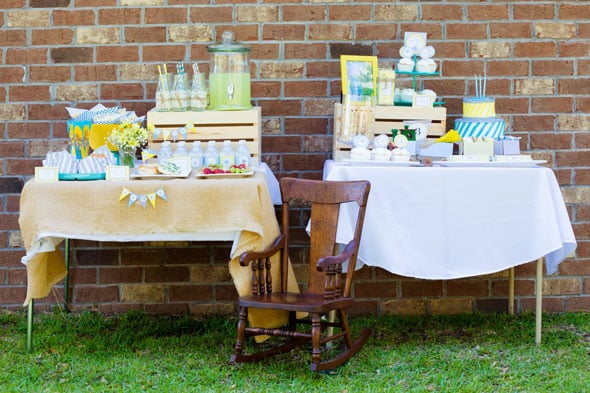 What a perfect birthday celebration for this little boy! How could he not have an absolutely wonderful time and Mom sure did a great job! This one will be remembered for years to come!
Credits & Resources
Shop our favorite Train Party Decor and Gifts:
Sign up for a 30-day free trial of Amazon Prime and get free 2-day shipping on your train birthday party products!