Teenage Mutant Ninja Turtles Birthday Extravaganza
Lots of little boys are mega-active and like to pretend they are superheroes when they are playing! This six-year-old is no different and his Momma was looking to plan a party for him based around some of his favorite superheroes – the Teenage Mutant Ninja Turtles! When it came time to find the inspiration from the brand's packaging graphics, it was easy to see that it would be a fun and bright Teenage Mutant Ninja Turtles Birthday Extravaganza theme!
Kiss with Style, who was onboard for the concept and styling, loved the bright new color scheme, which features a deep hue of purple, along with bright orange. These colors were central to designing the printables and styling the venue. They really made the party come alive!
Alison of Madison Design Studio designed the invitations, matching printables and the fabulous backdrop. Talk about one heck of an action-packed design! How awesome!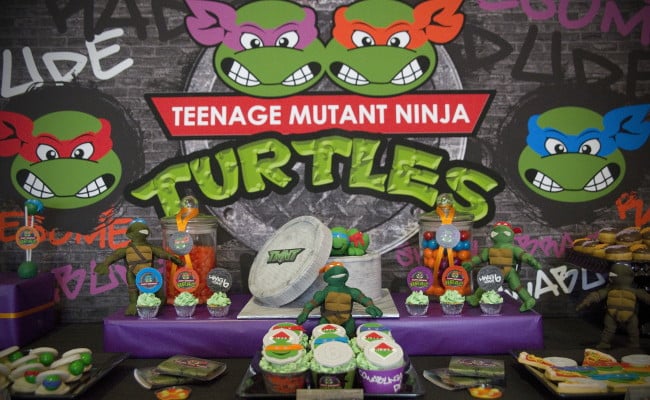 Dessert highlights, which were provided by Cakes & Biscuits by Lisa, included a sewer shaped cake featuring 4 peering turtles, sewer lid macaroons, and an assortment of turtle cookies and cake pops. All of the details really made this party a wonderful event for the birthday boy!
The cookies highlighted the birthday boy's 6th birthday, along with the Turtle's favorite food … PIZZA! All of the decorations on the desserts sure were life-like. The attention to detail that Cakes & Biscuits by Lisa spent on each of these unique dessert options really helped to craft the party into the super event that it was!
Look at those impressive cupcakes! Leonardo, Raphael, Donatello, and Michelangelo were ready to kick some butt and have some big time birthday party fun!
The kids were treated to pizza for lunch, which came presented inside a customized pizza box. How unique!
Each child was able to take home their own customized pizza box filled with candy as a party favor.
Jacqueline Lock Photography provided the awesome photo documentation from the event. Cowabunga, Dude! What an Outrageous afternoon!!!
Credits & Resources
Concept & Styling: Kiss with Style // Printables: Madison Design Studio // Desserts: Cakes & Biscuits by Lisa // Photography: Jacqueline Lock Photography
Looking to plan your own Teenage Mutant Ninja Turtle Birthday Party?! Check out these fun products:
Also, get FREE 2-day shipping on your party products when you sign up for a FREE trial of Amazon Prime.