Teal and Lace Southern Farm Wedding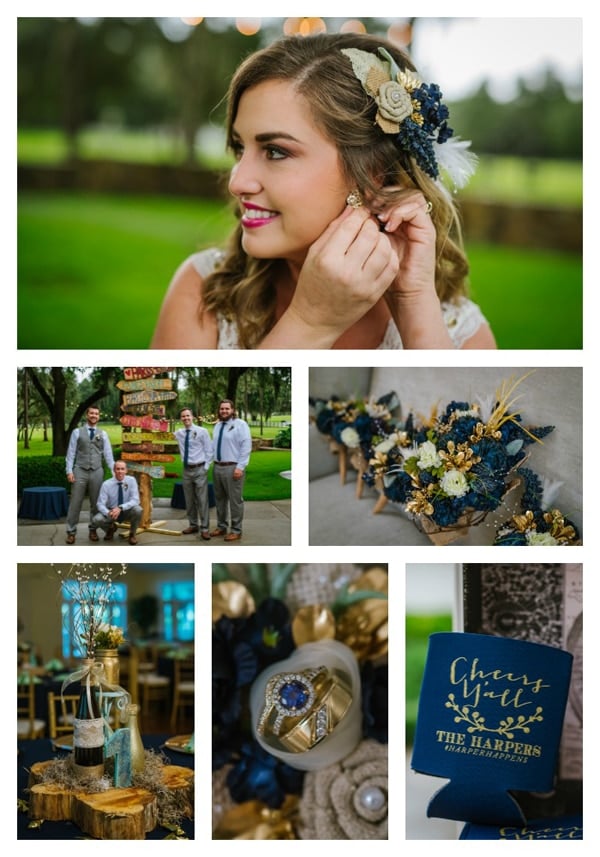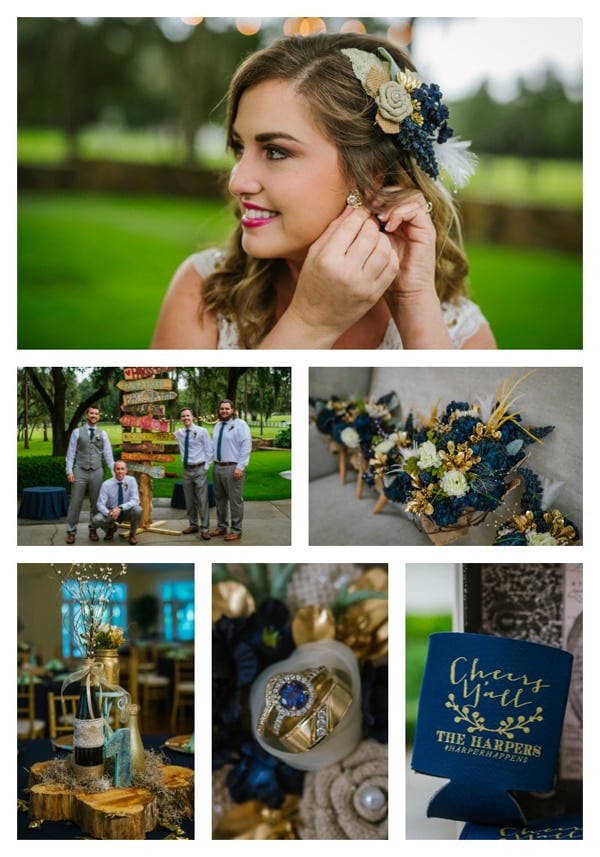 Just imagine for a moment that you met the love of your life, got engaged, and are about to have a big southern wedding celebration with family and friends. That's the love story of this adorable couple who celebrated in style with this gorgeous Teal and Lace Southern Farm Wedding! There's just something about a southern wedding that always puts us over the moon. And this wedding is absolutely no different! A gorgeous venue, family and friends, food, fun and music! What more can a couple ask for on their wedding day?!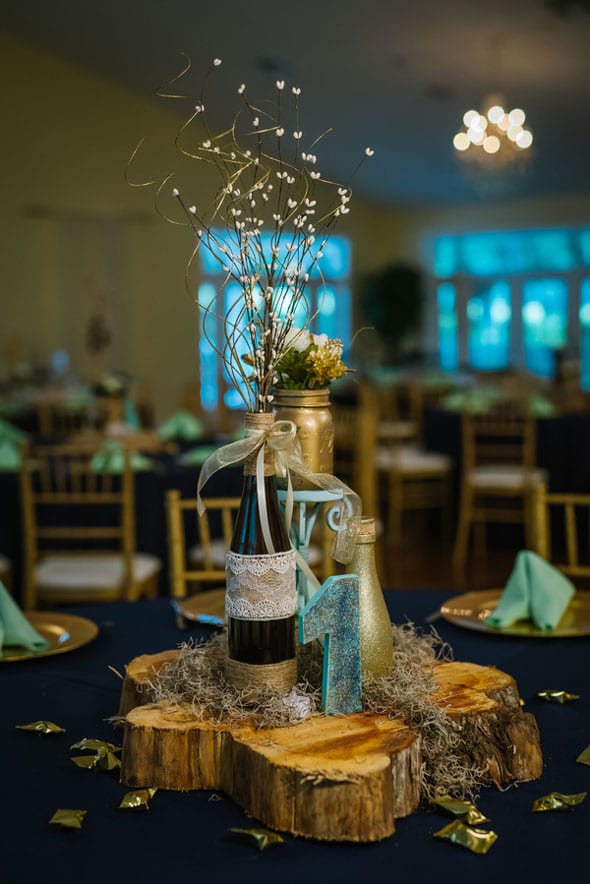 How cute is this rustic table centerpiece idea? We love the simple, yet elegant design with a wooden base that held a painted gold mason jar filled with flowers, a gold glitter vase, and a bottle wrapped with twine and burlap and lace. Blue table numbers completed the centerpiece, which was perfect for this southern affair.
The gorgeous bride in a beautiful lace gown was surrounded by six of her bridesmaids in blue. The color palette for this wedding is quintessential southern charm! Adding in the lace to soften the teal that the bride chose for her main color went together perfectly! What a great color scheme for an outdoor southern wedding.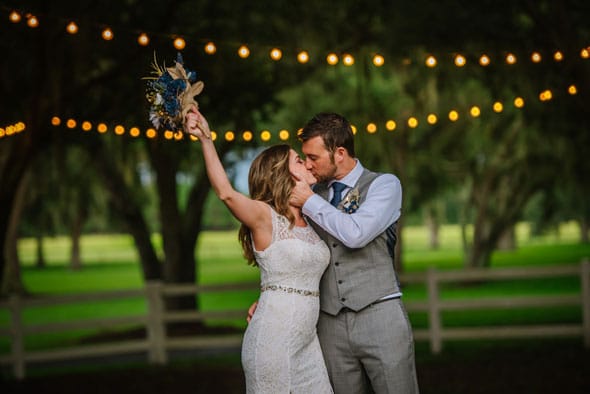 How cute is this couple? When planning their wedding, they decided that The Lange Farm in Florida was that absolutely perfect location for their celebration. The rustic backdrop with the gorgeous barn, along with the land they were able to take pictures in later in the day was absolutely breathtaking.
You would never know that it rained earlier in the day by looking at all of these incredible pictures from their photographer, Ashlee Hamon Photography! What a beautiful day for a wedding celebration!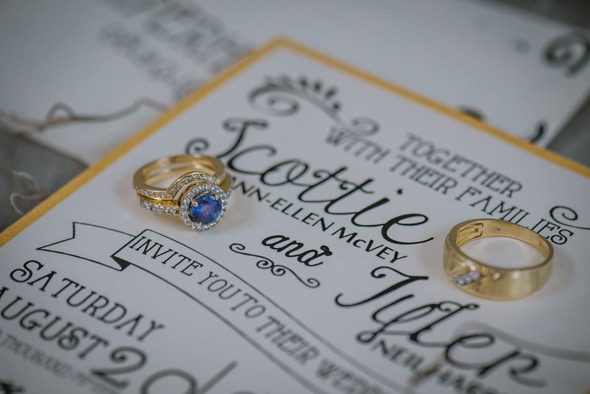 The couple did an amazing job on many DIY projects around the property for their big day. So impressive! From creating their own drink koozies with their wedding information on them for all of their guests to take home, to the beautiful decor they had styled around the venue, they were really involved throughout the whole wedding planning process. It's those little details that make the wedding personal and special.
If you're looking for wedding inspiration incorporating the barn and rustic feel, this is spot-on! The ceremony took place in a barn on the property and it all went off without a hitch. How gorgeous! The rustic doors as the ceremony backdrop was a great added touch.
The ring! What's there to say about a ring that screams timeless and elegant! The blue sapphire ring surrounded by diamonds is absolutely stunning! What a lucky girl!
We just love the details that surrounded this southern countryside farm wedding. The burlap made the perfect accent for styling the wedding and those flowers? Breathtaking! Not to mention, the color scheme went perfectly with the bride's incredible wedding ring! How unique!
We love seeing the great photos of these handsome groomsmen. How fun and they clearly were having a good time, which is exactly what a southern wedding is all about! And what a great moment to capture when the groom opened his gift from his lovely bride. These are priceless memories that this couple will cherish for a lifetime!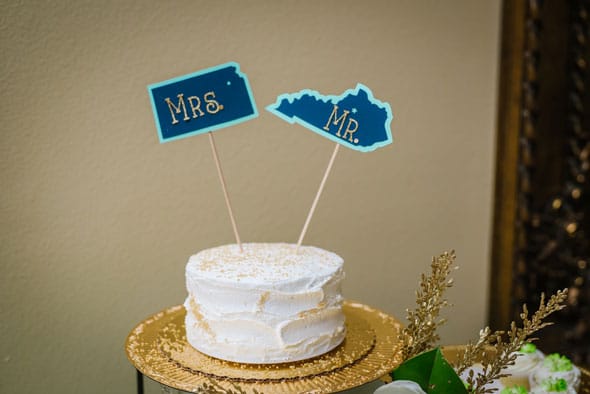 Both the bride and groom are originally from different states, so the state cake toppers where a great way to pay tribute to the places that have meant so much to them in their lives!
More DIY creations that we absolutely loved? These great chalkboard signs that all of the bridesmaids carried to show how they knew the bride. What a great way to commemorate a lifetime of family and friendships that were so special to the bride on her big day! We think this is definitely a Pinterest-worthy wedding DIY! And look at that beautiful bridal party! We love the fun images the photographer was able to capture on the beautiful farm with the lights hanging above.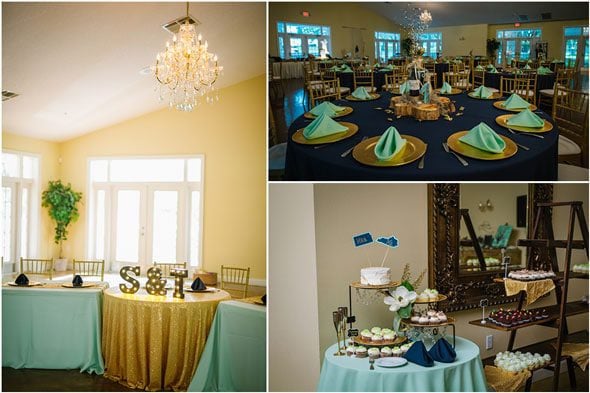 It doesn't get much more beautiful than how they were able to decorate the southern farm for their reception! Different shades of blue, along with lace, adorned many areas of the decor.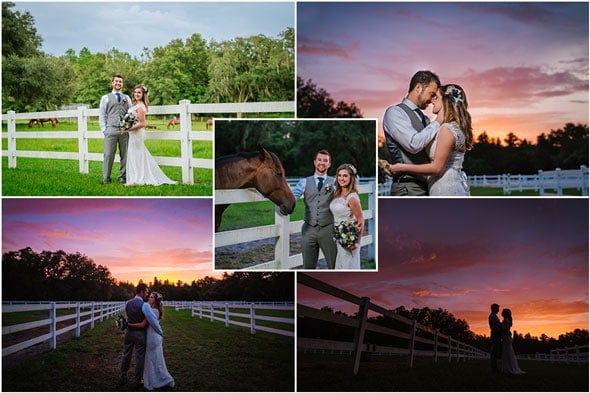 These pictures right here are why they decided on their southern farm wedding. How could you get wedding pictures any more beautiful than this?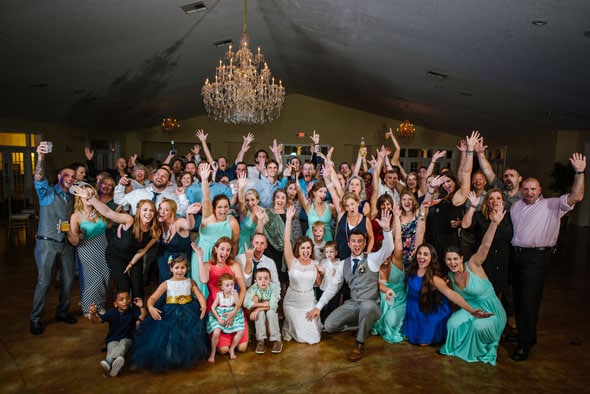 Finally, we love this new tradition of making sure there is a photograph of all of the guests that celebrate with the bride and groom for their big day. What a wonderful reminder for the couple to cherish for decades to come! It's always so nice to look back and see who was able to celebrate with you for your big day. Overall, this Teal and Lace Southern Farm Wedding definitely didn't disappoint and after seeing these gorgeous pictures, it makes us want to flock to this venue to have a wedding just like it! Gorgeous!
Vendors & Credits
Venue: The Lange Farm // Photographer: Ashlee Hamon Photography
What's your favorite detail of this southern farm wedding? Let us know in the comments below!
Plan the perfect rustic wedding with these products: