Tangled Themed Birthday Party
Looking for party ideas for your Rapunzel fan? Check out the fun Tangled Party Ideas in this event!
This pretty Tangled Themed Birthday Party from MOMO Party of Sri Lanka features a white dessert cart styled beautifully with flowers and a balloon garland in light purple and yellow colors to match the party theme.
Who doesn't love Disney's animation of this classic tale?! Beautiful princess Rapunzel has been locked away in a tower since she was captured as a baby by an old hag. Her magical long blonde hair has the power to provide eternal youth, and the evil Gothel uses this power to keep her young. At the age of 18, Rapunzel becomes curious about the outside world, and when a prince uses her tower as a refuge, she asks him to help her escape.
What really stands out in this Tangled Birthday Party are the No. 1 balloon mosaic, Tangled standee decorations, and the amazing birthday cake, mini cakes, cookies, and cupcakes. This Tangled party is something little girls dream about. What a great way to celebrate turning another year older with a purple and yellow Rapunzel party!
Tangled Party Ideas
Light purple and yellow color palette
White dessert cart pulled by large horse standee decorations
Large Rapunzel standee decoration
Floral decor which matches color palette
Light purple and yellow balloon garland around dessert cart
Large No. 1 balloon mosaic decoration
Awesome Tangled birthday cake
Amazing Tangled themed birthday desserts, including mini cakes, cupcakes and cookies
Tangled favor bags
Purple, yellow and gold dessert stands and pedestals
Matching printable party banner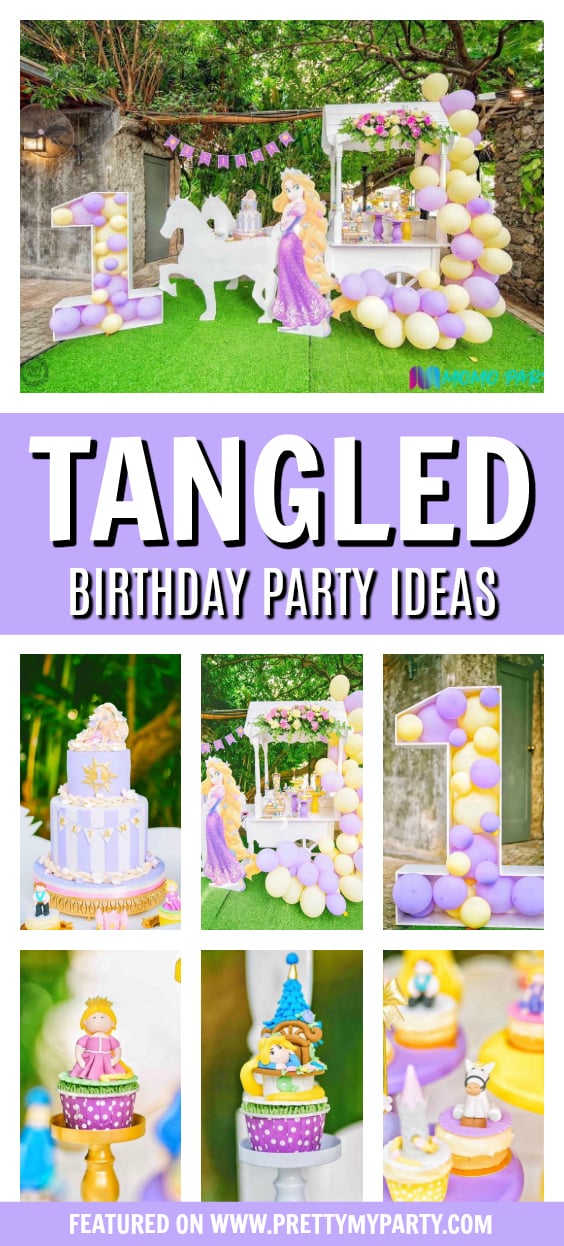 Tangled Party Supplies and Decorations:
whether you're having a small celebration at home in the backyard or a big event, these Tangled Birthday Party Ideas are the perfect inspiration!
What's your favorite party ideas in this Tangled Themed Birthday Party? Let us know in the comments below!
For more 1st birthday party ideas, follow us on Instagram @prettymyparty and Pinterest and join us in our private Facebook group.
Party Vendors
Party Styling: MOMO Party