Stylish Graduation Invitation Ideas
This feature is sponsored by Basic Invite. As always, all opinions are my own.


Graduation is a huge milestone and something that should not only be announced, but celebrated with family and friends. If you're looking for Stylish Graduation Invitation Ideas, then Basic Invite has you covered. There's something to fit everyone's style and personality with tons of templates to choose from and more than 150 different colors! Grads can also customize the color of their text, background, and photos. Want to see what your card or invite will look like? No problem! At Basic Invite, you are able to see instant previews! So whether you're looking for invitations, announcements or thank you cards, you can get everything you need for graduation at Basic Invite. Plus, get 15% off sitewide with code 15FF51 .
Here's why Basic Invite is the preferred choice for graduation announcements and invitations:
Almost Unlimited Colors: Basic Invite is one of the few websites that allows customers almost unlimited color options with instant previews online. Once you select a design you can change the color of each element on the card to over 180 different color options so you can make sure the card is exactly how you want it down to the littlest detail. This is what sets them apart from almost any other online stationery company.
Custom Samples: Basic Invite is one of the few websites that allows customers the ability to order a printed sample of their actual invitation so they can see exactly how it will print as well as the paper quality before they ever have to place their final order.
Over 40 Different Colors of Envelopes: Basic Invite is just as colorful with their envelopes as they are with their invitations. Customers can choose from over 40 different colors when it comes to their envelopes so that they can make their invitation stand out even before it is opened. All of their envelopes are peel and seal so the envelopes can be quickly and securely closed.
Free Address Collection Service: Use their free address collection service to request your addresses with just three simple steps. Share a link, collect addresses, and get free envelope printing.
Your personalized graduation announcements and invitations are printed on your choice of high quality 110-pound matte, semi-gloss, or shimmer card stock.
Need help customizing your order? No worries, Basic Invite has invitation specialists available by phone, email, and live chat to help you create a truly unique graduation announcement.
Whether you're receiving your high school diploma or your doctorate degree, you can customize your announcements and invitations to fit your specific need. Create a stylish high school graduation announcement by adding your school information, graduation date, and even your school colors. And don't forget about your envelope! You can even choose your school colors for your envelope!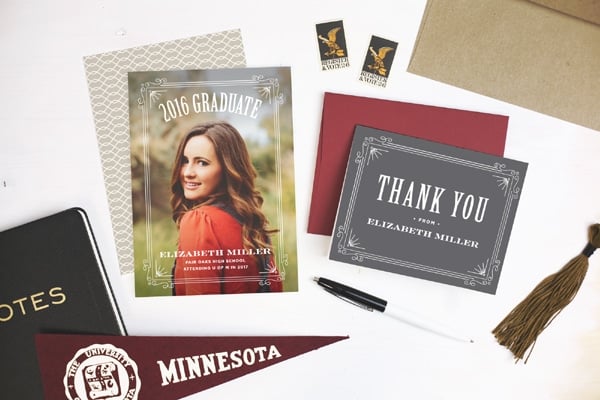 Graduating from college? No problem! The text on any of the cards can be changed to fit your college as well as your degree.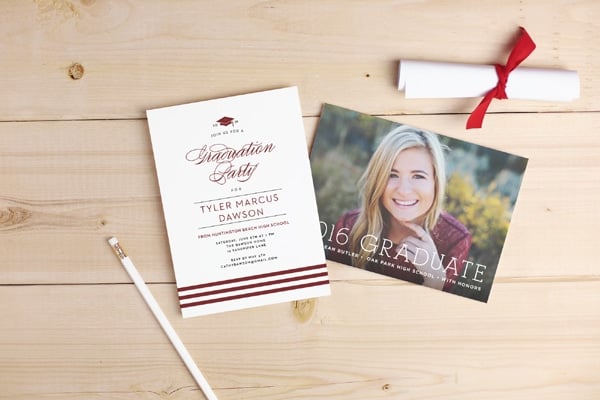 Graduation invitations are also available. They are slightly different that a graduation announcement. Your custom invitation will be used to invite friends and family to attend your graduation ceremony. You will need to include all of the appropriate information such as the date, time, and address.
And if you're having a big graduation party to celebrate, you can get matching party invitations, so all of your graduation stationery looks cohesive. Or you can go with a different look and choose from hundreds of designs!
Get information on all of the latest styles and promotions at Basic Invite by following them on Facebook // Pinterest // Instagram // Twitter
See more High School Graduation Announcements.
Do you have a favorite graduation template? Let us know in the comment below!