How to start a lifestyle blog
How to start a lifestyle blog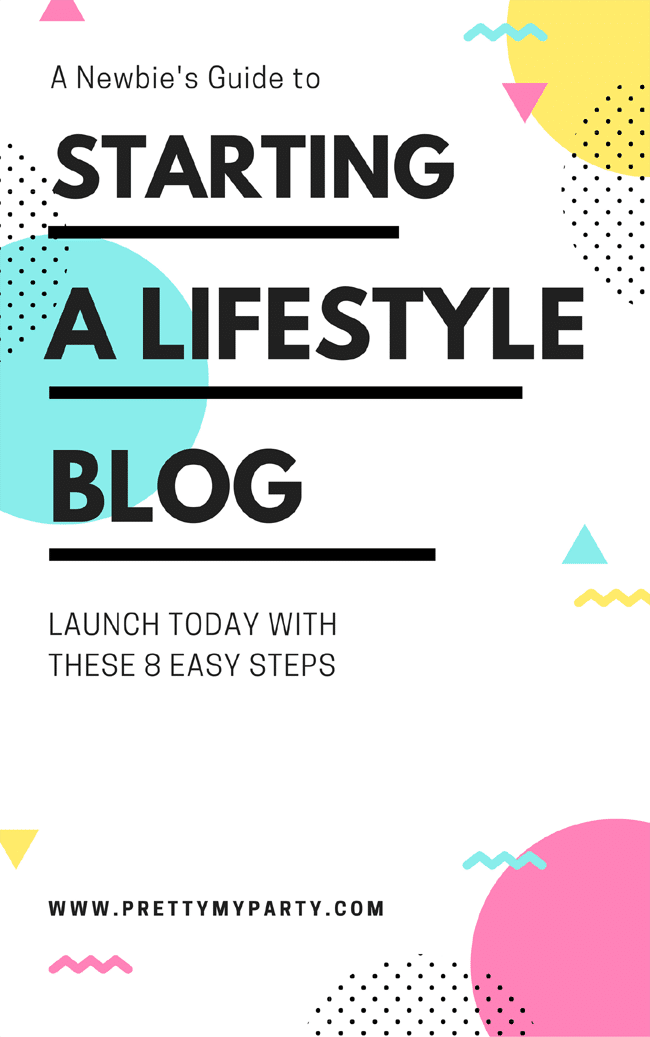 [convertkit form=4839411]
Do you love visiting your favorite bloggers for fashion advice, party inspiration, new recipe ideas, or getting that perfect farmhouse look for your home? Have you often wondered how they started their lifestyle blogs? Have you ever thought to yourself, "This (blogging) is something I would love to do!" If you answered yes to all of these questions and want to know how to start a lifestyle blog, then you're in the right place! Starting your own lifestyle blog can be overwhelming, especially if you're not "techie". I'm here to guide you step-by-step on how to start a lifestyle blog today! Are you ready?
There are a few simple steps you will need to complete to start your lifestyle blog.
Choose your niche
Choose a blog name
Choose your blogging platform
Choose a domain name – which will be the same thing as your blog name
Choose a hosting provider
Configure your blog (Set up Wordpress)
Design your blog
Start creating amazing content
Step 1: Choose a niche
Choosing a niche is probably one of the most important things you will do when starting a lifestyle blog. My #1 piece of advice is choose a niche you are passionate and knowledgeable about. If you don't choose a niche you are passionate about, you will quickly lose interest and your blog will go nowhere. You want to choose a niche that you will LOVE writing about.
There are many lifestyle blogs out there including:
Weddings
Parties and Entertaining
Food
DIY
Fashion
Travel
Frugal Living
Parenting
If you're passionate about baking, your niche might be desserts. Find your passion or hobby and blog about that.
Step 2: Choose a blog name
Once you have your niche, decide on a catchy blog name that tells your reader what your blog is all about. For example, my blog is about parties and entertaining, so when I came up with Pretty My Party I knew that name would tell my readers what my blog was all about.
Some tips for blog names:
Check out available domain names. (Many times your favorite blog names will have already been taken.)
Make your name short and catchy
Be unique
Don't make your name confusing
Don't make your name hard to spell
Consider your competition. (What names are other successful bloggers in your niche using?)
Ask for other's opinion
Step 3: Choose your blog platform
A blogging platform is a service you use to publish your content on the internet. Wordpress is the most popular platform for bloggers and is the one I use and highly recommend.
Here are some reason why Wordpress is every blogger's favorite platform.
It's free
It's easy to set up
It comes with all of the tools you need to build any website, blog, e-commerce site, etc.
It's user-friendly
It has amazing support from its community of users
A self-hosted Wordpress blog is where you have complete control and host your blog on your own server.
Step 4: Choose a domain name
Set up and register your domain name. I recommend a .com name. You can set up your domain name at BlueHost. BlueHost is great for new bloggers because they are affordable and make it easy for you to install the Wordpress platform.
Step 5: Pick a hosting provider
Choosing a hosting provider is very important. You want to choose a hosting company with great customer service. I also recommend BlueHost as a hosting provider for new bloggers. It's best to register your domain name and host your blog with the same company when you're first starting out. Hosting packages start at only $3.95 per month! They have great 24/7 customer service and they are the #1 recommended hosting by Wordpress.org.
Step 6: Set up Wordpress
Once you're a BlueHost customer, you will be able to set up Wordpress with one easy click!
Step 7: Design your blog
The first step to designing your blog is to purchase the Genesis Framework. The Genesis Framework is popular among bloggers and business owners because it provides secure and SEO-optimized foundation for your Wordpress site. Once you have the Genesis Framework in place, you will shop for a theme through Studio Press. If you're looking to take your blog seriously from the beginning, I highly recommend getting a professional looking theme through Studio Press. Studio Press has the best themes for any niche and there are tons to choose from. They are also extremely popular among lifestyle bloggers. Just check out the Foodie Pro theme for food bloggers. How gorgeous and professional looking is that?!
Step 8: Start creating amazing content
Creating amazing content with beautiful photos is one way to set yourself apart in the blogging world. I recommend you start with at least 10-20 blog posts to really hit the ground running!
I'm so excited to see which lifestyle blog you create! Do you have any questions on how to start a lifestyle blog? Ask questions and get support from fellow bloggers by joining the Blogging Insiders Facebook Group and like the Blogging Insiders Facebook page.
Ps. If you found this post helpful, I'd love it if you would pin the photo above to Pinterest. Just click on the Pin It button on the photo. Thank you!