Spooky and Elegant Forrest Halloween Party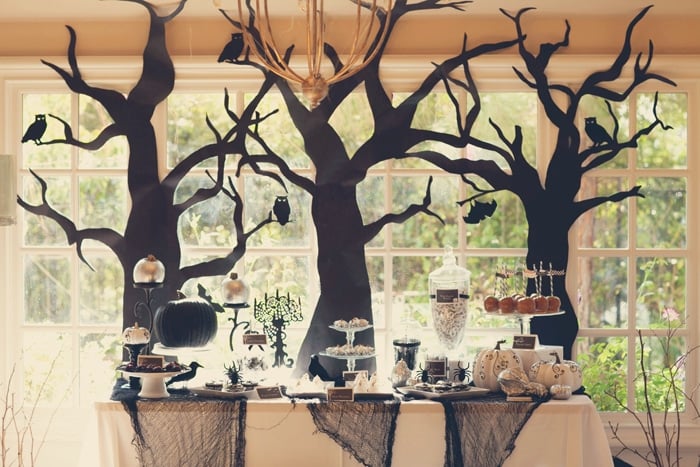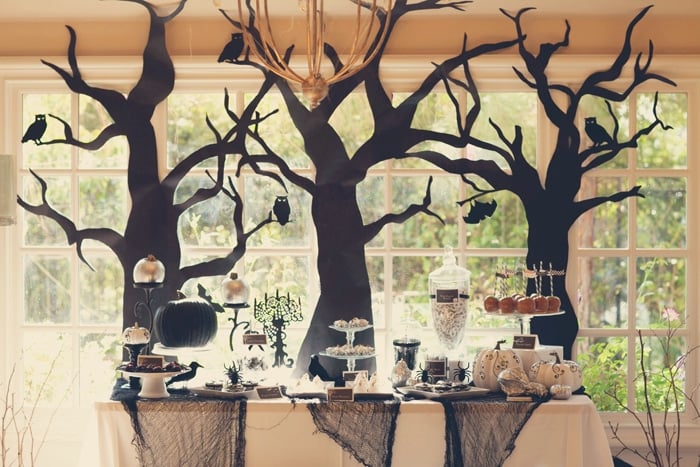 From Smash Cake, formerly Marigold Events: For this Spooky and Elegant Forrest Halloween Party, I partnered with my friend, Monika of Hello Brielle. Our main inspiration came from a black and white "Trick or Treat" banner made by Cardboard Sheek. And after seeing an elegant black and silver tablescape online, we decided to go elegant as well. Eventually, we ended up with a spooky-forresty-elegant-black and white Halloween party!
Decor: Almost all our decorations came from the Dollar Tree, our own personal items at home, were borrowed from friends, or were DIY projects made by us. Below are details on some of my favorites:
Gnarled Tree Backdrop: This really set the tone for our whole event, and I LOVE THEM. They were incredibly visually striking and super cheap! I went to a local teaching supply store and bought black kraft paper by the foot. I think it cost a total of about $10 for all the trees. I then dropped my roll of paper off to my extremely talented friend, Sara, who drew and cut out the trees for us. We taped owl and bat silhouettes from the Dollar Tree to the trees to add even more spookiness!
Cardboard Sheek Banners: As I stated above, our inspiration came from Cardboard Sheek's amazing inventory. Her "Trick or Treat" and "Happy Halloween" banners were the perfect addition to our Halloween party.
Paper Lanterns: I found a free download for some adorable paper lanterns when HWTM featured Paper and Cake's tutorial, and knew I had to use them at our party. The finished lantern is strong enough to hold an LED tea light.
Spray Painted Pumpkins: Inspired by Pinterest, Monika spray painted her pumpkins, and they turned out awesome! The big black pumpkin is very striking, but there's something even more amazing about the silver knotty gourd. I contributed to the pumpkin decor by making white and black jeweled pumpkins with fake pumpkins, spray paint and jeweled stickers.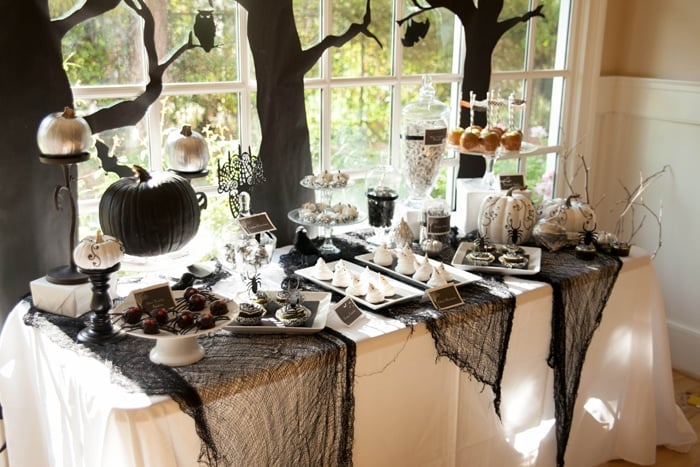 Dessert Table: We tried to keep the desserts we served simple to prepare, yet tasty and visually striking. We had a number of options, but in the end, settled on the following: Spider Oreo Truffles, Meringue Ghosts, Creepy Cupcakes, White Pumpkin Truffles (I used Erin's Food Files' recipe, then stuck a pretzel stick in the top for a stem) and Caramel Apples. Candies: Black Licorice, Candy Sticks, Lindor Chocolates, and Yogurt Pretzels. Popcorn Bar: Monika's husband was our popcorn man and came up with some awesome flavors: Dill Pickle, BBQ, Mexican Chocolate, Butter (for the timid and unadventursome). Popcorn was served in black cauldrons from the Dollar Tree.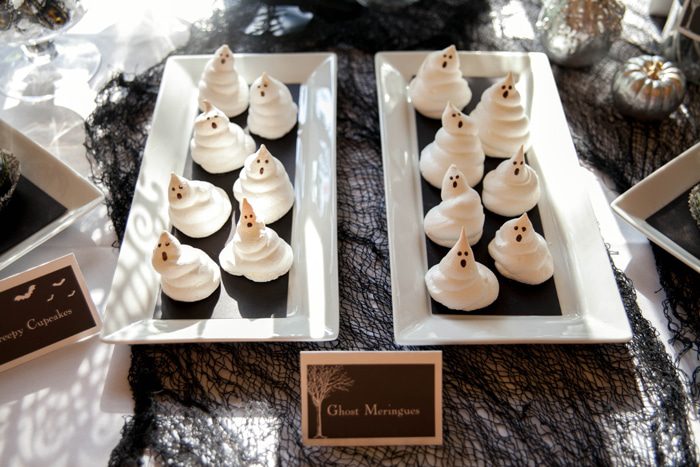 Food: Since we had 50+ people in attendance, we decided that dinner would be potluck. A few guests were asked to bring soups, as well as veggies & dip, bread. We provided all the "fixings" for the soups, as well as kid food and desserts.
Kid Food: We thought it would be fun to make cute Halloween themed food for the kids and came up with the following: Mummified Hot Dogs (hot dogs wrapped in crescent rolls), Apple-Marshmallow Mouths (sliced apple, spread with peanut butter and lined with marshmallows), Mozzarella "Ghosts" and Ghosts Poop (aka Pirate's Booty).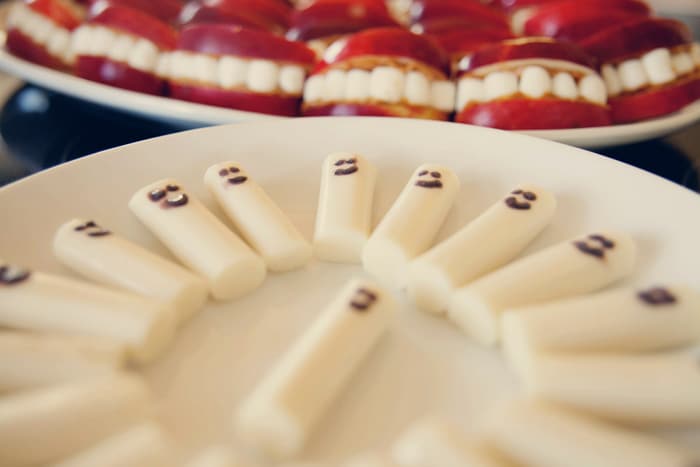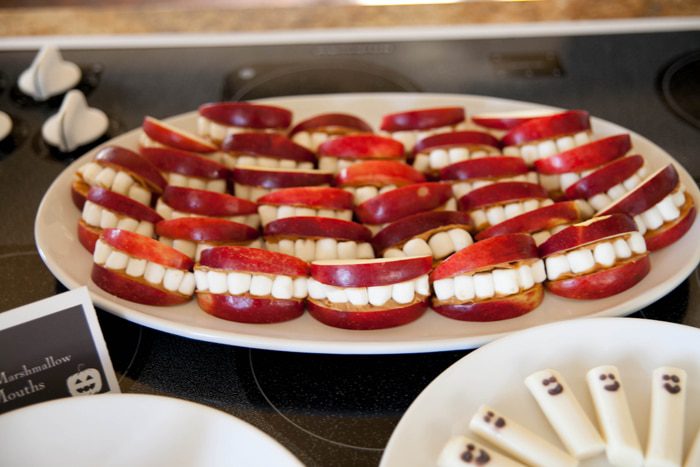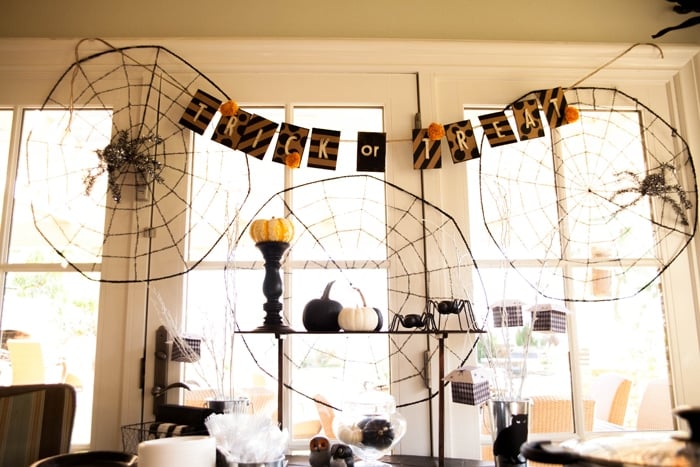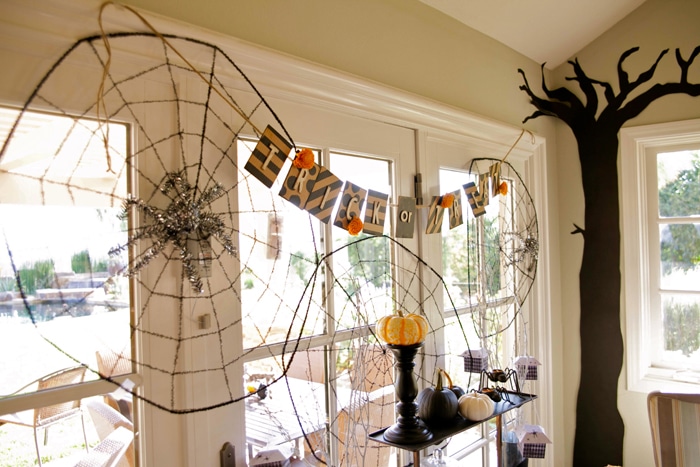 Activities: We planned a number of activities to keep everyone, both kids and adults, entertained throughout the evening.
Costume Contest: For our first activity, all costumed individuals lined up and walked a "runway" for our judges. Prizes were given out to the Best Overall, Scariest, and Funniest.
Donuts on a String: To play, simply hang donuts from strings; each contestant must stand in front of their donut with their hands behind their back and attempt to eat their donut the fastest. The first to finish is the winner.
Spooky Ghost Bowling: Inexpensive, easy, and cute idea – just buy the cheapest package of TP you can find and tape circles of black paper onto them. We used a cooking pumpkin as our ball.
Apple Bobbing: You really can't have any type of fall event without apple bobbing. I don't think anyone actually bobbed for apples – except for the babies who grabbed, took a bite and tossed back in. But maybe that's why.
Pumpkin Painting: Tons easier for kids than carving and much faster.
Photography: Emily Magers Photography
Trick or Treat & Happy Halloween Banners: Cardboard Sheek
Invitation, Posters & Printables: Hello Brielle
Burlap Halloween Banner Tutorial: http://hellobrielle.wordpress.com/2012/10/04/halloween-banner/
Lantern Printable: paper & cake
Pumpkin Truffle Recipe: Erin's Food Files
Event Planning and Spider Truffles: Smash Cake, formerly Marigold Events
Throw the ultimate haunted house or Halloween party with these products:
Sign up for a FREE 30 day trial of Amazon Prime and get FREE 2-day shipping on your party and Halloween products!
Follow Cristy Mishkula @ Pretty My Party's board Halloween on Pinterest.