5 Tips To Save Your Morning Sanity
A Working Mom's Morning Madness: 5 Tips To Save Your Morning Sanity
The alarm sounds. It's 5:30 a.m. It's time to wake from my comatosed state to start a new day. But not just yet! I hit the snooze – just 5 more minutes I tell myself. Then my head hits the pillow and I'm off to dream land. Does this sound familiar? After hitting the snooze for just "5 more minutes" about 5 more times, I look at the clock and make a mad dash out of bed straight to the coffee machine before hitting the shower and waking my "oh so chipper" 5-year-old.
Mornings in our house can get pretty hectic. Being a working mother is no easy task. Thank goodness for Dixie® To Go cups! Their convenient cups are always with me while I'm on-the-go. Dixie® To Go cups allows me to enjoy my morning coffee with no worries. It's leak-resistant lid and insulated layers allows me to run around the house in the morning, while still being able to fuel my mad rush in the mornings!
But my mad rush in the mornings has gotten pretty old, so I've pledged to myself that I'm going to turn my crazy mornings into more organized, "let's get out of the house on time" kind of mornings! So to avoid the morning madness, here are 5 tips to save your morning sanity.
Prepare the night before. Iron clothes, bathe kids, make lunches, sign homework, etc. are all things you can do the night before to avoid the morning madness. It's also helpful to make sure your car is fueled up and the kid's clothes, shoes, coats, hats, etc. are all in one place. This way, you're not looking for lost shoes and missing hats in the morning, which can make you late.
Stop hitting the snooze button! I know, I know. I really have to get better at this one! It also helps to set your clock ahead a little, so you can get to work and school on time.
Set your coffee pot's timer and take your coffee to go with Dixie® To Go cups! I'm mean, what's morning without coffee, right?!
Set a strict bed time for the kids and yourself. It's important to establish routines and stick to them. I'm definitely guilty of staying up late to do some work or watch one of my favorite shows.
Play some music to get you going. I find that music in the mornings are great for motivation, and sort of therapeutic.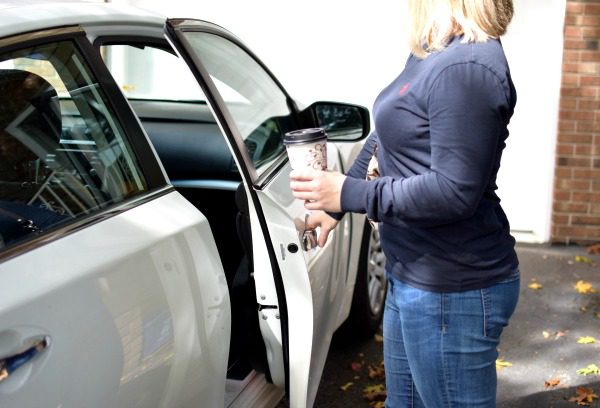 I bet you're saying, "I do all of these things, but I'm still running late because my kids have no sense of time." Oh, do I know this all too well! I put my son in bed at 7:30 p.m. only to find him 2 hours later talking to his stuffed animals and singing "The Wheels on the Bus!" I guess that's payback for giving my mom a hard time in the mornings growing up!
Trust me, the more a routine and early bedtime is established, the better your mornings will be. Once they get used to the new changes and you've got these 5 tips to save your morning sanity down, you can relax with your Dixie® To Go cup full of hot, delicious coffee.
Dixie® To Go cups are my morning coffee must-have because there's no effort, no clean up, no worries. Now there's more time to focus on things that matter.
I was selected for this paid opportunity as a member of CLEVER and the content and opinions expressed here are all my own.