Rustic Chic Kids Christmas Party
This Merry and Bright Rustic Chic Kids Christmas Party will make the holiday season extra special for the little ones!
What a gorgeous Rustic Chic Kids Christmas Party! The Rusty Chic Décor Etsy store went all out with amazing inspiration, as well as incredible DIY's for the perfect holiday celebration.
The holiday season is so special for kids, but what do you think of when you work to make it extra special for the little ones in your life? Rusty Chic Décor envisioned bright, joyful moments with lots of sugar! This particular celebration was just for the cousins, who wore their Christmas PJs and had a fun and cozy evening in – full of laughs, sweets and Christmas movies. What a perfect day with family!
We love the bright color palette, which included pink, mint green, bright yellow, and white. Everything looks so fun and festive! And we love how things were repurposed and created, without spending a fortune. For example, when planning seating for the party, the kids' play train table was transformed into the perfect table! By clearing it off and moving it to the party space, along with shag rugs and pillows, it was the perfect DIY set-up!
Ombre pink sequin fabric was used as the table cloth. In addition, each place setting had an adorable reindeer plate, cheery holiday motif napkin, chic cutlery from Ellie and Piper Party Boutique, a DIY coaster and ombre pink cup. The Party Darling provided all of the amazing table setting items.
How amazing is the table's centerpiece, which included DIY ombre trees, DIY star banner and a DIY merry wood sign.
The Rusty Chic Décor made many of these items, starting with the DIY trees. The ombre yarn holiday trees were created by hot gluing yarn and wrapping a styrofoam cone. At the top, a pom pom was added! The pom pom ornaments were also handmade, by using a clover pom pom maker to create pom poms and to turn them into an ornament favor with a glittery gold ribbon for all of the guests, too!
The wood signs were created by spray painting a "Merry" sign in an ombre affect, and "Believe" for the dessert table. Coasters were spray painted wood holiday cut outs from Michaels craft store with a bright yellow for the ornament, mint green for the Christmas tree, and gold for the gingerbread cookie.
Finally, the star banner was made by taking apart a star banner from the Target dollar spot, spray painting the stars in bright colors and re-stringing them on a gold cord. What great crafty projects!
The gorgeous backdrop included a set of three Christmas trees with white lights, along with an antique racer sled, tassel garland from Rusty Chick Decor and bright balloon garland from Ohh How Charming.
A bamboo table was the hit of the party with salty and sweet treats! The menu included popcorn in fun, coral-striped containers and salted caramel cupcakes with adorable cupcake toppers by Once Upon A Party Design. A candy board with gummy candy, macaroons, cookies, and snowman marshmallows were also available. Delicious!
Other details included a pink painted dried palm leaf, pink pampas grass from Bohemian Revival Shop, and fresh evergreen. What an incredible way to celebrate the holidays, while giving a fresh and updated look on the holiday fun. We love it!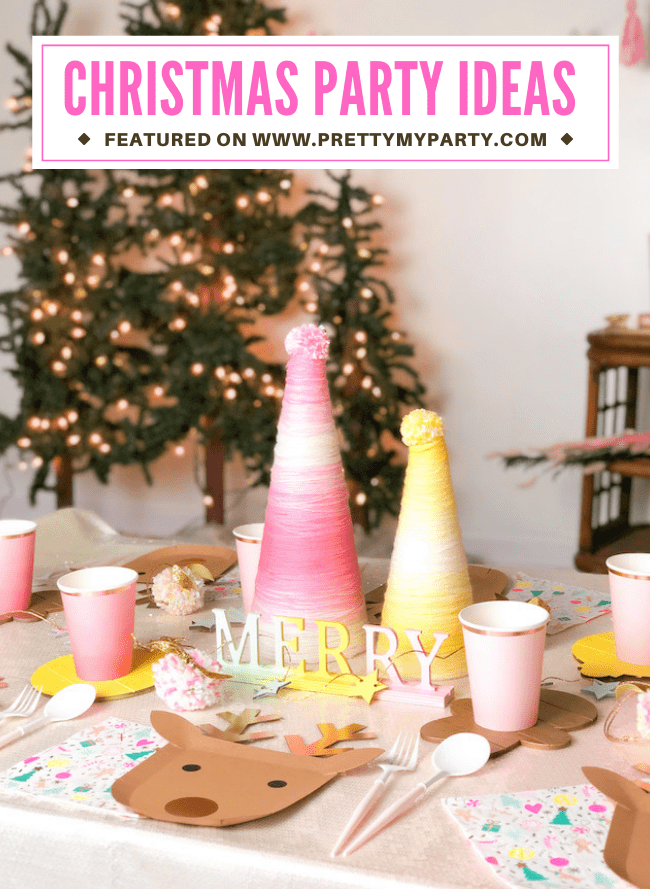 Rustic Chic Kids Christmas Party Ideas
Merry and bright kids Christmas party balloons were set up on the backdrop with fun and vivid colors
Food was everywhere, with Christmas party desserts including popcorn in movie-ready striped containers, along with cupcakes with fun Christmas themed cupcake toppers
The dessert table also included a candy board with gummy candy, macaroons, cookies, and snowman marshmallows – what a fun take on a charcuterie board
Many DIY projects were created, particularly for the guest table the kids sat at, including the Christmas Tree centerpieces
DIY Christmas ornaments were made to hand out as party favors for all of the guests
The kids Christmas party table settings were adorable, with reindeer plates and perfectly themed cutlery and cups
Fun merry and bright holiday party activities included watching Christmas movies, decorating sugar cookies and more
Rustic Christmas party decorations were the perfect accents, such as the old-fashioned sleigh and the rustic lighted trees
Bright and vivid party invitations were sent out to all of the guests in anticipation of the event
Kids drinks were available, including eggnog, holiday punch and warm milk to accompany the Christmas cookies
Sweet Christmas signs, banners and garland helped to turn the living room into a holiday retreat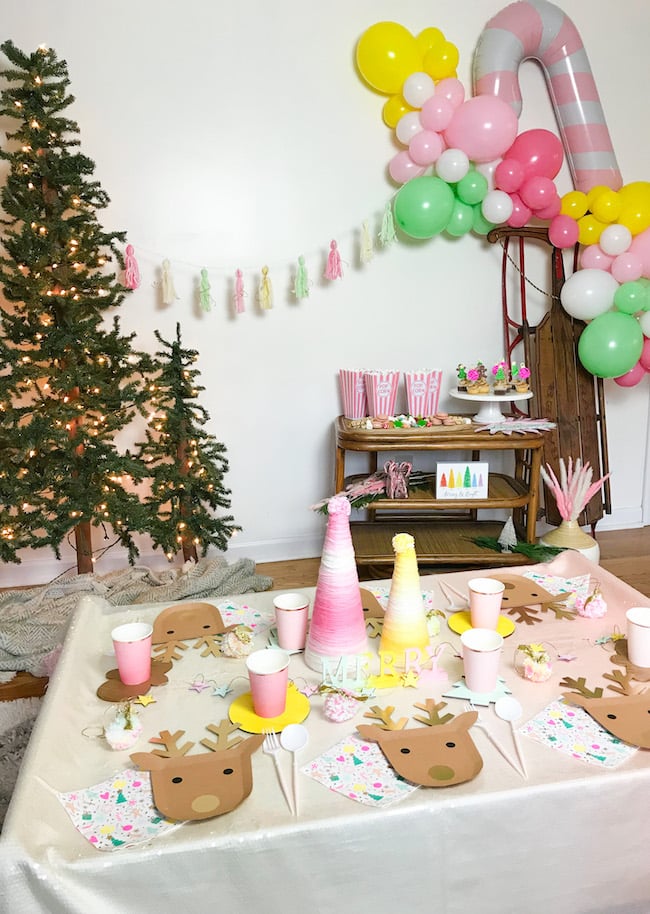 We love the idea of having a fun, small holiday party for all of the cousins. What a great way to still get together, but keep it small and intimate. It may be a little different celebrating the holidays this year, but that doesn't mean the fun has to disappear all together!
There are so many amazing details from this celebration, but our favorite is definitely the kids holiday table. With so many amazing DIY projects making every detail perfect, it's the perfect table for kids to dig into some Christmas snacks with a side of eggnog! We also really love the fun and bright color palette to throw a little extra fun into the mix with twinkly lights and holiday decor. The party looks like it's going to come to life right before our eyes!
What are your favorite details from this Rustic Chic Kids Christmas Party? Let us know in the comments below!
For more holiday party ideas, follow us on Instagram @prettymyparty and Pinterest and join us in our private Facebook group.
See more holiday party ideas here:
Party Vendors