Party Like A Pineapple For Under $100
This is a sponsored conversation written by me on behalf of Hobby Lobby. The opinions and text are all mine.
Party Like A Pineapple For Under $100
Hosting a gorgeous, fun-filled party doesn't have to cost a pretty penny! What if I told you that you could style a fun pineapple themed party at home for under $100! Yes, it's totally possible with the help of Hobby Lobby and their great selection of stylish party supplies and decor! The party possibilities are endless and it won't break the bank!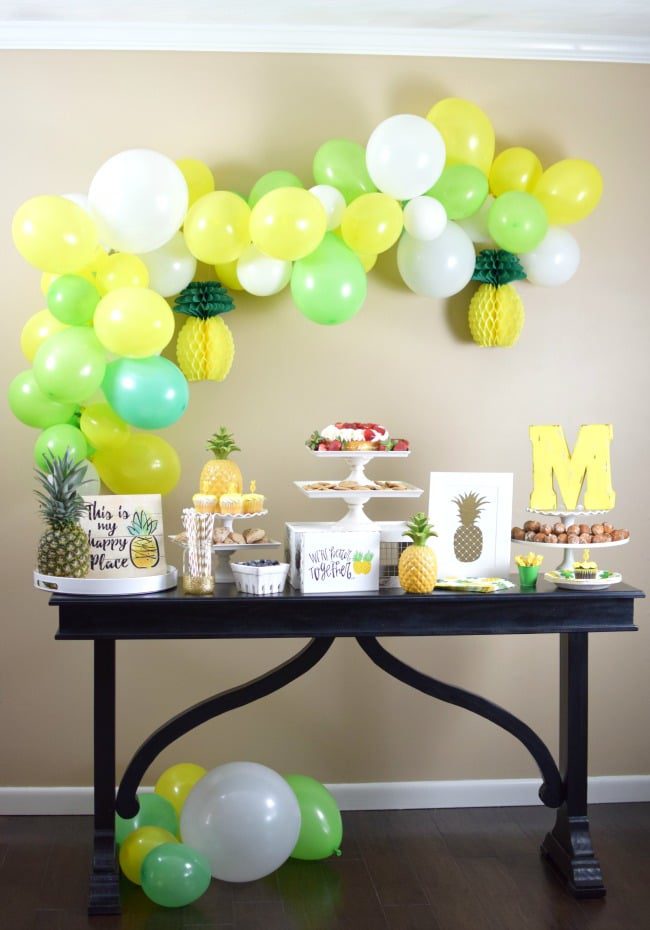 Depending on the occasion, I prefer a more intimate celebration at home with your closest friends and family. There's nothing better than great food, great friends, and great party decor to make the best memories. Plus, hosting a party will save money. There will be no space rental fee like some places where you can host parties. So you're saving money right there! Hobby Lobby is one of my favorite places to shop for parties, crafting, and my home.
Before I head to the store, I always make sure I have my coupon. On my recent shopping trip, I used a 40% off one item coupon. You can't beat savings like that! The key to party planning is making a list of your must-haves before you go to the store. This will help you stay on budget. I even draw a little sketch of what I want my dessert table to look like and where I want everything placed on the table. This makes it easier for me to visualize what everything will look like and what I need to pick up at the store.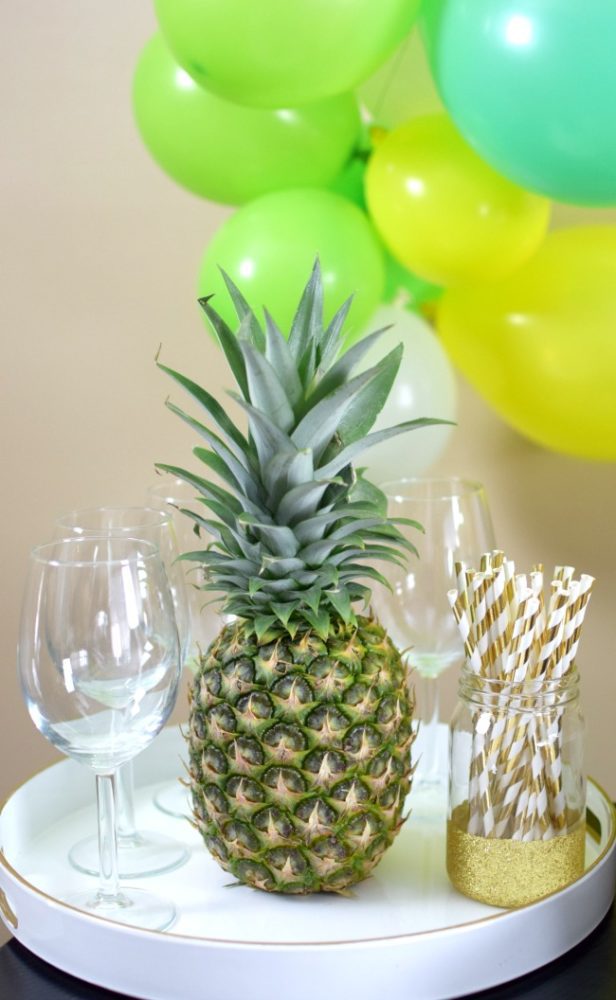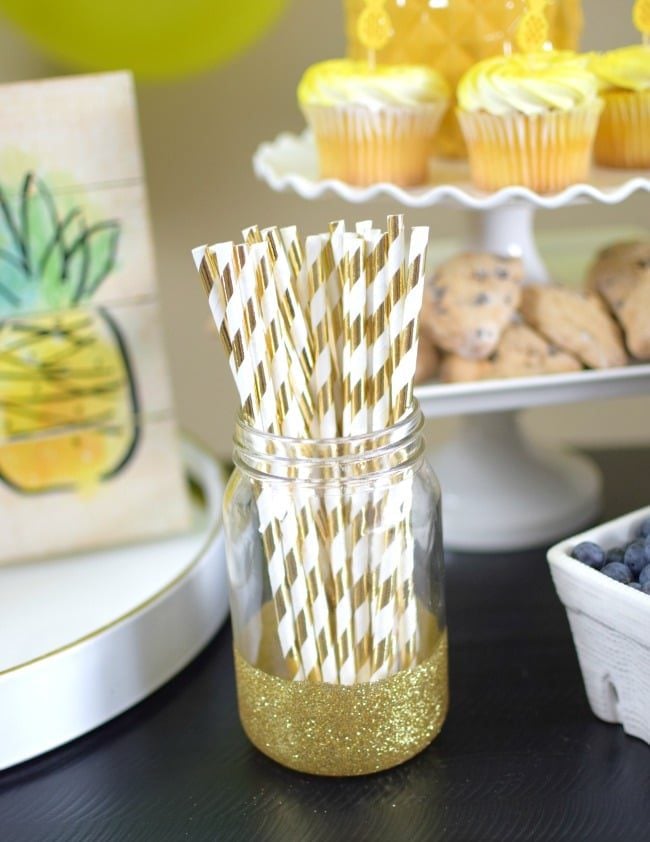 I love planning parties! Depending on the occasion, I usually come up with a theme based on the person's personality or their interests. With winter coming to an end, I'm ready for some sun and fun, so I decided to do a bright and colorful pineapple theme. We are celebrating my mom's birthday, so I thought a fun, uplifting theme like pineapples would be stylish and perfect for celebrating the occasion. Hobby Lobby had the most adorable pineapple party plates and napkins, so I based my theme off that. From there, I picked up some coordinating pineapple art and decor for my dessert table.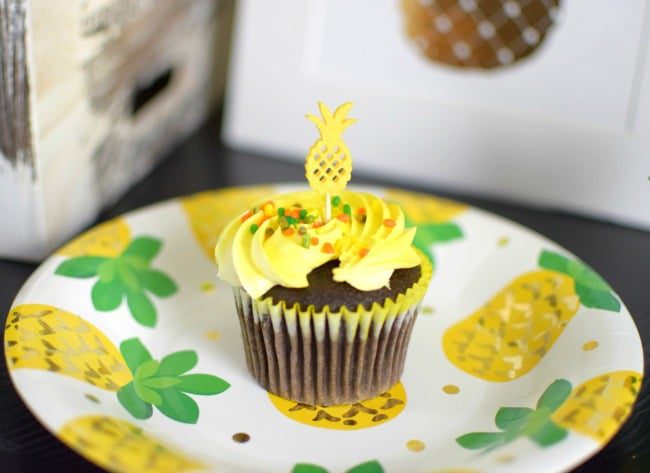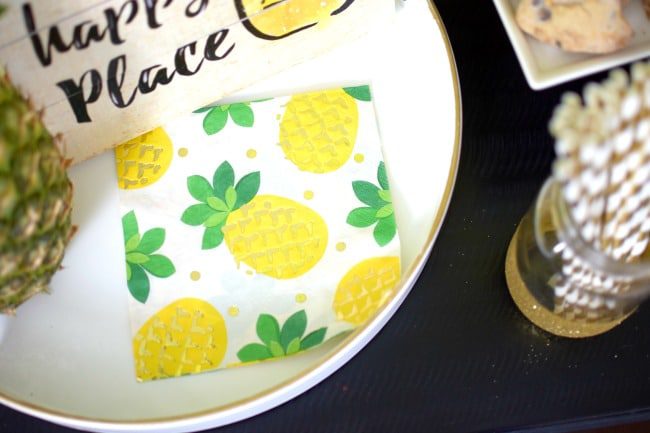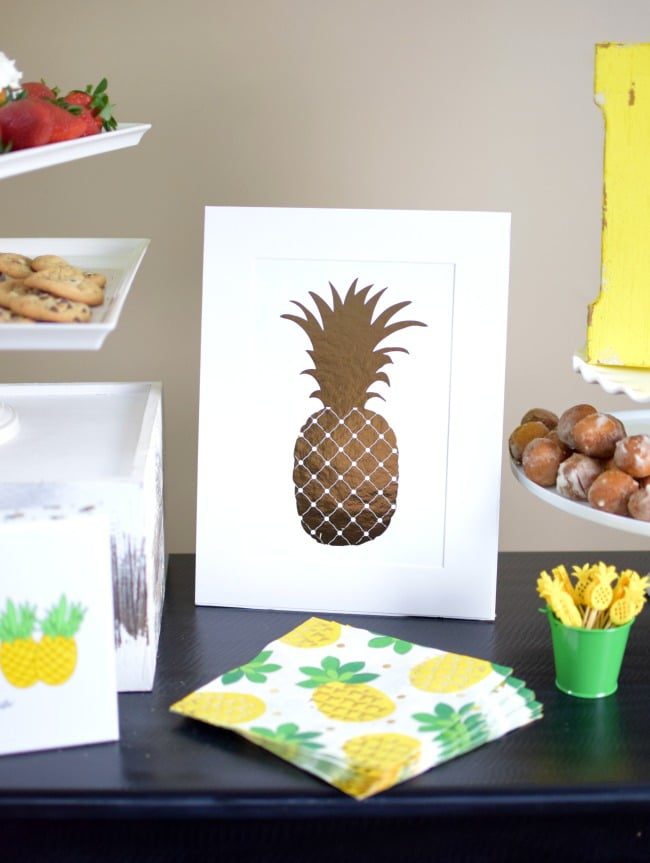 The dessert table is a must-have for any party and my favorite party element. This is where I get most creative when it comes to hosting parties at my home. Once I decide on the theme and colors, I start planning the dessert table, decor and desserts. For this pineapple party, I went with a yellow, green, white, and black color palette. If you're going to be hosting a lot of parties at your home, I suggest investing in some nice cake stands and serving platters. Having these on hand for each event really makes planning a lot easier. I usually stick to buying white cake stands in different shaped and sizes and serving platters, so I can use them for any theme or occasion.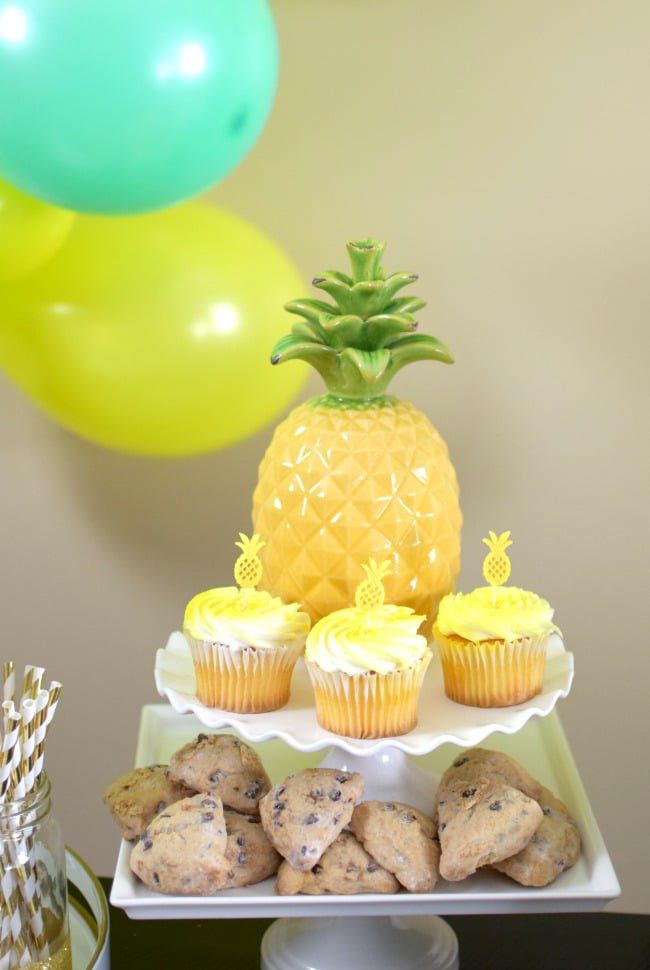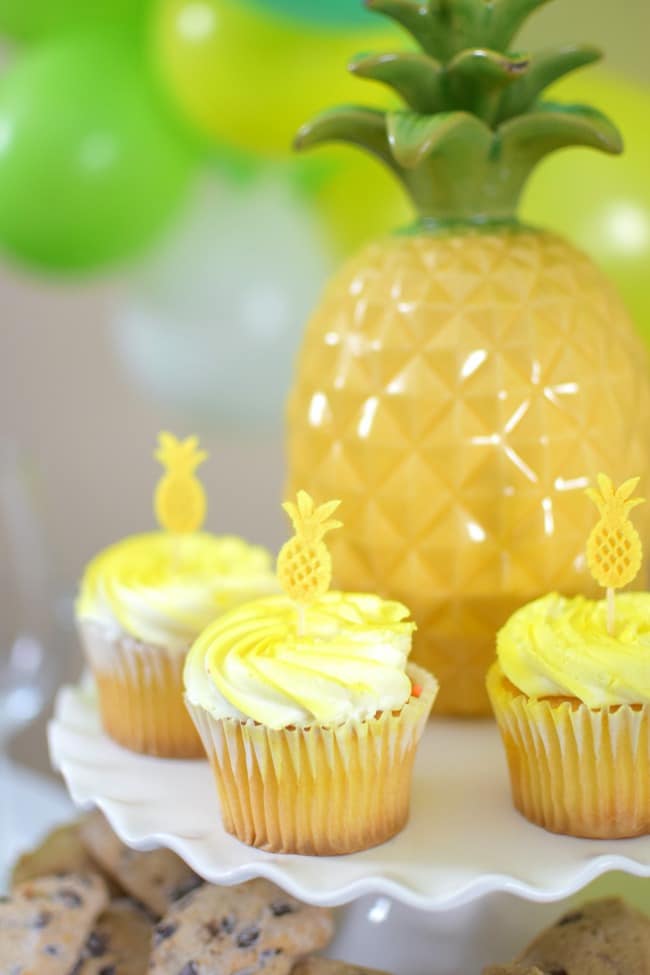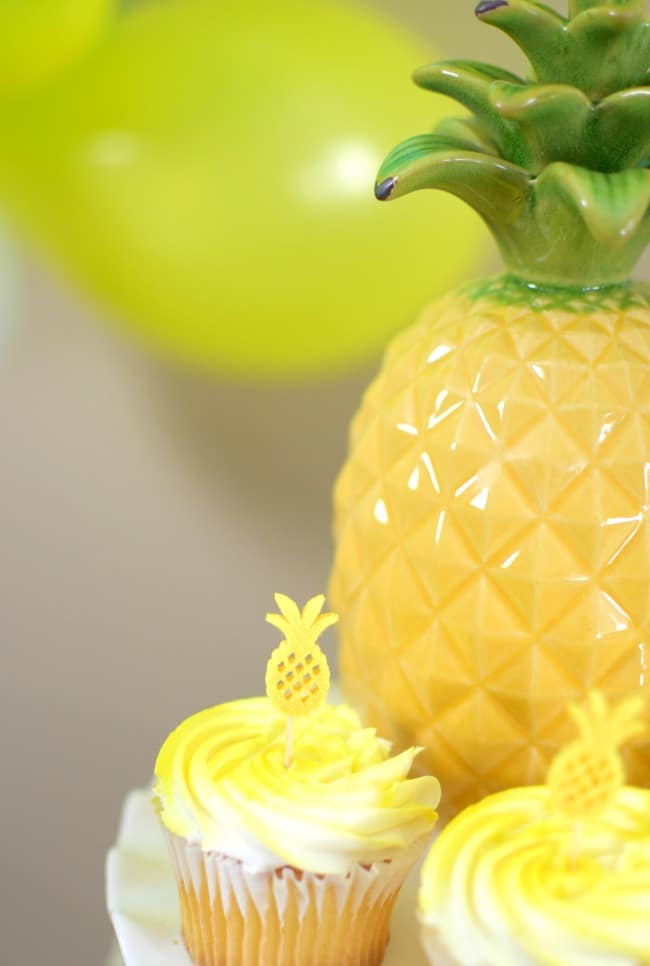 If you really want to stick to a certain budget, affordable party items that really make an impact are balloons, fabric, signs or frames. I also have various baskets and containers that I use for varying heights on the dessert table. Adding in varying heights really draws the eye in and gives the table dimension. I love to incorporate home decor items into my party theme whenever I get a chance. I love seeing how creative people get by adding home decor elements to their parties. Another thing I love to use for the dessert table is unique or vintage tables and dressers. I had this sleek black console table in my dining room that made the perfect dessert table for my pineapple party!
Budget breakdown
(2) Pineapple Framed Art – $11.99 each
(2) Pineapple Decor – $11.99 and $13.99
(1) Pineapple Paper Plates – $3.59
(1) Pineapple Napkins – $3.59
(2) Pineapple Signs – $11.99 each
(1) Set of 2 Paper Tissue Pineapple Decor -$3.59
(3) Balloons in Green, White and Yellow – $2.99 each
(1) Craft Wire – $8.99
(1) Gold Glitter Dipped Mason Jar – $2.99
(1) Pineapple food/cupcake picks – $2.99
A few items were automatically 40% off – prices above reflect those discounts plus I received an additional 40% off 1 item with my coupon that I brought to the store. Total cost: $99.27 One of my favorite things about planning a party is getting crafty and really personalizing and making your event unique. I'm all about the details! It's so important that the little details really stand out for each theme. For this theme, I really wanted to do a fun DIY balloon garland as the art element for the dessert table backdrop. This DIY is quick, easy and inexpensive. I really think the balloon garland makes the dessert table pop! There are many ways to make a balloon garland, but this way is the easiest.
DIY Balloon Garland Backdrop
Supplies:
Balloons in various colors and sizes.
Craft wire
Scissors
Instructions:
Blow up balloons making sure you have varying sizes.
Cut craft wire with scissors, making it as long as you like.
Take craft wire and put it through the bottom of the balloon under where it's tied.
Take each balloon and move it down the wire, making sure you leave about 2 inches at the end of the wire for hanging.
Alternate colors and sizes as you place each balloon on the craft wire.
Hang finished balloon garland with tape to the wall, fixing the craft wire as needed to get the desired positioning. (This takes 2 people).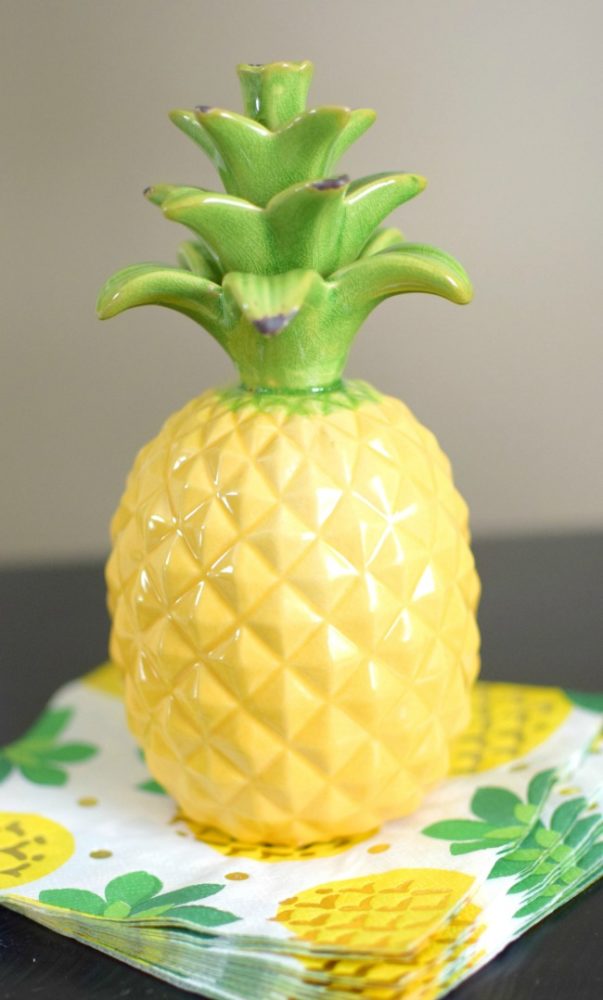 This Party Like A Pineapple Party for under $100 is a great party theme for your spring and summer parties. Find everything you need for your next party at Hobby Lobby. What do you think of this Party Like a Pineapple Party? What's your favorite element of the party? I would love to hear your thoughts in the comments below.
This is a sponsored conversation written by me on behalf of Hobby Lobby. The opinions and text are all mine.