Nautical Lighthouse Themed Birthday Party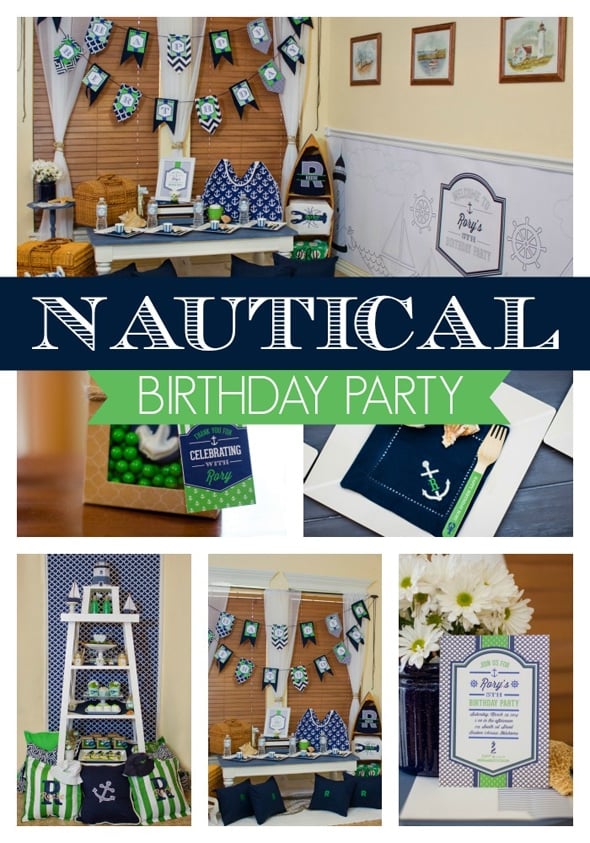 So many little boys love the feel of the sea and the endless possibilities that come with it! Walking next to a boy looking out across open water, hand over his eyes against the glare as he watches a tall ship glide past is an amazing thing. He hears the crashing waves beating on the rocks. He then sits on the sand still warm from the sun while the stars twinkle overhead and the sweeping beam of a lighthouse guides vessels through the dark. This is when little boys fall in love with the sea and it is for sure where this little birthday boy decided he wanted a Nautical Lighthouse Themed Birthday Party. What is not to love?!?!
Great Stitch, the party stylist for this event, brought the excitement and thrill of the ancient call of the sea indoors with this awesome nautical themed party for the birthday boy! It was so fun to see everyone's eyes when they walked into the room! Everyone was mesmerized and was completely full of awe, which is why these stylists love their job! The memories are so important for kids … and the moms!
The coloring wall from Anders Ruff Shop was such a big hit. It was hard to get the kids to stop coloring it long enough to eat! They do such amazing work. They also designed all of the gorgeous printables! The detail that Anders Ruff Shop put into these printables was first quality all the way down to the rope around the circle to put twine through … it was clearly invisible!
Birthday party attire was furnished by Great Stitch. Custom shirts, bucket hats and a pillowcase dress for the birthday girl all featured the perfect nautical theme!
Mallory Hall Photography did all of the amazing photography for the event! I love how you can catch all of the little moments and Mallory did just that! These are all memories that will be treasured forever.
The envelopes were found from a new company called Party Prepaganda and the awesome nautical feel of these navy striped envelopes were an instant hit that everyone fell in love with. They went perfect with the Anders Ruff Shop invitation!
They say the blue lobster is extremely rare – only one in two million – but this party was able to capture this reclusive creature in the place mats and fry boxes from When I Was Your Age (seriously a great name!). They also provided the custom forks for the party. A lovely apple dip to go with the apples that were in the fry boxes was made and it was such a hit! Everyone couldn't get enough!
The little bitty bags and straws came from MoreSprinkledJoy and made the perfect crayon holders for all of the kiddos! The printables were again from the Anders Ruff Shop.
"Opulent Mac and Cheese"… that's what Andolini's calls it! It is a major favorite dish right now and was also able to be made gluten-free, which is hard to find in a restaurant. It is so worth it! Some steamed lobster was added to kick it up another notch … as if anything else was really needed! If you are ever in Tulsa, this restaurant is amazing! They also gave pizza dough to the kids to have something to do while they waited for the food to finish. The jars came from Specialty Bottle. The meal was rounded out with blueberry and pecan spinach salad, along with apples with Snickers dipping sauce. What a hit!
Limes were used as little vases with daisies stuck in them. Seriously … how cute is that and it is such a unique touch!
Party favors included a special 3-2-1 cake mix. This incredibly simple recipe provides individual cake portions. Mix an angel food cake mix with a regular cake mix. Take 3 tablespoons of water in a mug and microwave for 1 minute. That fast, you have a cake! You can also add chocolate chips, nuts, or coconut to make it even better. The labels were included in the party pack from Anders Ruff Shop.
The chocolate covered Oreos with anchors came from EZ Favors Lollipop Shop and O Sweet Cakes provided lighthouse sugar cookies. Everybody couldn't get enough!
Piggy Bank Parties has become a staple for all parties styled by Great Stitch and this was no exception! They do the most amazing favor boxes that you can print out and glue together. So perfect for last-minute preparations! You can also have them do custom designs! These are the sailboats that we just had to do to include as a decoration, and weren't used as just favor boxes!
Nothing can take the place of the sea, but until we sail again with the tide, this will take us there in the meantime! What a great party and the birthday boy will always have the wonderful memories of his nautical adventure!
Credits & Resources
Shop our favorite Nautical Party Decor and Gifts:
Sign up for a 30-day free trial of Amazon Prime and get free 2-day shipping on your Nautical party products!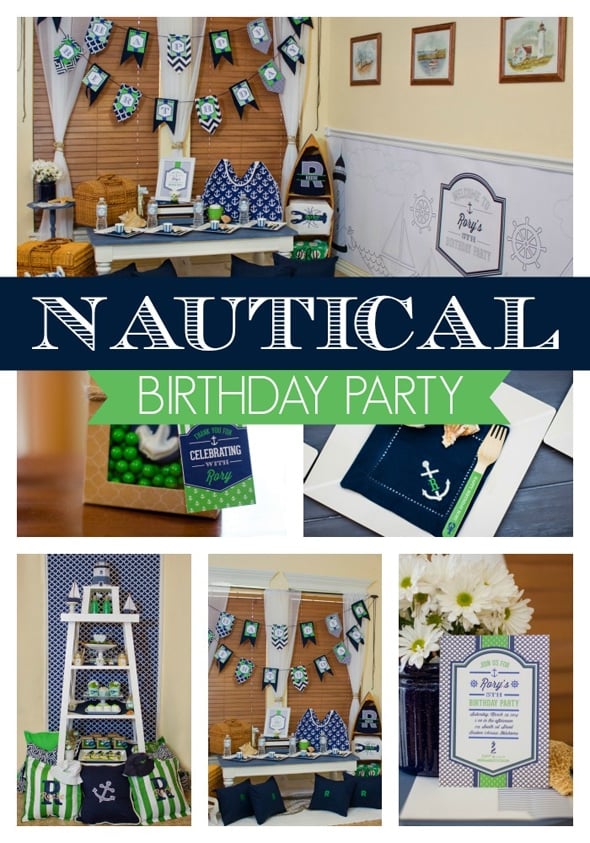 Follow Cristy Mishkula @ Pretty My Party's board Nautical Birthday Party Ideas on Pinterest.