Mary Poppins Birthday Party
"It's a Jolly Holliday" Mary Poppins Birthday Party! Cutie Putti Paperie did an outstanding job with this theme. The details are perfection and we love seeing a good classic come to life in the form of a child's birthday party!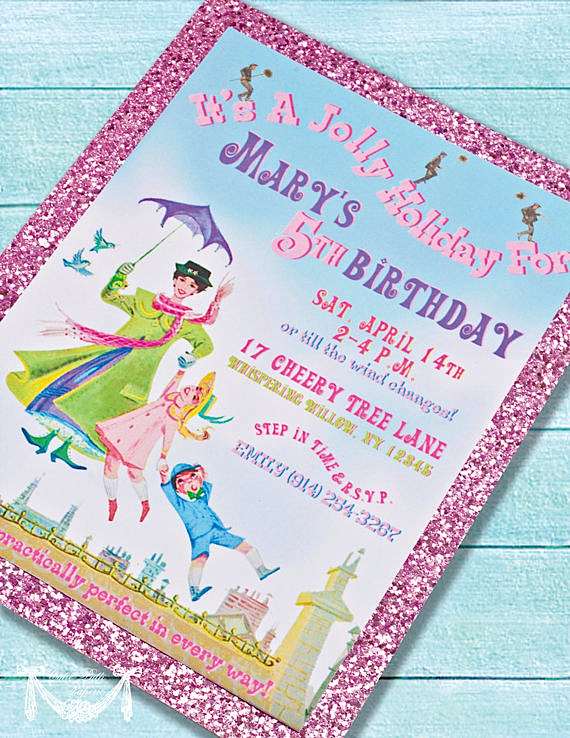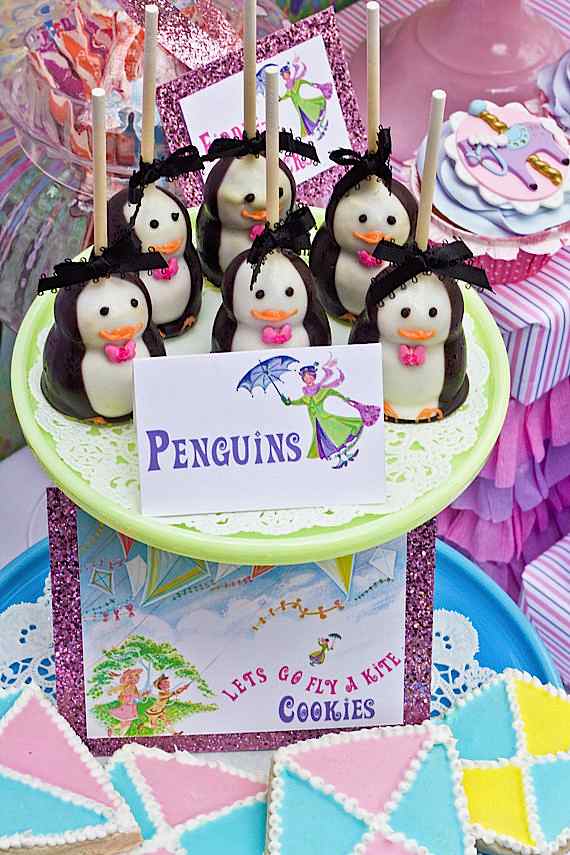 From Danielle of Cutie Putti Paperie: "I couldn't wait to see this dessert table all come together! I was a super fan of the fun and wonderment of Mary Poppins when I was a kid, and was so excited to be able to translate such a classic into a super dainty, sweet and, modern-day dessert table. I hope these ideas can show you how to take this old-fashioned tale and turn it into a contemporary and supercalifragilisticexpialidocious bash! I really wanted to bring out the fun and whimsy of the movie in everything on the table, from the desserts to the printables. I opted for a large vintage drawing of the carousel scene as the backdrop. I incorporated a sweet striped pattern into the printables, vintage classic scenic sketches from the movie, and I made the words look like they were flying right off the page by curving certain lines of text.
Cuddly penguin cake pops were a big hit, and "spoonful of sugar" cake pops couldn't have been sweeter! Delicious vanilla frosted cupcakes, some of which were donned with the most darling carousel horse fondant toppers made by the talented Miss Brittany of Edible Details. "Let's go fly a kite" sugar cookies, "Chimney Sweep Smoke" cotton candy, "Fiddlesticks" pixie stix, "Tuppence" gold chocolate coins, and pastel colored m&ms filled the centerpiece jars. When I was a kid, we couldn't go to Disney World without eating at the Character Breakfast at the Grand Floridian Resort's, 1900 Park Fare restaurant. Characters like Mary Poppins herself, Bert, Cinderella, and others joined you in the vintage carnival themed dining room, while you nibbled on Mickey shaped waffles. Our favorite thing to order was the Purple Penguin drink on the menu. A fizzy, purple concoction with a purple swizzle stick stirrer! Now that I think about it, a little much for a 9 a.m. breakfast (what were our parents thinking letting us have this), but it was our favorite, we were on vacation, and the sugar rush couldn't hurt for the day filled with waiting in hour-long lines in the hot Florida sun. I couldn't resist recreating this childhood favorite for this dessert table! Vintage style milk glasses were filled with purple tinted lemonade, wrapped in a doily, adorned with a lavender rock candy swizzle stick.
For favors, little ones received Mary Poppins coloring pages and treat bags filled with sidewalk chalk. The toppers gave Bert's instructions for a "bit O' magic", "You think, you wink, you do a double blink, you close your eye's and jump!" They also received JUMBO pixie stix with a whimsical "Thanks for Poppin' Over" favor tag!
I have to say styling this table was "Practically Perfect in Every Way!"
What's your favorite details in this Mary Poppins Birthday Party? Let us know in the comments below!
For more party ideas, follow us on Instagram @prettymyparty and Pinterest and join us in our private Facebook group.
Credits & Resources
Paper Details and Party Styling: Danielle of Cutie Putti Paperie | Carousel Horse Fondant Toppers: Brittany of Edible Details| Gold Chocolate Coins, Jumbo Pixy Stix, Lavender Rock Candy Sticks: Dylan's Candy Bar NYC