Girls Night at the Movies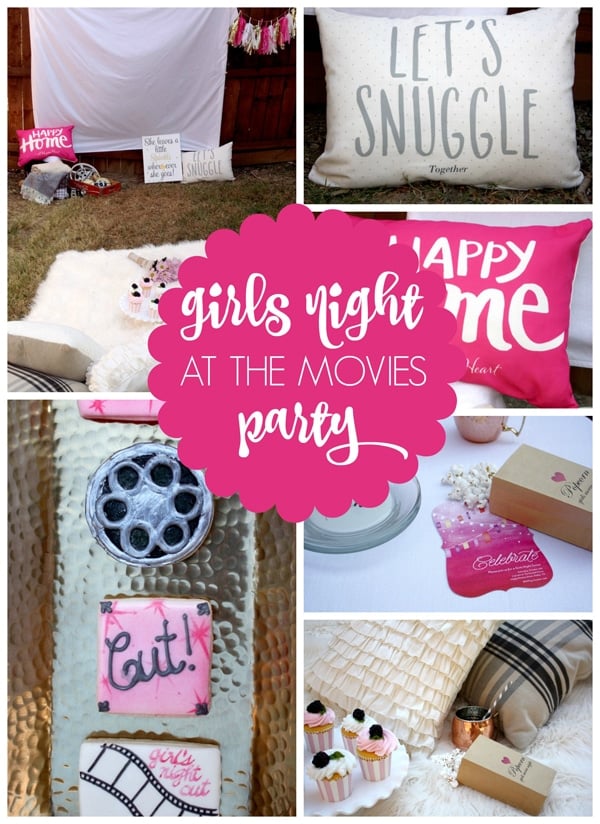 Who doesn't like a night out with their girlfriends?! And by "night out" we mean, under the stars, watching your favorite chick flick! That's what this wonderful styled shoot was all about a fun – Girls Night at the Movies, outside with nature all around! Nothing was better than the good old-fashioned drive-in movies back in the day, but unfortunately they are slowly becoming less and less of an option in many communities. But that didn't stop Jennifer from BellaGrey Designs from creating one in her backyard! What a fun idea for a styled photo shoot!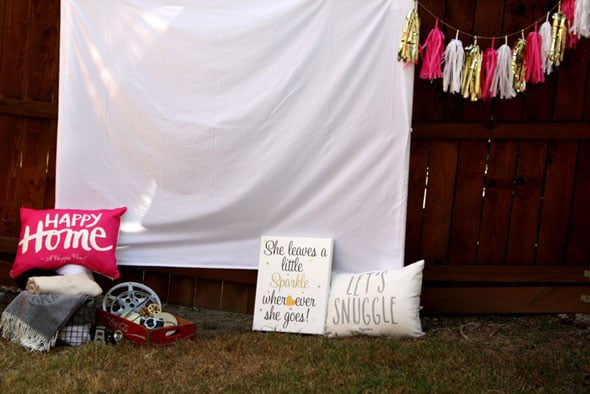 This styled photo shoot was held for Tiny Prints and is such a fun, yet inexpensive way to gather your girlfriends and enjoy a flick together on the cooler evenings fall provides. And best of all? It's so easy to host your own! Gather fun movie props like movie reels and old camera to really bring your theme together! You can always rent these types of items, but better yet, ask friends and family and you may just find yourself a box full of items that you're able to borrow for free! Add in some decorative tassel garland, like the garland in this styled shoot from Fancy That to create an even more put-together look!
The color scheme was totally on-point with grey and tan plaid designs. And what is more cozy than some sheepskin fur throws to compliment the colors? Everything was finished off with copper and white, along with lots of ruffles, to create a clean and feminine feel to the night.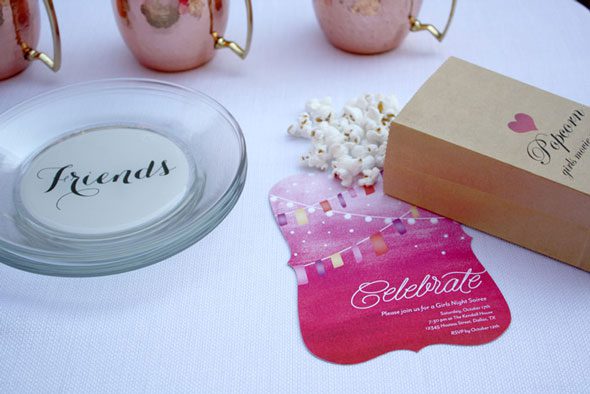 The amazing invitations from Tiny Prints matched the theme perfectly!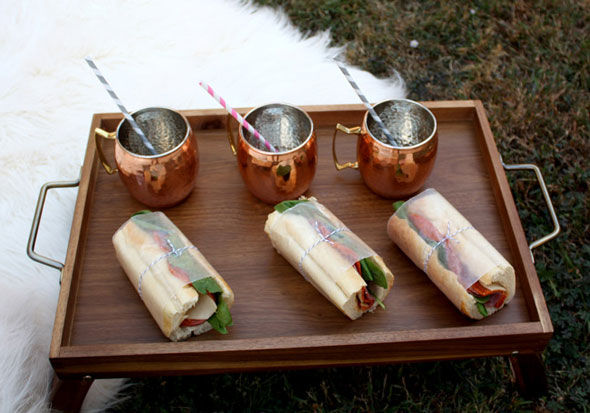 What kind of girl's night would it be without lots of snacks and food to indulge in?! This is an absolute must in order to consider the night a success and this party was no different. Sub sandwiches were served, along with…. POPCORN!
This popcorn bar included different homemade salty and sweet toppings that were made for everyone to customize the flavor they wanted their popcorn to be. What a simple item, yet the presentation was fancy enough to make everything feel top-notch!
Delicious lavender lemonade, along with spiced mocha hot cocoa was served in mule mugs, to make sure everyone stayed warm and cozy!
Don't forget about the scrumptious desserts! There were cookies that were created to match the theme from Creating Awesomenessity, along with store-bought cupcakes that were embellished with mint leaves and blackberries. These cupcakes were dressed up from home to look more couture and almost too delectable to eat. ALMOST! Yum! And of course, serving them on a fancy cake plate or serving tray will add a fancy element to your fun girls night!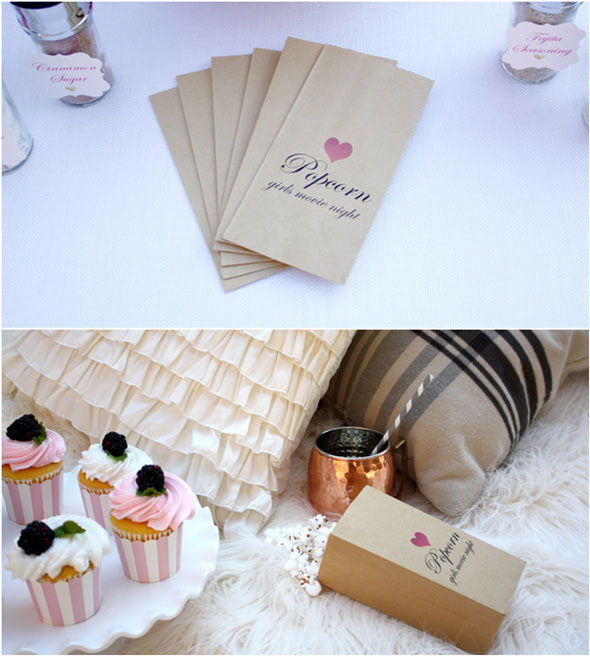 Mini popcorn bags were printed by Jennifer from BellaGrey Designs, which were one of the favorite elements of the event. Popcorn in a bowl is just boring! Better yet? You can make these yourself with the FREE printable that you can download!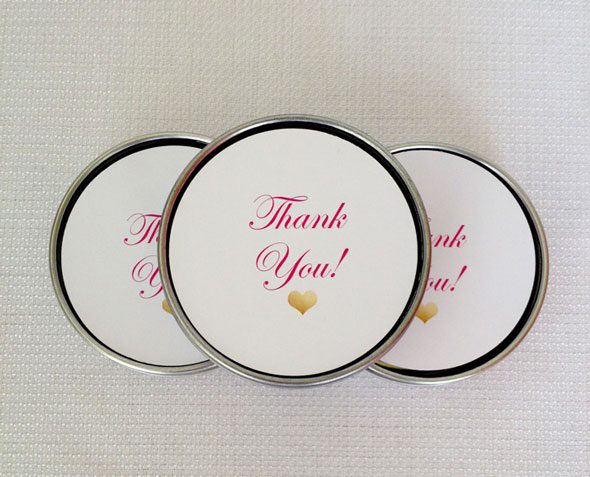 And how about these adorable party favors that resembled movie reels? The tins were provided by Hoopla Events and were filled with specialty candy to keep everything in sync with the movie theme. We want to go to this girl's night!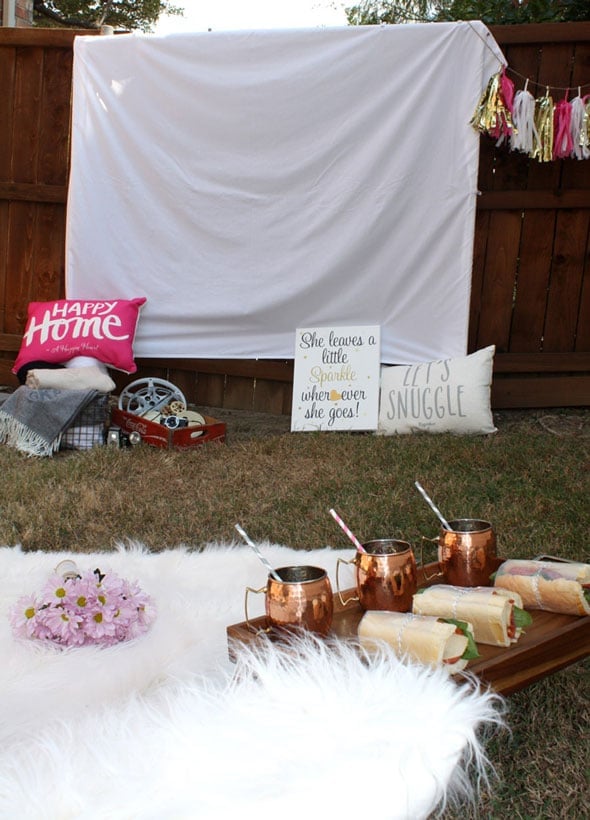 Overall, this looks like the perfect way to spent a night in with your girlfriends. Gather some pillows, blankets and sheepskin throws like this styled shoot had, and everyone will be sure to be cozy all night long!
Vendors & Credits
Party Design and Styling: Jennifer Kirlin of BellaGrey Designs // Cookies: Creating Awesomenessity // Party Favor Tins: Hoopla Events // Tassel Garland: Fancy That // Friends + Celebrate Dessert Plates: Create UR Plate // Invitations: Tiny Prints
Plan a fun Girl's Night Event with these stylish party products!
Check out these other movie themed party features on Pretty My Party!
What's your favorite detail in this party? Let us know in the comments below!