Galentine's Day Pizza Party
This Galentine's Day Pizza Party is all that and a slice of pepperoni!
What's a good way to celebrate Galentine's Day with your girlfriends? With a Pizza Party of course! That's exactly what these girls did and we think it's absolutely awesome!!! It was "Love At First Bite" with this "grate" Galentine's Day party that cannot be "topped!"
This fun and clever Valentine's Day inspired pizza party features adorable heart pizza desserts, a pizza photo backdrop, and adorable party supplies and decor perfect for this theme!
Galentine's Day Pizza Party Ideas
"Ain't No Party Like A Pizza Party" Invitation
Cute Straw Flag With Fun Pizza Sayings
Cupcakes Topped With Heart Pizzas
Gold Balloons Spelling Out Slice, Slice Baby
Heart Pizza Banner
Gold, Pink and White Heart Confetti
Pink Cake With Heart Pizzas
Cutest Heart Pizza Cookies In Mini Pizza Boxes
Gold Heart Party Plates
Fun Pizza Photo Booth Props
Heart Pizza Photo Booth Backdrop
"Slice, Slice Baby" T-Shirt
Love At First Bite T-Shirt
Buy Me Pizza and Tell Me I'm Pretty Tote
Pink, Red and Gold Party Supplies and Tableware
"You Want A Pizza This" Chalkboard Sign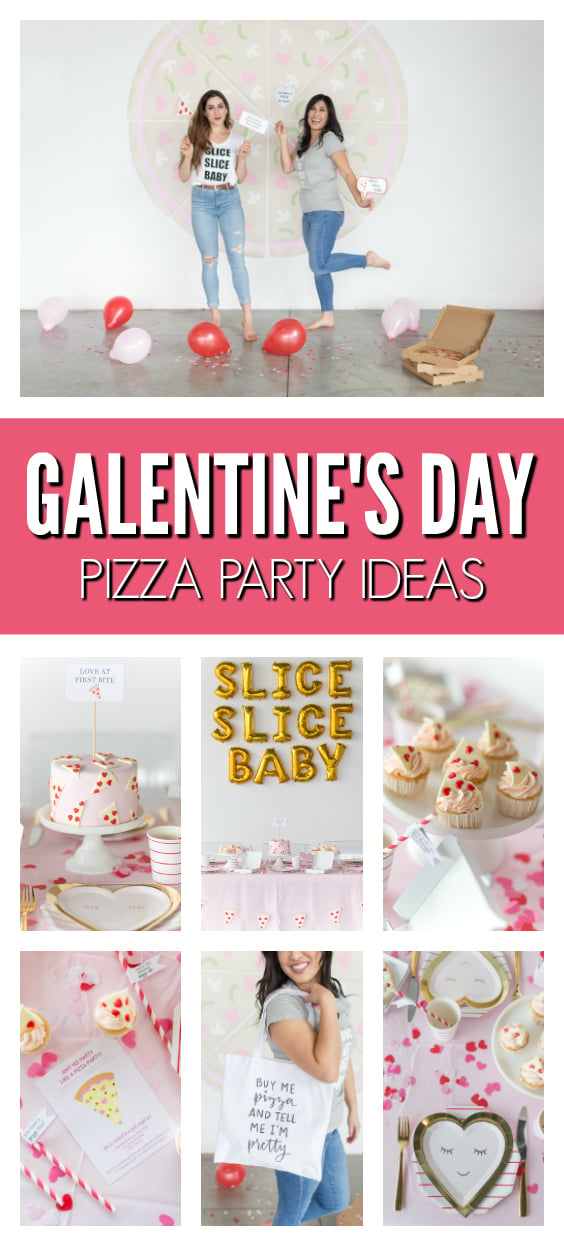 Heart Pizza Party Supplies and Decor
From Bev Soh: "I love celebrating Galentine's day… maybe even more than Valentine's day lol! Galentine's day is a day for celebrating your lady friends and I thought it would be fun to do a Galentine's pizza party this year! I went with a pink theme for our table, including a pink pizza cake, pizza cupcakes, and adorable individual heart shaped pizza cookies in mini pizza boxes! We had custom straws and a banner made up to match our table theme and then sprinkled heart shaped confetti all over the table. I also decided to make a giant pizza out of paper that we attached to the wall. It acted as a fun photo backdrop for us girls!"
Party Vendors
Models: Bev and Kelsey