Family shopping for Wet Ones Singles at Target
This is a sponsored conversation written by me on behalf of Wet Ones®. The opinions and text are all mine.

Now that the school year is right around the corner, it's time to do some back-to-school shopping! One of the big things on this Mom's list are things that will make packing those daily lunches easier for the kids, and myself! Not to mention doing my best to keep all of the germs at bay that will be spread at school soon! That's where my Wet Ones Singles come in and it was time for family shopping for Wet Ones Singles at Target!
I don't know about you, but Target is absolutely one of my favorite shopping places of all time! I love absolutely everything about this store and it was our one-stop-shop for much of the back-to-school items we needed, including America's #1 Hand Wipe, Wet Ones! (#1 claim based on scan data for 52 weeks ending 5/12/15). Thanks to their Aloe formula, they won't dry or irritate your skin like hand sanitizers can. And … they're hypoallergenic! They are the PERFECT addition to our back-to-school list for the kids, as well as being an absolute life-saver to have around the house everyday!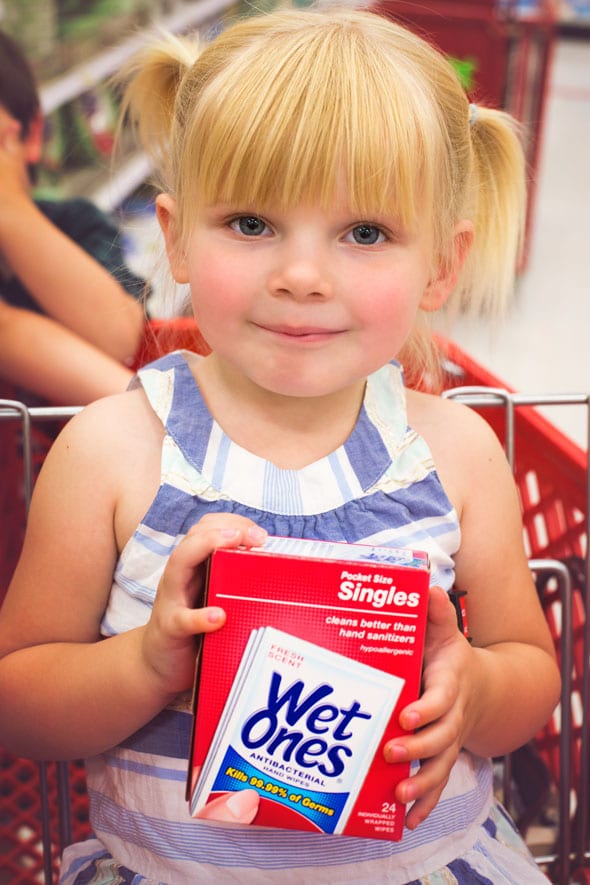 My kids love going shopping with me and even though they are young, they really tend to help out where they can. My son is about 5 1/2 and is always so happy to prove what a big boy he is, and my daughter, who is almost 3, never passes up a chance to strut her stuff and flash her smile in a store! She was ecstatic to help Mommy find the Wet Ones Singles!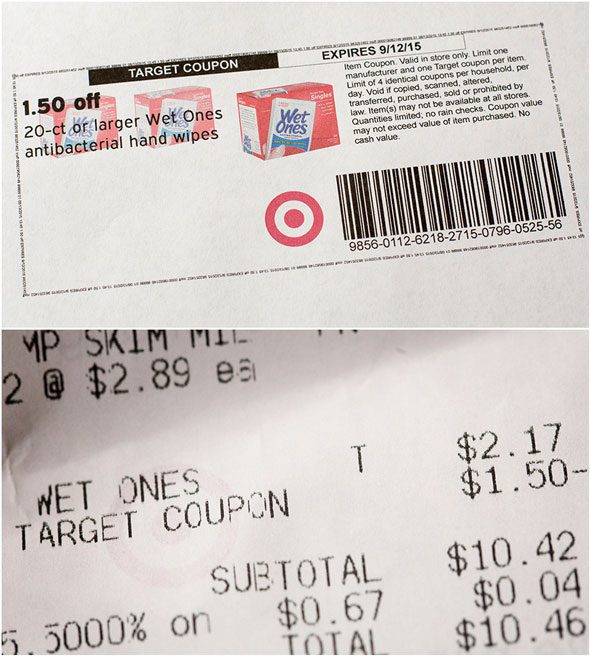 The Wet Ones Singles were so easy to find at Target. The product placement was killer and better yet, they were on sale! Because of the great sale, coupled with the awesome coupon I got from Target to use, my purchase only ended up being $0.67! You definitely can't beat that to help keep everyone clean and fresh during the school year. I can't even keep track of how many Wet Ones Singles we go through in a week, much less the entire year!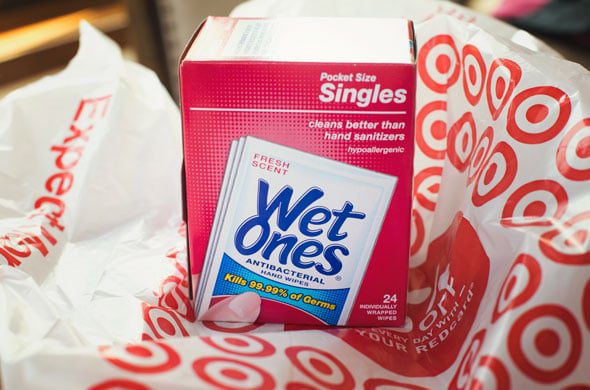 Thank goodness for the great coupon that I was able to use at Target for my Wet Ones Singles, which you can find HERE. Because it cleans messy hands and kills 99.99% of germs, I'll know I'm doing the best I can for my family to help keep those illnesses at bay once school starts. It will also help to keep them clean and tidy all day long! Especially after lunch when I can't wipe their faces, myself!
Take advantage of this great deal and grab yours today at Target! You'll be so happy you did.
Comments submitted may be displayed on other websites owned by the sponsoring brand.
This is a sponsored conversation written by me on behalf of Wet Ones®. The opinions and text are all mine.