Easy Garland Holiday Card Display Idea
Thank you Tiny Prints for sponsoring this post. Make this holiday season extra special with personalized holiday greeting cards from Tiny Prints.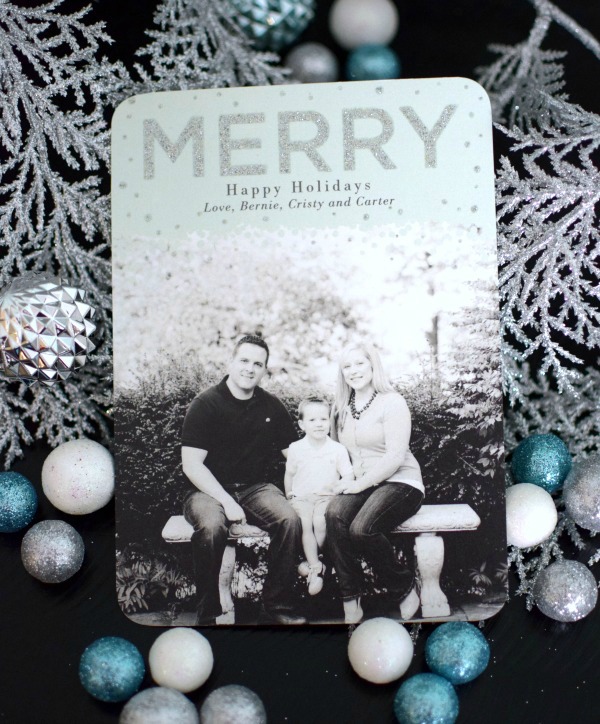 Easy Garland Holiday Card Display Idea
There are many fun and creative holiday card display ideas for Christmas that are easy to do. First, I love the idea this easy garland holiday card display idea! All you have to do is get some fun garland and dress it up with ornaments and holiday cards. You can add the garland to your fireplace mantle or entry table for a great way to display all of those greeting cards you will be receiving from your family and friends this holiday.
Every year for our holiday cards, I like to schedule a family photo shoot, so I will have updated photos of us to send out to family and friends. I love sending holiday cards every year, but what's even better is receiving them! I love seeing holiday cards in my mail from friends and family all over the country. Getting their holiday cards in the mail and then adding them to our home with our other Christmas decor really adds joy to the holiday season.
Are you thinking of sending out holiday cards this year? I'm so excited to partner with Tiny Prints to show you the unlimited variety of creative holiday cards you can choose from and how you can display them for all to see! Plus, keep reading! There's a chance for you to enter to win a Tiny Prints $100 site credit below!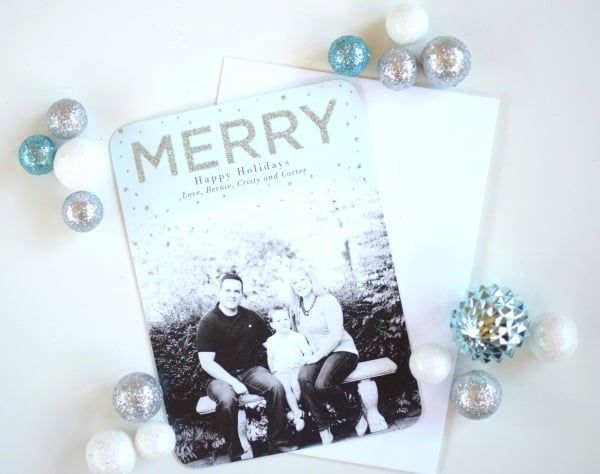 This year, I'm changing up my traditional red and green holiday decor with a light blue, white and silver "glam" holiday feel. I wanted my holiday cards to reflect this year's new style, so I added a little glam to my photo cards with Tiny Print's Glitter Cards. I chose a black and white family photo for our card, which features fun silver glitter details that won't leave a glitter trail behind! If you're expecting a holiday card from me in the mail … you're welcome! Everyone knows how I love to leave a glitter trail behind when planning events! But I will save my friends and family from cleaning up glitter after opening my holiday card this year!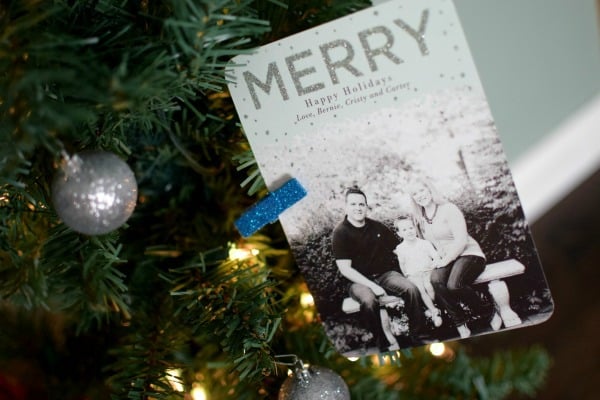 Whether you like gorgeous foil-stamped cards or fun ornament cards, you're sure to find a design and theme to fit your unique taste. Another one of my favorite Tiny Print options is the year-in review format that shows what your family has been up to the past year. This option is great for loved ones who live far away and want to keep everyone updated with photos.
Whether you're newly married, just had a baby, or love to travel around the world, Tiny Prints has the perfect holiday card for you and your special milestones. With Tiny Print's newlywed holiday card collection you can show off your gorgeous wedding photos this year on your holiday cards.
Do you love to travel and have amazing travel photos from a recent adventure of a lifetime? Tiny Prints has holiday cards specifically formatted for you to show off your travel adventures. Whatever design you choose, you friends and family will love getting your holiday card in the mail!
Now, if you're too busy with all of that holiday shopping and baking to do, don't worry! Tiny Prints has FREE recipient addressing on any custom envelope! All you have to do is place them in an envelope and send! It's that easy!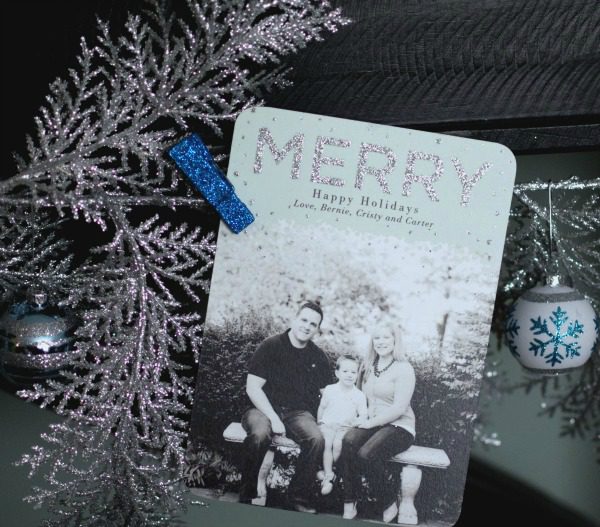 After you decide which holiday card design is right for you, you will need to find a place to display all of those holiday cards from your friends and family. This year, I went with a garland card display and will be adding holiday cards as I get them in the mail this holiday. I found a silver "glam" holiday garland that was perfect. Then I got some blue glitter clothes pins to hang the cards on the garland. I also added some fun blue, silver and white holiday ornaments to the garland to complete the look! It such a fun and easy way to display your greeting cards and it will look perfect with your Christmas tree and other holiday decor.
Which Tiny Prints holiday card will you send this year? Let us know in the comments below.
Tiny Prints $100 Site Credit Giveaway!
Enter to win $100 TinyPrints.com site credits provided by Tiny Prints. Giveaway is for those ages 18+. U.S. residents only. Only one winner per household. Giveaway ends on December 2, 2016 at 12 a.m. PT. Winners will be randomly selected and notified by CLEVER by Friday, December 16, 2016.
I was selected for this opportunity as a member of CLEVER and the content and opinions expressed here re all my own.